You know that feeling on the last day of school before summer break? When you're arriving at school but everyone is all smiles, seeming to float on air as they head into their assorted classrooms, grinning and joking with each other, excited for summer break that is just on the other side of the small amount of work ahead?
Today was kind of like that.
'Last Day of School' was the mood as the Panthers players streamed in for their final mini-camp session before breaking for 42 days – some players are headed home to spend time with family, others (mostly the rookies and younger players) emphasize how much they'll be working out and studying during the break, others make jokes about improving their golf game during the six week break before they head down I-85 to Spartanburg, SC to begin their 2018 season in earnest. While the players joked to start practice – Devin Funchess came skipping onto the field yelling "Last Day! Here we go!" and Captain Munnerlyn poked fun at Christian McCaffrey during stretches, once the work began, the session was quite spirited, with two-minute drills dominating most of the almost two-hour practice period held on a muggy day that felt like the temperature was in the nineties. It was fitting that Cam Newton, who has been DJing the practice sessions this spring, put on 'Bad & Boujee' as he ran onto the field – he expects his team to be savage and ruthless.
Some other observations from the final day of Panthers mini-camp:
After tight end Chris Manhertz was carted off the field during yesterday's session, Bryan Cox, Jr was the latest Panthers player to suffer an injury, although his looked worse than Manhertz' did yesterday – Cox couldn't put any weight on his left leg as he hobbled to the sidelines before being carted off the field – the worst part was that it was during the team's final team drills. Fred Ross continues to miss time (he hasn't practiced all spring) along with Evan Baylis and Drew Iddings – Julius Peppers wasn't present, but we can assume that he worked inside – he doesn't need to practice to show up on Sundays; Mike Adams was also excused again today.
Curtis Samuel, who didn't participate yesterday, definitely did individual drills and participated in some team drills, although I didn't see him making many plays out there. That doesn't mean he's not progressing through his rehab, the most important thing will be how much he can participate for multiple days in a row come August.
Remember how I said that it felt like the final day of school? That was definitely echoed in Damiere Byrd doing some warrior yoga poses as he watched offensive install.
There were some exciting packages in those offensive installs – the most interesting of which were some triple option plays with Alex Armah lined up next to Cam Newton with Christian McCaffrey behind Newton and multiple sets that saw rookie WR DJ Moore motioning into the backfield and executing a read option handoff from Newton. Multiple-position weapons, anyone?
The first drill of practice consisted of passes thrown from the five into the endzone – after Greg Olsen missed a pass thrown over his head, Norv Turner called Olsen back to the line of scrimmage and acted as the left tackle so that Olsen would know exactly where to line up – we've been talking the past three weeks about the amount of work Norv has done on specifics, and this was another example. The next player he tweaked was rookie DJ Moore, and, well….
Something to help you through the next six weeks. pic.twitter.com/06wP1wq6WA

— The Riot Report (@RRiotReport) June 14, 2018
Some more red zone drills led to a scary moment as Cam Newton rolled right and was knocked down by a pulling Matt Kalil. Newton immediately bounced back up and spent the next five minutes messing around with his teammates – the younger Kalil has had an up-and-down spring thus far, but it will be a lot easier to evaluate his performance once the pads go on – one one play, Bryan Cox blew by him on the edge for a would-be sack, but had Kalil been able to actually make contact with Cox, that might not have happened.
Ian Thomas got a lot of work today with Chris Manhertz out and Greg Olsen getting limited reps (that seemed to be by design), the rookie showed off his athleticism with a touchdown in the back of the end zone from Cam Newton – the first-team offense also scored during one of the first two-minute drills on a short touchdown pass from Torrey Smith that prompted Rasheed Bailey (who had a spectacular leaping touchdown grab himself) to yell out "I SEE YOU, OG!"
Damian Parms intercepted Cam Newton during drills and rookie linebacker Andre Smith had a nice pick off of a batted ball from Garrett Gilbert. Gilbert has really improved this spring, I'm excited to see what he can do in the preseason against 'real' opponents, fans calling for another quarterback signing may not ultimately be correct.
The cornerback carousel continues, with a popular lineup today being Donte Jackson on the inside with Ross Cockrell and Lorenzo Doss on the outside.
Amini Silatolu received the bulk of first-team left guard snaps, with Ron Rivera reiterating after practice that the former second-round pick would have the 'first chance' at the position come training camp. The second-team offensive line was (from right to left): Jeremiah Sirles, Taylor Moton, Tyler Larsen, Greg Van Roten and Blaine Clausell.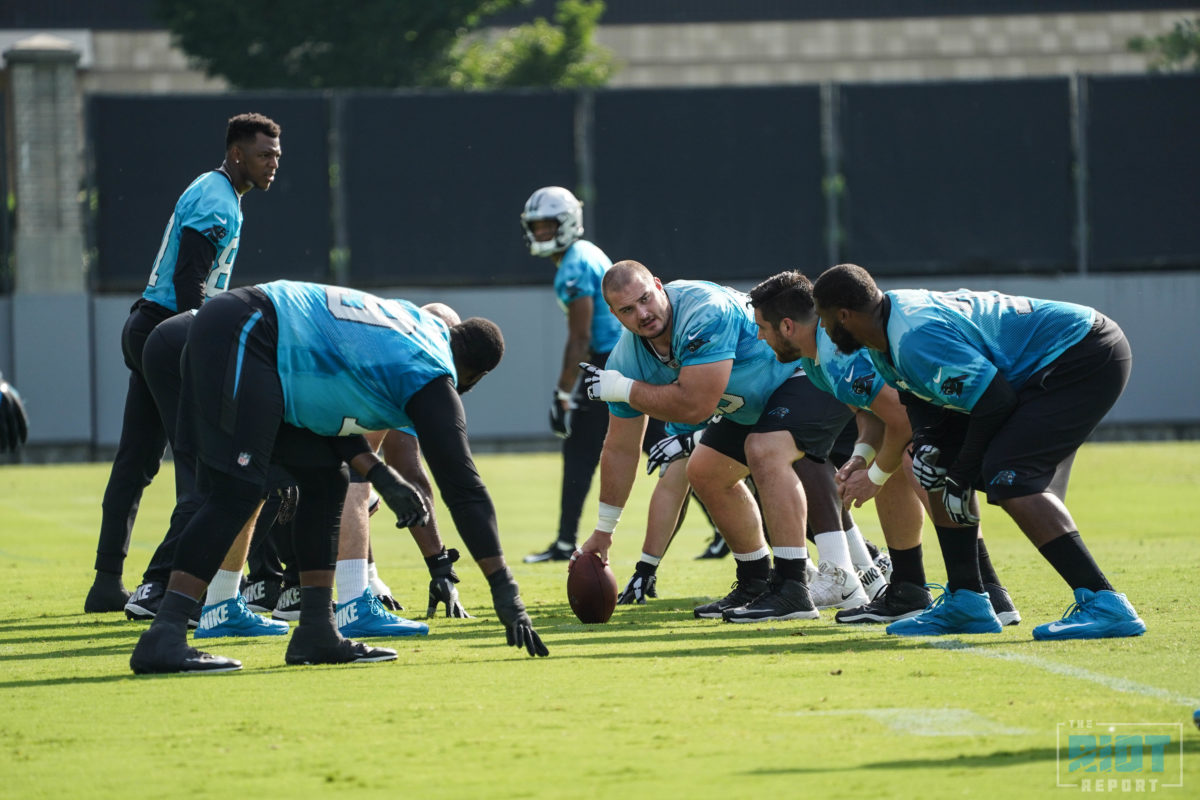 Alex Armah continues to get a lot of work, lining up not only at the fullback slot but also as a third/fourth-string tight end with Manhertz missing practice and Jason Vander Laan (who has quietly had a nice spring, including a touchdown yesterday) banged up. Armah is going to be a part of this offense.
CJ Anderson has played with almost all of the offensive lineups thus far this spring, not surprising as he works his way into learning the full playbook – he had a nice run on a handoff from Cam Newton near the end of practice.
As yesterday the team practiced the new kickoff rules, today's special team session focused on punting, with Christian McCaffrey, Damiere Byrd, DJ Moore and Torrey Smith taking the reps at returner and Donte Jackson, Rashaan Gaulden and Kevon Seymour doing some work at gunner. Don't underestimate special teams as a way for younger or bottom-third of the roster players to get playing time. We've all heard the Terrell Davis story, but a player like Andre Smith, Elijah Hood or Jermaine Carter must make an impact on special teams if they hope to not only make the team but see a jersey on Sundays.
The team was joined by 13-year-old Make-A-Wish Kid Kyleigh Dean from Conway, SC, who has congenital generalized lipodystrophy – Kyleigh started the day with TD and Luke and interacted with all of her favorite players throughout the practice session. Davis said after the session that interacting with kids like Kyleigh and learning about their life experiences helps him to put things in perspective.