The first moments of offseason workouts have begun to develop a rhythm – the players begin to stream in about 10-15 minutes before practice is slated to begin, some players (mostly wide receivers) head to the Jugs machine to take reps – today that included cornerbacks James Bradberry and Ross Cockrell; some players begin to slowly jog around the field and do light drills with their position coaches, while some simply stand around and chat with their compatriots. While most players make the walk from Bank of America Stadium to the practice fields, some take the cart – this offseason, it has almost always been veterans Captain Munnerlyn and Mario Addison hitching a ride although they're sometimes joined by Graham Gano or Thomas Davis, who was on the cart today. The final player to enter is customarily Cam Newton, who takes a moment to plug his personal phone into the stereo system and play music, which will continue through the entire practice session, before jogging onto the field, usually yelling happily and making comments to the various media members recording this moment for their Instagram story.  That's before the actual work begins – here's what we noticed from today's session:
While today's mini-camp was mandatory, two veterans were absent: Julius Peppers, who worked inside on the treadmill with trainers and Mike Adams, who was excused to go to his daughter's graduation – also missing practice today were Evan Baylis and Drew Iddings, while Fred Ross, Curtis Samuel and Jamaal Jones worked on the side.
Samuel worked with trainers today after being a full participant in yesterday's session – Rivera said after practice that the wideout was having a scheduled rest day, they're working him back slowly – a full training camp workload will do wonders for the second-rounders development.
Tight end Chris Manhertz was carted from the fields today after the first series of team drills – he came limping back to the huddle after running a route, limped to the "sidelines" before trying to hop back into the huddle. Coaches pulled him out and a few minutes later he was on the cart – he flashed a thumbs up as he passed his teammates and Rivera called it a "sore foot" so the cart may have been a precautionary measure. He also didn't participate in Cam's kickball tournament last weekend, worried about his ankle, so that may have had something to do with it as well.
Noticing a fair amount of bobbled balls for Elijah Hood over the past few sessions, either on handoffs or in individual pass-catching drills – while he had a breakaway run to show off his speed yesterday, he needs to make sure he's keeping the ball safe first if he wants to make the team over a guy like Cameron Artis-Payne that already knows the system.
Speaking of Artis-Payne, he has at least one rush per session that impresses, usually involving a jump cut from right to left – that quick change of direction has always been part of his game, but it will be an improvement in pass protection that will actually result in getting time on the field. But when he makes that first cut to hit the hole – whew, it's something.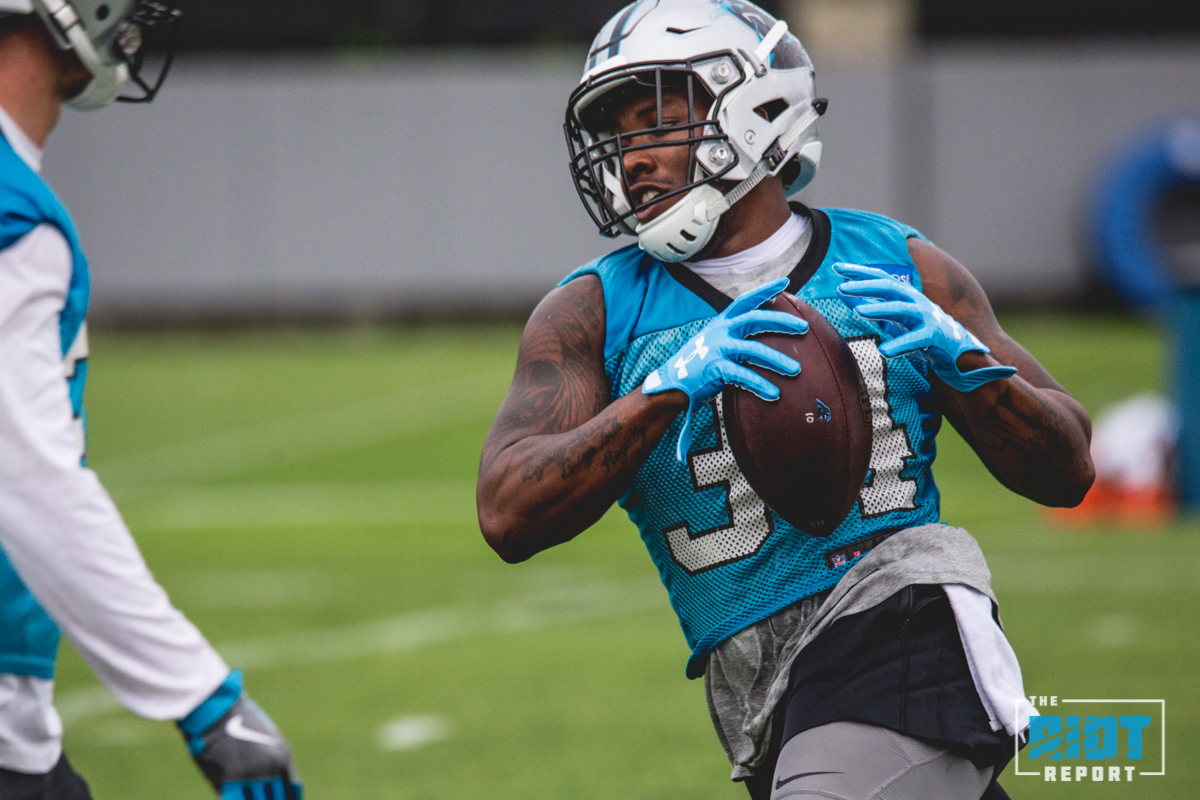 With Mike Adams gone and Ron Rivera living up to his word that they would be utilizing multiple lineups in the secondary, the starting unit during team drills consisted of Donte Jackson, Ross Cockrell, Da'Norris Searcy and Rashaan Gaulden. Gaulden had a nice pass breakup on the first series; in fact, Gaulden had a nice day overall, showing the versatility to play single-high and in the box – I'm not sure the third-round pick will be ready to take a starting slot against Dallas, but his growth potential is there and it will be nice to be able to utilize him as depth – he seems like an incredibly smart player, will be important to see how much he'll retain between mini-camp and training camp in August.
At one point, Torrey Smith had Gaulden beat deep, but Newton looked a different way – don't let the lack of hype fool you, Torrey Smith is still very much a deep threat.
After Amini Silatolu got most of the work at left guard yesterday, today appeared to be Taylor Moton's day for reps at the left guard slot – Silatolu still got some work at right guard later in the session with Jeremiah Sirles next to him; we won't know anything more about the left guard competition until the pads go on.
Lorenzo Doss continues to be a spring workout wonder, with a nice pass break up and another interception – too many to count this offseason so far – he is making a move for the practice squad if not for the main roster – the former Bronco is making it hard to ignore him for much longer, but don't forget he's done most of his work against the third and fourth stringers.
Special teams ran a full-team kickoff return drill and it was….well….weird. The new rules that make it illegal to block until the coverage unit has crossed midfield, but the receiving team must line up within 15 yards of midfield and the kicking team can't take a running start will take a little getting used to from both a player and an aesthetic standpoint – the receiving team appeared as if they ran back to around the 25-yard line and then all turned around to block in unison (although admittedly, this may have only been one set and not the norm for returns going forward). Returners included Christian McCaffrey, DJ Moore, Kenjon Barner and Damiere Byrd – right of first refusal probably goes to Byrd, who had the longest return in franchise history last season.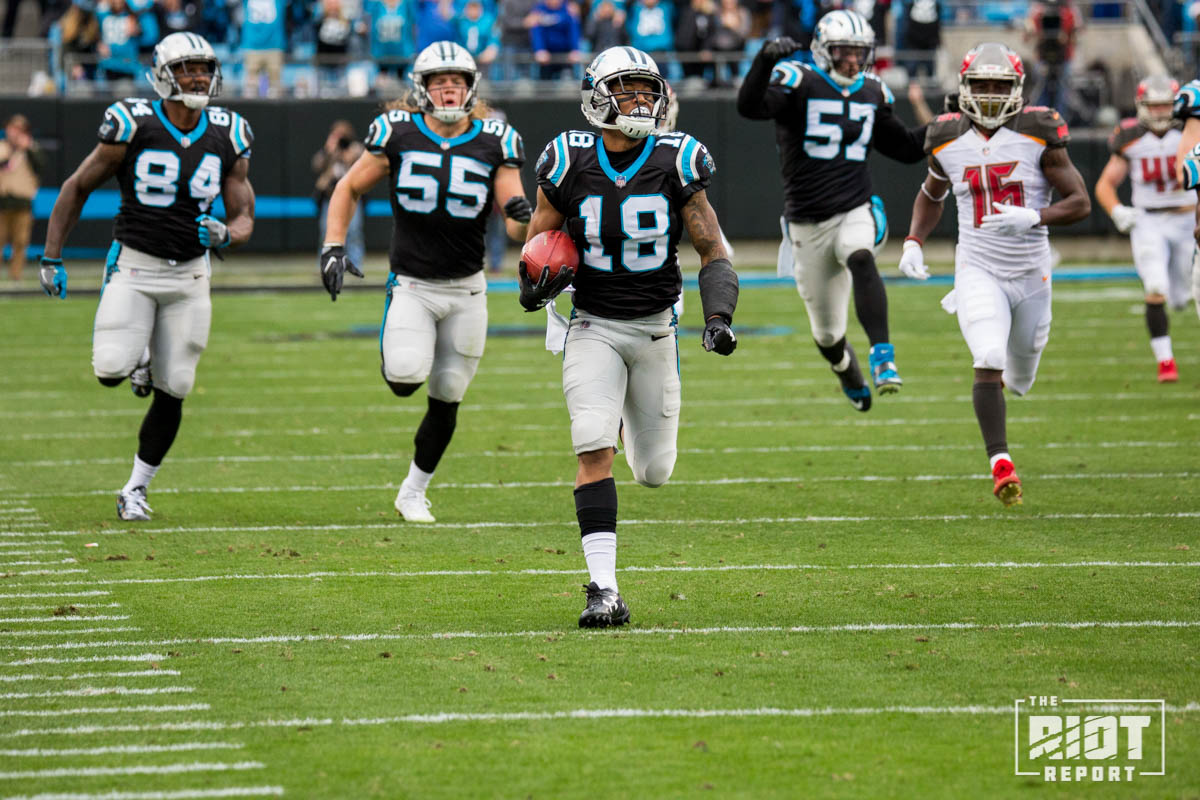 Rookie Ian Thomas showed off some speed, taking a dumpoff pass, finding the corner and accelerating down the sideline – this led to Cam Newton's customary celebration after a big offensive play.
Christian McCaffrey also caught a lot of passes today, including a spectacular in-route that might have gone for big yardage in a game – similar to his touchdown against New Orleans in the playoffs last season. Both McCaffrey and Anderson will be huge targets on dumpoff passes this season for Newton, he'll build on his ability to "take the layups" as he did in 2017.
Practice was scheduled to end at 10:30 this morning, but they clearly kept going until the third-team offensive unit scored a touchdown to finish practice; this proved easier said than done as first Lorenzo Doss and then Dezmen Southward picked off errant Taylor Heinicke passes before Austin Duke caught a crossing route over the middle in the endzone to finish practice.
First to Practice award today went to Mose Frazier, who was followed almost immediately by Damiere Byrd.
The special teamers continue to entertain at practice, this time entering practice wearing each others jerseys after having a spirited crossbar challenge yesterday. Good to see Graham Gano becoming a viral superstar hasn't changed him.
Palardy and Gano are wearing each other's jerseys today.

Gano: "I'm going to punt and I'm going to do it left footed." pic.twitter.com/jPjRbR2Gcl

— The Riot Report (@RRiotReport) June 13, 2018