With the draft now just a few days ago, the Panthers should now have a fairly clear view of what their priorities are with the sixth pick and, while all of that can go out of the window depending on what other teams do on the night. Given the lack of a consensus top pick and significant disagreement regarding all of the top quarterbacks, this year looks to be one of the more unpredictable ones in recent years, and what the Panthers will actually end up being able to do come the sixth pick is highly unclear.
What is not unclear, however, is what the Panthers' positions of needs are going into the draft, and the huge importance that is going to be placed on what they do end up doing with that 6th overall pick as, if they don't trade down to add additional picks, their next selection won't be until the second half of the fourth round.
With that in mind, our final mock draft lays out what we think the reasonable best-case scenario would be for the Panthers. Given the lack of day two picks, this is always going to be an exercise in significant compromise but, as we did last year, we hope to lay out what could be possible if everything falls into place as well as highlighting some of our own draft crushes.
Trade! Panthers send the 6th and 199th overall picks to Kansas City for picks 29, 30, 50, 103 and 121. They then flip the 29th pick to the Jets for picks 38, 111 and 117 and the 30th pick (in addition to picks 144 and 149) to the Falcons for picks 58, 74 and 82.
While the Panthers will likely have several appealing options with the 6th overall pick, it is hard to imagine they wouldn't pounce on any sensible proposal when it comes to trading down. Whatever you think about the Panthers' prospects in 2022, this isn't a team that is one player away and, with no picks on day two and a draft class that is richer in depth than it is in top-tier talent, they would likely be far better off turning their top selection into a trove of day two assets.
In terms of trade down options, Kansas City and the Packers are going to be potential targets as teams with a pair of late first-round picks with rosters that are much closer to being one player away, but there are several other teams that could also be potential trade partners at various point throughout the first round. In our most recent mock, we had a similar trade with the Panthers selecting a pair of players later in the first round, but the ideal outcome would be if they are able to then flip those late first-round picks for a trove of day two selections, which is therefore what we have done here.
38th Overall Pick: Tyler Smith, OT (Tulsa); 6'5 324lbs, RAS = 8.77
It's far from a secret that the Panthers need to find a long-term answer at left tackle, but what Brady Christensen does allow them to do is focus on drafting somebody who can become an elite tackle in time, rather than feeling a need to reach for a more mediocre but pro-ready player. This approach certainly comes with more risk and places a lot more emphasis on the coaching staff to actually help the player reach their full potential but, with James Campen's record developing players in Green Bay, there should be some optimism about the Panthers chances of getting things right.
Tyler Smith is certainly not the finished product at left tackle, and needs to play with much more technical discipline, especially in terms of his hand position, but what he certainly doesn't lack is talent. He has good foot speed and balance to cover speed rushers around the edge with the bend to anchor effectively (though this could also use some technical refinement). Most impressively, he is immensely powerful, both in his leg drive to move defenders off the ball in the run game and in his upper body strength as a pass protector which allows him to compensate for some of his technical issues.
He likely isn't going to be a week one starter, but if he ends up being the best tackle to come out of this class then that wouldn't be a massive shock.
50th Overall Pick: Chad Muma, LB (Wyoming); 6'3 239lbs, RAS = 9.77
Even before Damien Wilson's recent legal issues, the Panthers were short both on linebacker depth and long-term certainty at the position besides Shaq Thompson, who really excelled in 2021 playing an off-ball role similar to the one that Thomas Davis made his own for much of the past decade. Finding somebody to partner him who can both excel against the run inside and drop into coverage over the middle might not be the one of the most talked-about areas of the Panthers' roster but is something that could help take their defense to the next level.
Chad Muma might not be a name that is getting a lot of airtime in the build up to the draft, but his tape is very much that of a first round pick. He is a great athlete with the speed and movement skills to both cover the full width of the field and to play a high level of man coverage against most tight ends and some receivers and shows a really high level of technique both in how he works off blocks inside and as a tackler in space. Most impressively, he flashes the kind of high-level instincts to anticipate routes in zone coverage which, combined with good ball skills, allows him to pick off passes over the middle.
Expecting anybody to come in and replace Luke Kuechly is an unreasonable pressure to put on any player, but Muma is a genuinely excellent linebacker prospect who has a chance to be as good as anybody currently playing in the NFL.
58th Overall Pick: Alec Pierce, WR (Cincinnati); 6'3 211lbs, RAS = 9.82
With the Panthers signing DJ Moore to an extension and restructuring Robby Anderson's contract this offseason, not to mention the second-round pick spent on Terrace Marshall Jr. last year, it is hard to argue that the Panthers haven't made significant investments in the receiver position. However, aside from DJ Moore, that investment hasn't yet resulting in consistent production and, while a lot of that could be for reasons other than the players themselves, if the Panthers do trade down for additional picks, then they would be wise to take advantage of an extremely deep receiver class.
Not only is Alec Pierce an extremely good prospect, but he would be an excellent stylistic fit with the Panthers' existing receivers. Though he has the speed to threaten vertically and make big plays down the field, where he really excels is in his ability is in his ability to use the threat of that speed and his large frame to create underneath separation as a route runner. Add to this his ability to make plays at the catch down with great leaping ability and hands and at least some ability to add yards after the catch and it's hard not to be reminded of Allen Robinson's tape at Penn State.
Robinson somehow fell to the 61st pick back in 2014, and Pierce offer a similar chance at daylight robbery if Pierce is on the board anywhere outside the first round.
74th Overall Pick: Nik Bonitto, EDGE (Oklahoma); 6'3 248lbs, RAS = 9.37
While the Panthers did do quite a lot of good work during free agency, one area that took something of a hit is the Panthers' edge rush. Haason Reddick accounted for over 25% of the Panthers' sacks and nearly 20% of their QB Hits in 2021 and they are yet to add anybody to help replace his contribution. Though Phil Snow has talked about how the Panthers will try and replace him by committee, adding an edge rusher who can help take some of the pressure off Brian Burns is one of the Panthers' biggest remaining needs.
The 2021 draft class is extraordinarily deep at edge rusher and one name who has somewhat slipped through the net as a result is Okahoma's Nik Bonitto. Some of this may be due to how he was used, as he was often asked to be more of a do-it-all defender than a specialist edge rusher but, when he was asked to rush the passer, he showed a lot of promise. He has really good quickness and excellent bend to get outside the tackle and, while his hand usage is more flashes of excellence rather than consistent production, he is much more than just an athlete. Crucially, despite his small size, he is a very effective run defender, using good arm extension and bend to either seal and edge or bend into interior gaps.
82nd Overall Pick: Nicholas Petit-Frere, OT (Ohio State); 6'5 316lbs, RAS = 6.26
Even if the Panthers take an offensive tackle with their first pick (be that at 6 or later on) they could, and probably should, revisit the offensive line later in the draft as their lack of depth across the offensive line has been repeatedly exposed in recent years and, if they can get it at a reasonable stage in the draft, adding depth also has the added advantage of increasing competition and flexibility. Ultimately, by taking two offensive tackles one day two rather than one with the sixth pick, the Panthers are able to hedge their bets while also adding additional picks.
Nicholas Petit-Frere is quite a different player stylistically than Tyler Smith with great foot speed, bend and balance in pass protection but without the elite power. Technically, he shows pretty good hand placement and arm extension to control blocks but needs to be more disciplined in his lower body with a tendency to let his pad level get away from him at times which makes him vulnerable both to power rushers and inside moves. He definitely has a real chance to develop into a quality starter with time but would, at the very least, offer them quality depth at both tackle positions.
Trade! Panthers trade the 111th, 117th and 121st overall picks to the Bills for picks 89, 130, 185 and 204
One of the advantages of trading down and adding picks is that you then have the assets to trade back up for a player you covet if they fall past where you value them. Here, the Panthers are able to bundle a trio of early fourth-round picks for a third-round pick, a later fourth-round pick and a pair of later round picks, but even outside of this specific scenario the general principle of trading down early making it easier to trade back up later holds throughout.
89th Overall Pick: Kendall Joseph, S (Illinois); 6'1 203lbs, RAS = NA
Though the Panthers signed Xavier Woods in free agency and retained their entire safety room, the Panthers have continued to make noises indicating that they would ideally like to add another safety in the draft. Whether this means they would ultimately like to move Jeremy Chinn back to more of a hybrid role or that they want to move towards something similar to the three-safety system that Snow ran at Baylor is unclear, but this is clearly something that they have higher on their list than a cursory glance at their depth chart might indicate.
Kendall Joseph is an interesting prospect who will likely need a little bit of technical refinement to hit his ceiling in the NFL but has the potential to be a well-rounded starter with time. In coverage, he shows good instincts and ball skills to make plays on the back end, and that is likely where his short-term upside lies, but he also flashes the movement skills to drop into the slot and play man-to-man against most NFL receivers, though in this regard his footwork needs some work as there is currently some wasted motion that can allow receivers to separate at the head of routes. As a run defender, he isn't a thumper but wraps well and works off blocks effectively, though would be helped by engaging his lower body more.
103rd Overall Pick: Channing Tindall, LB (Georgia); 6'2 230lbs, RAS = 9.68
Even if the Panthers happen to take a linebacker prospect early in the draft, their near-complete lack of depth at the position is such that they could very well revisit it later in the draft. Though teams have historically looked for a coverage-focused third linebacker, that has shifted in recent years as those players have replaced the 'thumper' as the starting linebacker and it is instead the larger, run-focused linebacker who gets subbed on against heavy sets. This is something the Panthers did quite a bit in 2020 and, if they can add another coverage-focused linebacker, is something they might look to do again. All they need is that run stuffer.
Channing Tindall is certainly more of a 21st-century run-stuffing inside linebacker, with fantastic speed to run sideline-to-sideline to shut down outside runs with the power to attack blocks at the point of attack. Though he can occasionally go off his feet a little early he is a very good tackler and is able to play a competent level of zone coverage as well, though his man coverage will likely be limited to lass pass-focused running backs and tight ends. He has the potential to be a full-time starter in the NFL but would be a perfect fit for a team looking for a player to sub-in to match fullbacks and blocking tight ends.
130th Overall Pick: Kyren Williams, RB (Notre Dame); 5'9 194lbs, RAS = 3.49
Though we are yet to see this materialize on the field, the Panthers have once again made noises this offseason indicating that they would ideally like to play McCaffrey more in the slot and to make use of other running backs to carry the load. While Chuba Hubbard was ok during his rookie season and free agent signing D'Onta Foreman has been an impressive downhill runner, neither of these players have a very good record receivers, to put things nicely. Though CMC will be the primary passing option out of the backfield, the Panthers would do well to find somebody who can offer something between McCaffrey and Foreman.
Kyren Williams' poor combine has dropped him down many NFL boards, but he might just have the best tape of any running back in the class. He doesn't have elite deep speed, but he has great quickness to get either up the field or outside, the contact balance and agility to both make a defender miss and space and break tackles on inside runs, and he shows a consistently good ability to read and react to blocks in front of him. Most importantly for the Panthers, he is a really promising route runner with good hands who shows match-up ability from the slot as well.
137th Overall Pick: Luke Fortner, iOL (Kentucky); 6'4 307lbs, RAS = 7.29
If the Panthers take the approach of selecting a more developmental tackle with the expectation that Brady Christensen will play left tackle in the short term, that then raises questions on the interior. Bradley Bozeman and Austin Corbett will likely fill two of the three inside roles, but the final spot would be up for grabs, with Cam Erving, Deonte Brown and Pat Elflein all options to start. Though the Panthers would be foolish to expect to find a starting interior offensive lineman with the 137th pick (whether they trade down beforehand or not), adding depth and competition on the interior has the potential to make a big difference.
Luke Fortner isn't in the same class athletically as some of the top interior offensive line prospects in the class, but he is a good technician and a solid athlete who can play both center and guard, something the Panthers clearly value in their interior offensive lineman. Though he isn't a mauler, he plays with good hand placement and pretty good arm extension with the footwork to seal defenders off from inside rushing lanes and has enough foot speed to stay in front as a pass protector, where his hand usage allows him to hold his own.
185th Overall Pick: Daniel Bellinger, TE (San Diego State); 6'5 253lbs, RAS = 9.66
The Panthers' tight end group is in an interesting position as, having re-signed Ian Thomas to a three year deal this offseason following the selection of Tommy Tremble in the third round, they have two well-rounded rotational pieces who can contribute as both blockers and receivers, but still lack a true #1 receiving option at the position who is able to offer a safety blanket over the middle of the field. As such players rarely spring out of college fully formed, the Panthers best chance to add a dynamic pass catching tight end in the draft is to develop one.
Daniel Bellinger is definitely not the finished product, but what he is is an excellent athlete with good core traits to develop. He needs technical refinement as a blocker but shows good hand placement and strength to both create rushing lanes and pass protect against blitzing linebackers. As a receiver, he has the speed to strength the field and the ball skills and leaping ability to make plays at the catch point but needs to continue to develop as a route runner to allow him to create consistent separation over the middle.
203rd Overall Pick: Jalen Wydermyer, TE (Texas A&M); 6'4 255lbs, RAS = 1.00
As with offensive tackle earlier in the draft, the Panthers could also employ a 'throwing darts at the board' approach to filling out their tight end group, and if they are going to try and develop Bellinger into a #1 tight end over time then there is also space for a player who can come in and offer more short-term production, albeit without the same upside. Given the lack of success they experienced with the experiment of moving Giovanni Ricci to a hybrid TE/FB role then somebody who can play some fullback would be a bonus.
Wydermyer's stock has fallen off a cliff following a really poor testing season and, while his lack of explosive athleticism will limit his true ceiling, the stuff he did well on tape should help him translate well to the NFL early on. As a blocker, he shows really good hand placement, arm extension and leg drive both as an in-line blocker and as more of an H-back, though he would benefit from improve knee bend. In the passing game, he is a savvy and nuanced route runner who is able to use body control and changes of speed to create separation at the head of routes underneath.
242nd Overall Pick: EJ Perry IV, QB (Brown); 6'2 211lbs, RAS = 9.43
Even if the Panthers pass on taking a quarterback early in the draft, which is starting to feel increasingly likely, then they could still try and throw a dart at the position in the later rounds. Though such quarterbacks very rarely become anything in the NFL, the value that is placed on the position means that even if a seventh-round pick never becomes more than a decent back-up then that is a fantastic return on investment with the potential to be flipped for draft capital down the road.
EJ Perry IV certainly comes with some red flags, he will be a 24 year old rookie who plays for an FCS school after transferring away from Boston College, but he also has a lot of upside with one of the better arms in the class that allows him to consistently work the ball down the field with good touch and flashes of really elite accuracy, He will need to get used to a more complex offense in the NFL, and his processing clock is going to need to speed up significantly, but taking a chance on a talented arm this late in the draft would be a wise move if the Panthers do go quarterback early.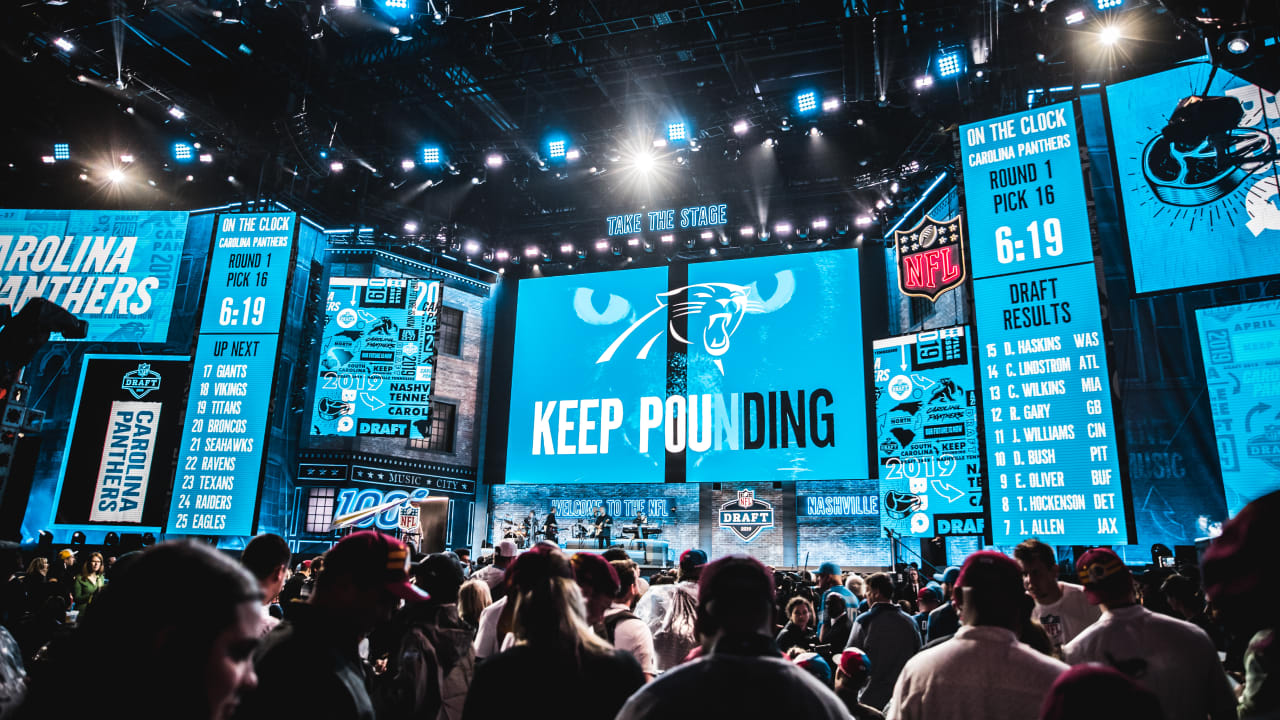 It should go without saying that given the uncertainty over how the first five picks of the draft will go, this projection of the full seven rounds for the Panthers involves quite a lot of guesswork about who will be taken when and what draft picks would be offered/needed in any given trade. However, what we hope this mock draft offers is an indication of what the Panthers might be able to achieve.
All we can do now is wait and watch as the Panthers write the next chapter in their draft history.
(Top photo via Brett Rojo/University of Tulsa Athletics)