So far this offseason we've already had plenty of goes at examining how the Panthers might approach the 2021 NFL Draft. Aside from our initial prediction, we've looked at how the Panthers could make a blockbuster trade for one of the top quarterbacks, how they could made a concentrated effort to continue to build defensively, how they could trade down a long way and look to add one of the top receivers as well as how this could be impacted by free agency and by the trade for Sam Darnold.
However, what we haven't looked at yet is what we think would be the best-case scenario for the Panthers, and so that's exactly what we're going to do here. It's worth noting that, while this is a best case scenario, we have used a consensus big board as a guide to try and keep things within the bounds of reasonability.
TRADE: The Panthers send the 8th pick to the Chargers for picks 13 and 47
For almost every team, the best-case scenario involves trading back and still being able to take the player you want. For the Panthers, that almost certainly means one of the top offensive tackles and so while they might be able to get more draft capital from a trade-back involving a team looking for a quarterback, any trade that puts them behind both the Chargers and the Vikings is likely to be a risk if one of the top tackles is already off the board by the 8th pick which would likely be the case if one of the top quarterbacks is still on the board.
In this scenario, both Sewell and Slater are on the board with the 8th pick, and the Chargers are both a team in real need of offensive tackle help and also one that is well-position to be aggressive with limited needs and a young quarterback on a cheap deal. Making this move for Sewell would allow them to pair Herbert with his college teammate and secure two young high-ceiling players on rookie deals at the two most important positions.
13th Overall Pick: Rashawn Slater, OT (Northwestern)
The Panthers have already made a number of moves on the offensive line this offseason, but what they lack is certainty about who will start in any one position other than Paradis and Moton. While there is still some discussion about where Slater would fit bet in the NFL positionally, importantly he is expected to be able to start all across the line and play at a high level and so he can fit around the other moving pieces up front.
Slater might not have the very top tier foot speed of some of the other tackles in this class, but he plays with great control, locating his hands well and playing with good arm extension to secure blocks. As a run blocker, he isn't going to consistently drive defenders off the ball, but he uses his feet well to generate rushing lanes laterally which fits in well with what the Panthers seem to be trying to do schematically.
As a pass protector, he does a pretty good job of countering speed rushers but can sometimes sacrifice pad level in doing so and rushers who are able to convert speed to power effectively could cause him some trouble at times. Ultimately, however, Slater is a very consistently and technically sound blocker who would give the Panthers a long-term starter at one spot who they could then continue to build around.
TRADE: The Panthers send pick 39 to the Jaguars for picks 45, 106, 249 and a 2022 6th round pick. They then send pick 45 to the Jets for picks 66, 86, 107 and 186
The Seahawks under John Schneider have made a lot of trades, and the Panthers under Scott Fitterer are likely to have a similar approach if what he has said thus far is any indication. One thing the Seahawks also made a real art of what the double trade, where they would trade down for extra picks, and then trade down with some of those picks for even more picks. While the two teams chosen for this here are somewhat picked at random, this as a principle is a very good strategy and one that Panthers fans should welcome.
There are always going to be teams that want to move up and, while the Panthers won't always get the deal they would have hoped for, this is a very good way of adding lots of picks in the middle rounds which is often where some of the best value in the draft can be found. A trade like this where through two trades the Panthers can move back from the early second to the early third and pick up a 3rd, two 4ths, two 6ths and a 7th is just good business.
47th Overall Pick: Creed Humphrey, iOL (Oklahoma)
The Panthers need on the offensive line is a big one, and even having taken Slater with the first pick they will ideally hope to be able to double-dip and get a second shot at one of the top offensive linemen. Humphrey is another player who doesn't have stand-out athletic traits but is really good technically, and also has the position flexibility to play multiple spots along the offensive line. In the short term he would likely compete for one of the starting guard roles but also has the chance to kick back to center to replace Paradis down the road.
As a run blocker, Humphrey doesn't have elite power but plays with great leverage and uses his hands well to secure blocks and shows really good footwork to generate leverage laterally. As a pass protector, he has good foot speed and plays with good control that forces defenders to beat him rather than creating opportunities for easy pressures. He might not be the most spectacular player, but the Panthers don't need spectacular players up front, they need reliable ones, and Humphrey is certainly reliable.
66th Overall Pick: Kelvin Joseph, CB (Kentucky)
While the signing of AJ Bouye has removed the urgency with which the Panthers have to find a new starting corner, they still have little long-term stability at the position with Bouye turning 30 this year and Donte Jackson in the final year of his contract. Adding a developmental corner like Joseph on day two who they can coach for a year and who can then either push into a starting role in 2022 should Jackson walk in free agency or compete with Bouye for the #2 spot.
Joseph certainly shows a lot to get excited about on tape, with the speed and movement skills to run with even the best receivers in man coverage and the instincts and ball skill to be an impact player in zone as well. He needs to be more disciplined in his footwork as currently he can get caught stopping his feet at head of routes. Importantly, he fits the physical profile that the Panthers look for in cornerbacks, standing at 6'0 and 197lbs while running sub-4.4. He isn't the finished article yet, but he would be a gamble worth taking at this point in the draft.
73rd Overall Pick: Andre Cisco, S (Syracuse)
It seems fairly clear that the Panthers plan to move Jeremy Chinn to safety, if not in 2021 then certainly before he reaches the end of his rookie deal. What is less clear is who his long-term partner at safety is going to be, as while Juston Burris played competently in 2020 he certainly hasn't nailed down the position long-term entering the final year of his contract. Given that Matt Rhule went to TCU's pro day, likely to watch Trevon Moehrig, it seems as though the Panthers would ideally like to add a safety this offseason. Enter Andre Cisco.
Cisco certainly has a lot to like, he shows great range, anticipation and ball skills in zone and has the movement skills to be a high-quality man coverage player as well. He does need to work on his footwork in coverage and his run defense, while enthusiastic, is a little chaotic at times, so he likely isn't going to be an ideal week one starter, but for a team like the Panthers whose need is more long-term he would be great value at this point in the draft.
TRADE: The Panthers send the 86th and 106th overall picks to the Chargers in return for picks 77 and 159
One advantage of trading down as aggressively as the Panthers have so far in this mock is that it gives you the assets to then be aggressive in trading up if a player you like falls. Ideally (which is really what we're going for here), the Panthers will be able to do so while being able to retain the number of picks they have, even if it means moving back later in the draft. This is essentially what the Panthers did a year ago in moving up for Jeremy Chinn, and that worked out pretty well.
77th Overall Pick: Amari Rodgers, WR (Clemson)
It's not going to be easy for the Panthers to replace Curtis Samuel, but if they're going to try then Amari Rodgers looks to be their best bet in the draft. He might not fit the profile of the stereotypical X receiver at 5'10 and 212lbs but he has the potential to be a versatile weapon out of the slot and would be an ideal fit for the role that Curtis Samuel had last season.
Rodgers might not be on Samuel's levels in terms of top end speed, but he is a shifty and subtle route runner who can create consistent underneath separation while also having the speed to stretch the field vertically. Like Samuel, he is also a real threat with the ball in hand with some teams asking him to work out at running back during his pro day. He also has better hands than Samuel and though he didn't run the fullest route tree at Clemson he showed at the Senior Bowl that he can be highly effective over a diverse route tree.
Definitely worth trading up for at this point in the draft.
107th Overall Pick: Kellen Mond, QB (Texas A&M)
While the Panthers have already made their first big move at quarterback by trading for Sam Darnold, this likely doesn't mean that they won't be keen to add yet more options at the position during the draft. The projections on Mond are all over the place, with some having him going late in the first round and others projecting him to later on day three. However, in this best-case scenario the Panthers will be able to get him early on day three and so they do.
Mond isn't perfect, no quarterback prospect is, and like every quarterback entering the NFL he will need to master a more complex scheme and show he can process effectively at the speed of the NFL game. However, he has a good arm with top-tier velocity and accuracy on short and intermediate throws, though he does need to show he has the touch to drop the ball into vertical windows down the field. He is also a good decision maker, working through reads quickly and making good decisions with the ball.
While drafting a quarterback is always something of risk, the pay-off is huge if you hit, and taking a chance on Mond here would be both good value and much easier to justify after having addressed most of the big needs through the first two days of the draft.
113th Overall Pick: Cameron Sample, DT (Tulane)
The Panthers really need to add interior pass rush as, while the signing Morgan Fox will help in that regard, having lost Efe Obada in free agency and released Kawann Short the Panthers are definitely short of 3-techs. While this is likely something that the Panthers might feel compelled to address earlier in the draft, this is a position group that likely will be comparatively stronger early on day three than in the first couple of days of the draft. So that's where they take on here.
Cam Sample isn't the prototypical defensive tackle, as at 6'3 and around 275lbs he is definitely on the smaller size for the position and spent much of his time in college rushing from the edge, often from a two-point stance. However, he is able to make up for that with really good strength for his size and the fact that he plays with consistently very good leverage, allowing him to get under the pads of blockers and anchor against the run or drive blockers off balance as a pass rusher.
As a pass rusher, Sample is still something of a work in progress, but he has the quickness, power and knee bend to challenge blockers athletically as well as the hand placement, arm extension and flashes of pass rushing moves to challenge them technically. Having impressed at the Senior Bowl under the eyes of the Panthers' coaching staff, they would likely be thrilled to be able to add him at this stage in the draft.
TRADE: The Panthers send picks 151 and 193 to the Browns for picks 132 and 257
Here, the Panthers make another trade up for the player they want, and if you're thinking "this seems like an awful lot of trades", it's worth noting that in 2019 the Seahawks made ten separate trades involving draft picks and, while four of those trades also involved players, Panthers fans should get used to a team that is going to make an awful lot of trades.
In terms of wider strategy, the focus is on accumulating as many picks in rounds 3-4 as possible, with much less value being placed on picks right at the end of the draft which matches the approach that the Seahawks have taken in the past. The details of the specific trade are highly speculative, but a trade where they are able to turn a 5th and a 6th into a 4th and a 7th would definitely both fit the pattern and be a good move.
132nd Overall Pick: Anthony Schwartz, WR (Auburn)
Speaking to the media after the trade for Sam Darnold, Scott Fitterer talked about the team's areas of focus entering the draft and among them was a desire to add more speed. While the Panthers aren't short of speed at receiver, they do lack for high-quality depth at the position and with Robby Anderson entering the final year of his contract they could do with adding some field-stretching insurance. If you want to stretch the field, then it's hard to find a better player in the 2021 NFL Draft than Anthony Schwartz.
As well as being very, very fast, Schwartz also shows good hands, an ability to make plays after the catch and flashes of subtle route running which, if built upon, could allow him to flourish in a role similar to that which Ted Ginn had with the Panthers. While Schwartz might never develop into a true #1 receiver in the NFL, he can be a valuable contributor to an NFL offense and, given how much the Panthers are expected to run four or even five receiver sets, quality receiver depth is going to be important.
159th Overall Pick: Divine Deablo, LB/S (Virginia Tech.)
If Jeremy Chinn is going to move to safety long-term, then the Panthers will either have to move to a more conventional defensive structure which would sacrifice the flexibility that Matt Rhule has talked so much about, or find somebody who can offer a similar level of flexibility but who is a more natural fit at linebacker than safety. Ultimately, Jeremy Chinn is as special as he is because of the rarity of the skill set that he has, but it would be far from surprising to see the Panthers continue to prioritise LB/S hybrids going forwards.
Deablo was used largely as a box safety in Virginia Tech's defense, and while at 6'3 and 226lbs he isn't that much larger than Chinn, he looks to have the frame to add further weight while still have top end speed as evidenced by his 4.46 forty at his pro day. Like Chinn, Deablo will also be something of a work in progress at the NFL as while he flashes ball skills, instincts and range in coverage he needs to continue to work on his footwork and his tackling technique needs quite a lot of work.
Deablo won't be somebody who teams will draft expecting to start right away but he can be an impactful special teams contributor who would be a great fit for the dime linebacker role which the Panthers used Jeremy Chinn in last year.
186th Overall Pick: Noah Gray, TE (Duke)
Even after the signing of Dan Arnold, the Panthers likely would like to add further to their tight end room this offseason. While Ian Thomas will hopefully continue to improve, he is entering the final year of his rookie deal and Colin Thompson is a specialist blocker so adding players who can be more long-term contributors to the passing game would be ideal. Noah Gray isn't the flashiest of athletes but would be a good stylistic compliment to Arnold.
Gray might not have the top-end speed to consistently stretch the field, but he is a good route runner with the quickness and footwork to create separation at the head of routes and offer a security blanket for quarterbacks underneath. He also has good hands with some ability to make plays in the air as well as being hard to bring down after the catch. He will need to continue to develop as a blocker though he does show the basis of an effective technique and isn't unwilling to initiate contact.
Gray likely won't become a true #1 TE in the NFL but would be good pass-catching #2 option when paired to a more vertical pass-catcher such as Arnold.
222nd Overall Pick: Michal Menet, iOL (Penn State)
Even if they draft offensive linemen with their first two picks the Panthers might not be done at the position. While the signing of John Miller does give them some depth on the interior, he has only signed on a one year deal and, given that almost none of his contract is guaranteed and how much Matt Rhule has talked about the importance of competition, it wouldn't be surprising to see them use a later round pick on somebody who can come in and challenge for one of the spots lower down on the depth chart.
Menet is going to be one of the older rookies in the draft as he turns 24 this summer, and it is unlikely that he suddenly takes his game to a new level in the NFL, but that isn't that much of an issue as he is already a really solid player who uses his hands well to locate and control blocks and who has the athleticism to cover laterally in pass protection and get out in front as a pulling blocker or work to the second level in the run game.
One of the Panthers' biggest issues over the past decade has been their lack of depth on the offensive line, with injuries to starters often leading to real issues. While the Panthers wouldn't draft Menet expecting him to become a long-term starter, he should be a high-quality depth piece on the interior who could offer some insurance when they likely look to replace Matt Paradis next offseason.
249th Overall Pick: Nick Niemann, LB (Iowa)
While the Panthers did sign Frankie Luvu to add some depth at linebacker, he is another player who they would ideally want to be competing for a place in camp rather than being guaranteed to make the roster, and while Deablo might offer long-term upside as a dime linebacker, finding somebody who can offer more conventional depth at the position would be nice. Additionally, with Jermaine Carter entering the final year of his deal, adding some developmental depth as insurance should also be on the to-do list.
While a lot of focus is put on athletic testing, something that seems to have slipped through the radar is that Nick Niemann, a 6'3 234lbs linebacker, ran a 4.45 forty at Iowa's pro day. That's 0.13s faster than Luke Kuechly ran at almost exactly the same size and he was one of the most athletic linebackers in the NFL. Oh, and his pro day three-cone of 6.67 seconds would have been a combine record for somebody over 230lbs.
However, Niemann is more than just really, really fast. On tape, he shows really good tackling technique, good gap discipline and the movement skills and awareness in coverage to play a high quality of man coverage and make a real impact in zone. He does need to show that he can consistently work off blocks in the run game, improve his footwork in coverage and continue to hone those instincts in zone, but there is an awful lot to like. A highly worthwhile investment at this point in the draft.
257th Overall Pick: Caleb Huntley, RB/FB (Ball State)
Something that has gone a little under the radar this offseason with the Panthers is that with Mike Davis and Alex Armah both departing to division rivals in free agency, the Panthers are lacking both a power rushing option and a fullback. While neither of these are likely to be the highest priorities, if the Panthers can add somebody who is able to fill both roles then that would certainly be a welcome addition. Caleb Huntley would likely need to continue to develop as a blocker to fill this role, but certainly has upside as a rusher.
While his top end speed is decent but nothing special, Huntley has good quickness and great contact balance, allowing him to bounce off arm tackles and consistently pick up yards past the initial contact. He also shows good vision with the ability to manipulate rushing lanes with his footwork to create gaps to run into. While he wasn't used much as a receiver in college, he has shown an ability to catch the ball coming out of the backfield during the pre-draft process and is one of the better blocking backs in college football.
This might not be a need that the Panthers go into the draft prioritizing but would certainly be a useful addition right at the end of the draft.
Ultimately, as a best-case scenario mock, it is unlikely that all the pieces fall into piece on draft day, but there are some general points that are worth taking away.
Firstly, that the Panthers would ideally like to add multiple pieces to the offensive line early one, both at tackle and on the interior. Secondly, that the Panthers are still going to be looking to continue to add speed and upside on both sides of the ball. This coaching staff clearly backs their ability to develop players and so upside is going to be valued at a premium. Finally, the Panthers really value competition and so if they are able to address needs early on then don't be surprised if players who contributed last year are pitched against late-round draft picks in camp.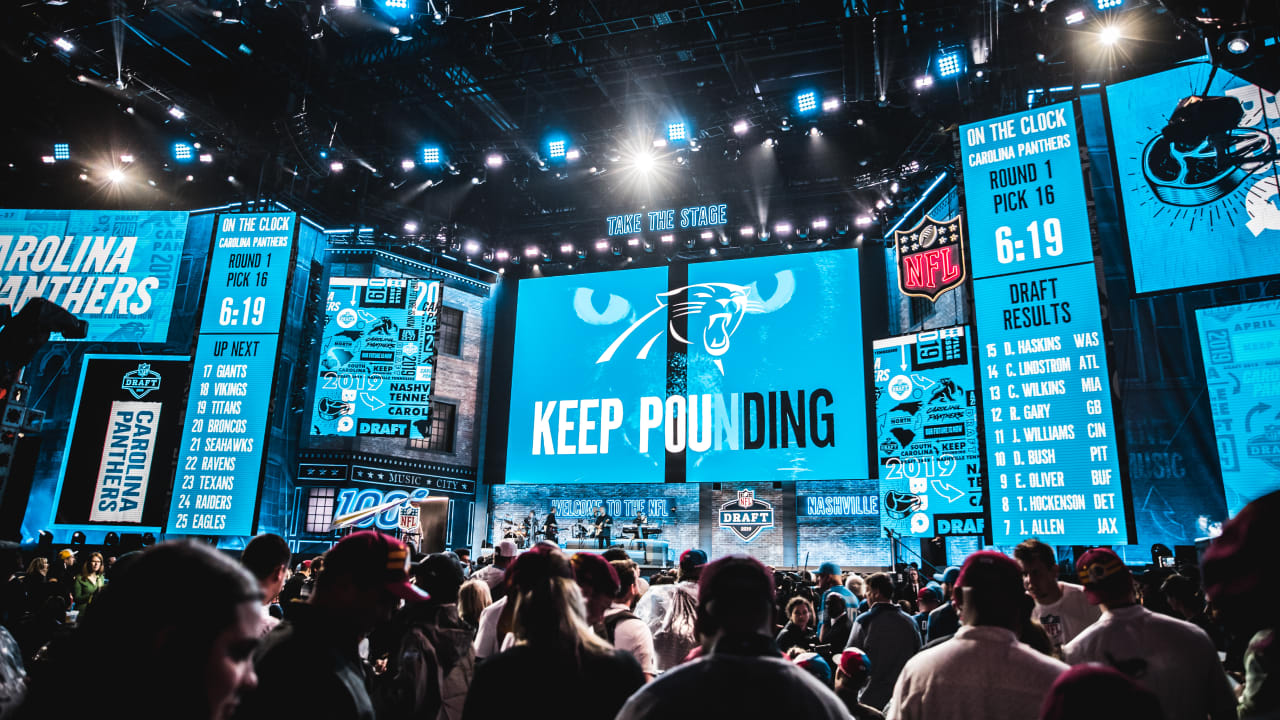 While things likely won't go quite this well on draft night, some things could possibly go even better (it was surprising that Jeremy Chinn was still on the board at the end of the second round last year for example), and while it only requires one team to be much higher on a prospect than the consensus for them to go in the first round, this is a draft that looks to to offer good value in rounds three and four especially so don't be surprised to see the Panthers make moves to maximize the number of picks they have in that range.
If that approach ends up with results anything close to what has been described here, then the Panthers will likely come away extremely happy.
(Top photo via John E. Hoover/All Sooners)