Having spent much of the offseason surrounded by rumours of a quarterback trade, the Panthers finally pulled the trigger on Monday when they traded the 226th pick this year, as well as their second and fourth round picks next year, to the Jets for Sam Darnold. While this isn't an all-in move by new general manager Scott Fitterer, this likely spells the end of Teddy Bridgewater's time in Carolina and shifts the focus for the draft away from quarterback.
With that in mind, we've had a go at projecting what the Panthers might do now they've got their quarterback for … well the time being at least.
Panthers trade the 8th pick to the Dolphins for picks 18 and 36 and their 2022 4th round pick
The Panthers have made it abundantly clear that they want to address the offensive line during the draft, but they have also hinted that they like the depth of the offensive line group this year, and a move like this should allow them to get back some of the draft capital they gave up for Darnold while still having one of the offensive linesmen they like.
For the Dolphins, a lot of the discussion has been about whether they take one of the top offensive tackles, or one of the top offensive weapons with the sixth overall pick, this move allows them to get one of each without having to give up that much compared to the capital they are looking at from trading back with the 49ers.
18th Overall Selection: Teven Jenkins, OT (Oklahoma State)
The Panthers have made it clear that they want to add an offensive tackle in the draft, as while they aren't without options, they are very short on long-term certainty at the position. Cam Erving is merely a stopgap, Greg Little has yet to hit his stride in the NFL and Taylor Moton will be going into another contract year under the franchise tag. Jenkins might not be in the same class as Sewell or Slater but would be reasonable value at this point in the first round.
Jenkins certainly has power, with the ability to move people in the run game while also showing good hand placement and arm extension to allow him to secure blocks and generate lateral leverage. As a pass protector, he hasn't got the fastest feet in the world but is disciplined in keeping his weight over his feet and uses his hands well. He does need to improve his knee bend, as he can get too upright as a pass protector at times and has an unfortunate habit of leaning into blocks in the run game which causes him to work off-balance.
Jenkins might not be a week one starter at left tackle, but he should be a long-term starter at either tackle spot.
Panthers trade the 36th pick to the Jaguars for picks 45, 106 and 170
Fitterer strikes again. The Seahawks had a habit under John Schneider of trading down for extra picks, and then trading some of those picks for yet more picks and this is one of those moves.
The Panthers make another move to add extra picks by shuffling back a few spots in the second while the Jaguars gets to double-dip at the start of the second round and don't end up giving up one of their premier draft picks to do so. Given how much Matt Rhule has talked about the importance of competition, getting extra picks is certainly going to be a priority.
39th Overall Pick: Levi Onwuzurike, DT (Washington)
Something the Panthers have talked a lot about is the need to add interior defensive linesmen, as with both KK Short and Zach Kerr released the Panthers are currently very thin at the position, especially in terms of interior pass rush. While this draft class doesn't have many defensive linesmen getting first-round love, it is a deep position group, and the Panthers could look to find a long-term starter on the second day of the draft.
Onwuzurike needs to continue to develop in the NFL but flashes the quickness and power to be disruptive inside as well as some flashes of really encouraging hand usage. While there will likely be something of a learning curve early on, he has the potential to offer a consistent pass rush inside alongside Derrick Brown.
45th Overall Pick: Creed Humphrey, iOL (Oklahoma)
The Panthers go back to the offensive line once again, as while they have already made a lot of moves at the position group during free agency, they need to find long-term options with very few of the players they do have being under contract long-term. Humphrey would likely compete to start at guard in the short term but could kick back inside to center in 2022 as the replacement for Matt Paradis.
Humphrey is a really good technical player in terms of footwork and hand usage, setting a wide base with good knee bend and uses his feet well to cover laterally with quick, short steps to keep his weight over his feet. He might not be an absolute mauler inside, but he has good power and does a very good job of creating lateral leverage in the run game with tight footwork.
He might not be the hottest name in the draft, but Humphrey has a chance to be a long-term high-quality starter at either guard or center.
73rd Overall Pick: Tyson Campbell, CB (Georgia)
The other need that the Panthers have made a lot of noise about so far this offseason is cornerback and, while they have added AJ Bouye into the mix for 2021, it will likely fall to the draft to find their long-term starter opposite Donte Jackson. Campbell also fits the physical profile they look for at the position, standing at 6'2 and 185lbs and running sub-4.4 at his pro day.
Campbell doesn't have great ball production, but he is a really fluid athlete who can run with receivers in man coverage or drop into zone coverage with equal comfort and is a good run defender. He might not have the zone coverage upside to be seen as a true #1 corner by teams, but he would be both good value and a good scheme fit for the Panthers at this point in the draft.
106th Overall Pick: Cameron McGrone, LB (Michigan)
One comment that Scott Fitterer made during his press conference following the Sam Darnold trade is that the team wants to get faster and, having done that at corner in the third round in this mock, they look to add some more speed at linebacker with this pick. McGrone probably isn't ready to start right away, which suits the Panthers who have little short-term need at linebacker, but with Jermaine Carter entering the final year of his rookie deal the Panthers do have a potential long-term need at the position.
McGrone is a really fluid athlete who has the movement skills to run with tight ends and running backs in man coverage and the range to make impacts well beyond the limits of underneath zones. As a run defender, he is a good tackler and takes good angles to the ball but needs to show he can work off blocks more consistently at the point of attack.
The Panthers have a great track record at developing linebackers and this would be a chance to land a premier player down the road.
113th Overall Pick: Demetric Felton, RB/WR (UCLA)
The Panthers did sign David Moore in free agency but looks to be more of an upgrade over Pharoh Cooper as the #4 WR than a genuine replacement for Curtis Samuel, and the Panthers could definitely look to add another versatile offensive weapon in the draft. Felton really impressed at the Senior Bowl, making a claim to be a legitimate NFL receiver after mostly playing running back at UCLA.
Felton is another player who is still something of a work-in-progress, but the Panthers coaches clearly back their ability to develop players and Felton certainly has the upside to justify this investment. He's a fluid rusher who has clear value after the catch, but also shows the twitchy athleticism and flashes of route running to be a real weapon from the slot.
151st Overall Pick: Kary Vincent Jr, DB (LSU)
While it seems likely that the Panthers will give Sam Franklin and Kenny Robinson a chance to win Tre Boston's vacant safety spot, the Panthers would be foolish to pass on a good prospect at the position if one falls to them on day three. Vincent Jr is another who is something of a project have mostly played as the nickel corner at LSU, but certainly has a ton of upside.
If the Panthers are looking to add speed then Vincent Jr certainly fits that description, and while he will likely have to move to safety as he doesn't have the very top-tier movement skills to excel at corner, but he can cover a lot of range in zone and flashes the ball skills and instincts to be an impact player on the back end of the Panthers' zone-heavy scheme. If the Panthers do plan on moving Jeremy Chinn back to safety at some point, then Vincent Jr would be a logical partner.
Panthers trade the 170th and 193rd overall picks to Chicago for the 164th and 204th overall picks
Another advantage of trading back is that gives you the ammunition to then move back up if you don't think a player falls to your next pick. While this isn't a huge jump for the Panthers (and at this stage the exact details of any such trade are highly speculative) it wouldn't be a surprise if the Panthers do trade down that they would then look to move back up at some point later in the draft.
164th Overall Pick: Anthony Schwartz, WR (Auburn)
The Panthers' lack of depth at receiver really got exposed last year, and even though they have signed David Moore and will get Omar Bayless back after spending 2020 on IR, they need to keep adding weapons at receiver, especially with Robby Anderson entering the final year of his contract. Schwartz would also help their desire to add speed as if you had to describe Schwartz in a word then that word would probably be 'fast'.
As well as being fast, however, Schwartz also shows good hands and is a real threat after the catch. While he wasn't asked to run the fullest route tree at Auburn, he shows some really encouraging flashes, using his speed to generate speed underneath as well as being able to carry momentum through high speed cuts to create separation laterally down the field.
If the Panthers are determined to be more of a vertical passing offense in 2021 then this is a pick that would certainly help.
204th Overall Pick: Quintin Morris, TE (Bowling Green)
The Panthers would obviously prefer to address their need at tight end earlier than this in an ideal world, but with the signing of Dan Arnold in free agency the pressure to find a pass catcher at the position in the draft has bee relaxed somewhat, and it's ultimately more important to select the best player rather than reaching for need. The Panthers got a chance to work with Morris during the Senior Bowl and could find it hard to pass on his upside at this point in the draft.
Morris was somewhat limited in Bowling Green's offense which struggled to push the ball down the field, but he has the athleticism to be more of a genuine vertical threat at the NFL level and, while he is still a work in progress as a route runner, he flashes good hands and an ability to make plays after the catch. He also flashes potential as a blocker, though here he is likely to have to see significant development before he is ready to see the field.
222nd Overall Pick: Chris Rumph, EDGE (Duke)
When you get to the end of the draft, it's always going to come down to who's available rather than trying to address specific needs, but as somebody who is being mocked to this point of the draft a fair amount, Rumph should fulfil both criteria, The Panthers may have signed Morgan Fox in free agency but he is expected to spend much of his time rushing inside and find a replacement for Weatherly and Obada on the edge is something the Panthers should consider.
Rumph needs to add weight at the next level but has the frame to do so and is a good athlete who has the bend and twitch to threaten the edge while also being able to hold his own at the point of attack. He was moved all over the place at Duke who largely used him as a designated pass rusher, and while he likely won't be quite so flexible in the NFL his flexibility will certainly appeal to Phil Snow.
Ultimately, Rumph is something of a project, but the risk would certainly be worth the potential reward at this point in the draft.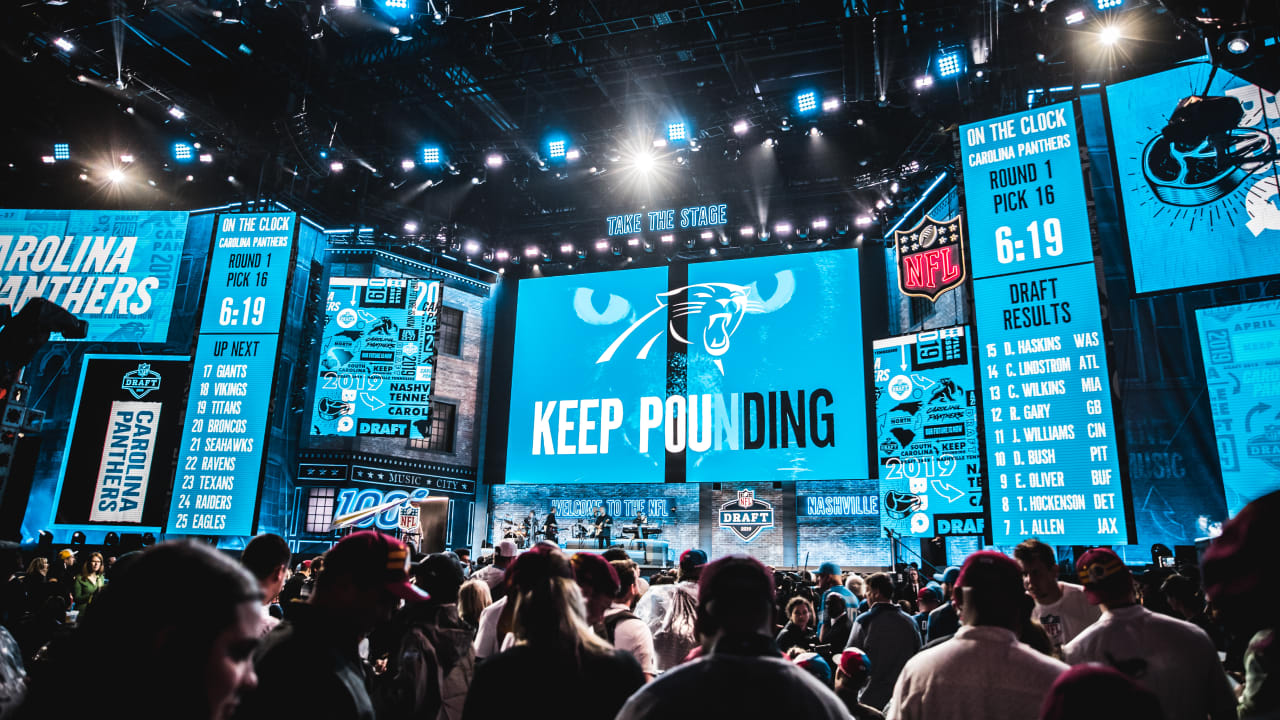 The Panthers have already made their first big move of the draft by trading for Darnold, as while it only involved one draft pick moving it does drastically shift the tone from the draft. While the Panthers could still select a quarterback at some point, the focus now seems to have shifted to finding players to add around Darnold to give him the best chance of success.
While no draft is going to be able to address all the needs the Panthers currently have, with a focus on the big men on both sides of the ball, as well as adding speed all over the roster, a class like this could certainly put the Panthers on a positive path heading into the 2021 season.
(Top photo via Brian Bahr/Getty Images)