The Carolina Panthers have had a massive amount of turnover during the offseason. Not only do the Panthers have a brand new coaching staff, but for the first time since 2011, there's a new starter at the top of the quarterback depth chart.
After helping the Panthers to four playoff trips, the team released former NFL MVP Cam Newton after nine seasons – the former face of the franchise signed a one-year deal in New England and will try to prove that he can return to being 'old Cam' and wipe away the memories of a disappointing past two seasons in Carolina. But Rhule and offensive coordinator Joe Brady hope they can make new positive memories with Teddy Bridgewater as the Panthers starting quarterback.
But Bridgewater wasn't the only quarterback Carolina signed this offseason – they also added a former XFL starting quarterback that Rhule is familiar with coaching from his college days. And don't forget about 2019 third-round pick Will Grier, who is entering just his second season in the NFL and got a short – and fairly disappointing – opportunity at the end of his rookie season.
With quarterbacks set to "report" to the Panthers facility Thursday, let's take a more in-depth look at each one of them before the start of training camp.
Teddy Bridgewater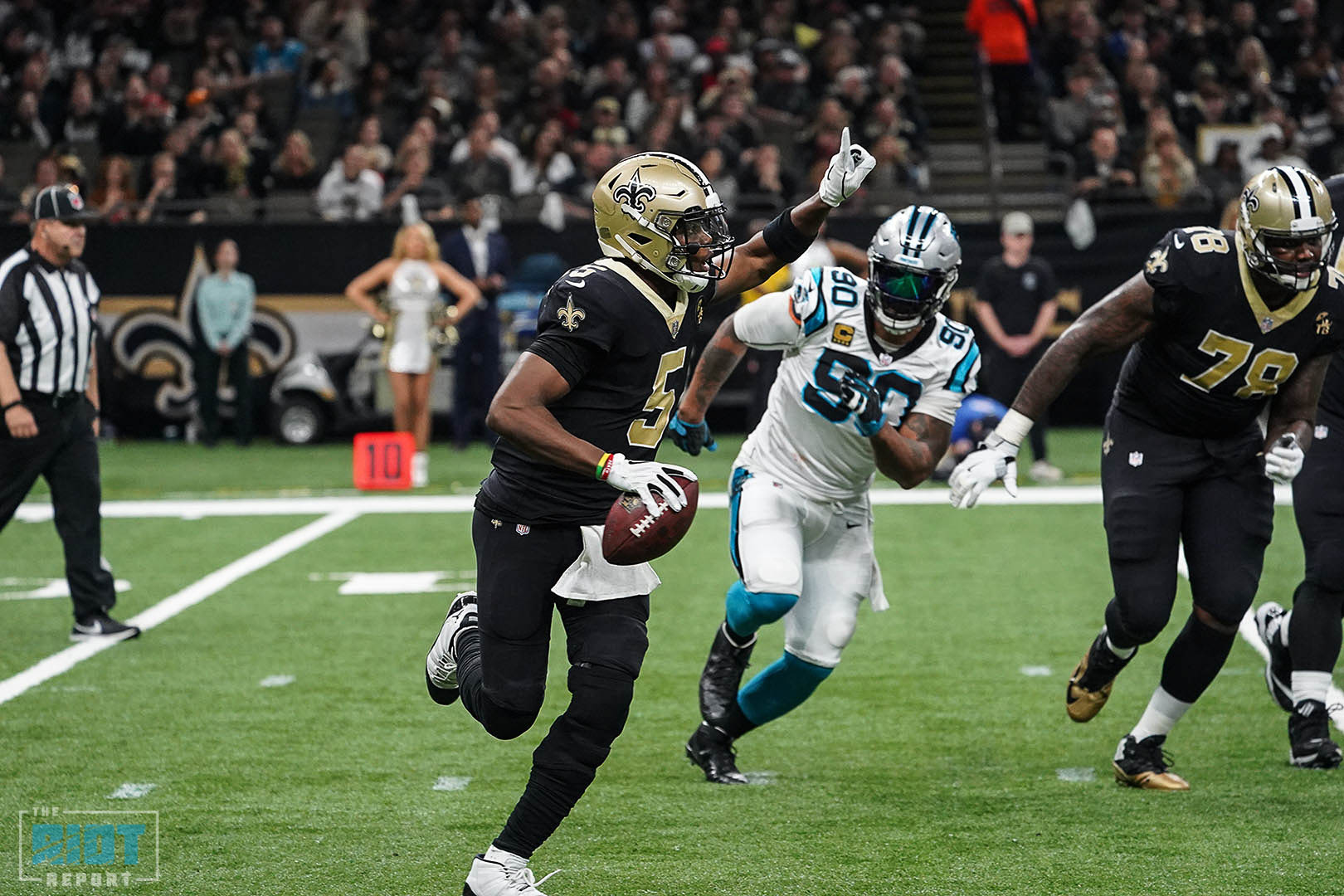 After having an impressive 5-0 record in relief of New Orleans Saints starting quarterback Drew Brees last season, Bridgewater cashed in this offseason by signing a three-year, $63 million contract from the Panthers. In those 2019 starts, Bridgwater passed for 1,384 yards, nine touchdowns, and just two interceptions. He also recorded a completion percentage of 67.9%.
This will be the first opportunity Bridgewater has gotten to lead a team since he was with the Minnesota Vikings from 2014-17. His stay in Minneapolis ended after declining the fifth-year option on Bridgewater's contract when a tragic knee injury in 2016 sidelined him for the final two seasons. In his single full season as a starter in Minnesota, Bridgewater led the Vikings to an 11-5 record and a playoff berth as he passed for over 3,200 yards and 14 touchdowns with Adrian Peterson leading a run-heavy attack under Mike Zimmer.
With expectations high for 2016, Bridgewater blew out his knee and missed almost the entirety of the next two seasons.
Then, after a brief preseason stay with the New York Jets, the Jets traded him to the Saints ahead of the 2018 season. That is when he met Joe Brady, who was then an offensive assistant with New Orleans. After the trade, it was Brady who brought Bridgewater up to speed on the Saints offense.
Now Brady and Bridgewater will reunite with the Panthers this season.
"For everyone that has met Teddy Bridgewater, he makes everyone better," Brady said when he spoke with the media in June. "He lights up the room, he's intelligent. His football IQ is through the roof. We had a day where we had Teddy running the meetings. I think that's critical – having a guy that understands a good amount of the system and what we are doing, but also has an idea of football and being able to explain it and teach it to others."
"I think from a quarterback standpoint, when you're able to install a play, you're able to communicate terminology even if it's different than what you did in the past, it shows how valuable you are. Working with Teddy, it has been great.
"I had a great relationship with him in New Orleans, and we are very fortunate to have him on the football team."

Bridgewater's relationship with Brady and knowledge of the offense appears to be two of the significant factors in why the quarterback signed with the Panthers – when it comes to Bridgewater's naysayers, they say the quarterback has a lack of arm strength and is more of a game manager.
However, his head coach certainly believes Bridgewater can be much more than that.
"I believe so wholeheartedly in who he is as a quarterback," said Rhule recently. "I believe in his abilities, I believe in his arm strength, I believe in his accuracy, I believe in his decision-making but, beyond that, I know he's going to make everyone else that much better."
No one knows exactly how Bridgewater will perform in the Panthers offense without an offseason to learn the scheme, but he is certainly set up for a lot of success – the team has surrounded him with weapons such as Christian McCaffrey, D.J. Moore, Robby Anderson, and Curtis Samuel. But Bridgewater will be the cog that makes the wheels turn.
P.J. Walker

Although the Panthers had a developmental quarterback already on their roster in Grier, the team decided to sign XFL sensation P.J. Walker to a two-year contract. Before the shutdown of the XFL due to COVID-19, Walker was leading the league in passing yards (1,338) and touchdowns (15) and was almost certainly on track to be MVP of the fledgling league.
More importantly, Walker and Rhule have a history with each other from when the two were at Temple together. Rhule was Walker's coaching coach from 2013-16 when the two went from a 2-10 season in 2013 to 10-3 in their final season together.
The 5-foot-11 Walker passed for 10,668 yards, and 74 touchdowns for the Owls during his four seasons. During that same time, Walker also completed 57% of his passes – with multiple opportunities to sign, Walker chose Carolina over at least six other offers.
"It was more so the opportunity with Carolina and it was the best fit for me," Walker told Steve Levy on Sportscenter after he signed. "And for me, I wanted to go where I felt comfortable, and I felt comfortable with coach Rhule. And especially with the opportunity, I just wanted to take advantage of that as well."
Walker spent times with the Indianapolis Colts practice squad for three seasons only for them to release him shortly before the 2019 season. Although he may be small in stature, Walker brings dual-threat ability to the Panthers offense.
Walker and Grier will compete with each other to see who is Bridgewater's backup this season. With his experience, potential and familiarity with his head coach, Walker appears to have the leg up on the competition prior to the start of training camp.
Will Grier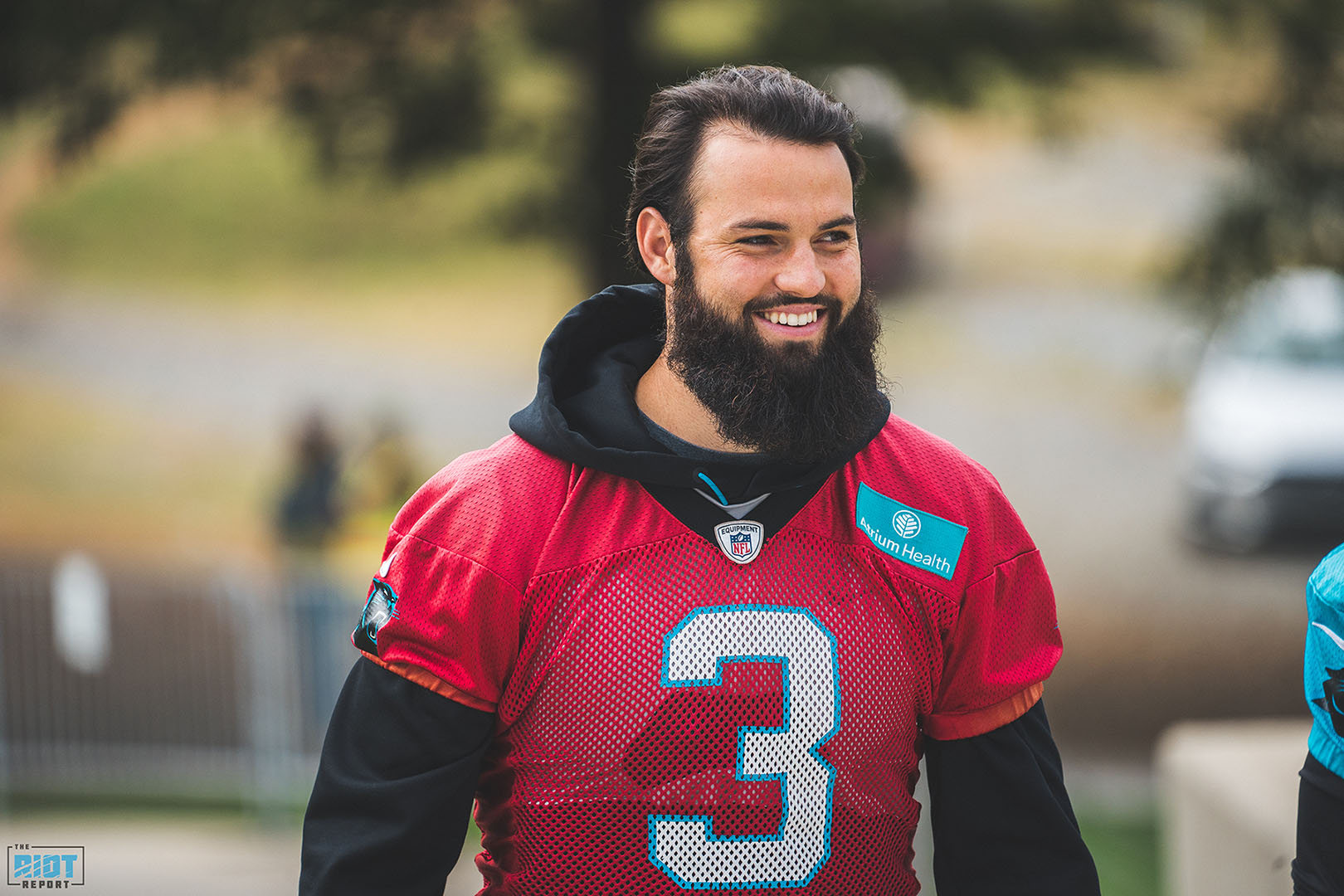 Grier mostly sat and observed during his rookie year until the final two games of the season after being beat out for the initial backup position by Kyle Allen, who now resides in Washington, That's why then-Panthers interim head coach Perry Fewell decided to start Grier in the team's final two games of the 2019 season.
Considering the team had lost consecutive games at the time, it seemed like a smart move to see how Grier would perform. However, the results were not good – not by any means.

In those two starts against the Indianapolis Colts and the New Orleans Saints, Grier threw for 228 yards, zero touchdowns, and four interceptions before suffering a foot injury in the season finale loss. It was clear Grier needed more time to develop into an NFL starting quarterback, but the rookie was also thrown into an unfair situation considering the Panthers offensive line last season.
The Panthers allowed seven sacks in Grier's two starts.
"He was thrown into an impossible situation," said tight end Greg Olsen after the Panthers Week 16 loss. "Two games left in a season where there's been countless issues, to throw him out there, and play incompetent football around him, it's impossible to get any sort of judgment based on his performance today. I think it was failures all around him and failures leading up to it."
It didn't get any better in his final start, with Grier completing just one of his eight pass attempts for four yards and a pick-six.
Despite Grier being a third-round selection in the 2019 draft, the Panthers decided to sign Walker, who looks to be the leader in the clubhouse for backup quarterback. But don't expect the Panthers to give up on Grier so quickly, especially when they have such a young roster – while many NFL rosters only carry two quarterbacks on their main roster, Grier will likely be on the Panthers' roster (or at least the practice squad) in 2020, especially with the complications and turmoil that COVID-19 can cause to roster decisions.