With the final preseason game this Thursday night against Pittsburgh in the books – not that it matters, but the Panthers won 25-19  – the Panthers coaching staff, Marty Hurney and others will now retire to the dark recesses underneath Bank of America Stadium to pore over tape and make their final decisions in terms of who makes the final roster.
While there was some nice play in Charlotte tonight, it's hard to gauge whether it was an impressive performance for the Panthers offense, who racked up 383 yards against the Steelers backups as Will Grier had by far his best game of the preseason – 11-for-18 for 189 yards, a score and a pick – but ultimately he showed the same inconsistency he's displayed all throughout the summer. The beautiful touchdown throw to Aldrick Robinson was followed immediately by an ugly interception – the yin and the yang of a rookie quarterback.
"He did get better today," Ron Rivera said after the game. "He did make a mistake, just before half – it was a poor read on his part. He didn't anticipate a conversion so he threw it and it ended up getting intercepted so that was disappointing – but he made some really good throws today [and] threw some really nice balls [and] gave his receivers chances to make catches for the most part."
"I think it's a growing process," said Grier. "We come out here and it's hard to have chemistry with guys; not everyone is going to be on the same page every play – that's part of it."
"I'm not frustrated."
While Grier is not fighting for his roster spot – a third-round pick cannot be abandoned only a few months after being drafted – there are still some decisions left to be made, although most of them were likely decided before the Steelers game kicked off. Did Reggie Bonnafon show enough in training camp and the preseason – specifically on special teams – to make the roster? Did Bonnafon being out there to open the game as kick returner mean he bumped off Terry Godwin? Did Javien Elliott's lack of playtime mean his spot was assured or did the team want to get more of a look at Corn Elder?
Is Luke Kuechly going to make this roster?
All of these questions and more will be answered below.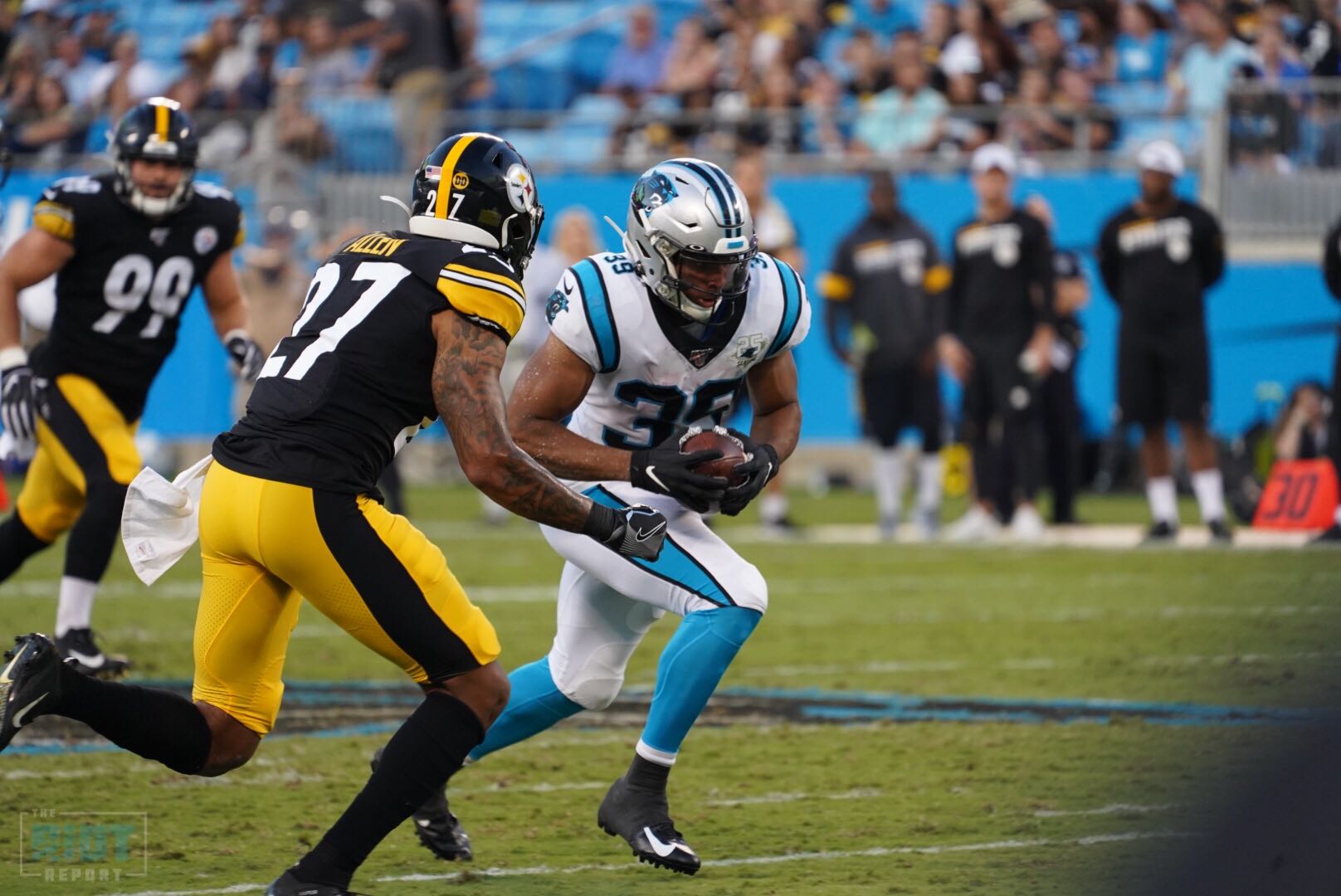 After the game tonight, we'll likely see a set of roster cuts announced tomorrow by the team, but all cuts must be completed by 4p on Saturday afternoon. Waivers will process at noon on Sunday and players who are still available can be signed to the practice squad.
Quarterbacks (3): Cam Newton, Kyle Allen, Will Grier. Kyle Allen will enter the season as Newton's primary backup – and Will Grier will likely only see the field in an emergency. Taylor Heinicke's people have likely already been speaking to other teams – perhaps Indianapolis, who you may have heard lost a quarterback in the past week to a Civil War injury, may be in the market for a backup. Heinicke has played like the best of the three backup quarterbacks, and that continued tonight in Pittsburgh – but his fate may have been sealed before camp even began.
Running Backs (4): Christian McCaffrey, Jordan Scarlett, Reggie Bonnafon, Alex Armah. The play of Bonnafon in not only the preseason games – he was the Panthers leading receiver through three weeks and had a spectacular one-handed grab in the first quarter of the final game against the Steelers – but practice and training camp may have made his value too high to ignore. And with Jordan Scarlett running hard – he may have only had 24 carries for 68 yards, but he had some nice reps in pass protection and catching passes out of the backfield, including an eight-yard touchdown over the middle tonight – he may have made CAP inconsequential. While we haven't seen a lot of Elijah Holyfield the past two weeks, we saw him again as he led the team in rushing yardage with 36 and had a spectacular play to track down a two-point conversion on a scramble drill from Heinicke – but he may be the odd man out here as the Panthers hope he'll survive waivers and land on the practice squad.

Wide Receivers (6): DJ Moore, Curtis Samuel, Jarius Wright, Torrey Smith, Chris Hogan, Terry Godwin. Godwin got the first punt return reps and I think he has the job – if the Panthers can't make the numbers work, he might be the 54th man on the roster AKA the first man out.
Tight Ends (3): Greg Olsen, Ian Thomas, Chris Manhertz. Same as it ever was.
Offensive Line (9): Daryl Williams, Taylor Moton, Greg Van Roten, Trai Turner, Matt Paradis, Tyler Larsen, Greg Little, Dennis Daley, Brandon Greene. The Panthers may feel comfortable enough with Daley's versatility to rely on Greene as the third swing tackle, but this is a position they'll almost certainly try and upgrade; Larsen can provide backup reps at center and Daley can be the primary backup at both guard spots. If Little's concussion lingers, they might need to find another tackle when Week 1 comes around.
Up Next: The Defense