Outside Rotation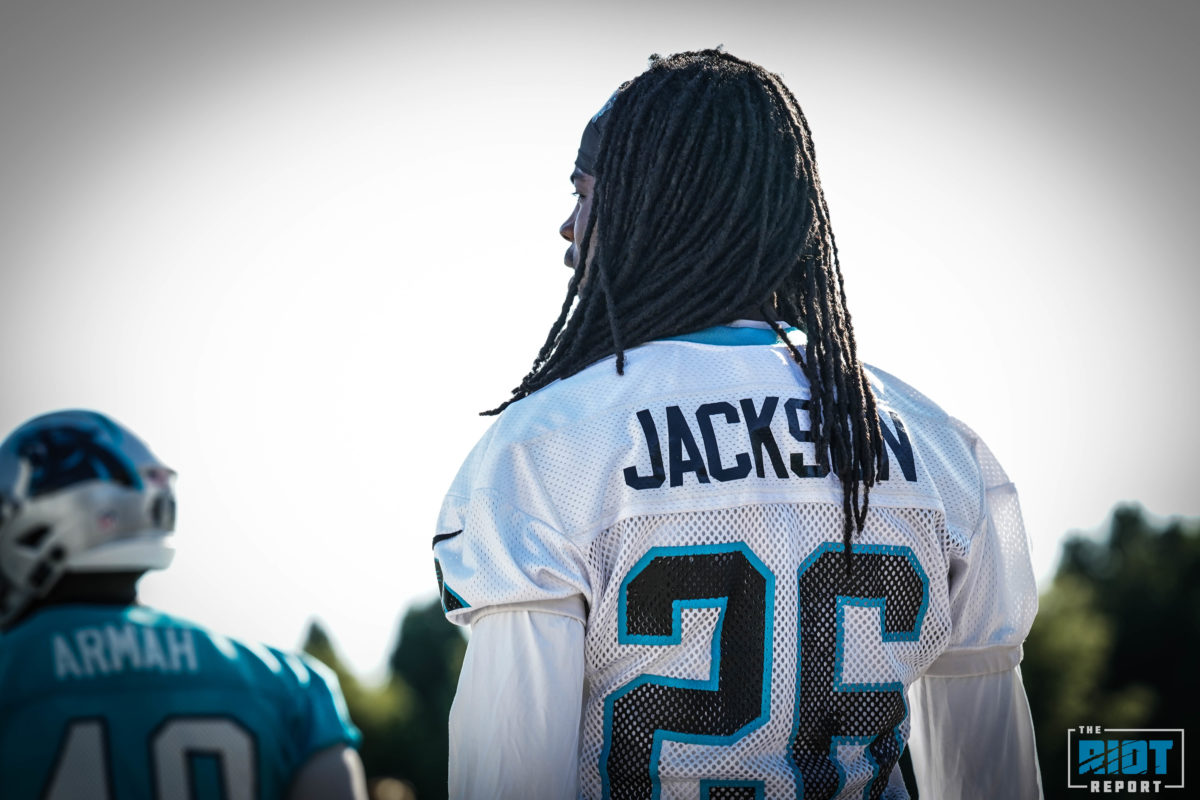 Historically, teams have had a pair of starting outside corners who play regardless of personnel or receiver type, but with the Panthers' additions this offseason and the partial rotation between Worley and Seymour last season, there has been a reasonable amount of suggestion that the Panthers may continue to rotate the outside corner opposite James Bradberry based on matchups. This is something that makes a lot of sense, as the corner best suited to covering Chris Godwin is very different from the one suited to covering DeSean Jackson.
To that end, the Panthers have created a cornerback group with a good range of skillsets. Ross Cockrell was the number one corner for the Giants for much of last season and impressed with a combination of ball skills, awareness and athleticism. Given his size, length and ball skills, he marks an obvious like-for-like improvement over Daryl Worley. With Godwin, Sanu and Coleman as some of the secondary receivers the Panthers will be facing this season, there will be plenty of opportunities for Cockrell to see the field, and he alone should mark an improvement over last season.
In terms of covering speed receiver, the Panthers have a pair of options in Seymour and rookie Donte Jackson. Jackson largely played man coverage at LSU and the move to a more zone-based scheme could lead to something of a learning curve, but as a second-round pick, the Panthers clearly expect him to become a significant part of the secondary in time. As with all rookies, it is hard to tell exactly how close they are to contributing without seeing them on the field against an NFL offense, but Jackson offers an obvious matchup against Ridley, Jackson and Ginn.
The other man in the equation is Seymour, who saw much of the starting snaps opposite Bradberry during the offseason practices. Seymour is more in the Jackson mold than the Cockrell mold, and while his ceiling is not as high as that of Jackson, he could well see significant early season snaps in his place as the rookie takes time to adjust to the speed of the NFL. The upside of rotating corners to suit the offensive personnel should be fairly clear, as it prevents the offense from being able to generate easy completions based simply on matchups, but as with much of what the Panthers look to do defensively; the key will be in the way in which the team looks to use it. This is not something that works on a drive-by-drive basis in the way they rotated Worley and Seymour last season, but something that they may commit to on a down-by-down basis. Hopefully, Eric Washington can find a way to put his defensive backs in the best positions possible to make plays.
Depth
Regardless of who wins the battles for outside corner and nickel, the losers of those battles will likely compete for the remaining roster spots. The Panthers have historically carried five corners and with Bradberry, a nickel, Cockrell and Jackson, that only leaves one spot. Seymour is the obvious fifth corner due to many of the reasons mentioned above, but one player who has made a number of plays through the offseason practices is Lorenzo Doss; while he has made a number of plays during these practices, he still has some way to go to secure a roster spot. What all of these players will definitely do, however, is act as an impetus for fierce cornerback competition throughout training camp.
The Other Guys
While every cornerback on the roster has some chance of making the final roster, it would be surprising for any of the other corners to make the final roster barring injury. LaDarius Gunter may also get some snaps at safety as part of the depth competition there, but the signing of Cockrell seems to have all but eliminated any chance he had of making the final roster as a corner. Cole Luke played well last training camp, and might be an absolute outside bet for the nickel role, but is most likely a practice squad candidate once again.
With a number of new faces, the cornerback group could be one of the most interesting to watch during training camp, and compared to last season, it is hard not to believe that this group has gotten better. Ross Cockrell alone is an improvement over Worley, and the addition of Jackson and the return to health of Elder offer the chance for this group to quietly become one of the better secondaries in the NFL if everyone plays up to their potential. It still remains to be seen exactly what the Panthers' defensive scheme will be, but with the addition of speed and size compared to last season's group, they should have a player for all occasions.
Way-Too-Early Roster Prediction
#1 Corner: James Bradberry
Outside Rotation: Kevon Seymour, Ross Cockrell and Donte Jackson
Nickel: Captain Munnerlyn
Practice Squad: Lorenzo Doss, Corn Elder
Roster Hopefuls: LaDarius Gunter, Cole Luke