Last year at this time, Amini Silatolu was the leader in the clubhouse to start at left guard while Matt Kalil and Daryl Williams were due to start at the tackle slots. Kevon Seymour was the starting cornerback opposite James Bradberry and Da'Norris Searcy was expected to take up the strong safety spot alongside Mike Adams.
A lot can change in a short amount of time when it comes to injuries in the NFL.
That was certainly the case for the Panthers last season, who lost three of their top four tackles – in addition to Kalil and Williams going down, Jeremiah Sirles, who started at tackle in the third 2018 preseason game, left before the season began with an injury settlement – during training camp. Luck can be a harsh mistress in the NFL, just ask the Bengals, who just lost the 11th pick in the draft and their starting left tackle to a shoulder injury before players even strapped on pads.
While the Panthers most significant injury – we'll get to that in a moment – seems to be coming along nicely in terms of rehab, there were a surprising number of players who didn't participate during the spring. While it's much too early to sound the alarms – repeating for those who are skimming: DO NOT SOUND THE ALARMS, there is still something to be said for key pieces missing important opportunities on the field.
"We had a number of guys that were still going through the rehab process – you want to see those guys on the field," said Ron Rivera as minicamp wrapped. "Ian [Thomas], Daryl Williams, who's had a great offseason and we're excited to see him back on the football field, Trai [Turner] worked through some things."
"I'm excited about seeing all of those guys back out on the football field once we come to training camp July 24th."
While the players enjoy their well-earned vacations, let's take a look at some of the injury storylines we'll be keeping an eye on when the players report to Wofford College in Spartanburg.
Cam Newton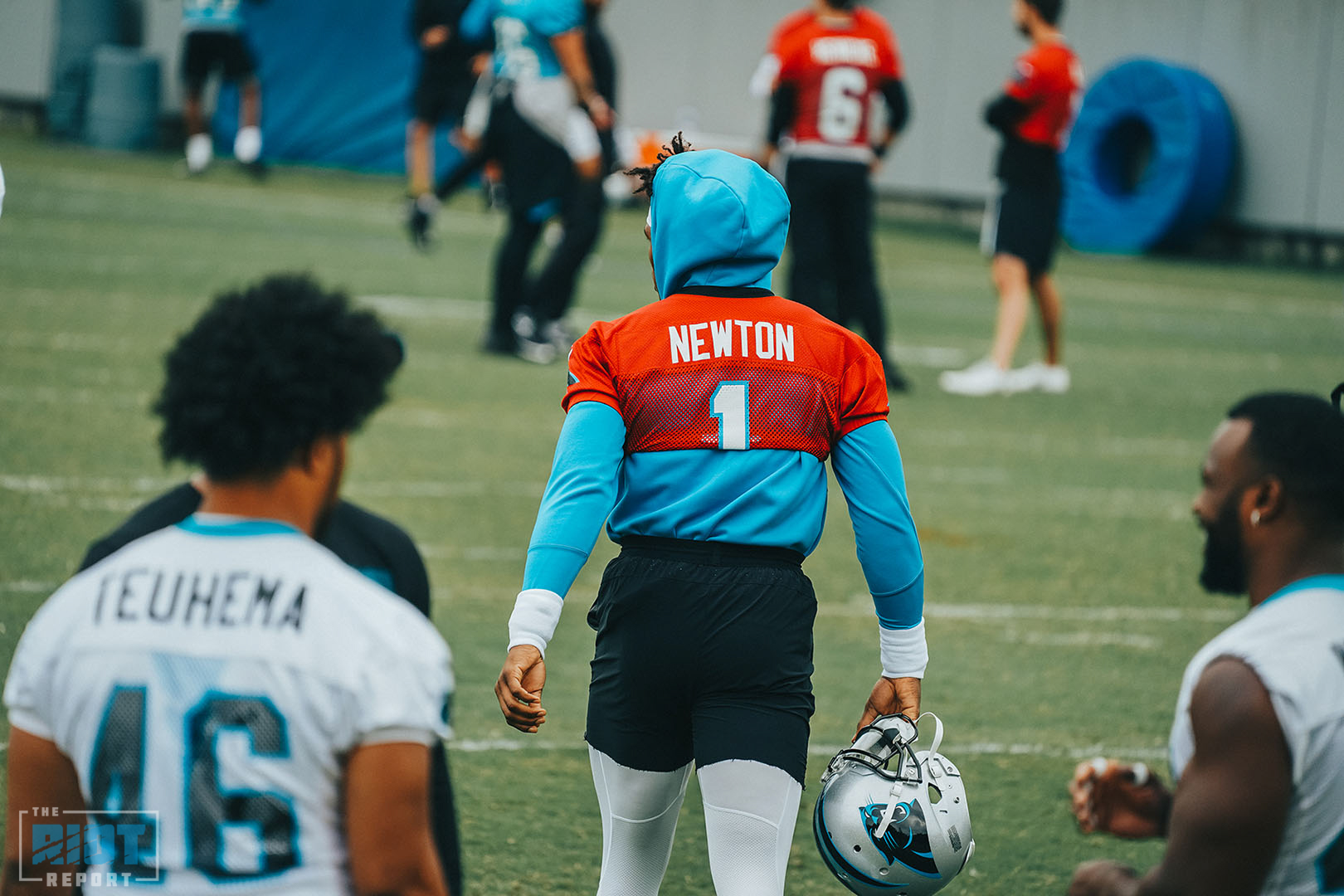 After a January procedure on his throwing shoulder, the Panthers franchise quarterback likely wasn't due to throw in full until training camp anyway, so not seeing him on the field participating – especially after he wasn't throwing for most practices last season – wasn't particularly jarring. But after seeing him begin throwing during minicamp and progressing from light tosses to stationary targets to some moving targets, it's hard not to be excited about Newton's progress.
At the very least, the team was happy to have him on the field instead of simply screaming encouragement from the sidelines.
"I think he feels good, I think his energy levels are high – as they always are," said Greg Olsen – who isn't on this list but is also fully recovered from the broken foot that cost him much of the 2018 season. "You know when he feels good and when he doesn't, that's very clear. He wears his emotions on his sleeve – [but it's] nice to close out minicamp with him involved, even if it was in a relatively limited fashion."
Full health during the spring isn't as important as full participation during training camp – but even that doesn't hold a candle to the importance of Newton's shoulder as the season wears on. There is still some rehab to go, but the amount of work trainers allow Cam to do to start training camp will be heavily scrutinized – he threw to begin 2017 in Spartanburg but ultimately didn't throw for much of camp.
To borrow a lower body phrase, Cam's shoulder health is currently a marathon – not a sprint.
"He's had a good offseason. He's done everything the trainers and doctors have asked of him, and he's still got a little bit more work to go over the next four and a half [or] five weeks."
Up Next: Seven Panthers Not To Forget About