Fifty members of the Roaring Riot mingle quietly. The bar is open, there's a full buffet, and the DJ is playing Run DMC on the top level of a two-story luxury yacht moored at a dock on Lake Norman. The crowd chats among themselves, enjoying mingling with new friends and fellow Panthers fans. It seems like a nice night on the water. Until a 6'5″, 245 pound former NFL MVP walks up the stairs and a hush falls over the crowd as their attention is drawn to their favorite quarterback in the league. Cam Newton scans the crowd and smiles.
"Ya'll keep talking, I'm just trying to blend in!"
The Roaring Riot has partnered with the Cam Newton Foundation, which focuses on enhancing the lives of youth by addressing their physical, educational, and social needs, for the past two years, donating all of the money collected at the "Tailgate With A Purpose" events before home games to the charity. This year, that partnership culminated in the "Cruisin' With Cam" event, a sunset cruise on a luxury yacht exclusive to Roaring Riot members to raise even more money for the foundation. And while Newton loves spending time with Carolina Panthers fans, the opportunity to spend a few hours cruising the lake with people who he would ordinarily not get to meet appealed to him in a different way.
"Seeing this event tonight, I had one thought of how it would be," said Newton, dressed in navy shorts, a brightly colored silk shirt and his now trademark straw hat during the two hour cruise. "But then it turned out to be even bigger. Just to see all of the support, see all of the love, it's just been so great and inspiring to me to keep doing the things that I'm doing and even to do it better."
Newton says that his foundation, which is focused on donating to youth programs in Charlotte and Atlanta and has donated over $550,000 to public school systems and education outreach since 2012, is so important to him because the phrase "Every1 Learns, Every1 Plays, Every1 Gives" that the foundation uses as it's mantra has taken on it's own meaning in Newton's mind; he uses it as a reminder that his actions and words can be bigger than him. The foundation has been able to impact over 6,600 student-athletes through positive programming while feeding or providing help for 8,750 children and adults during the holiday seasons over the past five years.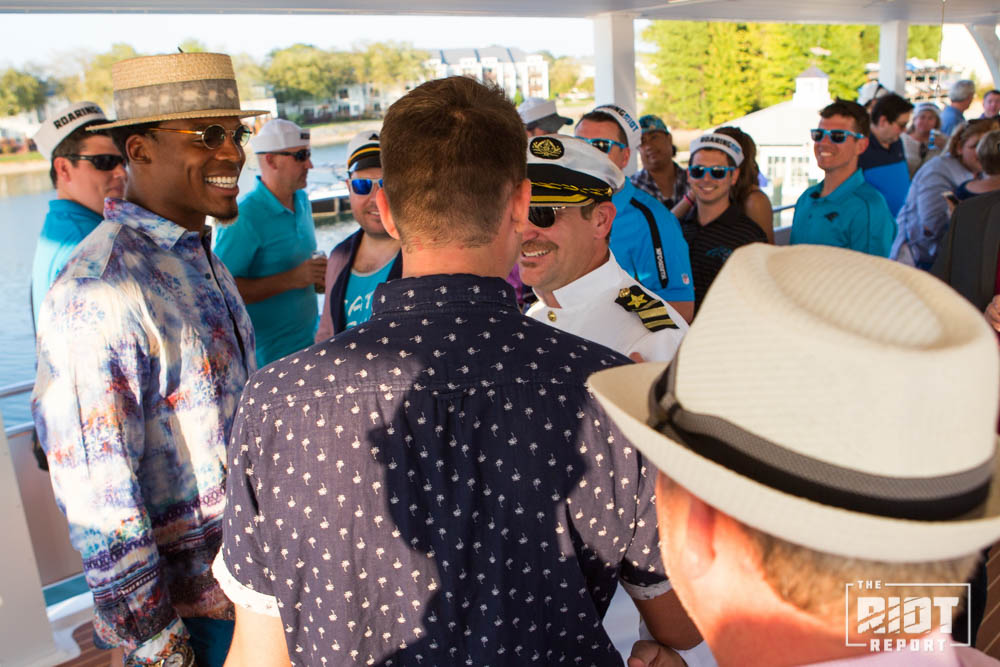 While the event was based in charity, it was still a once-in-a-lifetime opportunity for fans to interact with their star quarterback, let alone an opportunity to have those interactions in such a beautiful venue; even Newton was impressed, calling the sunset impeccable and the ambience beautiful before directing the DJ to kick on some Jimmy Buffett tunes. "If everybody's vibing with it, then I'm vibing with it," Newton joked about switching up the music selection after he arrived to Migos and Young Jeezy.
While the conversations started the evening stilted and a little awkward as fans weren't sure what quite to say besides asking for the requisite selfies with their idol, they ended with a flourish, with the quarterback holding court near the stern of the boat on anything the lucky crowd wanted to ask him. The questions ranged from his favorite rappers of all time ("Jay-Z is up there") to whether he would rather give up breakfast or dessert ("Definitely breakfast"). Of course, he couldn't get away without a little bit of football talk, telling the crowd that although they were 2-0, he promised the team would play better in order to give the audience something to be hoarse about on Monday.
Many professional athletes keep to themselves, preferring to keep the company of other players in roped-off VIP areas; Newton said he doesn't mind taking time out of his day to spend with his fans, especially not when they're willing to go to such lengths to show their love for him.
"I've probably answered six questions tonight, 'How much do you hate this?' And the truth of the matter is, you don't," Newton said about his time with the Roaring Riot. "When you actually are in the moment, it doesn't bother you at all because of all the love that you get from it. The positive energy and knowing that this is not a facade. The Roaring Riot travels everywhere, we played a game in Santa Clara, California, which is thousands of miles [from] where Charlotte is, so via a plane ticket or even driving, you can't think of all the extremes a person went to just to see the Carolina Panthers play. For that alone, I am appreciative of that; this small little token by giving my time, it's nothing for me to do."
"I appreciate them more than they will say that they appreciate me."
Last season, the Roaring Riot raised over $13,000 with their "Tailgate With A Purpose!" events. This season, they've set their goal of raising over $25,000 to partner with the Cam Newton Foundation to help send Special Olympians of North Carolina to the Special Olympics USA Games in July of 2018.
Want to join The Roaring Riot and experience events like this with other Panthers fans around the world? Click here.