"Newton's on fire! Your defense is terrified!"
If you would have told me when we were getting the Roaring Riot off the ground that ten years later, I would be in a pub in London with 40-50 international Panthers fans singing English football-style chants for my favorite team's quarterback, I honestly wouldn't have known how to respond.
I certainly would have thought you were crazy and that the notion was more of a dream than any reality. I mean, ten years ago there weren't even Panthers bars in Uptown Charlotte, so how would it even be possible that there was one in another country? Yet this past weekend, there I was, in Lola's Pub in the basement of the Hippodrome in the middle of Leicester Square in London, England, with Panthers fans from England, Scotland, Switzerland, Austria, Germany, Ireland, and the United States, jumping up and down to celebrate the Panthers' win over the Bengals as if we were in the supporters' section of an EPL match.
And it was absolutely glorious.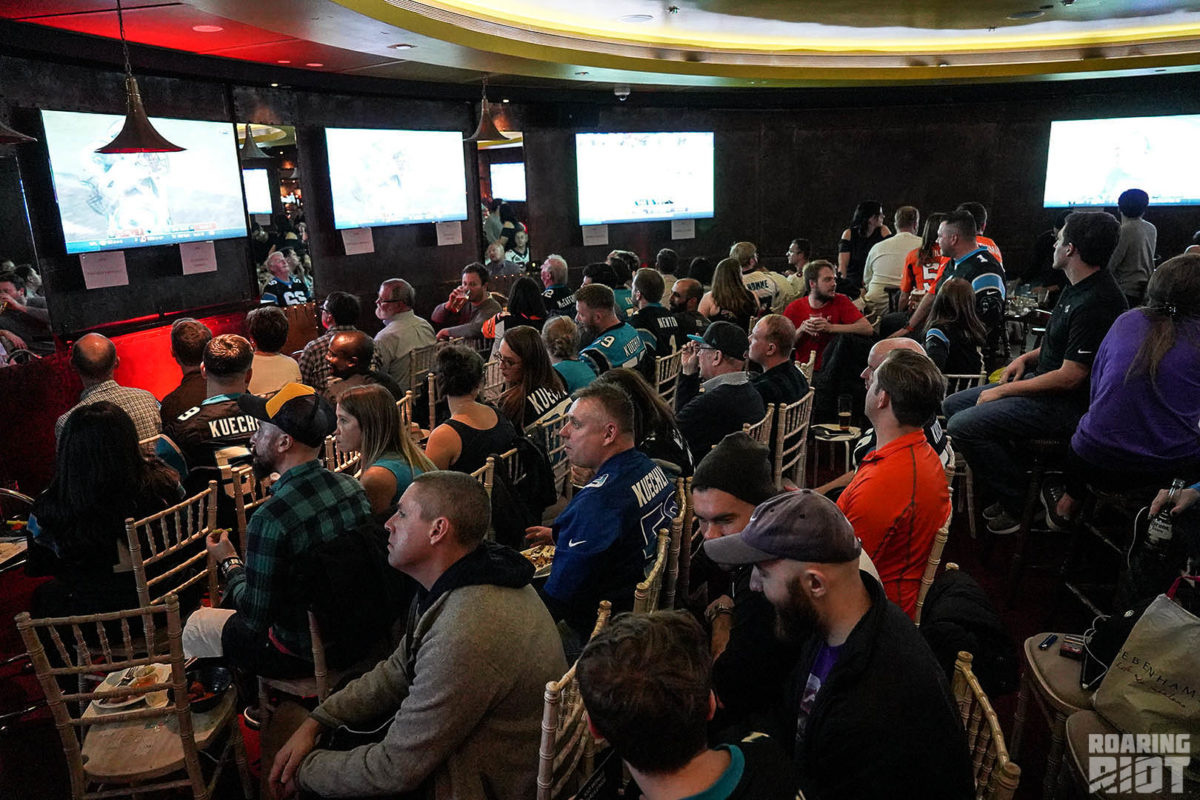 Since the launch of our membership program in 2015, we've seen our membership numbers steadily increase throughout Europe and more specifically in the UK, but before the end of last season there had not been any real organized watch parties. There are some challenges that those members face when trying to coordinate gatherings: the time difference for starters. Our Sunday 1p games start at 6p for them. That certainly seems manageable, but even then, most aren't back at their homes after the game until 1030p-11p. That can be tough on school nights.
Once you start getting into 430p or 830p EST games, then you can pretty much forget about it. Several people told me they would go to bed and set alarms to wake up for the primetime games – those start at 130a for them. That's some legit dedication and I'm not sure I could do it. Much respect for those that do. In addition to the time change, international fans also face the challenge of where and how they're going to watch the game. It's getting better, but you still can't walk into any pub on Sunday and think the games will be on; only a select number of places show the games live. And then finally there are the geographical challenges. The greater London area is massive and our members are spread throughout the region. Add in the traffic and it's easily a one to two hour commute, even by tube, for a lot of the fans to get into central London. There's no doubt it's a tough commitment.
But towards the end of last season a small group of Panthers fans decided to make the Hippodrome their home and they committed to showing up each week to support the Panthers and one another. That initial core, a mix of locals and Americans, have since become great friends. It was this group that helped us bring everyone together for our first Roaring Riot International Meet-up. I've always been really intrigued by international fans. I love hearing stories of how or why they chose the team they support, what their experiences are like watching those teams, how well do they understand the game, and have they ever had the chance to make it to the States to watch them live. So naturally I was really excited to get over the pond and join them and watch a game with them on their turf.
Here are some of the highlights:
20 of us went out this past Saturday night – 11 of us had Change the Culture shirts on (neither Kevin nor I were one of the 11).
I have been invited to two of our UK members' wedding. This weekend, they explained to me how important the Roaring Riot is to them and how much the group has impacted their fandom, the experiences they've created from traveling to the games, and the number of everlasting friends they have picked up along the way. I'm flattered and of course I'm going.
I met a man named Dennis, who is in his late 70s and took a train from Bristol (2.5 hours away) to get the chance to watch the game with other Panthers fans. He saw our posting online – he was sporting a fresh new McCaffrey jersey.
I connected with a friend from Charlotte. She and her boyfriend have been living in London for two years; they struggle to stream the games and had no idea there were other Panthers fans within walking distance from them.
I got to spend more time with two couples who came over for their first game at Bank of America stadium against the Cowboys – who said they never would have been able to attend the game without The Riot Exchange.
I met a bunch of great new people, and of course got to reconnect with some friends who have been members since '15.
I got the chance to see Efe Obada get his first jersey as a Panthers player while sitting with a crowd of fans from his country. I'll never forget that experience. And now that we're home and media outlets are rushing to cover the wonderful story that is Efe, I was there with his people while it was happening. In the actual moment. Go ahead and marinate on that for a minute.
I had a beautiful time.
Figuring out how to close this post was a little bit of a struggle because, to be quite honest, the feeling I have from my experience in London is pretty close to indescribable.
Kevin's videos will be beautiful and will paint a much better picture of everything that we actually did than what I can through words. But I want those of you reading this and those of you who took your time to travel to London this past weekend to be a part of the events to know how much your belief in our group and how much your loyalty to the Panthers means to me. I don't take compliments well and I tend to stay very humble, but being a part of your world this weekend was great affirmation that the Roaring Riot is making a difference and will be a big part of the fuel that pushes me on.
It takes an army to Change the Culture.
And I'm so happy each of you are a part of it.
Are you a Panthers fan in the UK or just want to find out more about The Royal Riot? Check them out on Facebook or Twitter or on the Roaring Riot website. We'll also have a photo gallery from our time in London and a deeper look at what makes The Royal Riot tick coming next week so stay tuned!