Amid the commiseration, anxiety and doom-and-gloom over the injury that will keep Christian McCaffrey off the field for some time, there is almost certainly at least one person out there going "I told you so."
No matter how talented or athletic they are and no matter how many Pro Bowl or All-Pro honors they receive, NFL running backs continue to be hounded by the "running backs don't matter" argument, which suggests that they are merely interchangeable parts whose production is a product of offensive line play and scheme among other factors.
McCaffrey, even after a historic 2019 season, has not been exempt from this argument.
Even as he has thrived and become the nucleus of Carolina's offense, the arguments downplaying McCaffrey's impact have persisted like a nagging voice in the background, especially after he signed one of the largest contract extensions for a back in history: Running backs aren't worth Top 10 draft picks. Running backs don't affect Win-Loss record. Running backs get hurt.
And Sunday, at least in one way, the crusade against running backs was vindicated.
In the late stages of the Panthers' loss to the Tampa Bay Buccaneers, Christian McCaffrey suffered a high ankle sprain that will sideline him four to six weeks, meaning his team will be without him for much of the first half of the 2020 season. It is, in no uncertain terms, a nightmare scenario for Carolina.
Their very best player, and the one who could give them a chance against anyone, injured and on the sidelines.
"It sucks. To be 100% transparent, any time you get injured it's a horrible thing," said McCaffrey. "You play football to play, not to sit out."
It's easy to get caught up in the devastation of losing a player of McCaffrey's caliber, especially given that his emotional impact matters just as much to the Panthers as his game-to-game importance. But interestingly enough, the absence of McCaffrey has set up an experiment on the state of the running back position.
The hypothesis? If Christian McCaffrey is just like any other running back, there should be no discernible difference between him and the man stepping into his cleats.
McCaffrey has made his stance well known on the subject.
"That's an asinine statement," McCaffrey said in the spring. "When you look around the league and you look at what the running back position has meant to certain teams, I don't know when that narrative started happening….You see it so much now, and you look at some of the most explosive players in the league, and they are running backs."
"So to me, I just think it's not a very educated statement."
This Sunday against the Los Angeles Chargers, the Panthers' starting running back will be Mike Davis, a former star at the University of South Carolina who has since become an NFL journeyman. Originally a fourth-round pick in 2015, Davis has been cut twice in his career, spent time as a practice squadder, and his only opportunities to play have come as either a rotational back or as a subsitute for injured players – a role he most notably served on the Seattle Seahawks.
That sort of profile is a far cry from that of McCaffrey, a player considered to be in the upper crust of all NFL skill players – let alone running backs. In an interview with WFNZ in the spring, Panthers head coach Matt Rhule himself said he viewed McCaffrey as much more than a traditional running back but as an offensive weapon.
Which makes his views on the sort of player Davis is all the more significant.
"Mike's a running back," said Rhule. "He's a really good running back, he's a running back for us. He's gonna go out there, he's gonna run our runs, catch the ball & protect, and do all those things at a really high level. He's someone I count on, I think he'll make a lot of plays for us out of the backfield."
"But he's a traditional running back that can do a lot of really good things."
Davis' profile suggests that he is, indeed, more of a run-of-the-mill back. He has only a single game with over 100 rushing yards (Week Four, 2018 vs. Arizona), and only six over 50 – but if you were to take the "running backs don't really matter" argument to its logical extreme, you would be led to believe that the Panthers' running game won't skip a beat with Davis as opposed to McCaffrey.
That simply isn't the case: in the first two games of the season alone, McCaffrey has accounted for four out of Carolina's five touchdowns. Last year, that number was 19 out of 37. In a full season last year, McCaffrey became only the third player in NFL history to rush for over 1,000 yards while also recording over 1,000 receiving yards. This year, he's accounted for all but 60 of Carolina's 216 rushing yards – Mike Davis is an NFL running back, to be sure….but he's not Christian McCaffrey.
Time and again, McCaffrey has broken off big runs and explosive plays. He seldom fumbles the ball as a rusher nor drops it as a receiver. Last year, McCaffrey managed to force his way into the NFL MVP conversation, at least until the season slipped away from Carolina – a feat that's become nearly impossible for most running backs.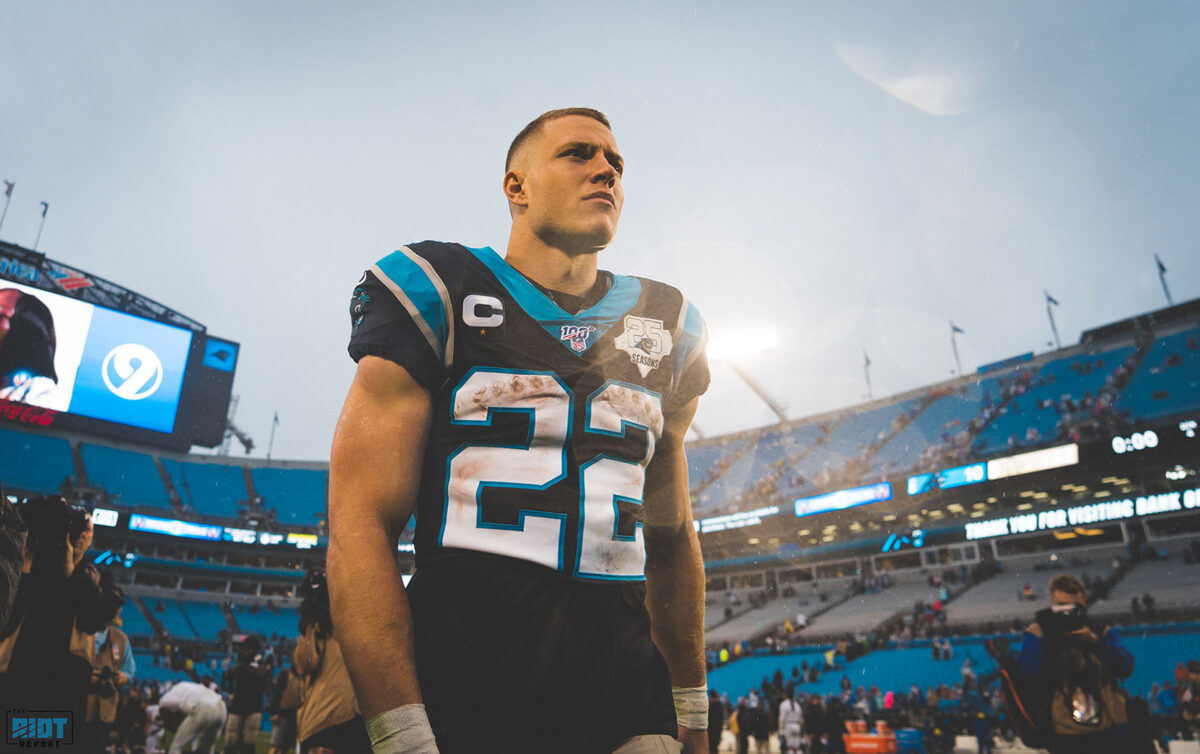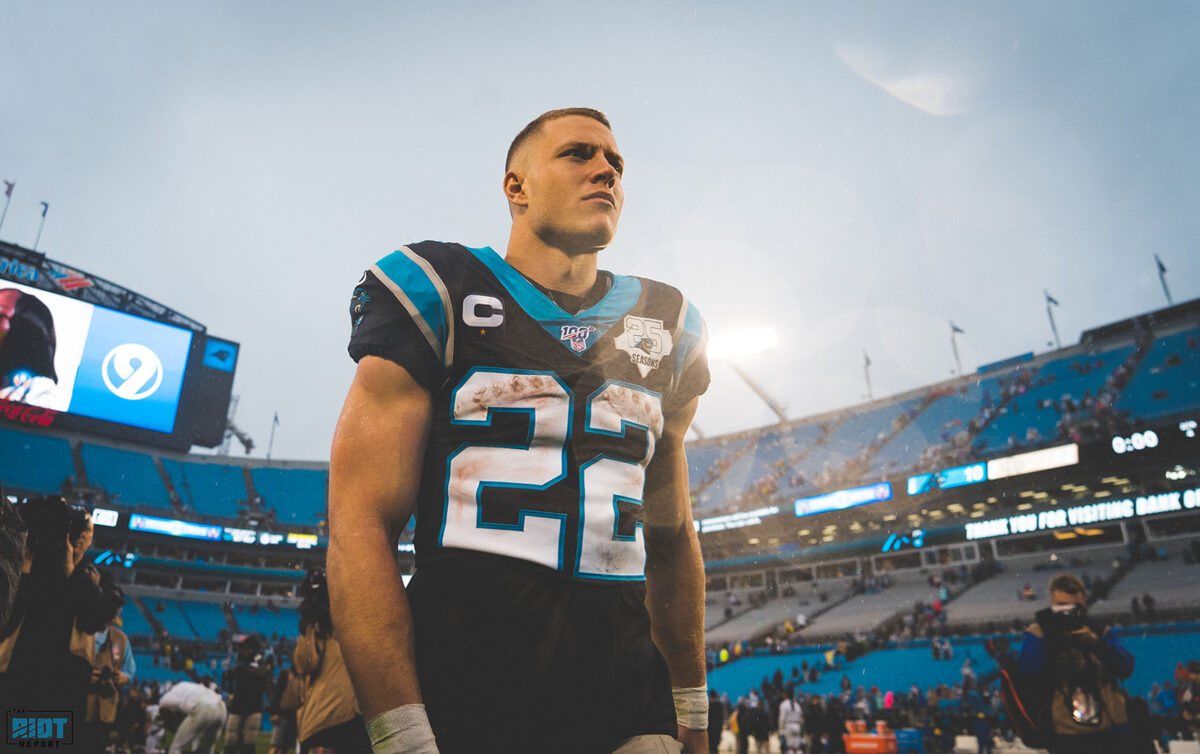 Simply put, Christian McCaffrey matters a great deal. Especially considering that part of Davis' job is now to not only try and make plays to help win games for Carolina, but also make sure he isn't doing anything to lose them.
"Always be prepared, because you never know what can happen," said Davis when talking about what he has learned from McCaffrey. "Don't let anything come up as a shock, just make sure you know everything that you can. So when you do get the opportunity, nothing bad happens."
None of this is to denigrate Mike Davis or claim he isn't a good player. In fact, Davis proved himself quite capable against the Buccaneers, catching all eight passes thrown his way for 74 yards and setting a career high for receptions in the process. But it's highly farfetched to suggest that there will be no falloff from Christian McCaffrey to Davis and the rest of the Panthers' running backs.
Nevertheless, those who question whether a running back can truly make a difference for an entire offense persist. And over the next several weeks, their assertions will be put to the test. If Mike Davis fills in for McCaffrey and there's no dramatic difference in the Panthers' play on offense, perhaps the "running backs don't matter" crowd will crow – loudly. If the Panthers can't function on offense, or can only do so at a fraction of their normal firepower, the "running backs do matter" crowd will be vindicated.
The vexing part of the debate about running back efficacy, so far, has been that there hasn't been a practical illustration of what happens when an elite running back is suddenly no longer there. As a result of Week 2, these theories are now suddenly being put into practice: Christian McCaffrey is injured, and the Panthers are having to do without him.
For now, what happens next – and whether it matters – depends on your ideological bent.