There was a lot of talk before the draft about the direction the Panthers were going to take on defense in terms of the the extent to which they planned to transition away from a 4-3 defense and towards a more 3-4 style. Panthers fans got something of an answer when they selected the 6-5, 249 pound Brian Burns in the first round, but they doubled down on the transition when they selected 6-3, 247 pound Christian Miller in the fourth out of Alabama. While this sets a clear direction for where the Panthers want to go on defense, the draft is much more about the players you select than the positions you select them to play, so what exactly do the Panthers have in Christian Miller?
Pass Rush
The appeal with Christian Miller as a pass rusher really jumps out when watching him on tape – he has the speed and bend to be one of the best pure speed rushers in this draft class, and this is something that he should be able to have some success with from day one in the NFL:
He also shows a nice ability to re-accelerate after initial hesitations, allowing him to make an impact on stunts and the like where he is able to burst through gaps as they appear:
The other area where this speed shows up as a rusher is as a weakside defender on bootlegs and PA-rollouts – something the Falcons in particular have run a lot of historically – here, his closing speed forces the quarterback to get rid of the ball quickly, limiting the stress placed on defenders covering across the field:
However, as nice as his speed rush is, in order to have consistent success as a pass rusher in the NFL you need to offer more than just speed around the edge, and this is the area where Miller has the potential to develop the most. In terms of what he does well, as could be seen in the earlier clip, is he uses a nice two-handed outside swim to create outside leverage which he is then able to finish with his speed and bend:
However, when this move doesn't win outright, he struggles. Too often, he got initial outside leverage but allowed the blocker to get a hand to his frame, thereby preventing him from turning the corner and allowing the tackle to pull himself back into position:
The key to fixing this is to get his two hands to work independently, as apart from his two-handed swim, far too often he relied on one arm to try and create a leverage advantage. On this first play, he uses his outside arm well to knock down the outside arm of the defender, but needs to follow through more effectively with his inside arm – with the ultimate aim being to get his inside arm outside of the blocker's outside arm, thereby allowing him to turn the corner back to the quarterback:
Conversely, on this next play, he does a nice job of using his inside arm to drive the blocker off-balance, but then doesn't really do anything with his outside arm. Depending on whether the aim is to win inside or out, he had the option to either swim outside the blocker or to cut inside of it, he just needs to do one of the two:
These are things that players can learn, and while it would be nice to see him already have some more developed pass rushing moves beyond his speed, this was something that the Panthers' own Efe Obada was able to make significant strides in last season, so there is certainly reason to think that this is something that Miller can work on in the coming months.
The other way in which Miller needs to improve in the coming months is that he needs to develop more of an inside pass rush. At the college level, he was able to win with speed fairly consistently, but at the NFL level, tackles will be able to take this away unless there is the threat of an inside rush stopping them from overcommitting outside. Miller certainly created opportunities for an inside rush, he just needs to learn how to make the most of them. Let's look at the following play:
Here, Miller tries to win outside and only really looks to come back inside once the initial rush has failed, but if the play is stopped mid-way through: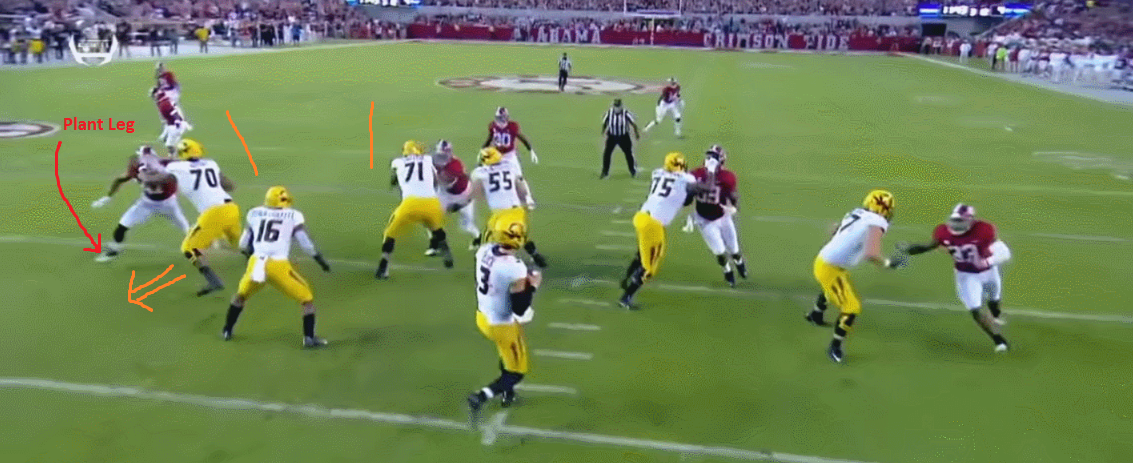 Here, it is easy to see how the offensive tackle has committed completely to stop the outside speed rush, with all of his weight loaded onto his back leg, and with his momentum very much going to the left of the image. What can also be seen is how Miller's weight is loaded onto his outside leg but with his hips angled fairly laterally to the play, and had he looked to drive off this leg to this inside shoulder of the tackle, it would be been almost impossible for the tackle to recover – given the gap inside the tackle, this would likely have led to a pressure at the very least.
This is something that happened a number of times on tape, with Miller getting the tackle to break his slide to stop the speed rush, but then failing to take advantage of this inside. It's not clear whether Miller just lacked developed inside moves or whether the issue is more of a mental approach one, but either way the Panthers' coaches will hopefully look to develop his inside game in order to allow for him to make the most of the opportunities he creates.
As a pass rusher, Miller certainly has a lot of potential and will be able to contribute from day one with his speed, but in order for him to make the most of this, he needs work on his hand usage and to develop more of an inside rush repertoire with a clear rush plan that allows him to react to what the tackle does rather than just plowing ahead with what he decided to do pre-snap.
Up Next: Run Defense