Pass Protection
First let's start with the good things. When he was faced with mediocre or inferior athletes, he showed decent foot speed in his slide with fast, small even steps:
He also showed some nice things in terms of hand usage, with flashes of the hand usage needed to keep defenders at bay through early contact:
And relatively consistently managed to keep his elbows tight to his body, thereby covering his frame from defenders:
Which also made it easier for him to locate his hands inside the frames of defenders:
Finally, and this will become relevant again in a minute, he also did a pretty good job of using his hands to recover, thereby limiting the number of his mistakes which actually led to pressures:
However, and this is where we get to the crux of the issue, he simply doesn't have the foot speed to cover faster speed rushers around the edge, forcing him to break his slide:
The reason for that can be seen in the following image: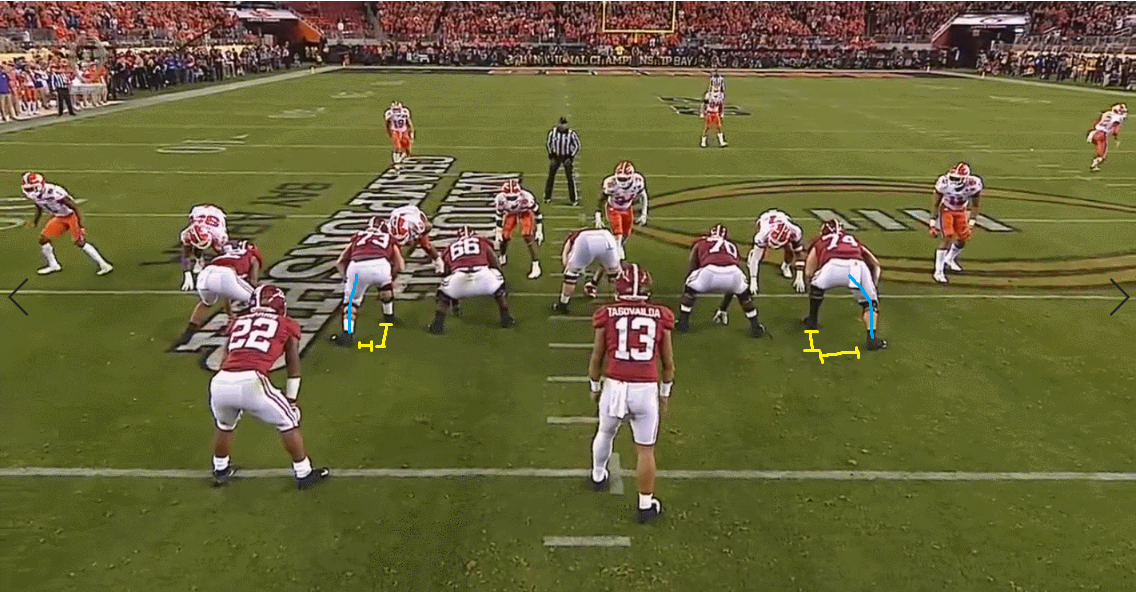 The easiest way to view this is through comparison with the right tackle, as while his form is far from perfect – it is definitely better. If you look at the relative distance that Williams' feet are apart both horizontally and vertically, you can see that his back leg is far more behind his front leg than it is to the side and that his back leg starts in an almost completely straight line with his frame. What this means is that when he slides to cover the speed rush, what he's actually doing is pushing off of his front leg onto his back with closed hips, rather than opening his hips and using his lower legs to generate speed.
The most direct consequence of this is that it causes a natural straightening of his legs leading to a raising of his pad level – as with the run game, that creates problems in terms of controlling blocks:
As well as making him somewhat vulnerable to power moves:
Which, in turn, leads to him leaning into contact in order to lower his pad level similar to what he did in the run game:
While this didn't create many issues in college, this is something that could be exploited by NFL rushers. Another thing that carries over from the rushing game is his occasional tendency to drop his arms off the snap, leading to some quick losses:
And rushers with better hand usage will likely get the better of him as plays go on, as he struggles to work his hands effectively while maintaining balance, likely as a result of his high pad level:
However, the major cause for concern with Williams as a pass rusher arises when he is faced with a superior athlete – his lack of hip bend resulting from his need to push off vertically led to him getting beaten around the edge even by players who didn't have a load of success generally as speed rushers:
And by pushing off of his front foot onto his back leg in order to artificially generate extra speed, he loaded all his weight onto his back leg, making him extremely vulnerable to inside moves and players arriving around the guard:
When the rusher breaks back inside, his only option was to dive forward in order to try and knock the player off balance, not something that tends to have a high success rate beyond giving the quarterback an extra step to get rid of the ball. The final and most worrying issue, however, is that when he does get beat for athleticism, in particular when players are able to knock him off balance early, he has a real tendency to allow any semblance of technique he has left to fly out the window — leading to plays like the following:
Of course, not every passing play looks like this, and he actually did a pretty good job of trying to work within his limitations – but in obvious passing situations against better athletes, he was forced to try and sacrifice technique early in order to cut off the speed rush and then to hope that he was able to recover before the defender was able to get to the quarterback. However, when he didn't get out far enough, he was left very vulnerable to the speed rush; that is why a lot of his speed rush losses appear to develop very suddenly midway through his slide. If the defender was able to instigate contact before he was able to recover, he tended to lose in the spectacular fashion seen above.
In summation, Williams does do a lot of nice things, and there are enough individual bits of value to make him worth investment for an NFL team, but as things stand right now he is liable to falling apart in pass protection when faced with superior athletes – something that will happen more often in the NFL than it did in college – with the good plays in the run game being largely balanced out by the ones where his pad level and tendency to lean lead to whiffs.
Some have suggested that his best future might be at guard – an odd suggestion when combined with the prospect of him being a top-5 pick – and while this might be a solution to his foot speed and hip flexibility issues, there is enough work for him to do in terms of pad level and hand usage to be highly confident in his ability to make a success of this.
Williams' value is heavily tied to his ability to make significant technical improvements, and while his slide issues are more likely physical than technical, the idea that he might never have been taught how to improve his stance isn't something that can be completely eliminated. In short, Williams' range of outcomes is actually one of the biggest of any offensive lineman in this class – as there really are a lot of things to like, they just don't come together to form a player who can be relied upon on a snap-by-snap basis.
I'm not attempting to be contrarian for contrarian's sake – top ten tackles have a history of busting: Luke Joeckel was considered for the 2013 #1 and is now out of football, Ereck Flowers was the ninth pick in 2015 and didn't sign a second contract with the Giants, Greg Robinson was second overall the year prior and didn't have his fifth-year option picked up.
I'm not assuming Jonah Williams will fall into this group, but I'm afraid that it seems more likely than the others being considered by the Panthers at the 16th pick.