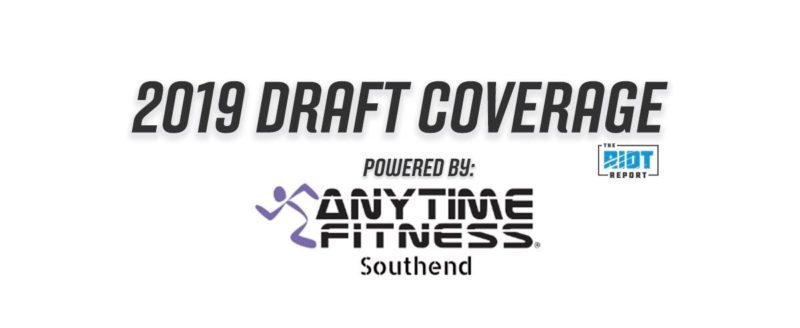 The Panthers arguably have no bigger need – certainly on the offensive side of the ball – than offensive tackle at this point, with their presumed pair of starters having played exactly one game together in their current roles – a game in which they posted their lowest passing yardage, second lowest points and third lowest total yardage of the 2018 season — and they don't have another tackle on the roster with an NFL game in their career.
Oh, and one of their two tackles is on a one year contract coming off a season-ending injury.
Hear more of our thoughts on the offensive line and how the Panthers can fix it through the upcoming draft on this week's episode of The Great British Drafting Show, where Dan Kreso and I go through my entire draft board – you can also check out my guard and center big boards, as well as a deeper look at Andre Dillard and Greg Little. 

There are a number of offensive linemen who are receiving first round consideration at the moment, and with the Panthers likely in the market for an offensive tackle as early as the first, it is worth Panthers fans knowing what their various options are. With that in mind, one player who has been mocked to the Panthers by some and as high as fifth overall by others is Alabama's Jonah Williams.
However, while there are certainly reasons to like Williams on tape, I do not think that he would be a good player for the Panthers to target in the first round even if he does fall that far – here's why.
The Run Game
Let's start with the things that Williams does well, and in general that means the run game. He has surprisingly good power for a tackle who weights under 300 pounds – he's the left tackle, #73:
A major part of his ability in this regard come from his hand usage, as he shows a nice ability to locate his hands well inside the frame of his defender, thereby allowing him to direct the power he generates along the collision axis:
This hand usage also comes in handy when asked to block zonally, as by locating his hands well inside, he is able to retain his blocks even when blocking at an angle:
He also showed the ability to be effective as a pulling lineman:
And really impressed when asked to work to the second level off of double blocks and the like:
Even if his tendency to work down the field on RPOs sometimes needs to be reigned in to avoid ineligible receiver penalties:
There are certainly a lot of things to like from Williams on tape as a run blocker – but there are also some instances that are varying levels of troubling. The most fundamental of these is his lack of knee bend at times, leading to a raised pad level which, in turn, creates a pair of issues. First, by raising his pad level, he allowed smaller defenders to hold their own against him at the point of attack by directing the majority of power Williams generated upward:
This high pad level also makes it hard for him to adjust to sudden changes in direction, leading to Williams allowing early penetration when players are able to force him to flip his hips off the snap:
And it also means that when players are able to get under his pad level, he really struggled to recover – once they were able to get underneath his shoulders, he was unable to locate his hands inside and was forced either allow them to run past him or to resort to a hold:
This poor pad level also leads to other issues in technique, as in order to avoid getting jacked up in collisions, he had to resort to bending with his waist instead – while this does in part allow him to alleviate some of the symptoms resulting from the lack of knee bend, it serves to exacerbate the control issues:
There are also some issues with his hand usage, as while this is generally good, he does tend to widen his arms immediately off the snap, allowing defenders easy access to his frame if they strike early in the play:
As his arms famously aren't hugely long, when this does happen, he is unable to secure inside hand placement which allows the defender to release at will, as seen above. This is made even worse when asked to pull or move in space, as his high pad level creates some balance issues – which he counters with wide arms, which when a defenders gets up on him before he expects them to can lead to complete whiffs:
Additionally, his forward leans forces him into punching early at times in order to regain his balance, and this sometimes leads to quite poor hand placement, again making it relatively easy for the defender to release from the block:
Oh, and he also has a tendency to bring his feet together in his drive, thereby making it hard for him to control the block through lateral changes in direction:
To be clear, Williams does some nice things as a run blocker, and if he can work on his knee bend, his tendency to lean should also be helped which would help some of his hand usage issues. However, fixing a player's knee bend is far from a simple task, and is something that can often be prevented by physical limitations and cannot be taken for granted.
Up Next: Pass Protection Breakdown