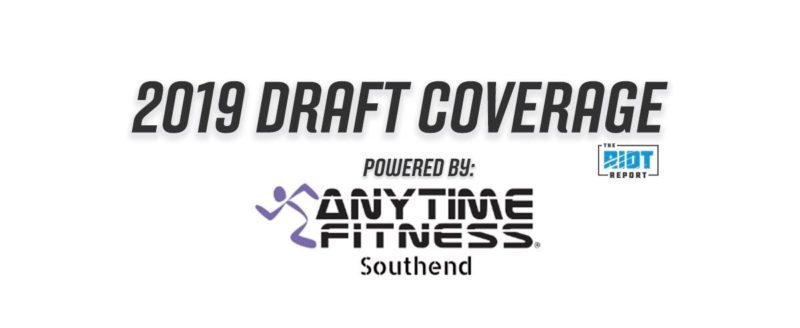 The Panthers arguably have no bigger need – certainly on the offensive side of the ball – than offensive tackle at this point, with their presumed pair starters having played exactly one game together in their current roles – a game in which they posted their lowest passing yardage, second lowest points and third lowest total yardage of the 2018 season — and they don't have another tackle on the roster with an NFL game in their career.
Oh, and one of their two tackles is on a one year contract coming off a season-ending injury.
Hear more of our thoughts on the offensive line and how the Panthers can fix it through the upcoming draft on this week's episode of The Great British Drafting Show, where Dan Kreso and I go through my entire draft board – you can also check out my guard and center big boards, as well as a deeper look at Andre Dillard.
With that in mind, the Panthers are likely in the market for an offensive tackle as early as the first round – especially if trading down a few rungs is in the cards, one of the players they might consider is Ole Miss' Greg Little. So what does Little offer on tape, how could he improve and would he make sense for the Panthers?
Run Blocking
Ole Miss' rushing scheme rarely asked offensive linemen to put a hat on a hat and move their defender, instead using a lot of motion and asking their offensive linemen to block zonally, but the same core skill traits are present in both systems. First, let's start with a play where Little does everything right – Little is #74 at left tackle:
First, he uses his feet well off the line to get inside of his defender as required by the outside zone and does so while showing good knee bend to lower his center of gravity and with his weight over his feet. He also shows good hand usage, with his elbows tight to his frame and a nice two-handed punch to the frame of the defender. The play isn't asking him to drive the defender backwards as much as guiding him away from the ball, which he does effectively; in an ideal world, he would have continued to work his feet rather than bending his back, but he had already accomplished his responsibility by this point.
The issue with trying to represent the play of an offensive lineman in a format such as this is that a major factor is not what they do, but how often they do it – being able to obliterate a defender isn't worth much if 90% of the time the lineman ends up on their behind with their defender in the backfield, but it is hard to show that balance without going through an awful lot of clips; so rather than showing you a load more plays where Little does well as a run blocker, I am now going to focus on the plays where he could be better and, crucially, on how – but, just to reassure you, here are some more plays of him being good:
And here's even one of him reach-blocking Quinnen Williams:
Now that really isn't something you see every day.
But back to the ways in which he could improve – the most common issue for offensive linemen as run blockers is pad level, and Little isn't exempt from this – there were times on tape where he didn't bend his knees sufficiently, thereby limiting the amount of power he was able to transfer laterally – with much of what he generated being wasted as upward motion:
In the worst instance, this can also lead to players getting jacked up, with the defender getting under their pad level and driving them upwards, thereby getting them off balance and leaving the lineman almost completely incapable of recovery, while at the same time going backwards. This wasn't a common theme with Little by any means, certainly not as a run blocker, but there was one instance I found on tape of this happening to him:
Both issues can be alleviated by better and more consistent knee bend; with Little, the issue is largely with the latter – he generally played with a good pad level as a run blocker, but he would benefit from eliminating plays like this, with the most common occurrence, as it is for most players, being a gradual rise in play height as a play goes on rather than continuing to drive through his defender.
The other thing he had a tendency to do at times was to get his frame out in front of his feet – which, while having the effect of lowering his pad level, also put him distinctly off-balance. Sometimes, such as on the following reach block, it makes sense as a means of maintaining gap discipline:
But it also runs the risk of getting side-swiped:
While also making it harder to sustain blocks:
Some of this comes with scheme – asking a tackle to reach-block onto a 3-tech on a play where the run is going inside the tackle is ambitious at best, but there is also a degree to which Little needs to be able to lower his center of mass using knee bend rather than by leaning into blocks – see above – as well as learning to be content with executing his block rather than risking missing his block in an attempt to drive his defender off the side of the screen.
This is something Little will obviously want to try and eliminate from his game, but it is worth noting that this isn't something that is present on all or even most of his plays, but rather an inconsistency which creeps into his game at times.
Overall, as a run blocker, Little shows the hand usage, body control and bend needed to be a very good player, he just needs to put all three together on a more consistent basis. There is no one area of his game in this regard which appears as a consistent issue, and there is no doubt that he is capable of being an excellent run blocker, but as Ole Miss didn't run a scheme which asked him to dominate at the point of attack, it is hard to conclude from his tape that he is going to be able to step in and become an elite run blocker in a power scheme right away, even if he has the talent to become one. But his combination of movement skills, hand usage and body control should allow him to be a major asset to a zone blocking scheme from day one, especially if he can reign in his inconsistencies.
Up Next: Pass Protection