Um…so is everybody ok?
Yes, the Panthers were not good against the Falcons, and while the injury bug is likely making it harder and harder for the Panthers to even look competitive, it probably shouldn't come as a shock that when you fire a coach but keep running essentially the same scheme with the same players, things don't magically get better. However, as will likely be pointed out a number of times this week, the Panthers are still obliged to play the final three games of the season, and we're at least somewhat obliged to watch.
So, with that in mind and a drink in hand, what are things to watch for against the Seahawks that might make an impact beyond this now mathematically-over season?
Is The Run Defense Even Kicking Anymore?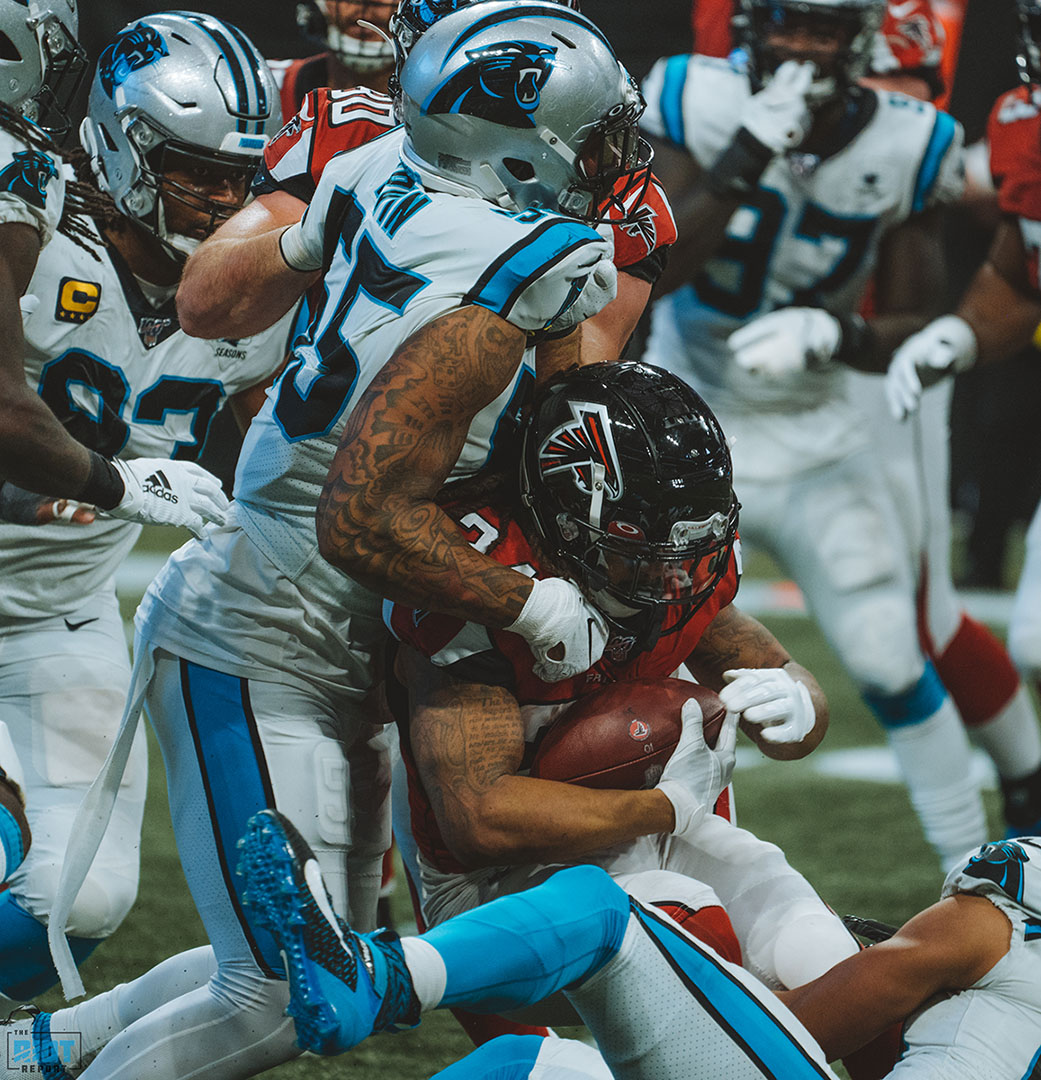 The Panthers' run defense this year has been really bad; in fact, it's still on track to compete to be the worst ever, and while that certainly isn't something that is going to be helped by a number of injuries along the defensive line the Panthers – and by extension, David Tepper – will be hoping to see that this is something that at least shows hints of getting better. The defensive scheme isn't something that is going to radically change over the final month of the season, and neither is the personnel, but if nothing else, the Panthers should be able to see some improvement by really stripping things back defensively and giving players simple jobs to execute and then go from there. This isn't a team that is trying to win a title right now, it's a team that's trying to show that it can be competent.
This is not going to be easy against a Seahawks' rushing attack that ranks third in the NFL in yardage and seventh in the NFL in terms of yards-per-carry. Much of the Seahawks attack so far this season has gone through Chris Carson, who has already topped 1,000 yards on the year while averaging 4.3 yards-per-carry, with Russell Wilson offering just enough as a counter to allow the Seahawks to offer something of a diverse rushing attack. For a team that is just trying to get back to square one, this isn't going to be an easy week
Frankly, while the Panthers do need to look at their specific opponent, this is much more about the Panthers, and they just need to make sure they are getting people lined up correctly, in the right gaps and making tackles when they are presented to them.
This isn't rocket science, and the Panthers need to stop making it look like it is.
Are The Panthers Going To Start Rotating At Some Point?
Perry Fewell has made it clear that there is at least some balance in priorities between winning and evaluating players, and while the team isn't likely to straight up bench the likes of McCaffrey and Kuechly with three weeks to go, there comes a point where you have to realize the horizon you're working towards is beyond the end of the season. They have already made it clear that Will Grier won't be getting the start this week, and given he is still spending practice with the scout team, it would probably be a questionable idea to introduce him mid-game having not practiced with the starters – but for a number of other players, there is a much greater chance of seeing them rotated into the game, especially if it gets beyond reach before the end of the fourth quarter.
Of course, there is also a chance to rotate more heavily even early in the game, and especially at the skill positions and on the defensive line, this is something fans should hope to see more of against the Seahawks. Reggie Bonnafon had one pretty decent carry to start the game and then didn't really see the field for the remaining four quarters. Brandon Zylstra got some targets late but the Panthers still are hugely reliant on just three receivers for the most part, and with Marquis Haynes looking to be out for some time, Christian Miller really needs to be active on Sunday so that the Panthers can work out what they have in him after missing much of the season so far.
Having said all that, and despite all the talk around the team, there was really not much evidence at all against Atlanta that this is a team that is going to really embrace the fact that the season is over in any meaningful sense. Right now, the Panthers essentially have three early preseason games for 2020, and they need to start moving more towards treating them as such.
Up Next: Evaluating The Pass Rush — And The Offensive Coordinator