Tuesday's practice in Spartanburg was going to be a tough one for the running backs.
Even though the players weren't wearing pads, entrenched starter Christian McCaffrey had been given the day off and rookie Jordan Scarlett, selected in the fifth round of the 2019 Draft, was still nursing a sore lower back he had suffered four days earlier. That left rookie Elijah Holyfield, second-year player Reggie Bonnafon and veteran Cameron Artis-Payne as the only three running backs available to take over 100 reps under a blistering South Carolina sun that had the temperature in the low eighties and the humidity hovering around 50% just after 9 AM.
It was just after individual warmup drills that running back coach Jake Peetz, himself new to the Panthers organization after spending last year as offensive assistant to Nick Saban at Alabama following nine years in the NFL, gathered the running backs and slowly looked each one in the eye.
"Set your intentions!" yelled the 36-year old Peetz. "Don't let the pads coming off bring down your intensity."
And he sent the three running backs, all of whom are competing with each other but at the same time rooting for each other, out to practice.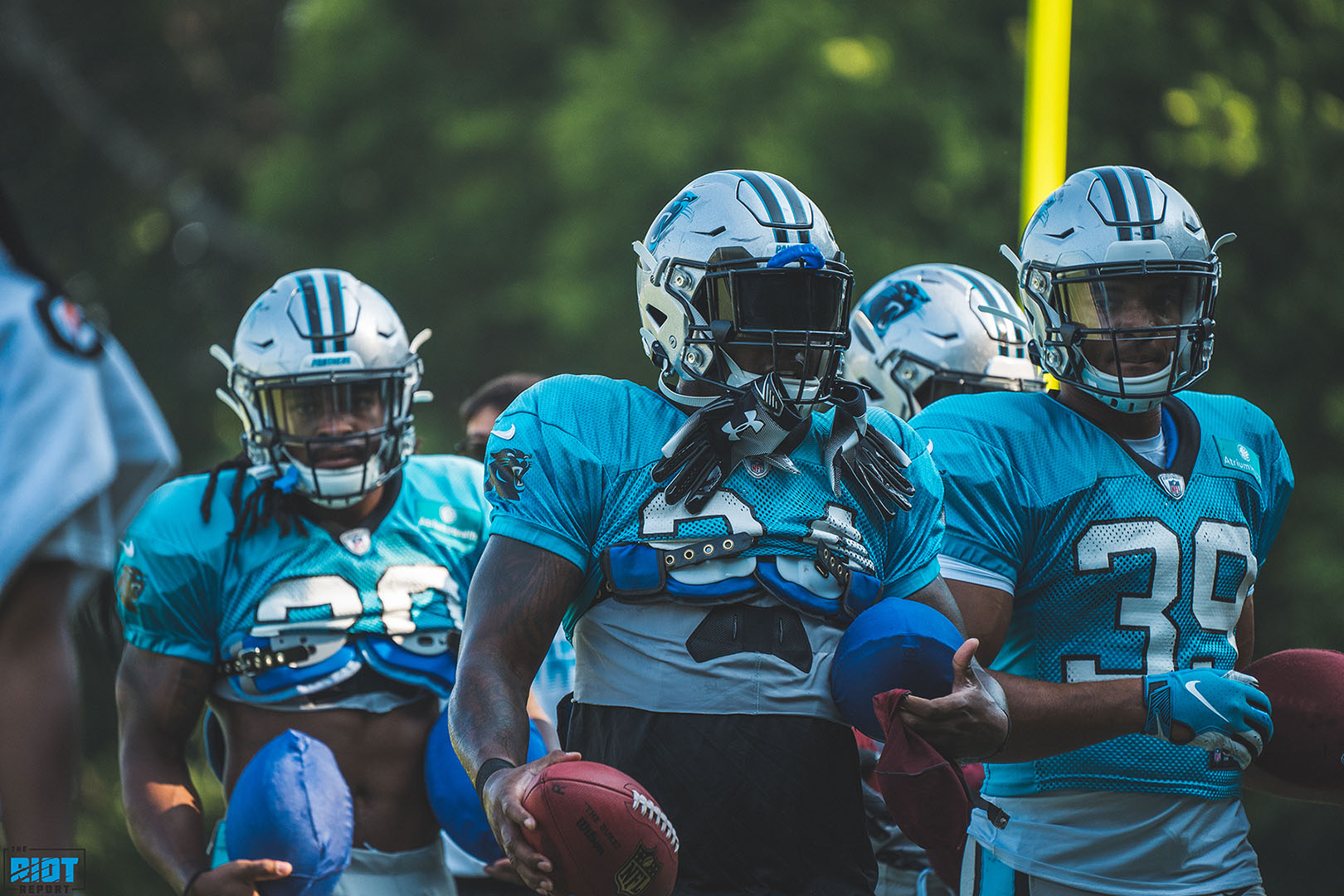 "You have to think about this – how do you want this to end?" Peetz told The Riot Report shortly after practice about the mantra he had set for the running backs. "How do you want all the work that you're putting in, to whatever it is that you're working on, how do you want that to end? You have to have that clear vision in mind of what you want the endgame to look like, and then build a process-based approach to reach that."
"It's not like we say it and it gets lost – when you say it to this room, they understand. If you want it to end a certain way, you've got to set your intentions of what you want to do and how you want to do it. For us, that's locking in our focus. There are days when it's not easy and you need to think, what do I want this to look like? You have to set your intentions and be committed to that."
"You can't just let it be words."
Peetz knows how to reach end goals – he helped the Crimson Tide average 522 yards and 45.6 points per game last season and has coaxed career seasons from Derek Carr, Latavious Murray, and DeSean Jackson, but now he's tasked with helping not only help Christian McCaffrey continue to unlock the massive potential, but mine the talent of those behind him on the depth chart.
Although first, the team has to decide how that depth chart will be made up.
The Panthers have their first true running back competition – albeit at the backup position – in years. Last season, CJ Anderson was the clear backup during training camp, before that it was fairly obvious that the rookie McCaffrey and the veteran Jonathan Stewart would split carries. But this year, there's a clear competition between Scarlett, Holyfield, Bonnafon and Artis-Payne for two running back roster spots and that means how they perform in not only each practice, but each preseason game, will have a huge impact on whether or not they'll have a jersey come September 1st.
"Coach Rivera and Marty [Hurney] have done a terrific job putting this running back room together," said Peetz. "We don't just have guys with really good talent, we have really good young men and when you have dynamic players, Norv has done this historically – everywhere he's been, when Norv has had dynamic players, he's been able to tear up yards. He knows how to utilize them and we train them so they can be effective in that system."
"These guys have played – like Elijah at Georgia and Jordan at Florida, speaking about the rookies, they've played on the big stage. They've played in big games, so this is obviously going to be a different step for them, but these guys, the way they prepare, their attitude, their effort – [it's] all a part of their preparation."
"These guys are ready to go."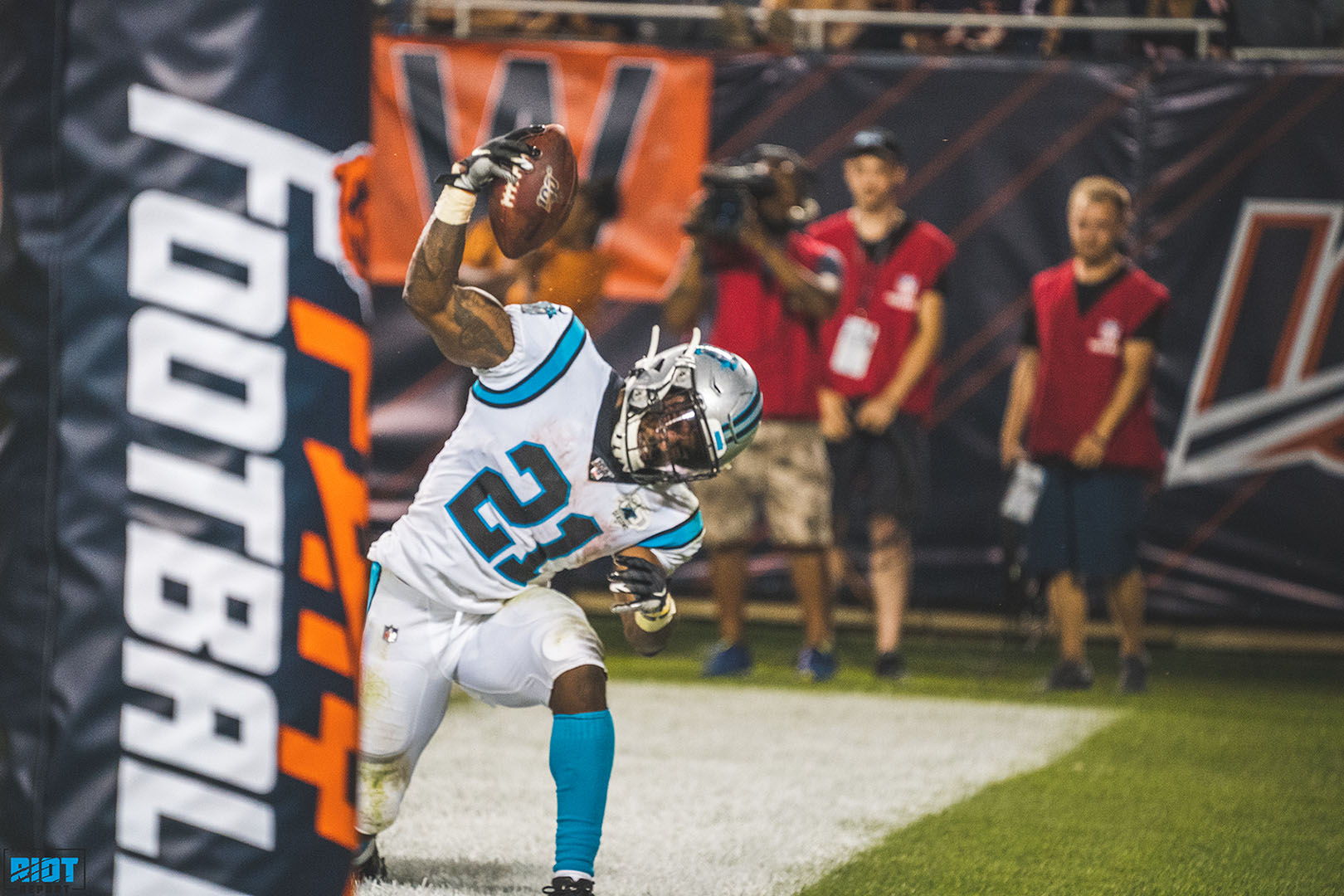 "They're great players, and they're great learners too," said McCaffrey about the young players competing to be his backup. "They ask a lot of questions and they're attentive during meetings. They do such a good job during practice too. So for me, it's just whenever they have questions, I'll answer them or show them a thing here and there. But the running back position is such an instinctive position and those guys have great instincts. They've had a lot of success – you can't overcoach the position."
Preparation stretches the gambit of what it take to be a running back, whether it's pass protection – building muscle memory in practice so that the running backs can use their 'active eyes' to know where their reads are and allow those fundamentals to shine through in a game when their instincts kick in – or route running, something that each running back in the Panthers' backfield has to excel in if they want to be a like-for-like replacement for the running back who set the NFL record for most receptions by a running back in a single season.
Or special teams play, something that Ron Rivera says can set a young player apart when they're trying to make a roster.
And that's without actually being handed the ball and running – something each of the four competitors have been doing since Pop Warner – how the Panthers running back room defines itself over the next four weeks will define it's makeup over the 17 that follow. But it all comes down to not only how you play, but how you practice – how you begin will define your ending.
"Your habits define your game," reminds Peetz. "Let's set our intentions and remember – what is our end goal? And then we back it on up to our process-driven approach to reach it."
If the end goal is a roster spot backing up McCaffrey, the approach is performing at a high level during the preseason. As Cameron Artis-Payne put it – "Let the best man win."
Up Next: A Closer Look At The Candidates