The Veteran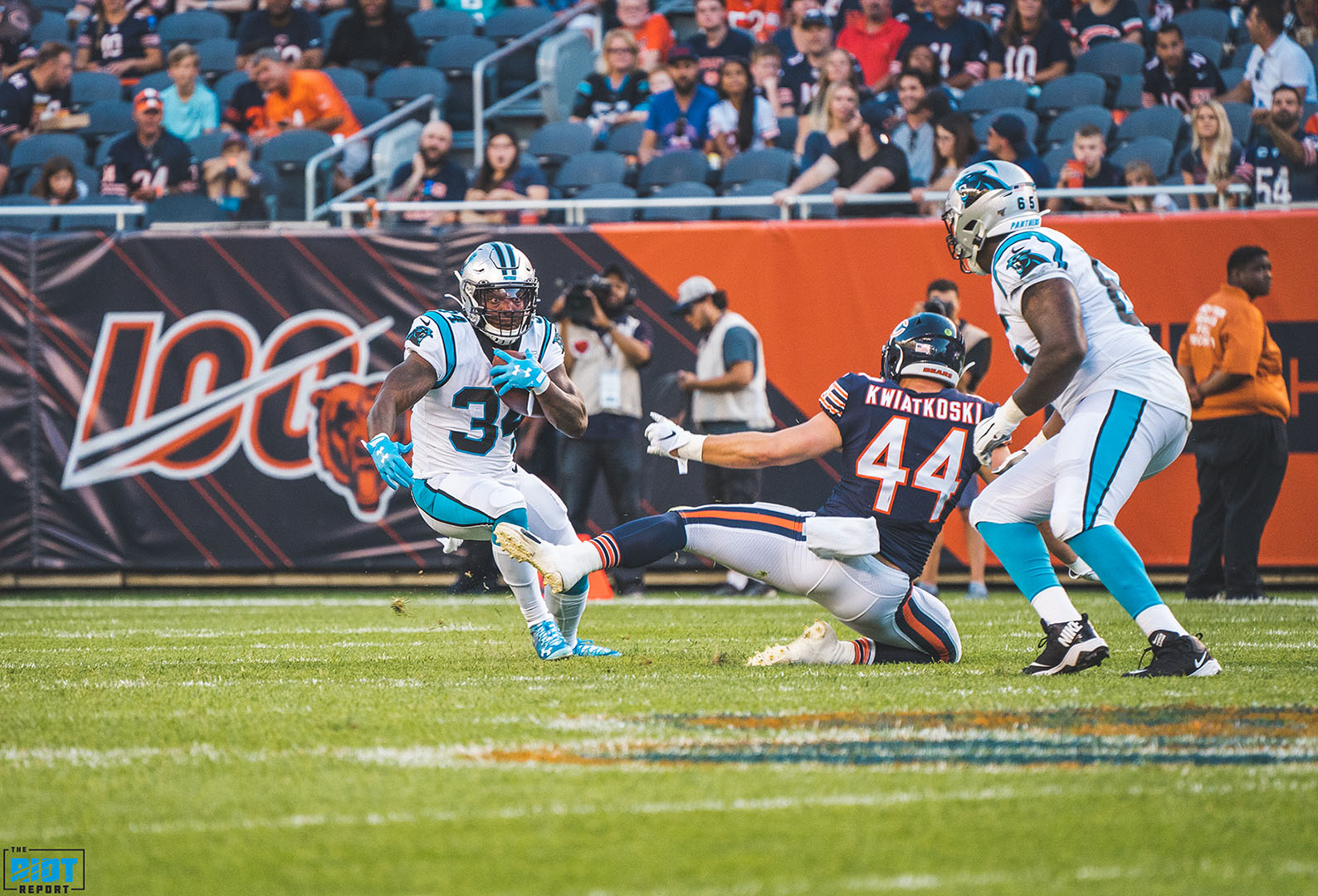 Simply by being a veteran on a Ron Rivera team, Artis-Payne, who signed a one-year deal for close to the veteran minimum this offseason, may have the early advantage at making the team – by continually performing when given the opportunity, albeit in small doses, over the past five seasons, he's a proven commodity in that the coaching staff knows what they're getting in him when he steps on the field, which has a value. Not surprisingly, he has excelled during training camp, with a year of Norv Turner's system under his belt; he also can be a contributor on special teams, something he says he was happy to get the opportunity to contribute at last season, as he saw more special teams snaps last season than his previous seasons combined – as evidenced by his current, and likely temporary, place atop the kick returner depth chart.
Artis-Payne got the starter's reps during Week 1 of the preseason in Chicago – 16 snaps during the first quarter before being pulled for the rookie Holyfield.
Preseason Week 1 Stats: Five rushes, eight yards (1.6 yards per carry) – two catches, 30 yards.
What Rivera's Saying: He's very solid – solid. He handles his assignments, [the quarterbacks are] very well protected…he's a plugger. He's a very solid player for us – he's a guy that's a versatile player, he does the things we need to have him do.
What He's Saying: I feel like I can play at a high level, I feel like I can be an amazing contributor, I feel like I can be a 1,000-yard Pro Bowl running back, but at the end of the day, it's about what the team asks you to do and I'm here to do whatever they need me to do, whether that's special teams, pass protection, catching passes out of the backfield, running the ball, whatever they need me to do, that's just my MO and how I feel about things.
The Undrafted Rookie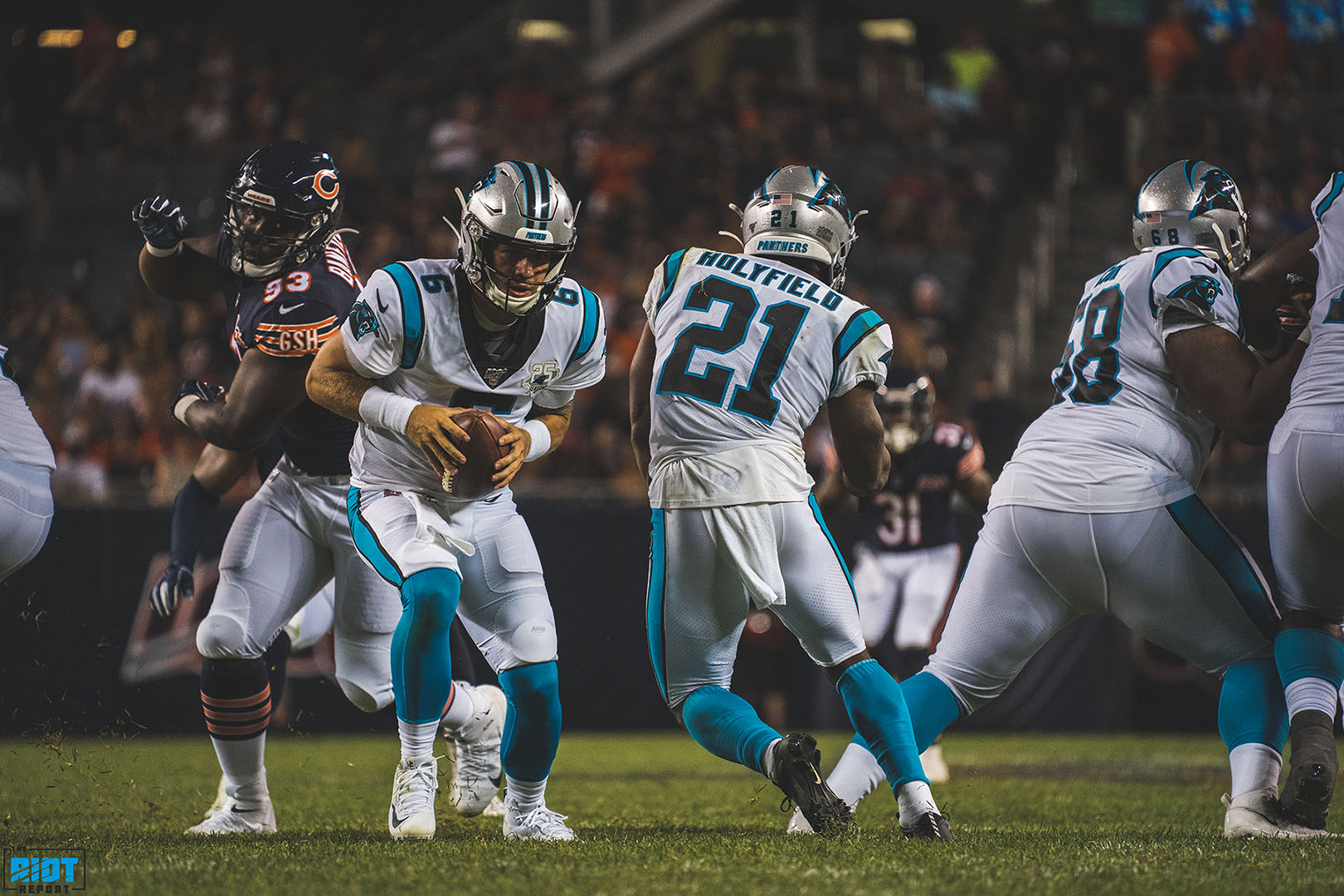 Hampered by a slow 40-yard dash and a tumble out of the draft, Elijah Holyfield hasn't looked the part of an undrafted rookie by any means during training camp, looking effective rushing the ball and often being the last man at practice catching balls from the JUGS machine. After a fumble on only his third touch in the second quarter, Holyfield bounced back to score two touchdowns in Chicago, although he failed to find running room until the end of the game – 20 of his 26 rushing yards came on his final two carries and his other seven went for only six yards.
Preseason Week 1 Stats: Nine rushes, 26 yards (2.9 yards per carry), one touchdown, one fumble. Two catches, 13 yards, one touchdown.
What Rivera's Saying: "He came in, he was anxious, and he got an opportunity. He came back and handled the situation very well and did a couple of nice things, made a couple good plays. He's young, he's learning. I think he will continue to get better."
What He's Saying: "Since I've gotten here, they've let me work as a compete back and gave me opportunities to do everything. So I've been trying to be the best I can be and be a complete back."
The Missing Competitor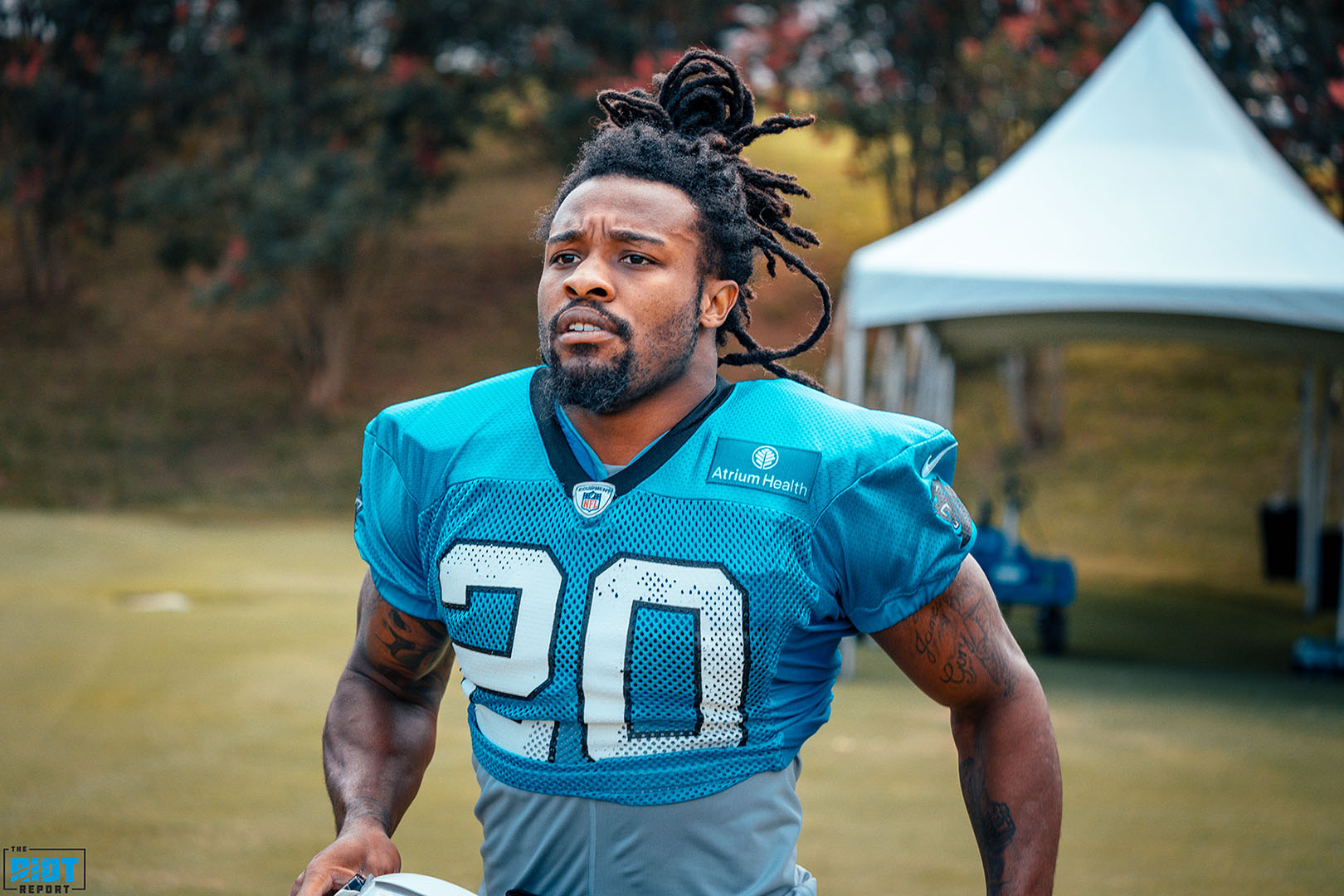 It wasn't surprising when Christian McCaffrey got his first vet day of training camp to see fifth-round draft pick Scarlett getting reps with the first team, but for as good as he looked during the first week of training camp, a sore back suffered during Fan Fest last Friday has kept Scarlett off the field and allowed Holyfield and Bonnafon to take the majority of the reps during the first preseason game – a game that Rivera said can help define who gets more snaps as the preseason wears on.
It will be important that he is able to come back healthy going forward, but he likely has a leg up on the competition after the team invested a fifth-round pick in him.
Preseason Week 1 Stats: N/A
What Rivera Says: "It's unfortunate, he tightened up that lower back. We really wanted to see him, he's done a great job, he's had a really good camp, it's just one of those things – he could play if it was the regular season but you don't want to expose him; it's unfortunate because the young man is having a really good camp…..You watch Jordan, he's stout, he's physical, he's good out of the backfield, he's got decent hands and he's a good inside runner as well." 
The Raw Underdog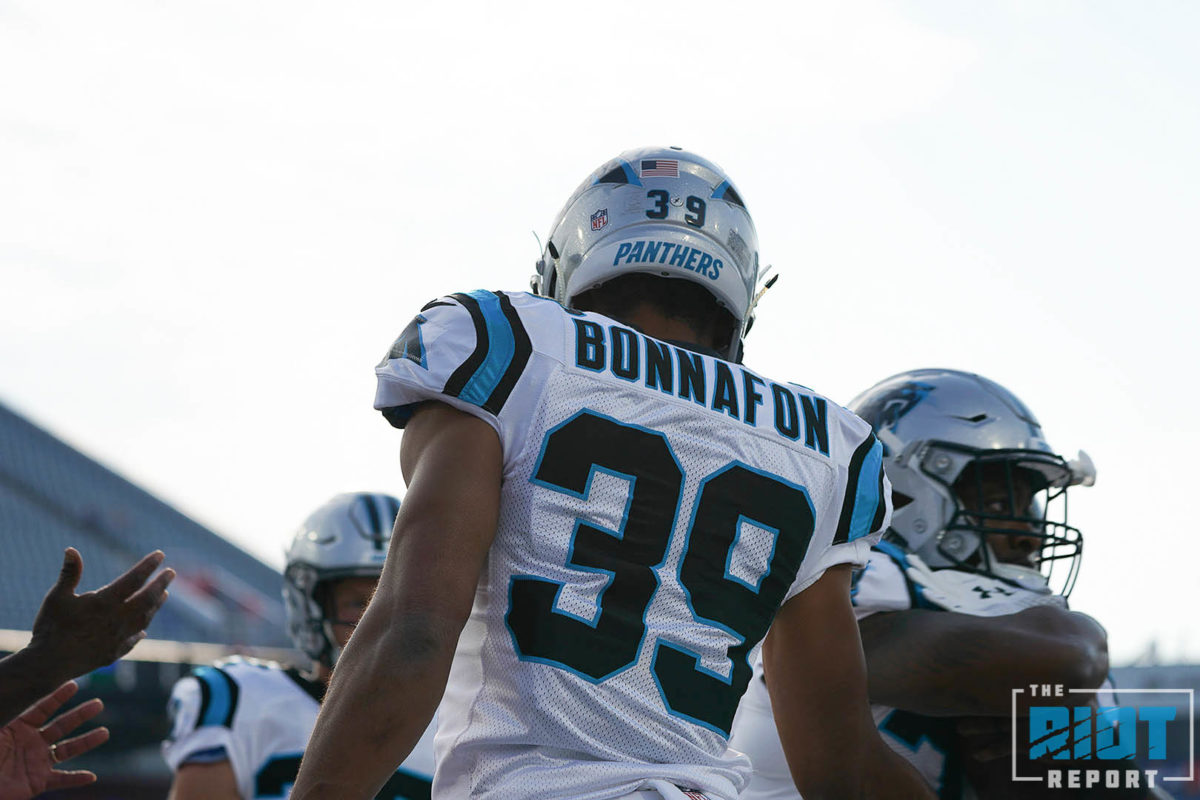 After transitioning from jack-of-all-trades at Louisville – Bonnafon played multiple positions including quarterback and wide receiver – into a full-time running back in Carolina, Bonnafon has used his varied skillset and full season on the practice squad to imitate the way that Christian McCaffrey plays on the field. If you're looking for a like-for-like replacement for McCaffrey, it's probably Bonnafon as he has the best hands and is the most natural route runner of those competing.
It was interesting to see Bonnafon not only take most of the second half snaps during mop-up duties in Chicago, but reps as the third-down back early. He showed not only the hands out of the backfield with four catches (on four targets) for 30 yards, but made a nice cut and ran through a hole for a 17-yard gain late. He said this week that he's put on some weight after Norv Turner spent last season calling him skinny to make himself a more well-rounded back and if he can continue to show value as a runner and a receiver, he could be a dark horse candidate to make the roster, although he does still have practice squad eligibility.
Preseason Week 1 Stats: Four carries, 23 yards. Four catches, 30 yards.
What Rivera Is Saying: "Reggie's really good out of the backfield, he's got really good hands. "
What He's Saying: "It might have been a blessing for me, because I was just so raw to the position, I was [really] able to learn what they were teaching me. Once again, it's just been a good journey – I really can't put it into words, I'm just going all-in with the process and letting the rest take care of itself. Last year, it was great for me to sit back and learn how to game plan at the level. Just being detailed and meticulous everyday in what I do, trying to perfect my craft and become an expert at what I do – trying to make a name for myself at this level."