The Panthers might not be mathematically eliminated at this point, but they're about as close as you can get, with less than a 1% chance to make the playoffs as things currently stand, and while the coaching staff are likely still going to try and prep to win every single remaining game, there comes a point where you have to start to look beyond the current season. What this means, in practice, is looking to develop and assess younger players – and to take unnecessary hits away from key players. This is what the Panthers did to end the season in New Orleans last season – but with the way this season has gone to this point and with Cam Newton already out for the season, there is a chance that the Panthers start to wind things down a little earlier this year.
So, with that in mind, who are some players who might be due a bigger role over this final month of the season?
Ian Thomas, TE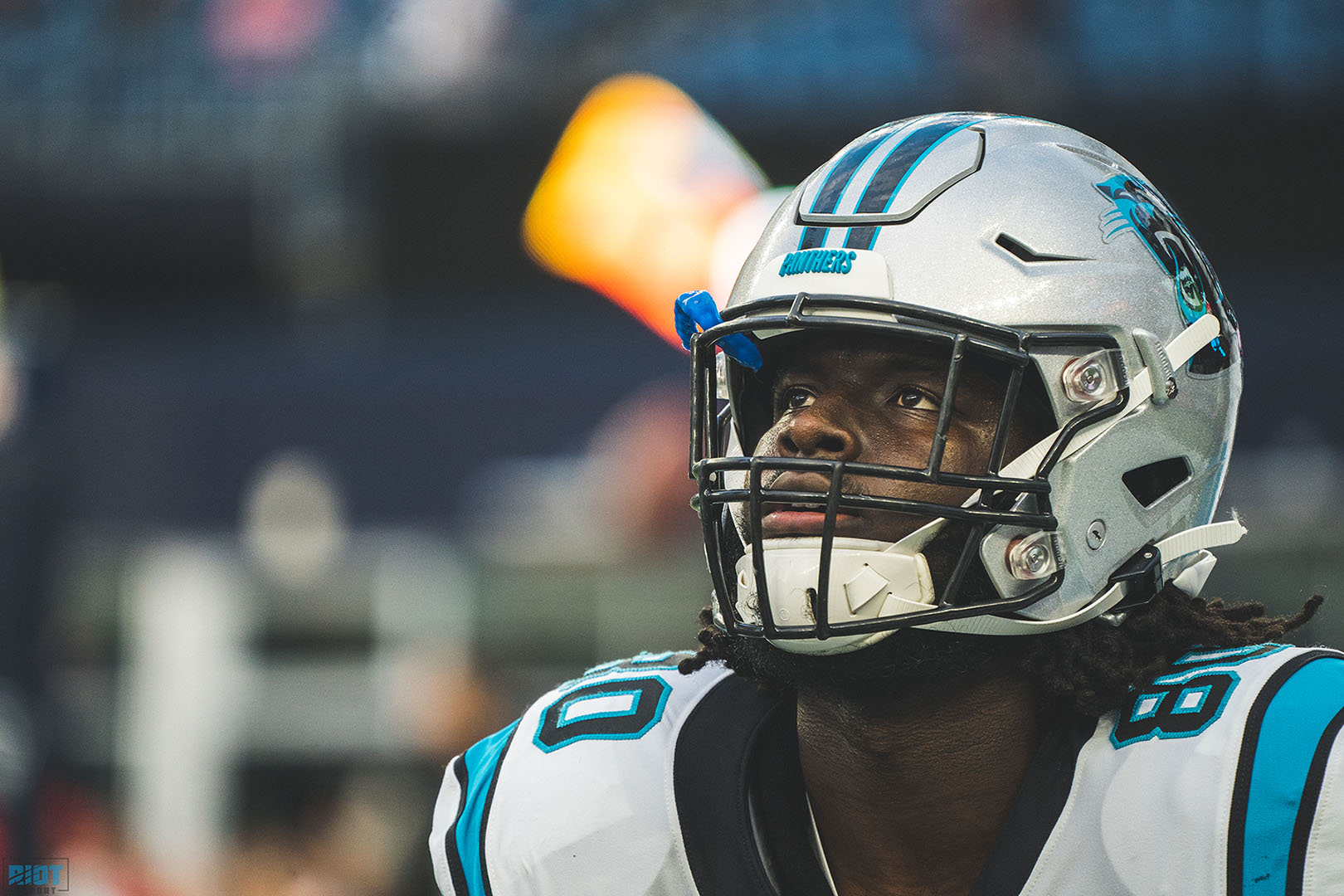 While Thomas getting more playing time over the final month of the season should have been expected anyway, the injury to Greg Olsen will likely mean that his role suddenly gets a lot, lot bigger. The surprising thing with Thomas has actually been how small his role has been so far this season – despite looked pretty good when Olsen was out last season as a rookie, Thomas has had just five catches on nine targets thus far this season, with four of those coming on Sunday after Olsen was hurt. Now, some of that is likely due to the injuries that held him out for much of the preseason and training camp, but the fact that he hasn't been worked in more as the season has gone on has been frustrating.
The reason why this is so important is that with Olsen's age and recent injury record, there is a chance that he could be asked to step into a much larger role as soon as next season; having shown flashes as a rookie, it's hard to understand why he hasn't been able to see the field, even as part of a rotation with Olsen. Thomas unquestionably came out of Indiana as a very raw prospect, but he showed an awful lot of growth as a rookie and can offer things from an athletic point of view that Olsen quite frankly can't – at least not at this stage in his career. Thomas doesn't need to come out and look like a star from the first snap against Atlanta – he didn't when he came on for Olsen against Washington – but with a player whose value is so much about ceiling, it will be key to see whether he has been able to continue his development rate over the past season or whether he is starting to begin to level off – if so, where does that leave him in terms of the Panthers' future plans?
Christian Miller, EDGE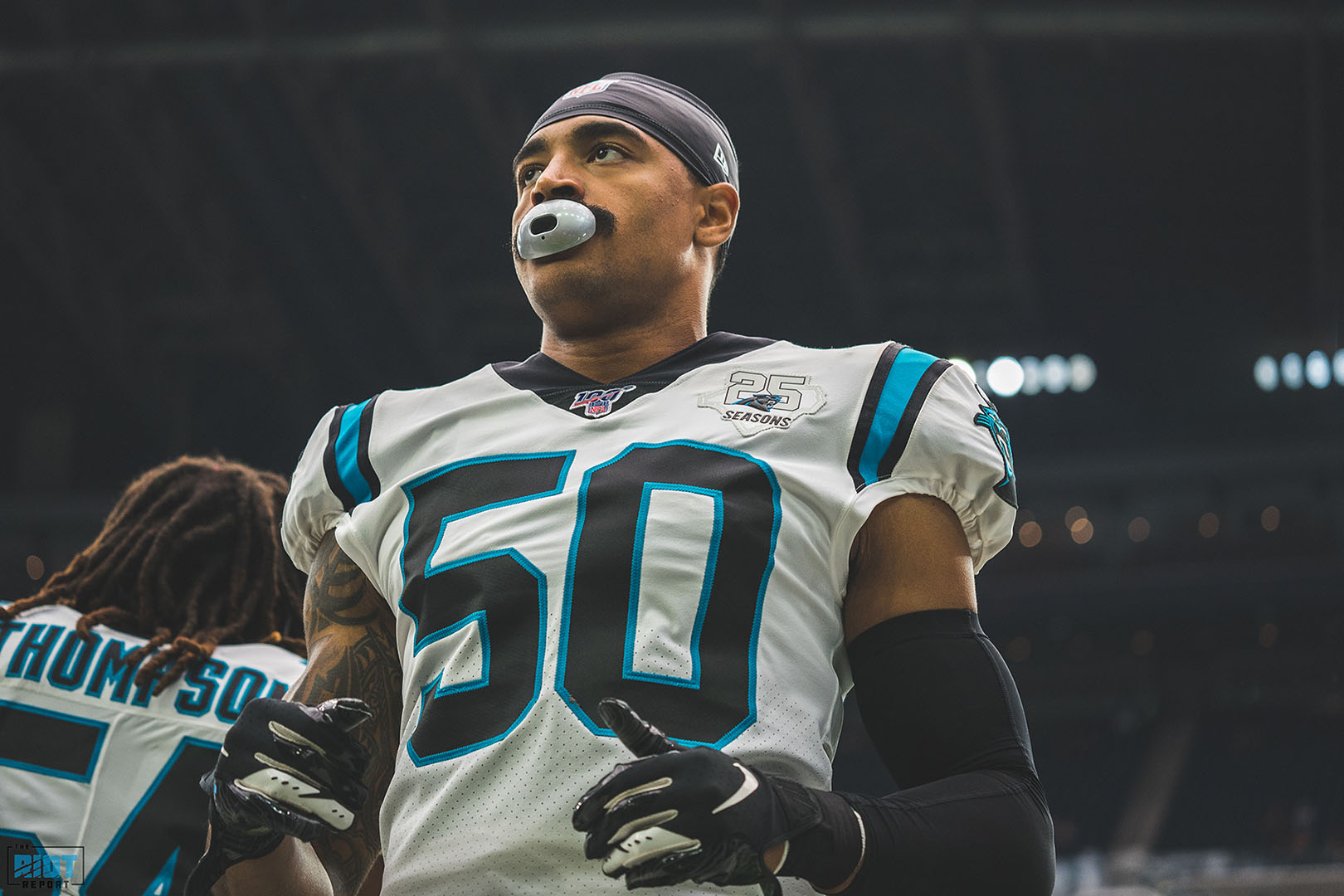 Following the Panthers' 2018 fourth-round pick is their 2019 fourth-rounder, and while Miller also has struggled with injuries to this point in the season, he now appears to be healthy and could be due an increase of playing time down the stretch. In the games he has played in thus far this season, he has managed to be relatively effective, racking up two sacks, two QB hits and two TFLs in seven games of rotation action, and while he might lack the shear pace of his draft-partner Burns, he is the more experienced player in coverage and offers more of a versatile rushing option.
The question around Miller is also one of future role – while it seems likely that Burns is going to be a long-term starter on one edge for Carolina, with both Addison and Irvin hitting free agency, the front office will be faced with the question as to whether to bring back one, both or neither. While this question doesn't come down entirely to the play of Miller, with Marquis Haynes being the only real edge on the roster besides him and Burns, it will likely be hard for the Panthers to move on from both Irvin and Addison without having to invest significantly in their replacement if Miller isn't able to step into a starting role. Of course, as a fourth-round pick, Miller doesn't need to be a surefire starter in order to be a success, but having had such limited playing time due to injury through this point in the season, with some extra snaps over the final four games of the season, Miller could either establish himself very much in the conversation for a starting role in 2020, or show that maybe he needs to remain as a rotation piece for the time being.
Jermaine Carter, LB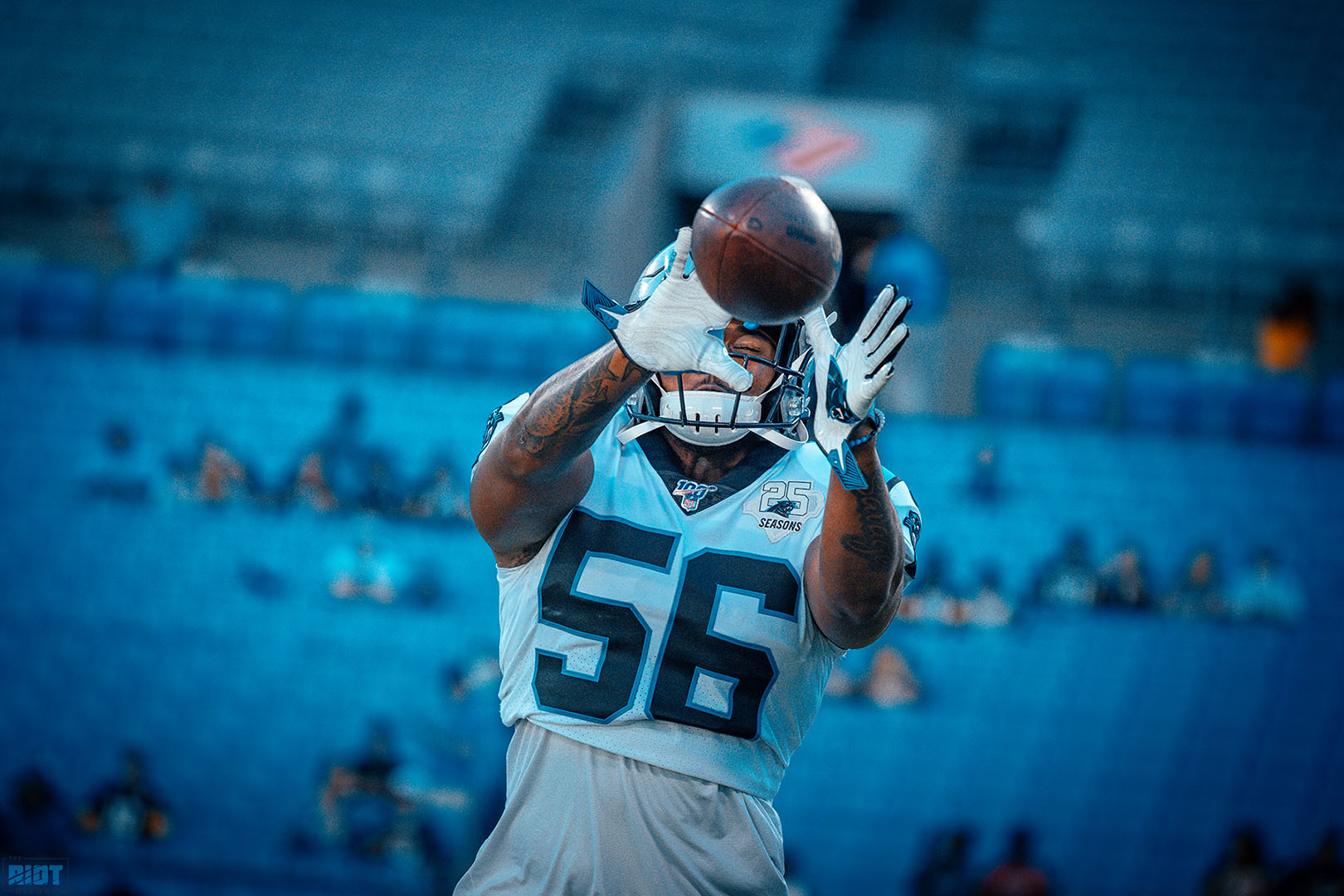 The fact that Carter hasn't got more playing time through the first two seasons of his NFL career is pretty easy to understand. Luke Kuechly is arguably the best player to ever play the position and both Shaq Thompson and Thomas Davis have been very good for the Panthers over that period. Of course, Carter has got little bits of playing time here and there – he has four starts to his name already – but has yet to really show his hand one way or the other in terms of his value as a player. As a run defender, he has missed just one tackle all season, albeit on just 12 attempts, and has half a sack and one pressure on eight pass rushing attempts. Where he really needs to prove himself is in coverage, as through two seasons, he has allowed a passer rating north of 100, with over half the yardage he has allowed coming after the catch – though this again is on just 12 targets.
For the Panthers, there are several reasons for Carter to merit more game time, with the most pressing being that as the season becomes more and more futile, the less justifiable it is to keep a generational talent like Kuechly out there just to make unnecessary tackles and risk injury. If nothing else, Carter should be seen as a more expendable option. However, there is value beyond that, as with Thompson hitting free agency, the Panthers need to know how much of a drop off there is likely to be if he signs elsewhere – even if they let him leave knowing they are rebuilding, they need to know whether Carter can become a quality starter, is that already – or is never going to get there. Sometimes, there's as much value is finding out whether you have a problem or not as there is in solving a known issue.
Three Offensive Players and An Unknown Commodity On The Line