Brandon Zylstra, WR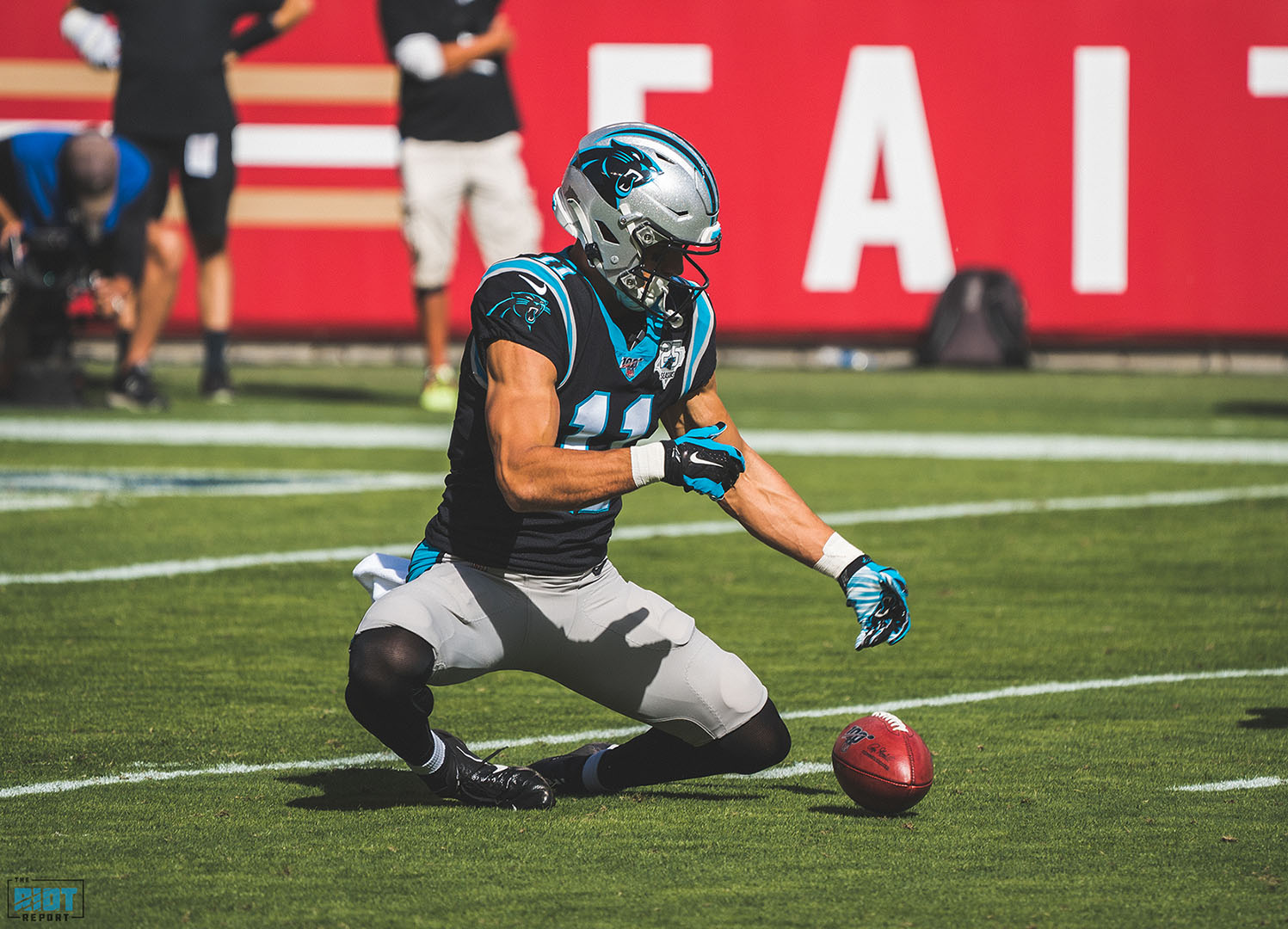 The Panthers released their own seventh round pick in Terry Godwin before the season even started in order to add Zylstra to the roster; Zylstra had spent 2018 on the Vikings' roster following a season in the CFL. Despite going to some length to get Zylstra, he has played just fifteen offensive snaps, with one incomplete target. Of course, the former Edmonton Eskimo is highly likely not going to be some unheralded star, as it would be unusual for a player who will turn 27 soon after the season to suddenly have a breakout season, but at some point you just have to see what you have, and the Panthers have to have signed him for a reason, right?
The context of this is less significant than in the above cases, as while the Panthers do have a pretty clear starting trio of receivers, all of whom are under contract for next season and under the age of 30, they really don't have much, if any, depth behind that. Yes, they signed Donte Moncrief off waivers a few week ago, but he was on waivers for a reason and has really not done anything so far in a Panthers' uniform; plus, he is something of a known entity at the NFL level at this point. In short, Zylstra has an appealing mystery, and that might go completely out the window the second he rounds off his first route and arm-catches a pass into the hands of a waiting safety, but there's only one way to find out – players who aren't on the field are really wasted roster spots at a certain point.
Reggie Bonnafon, RB
Reggie Bonnafon is averaging 8.6 yards per attempt with one touchdown on 11 carries this season and has four catches for 18 yards on seven targets; while there is one pretty ugly drop in all those numbers, there is also quite a lot to get excited about. Of course, Christian McCaffrey is the starting running back in Carolina and will continue to be so, but having spent a reasonable chunk of the offseason talking about needing to make sure he wasn't taking unnecessary carries, there have been a number of times this season where the Panthers could – and probably should – have rotated somewhat, and haven't. Now, nobody is saying that Bonnafon is likely be anywhere near the same level as CMC, but there is undeniable value in keeping your best players fresh, both over the course of a game and over a season, and to do that, the Panthers need to be willing to hand the ball to somebody else every now and then.
Based on what we have seen so far this season, there is genuine cause for optimism in Bonnafon beyond just the numbers – he shows really nice vision, good quickness and receiving skills, plus a surprising amount of power as an inside rusher. The Panthers are likely to still look to use McCaffrey in a significant way this coming week, but there should be an expectation that Bonnafon – and to a lesser extent Mike Davis – get some carries as the season goes on. The Panthers need to have somebody they can hand the ball to going forward should McCaffrey get hurt or even if he just needs a breather, and knowing whether they have that in Bonnafon or not should be useful to the decision making going into the offseason.
Efe Obada, 3-tech/EDGE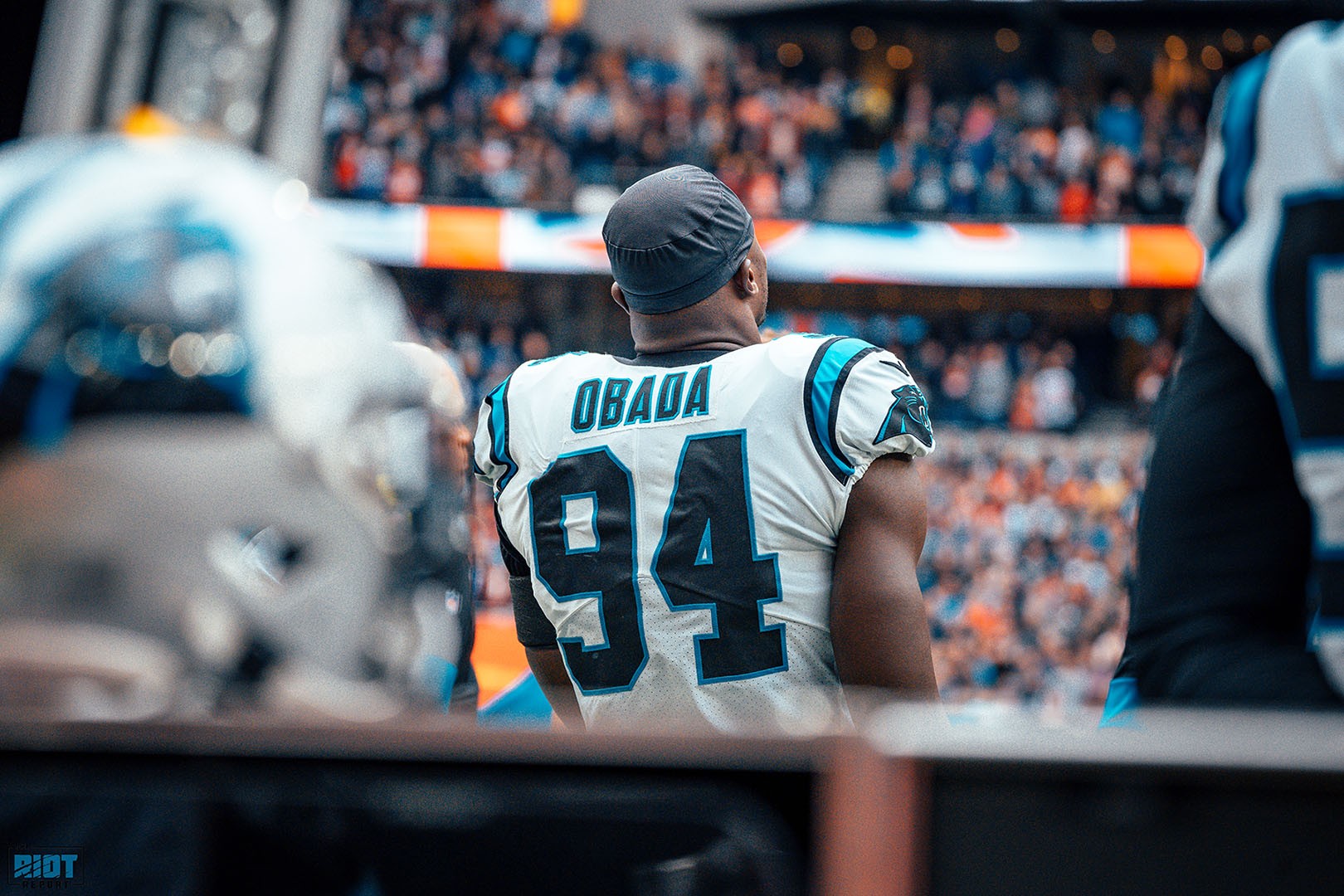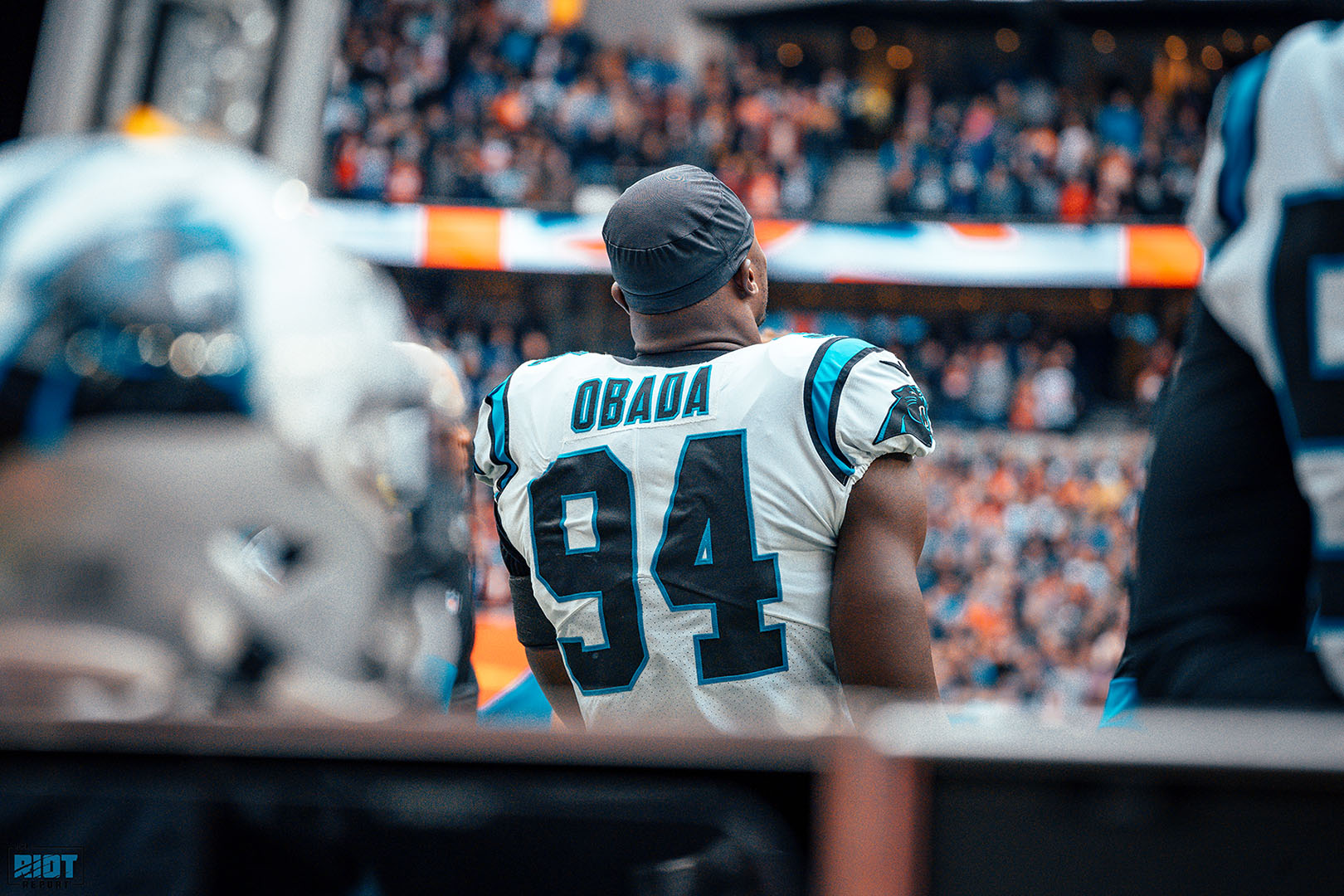 Efe Obada is a great story and has shown some really nice things as a player to this point, but has seen snaps hard to come by as the team has moved away from the 4-3 defense where he had a natural fit at EDGE to a 3-4 defense where his role is a little more mixed. It is less than clear whether the Panthers will be running a 3-4, 4-3 or hybrid defense in 2020, but with Obada hitting free agency this offseason, they are going to have to make a decision on whether they think he makes sense as a part of their defense going forward – and if so, how much they'd be willing to pay to bring him back. Obada isn't an ERFA this offseason, and while the Panthers should be able to bring him back for around $3m or less, it is less than clear at this stage what number Obada will command on the open market.
For Obada, the key is establishing a role, and it will be interesting to see if he gets snaps exclusively on the interior or whether he also gets some reps on the edge to see where he might be used going forward. Obada is certainly on the smaller side for a 3-tech, and for him, that means he either needs to show that he can hold his own as a run blocker or that he can be good enough as a pass rusher to be viewed as a specialist in that regard. Obada has had three QB hits this season, down from seven last season, and some consideration should definitely been given to playing him on the edge at times, but as good as a story Obada is, for him to be seen as anything other than an edge-of-the-roster rotation piece, he needs to take the next step – extended playing time aided by some defensive line injuries should go towards helping him show he can be that.
Will Grier, QB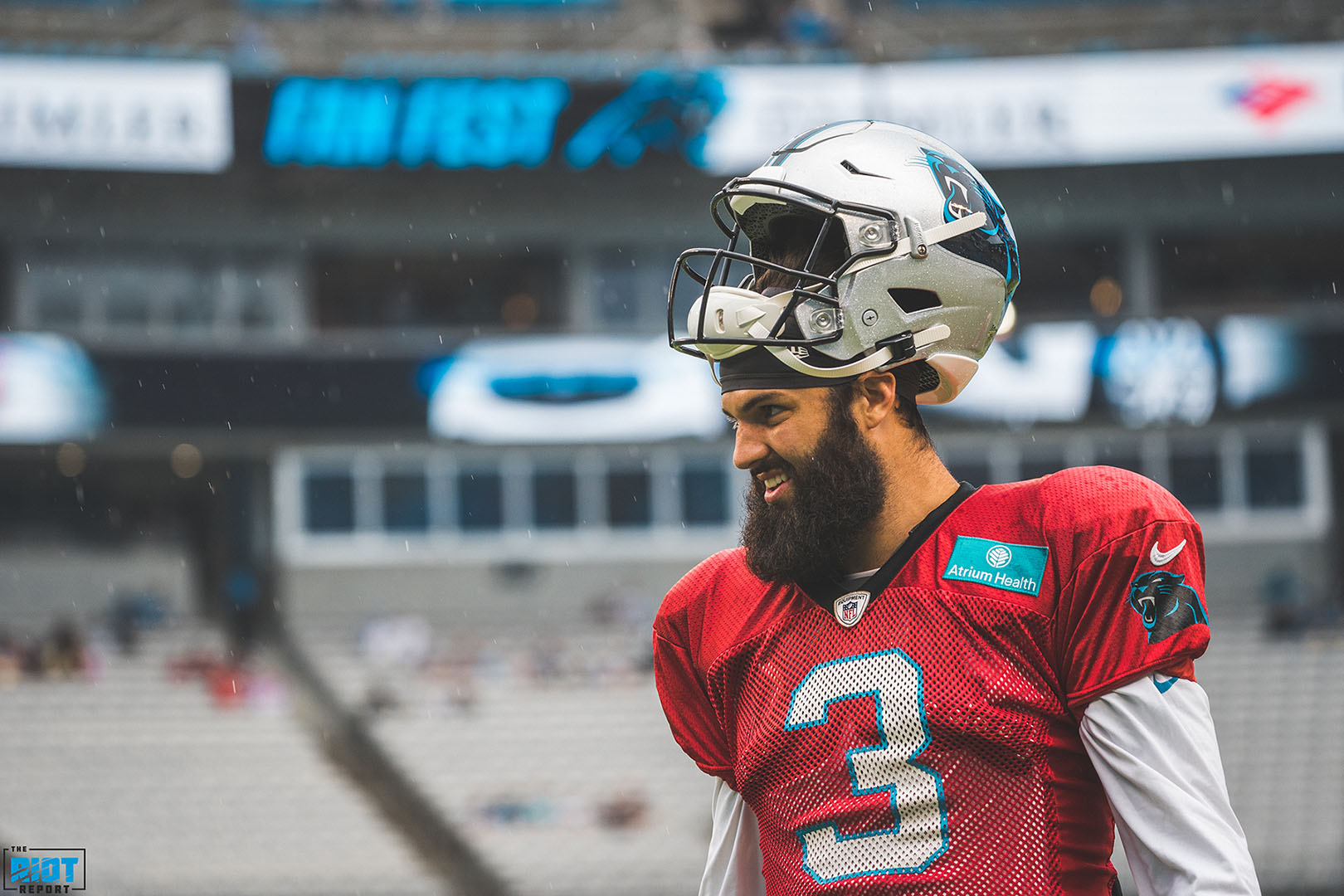 Rivera has already said that Kyle Allen will be getting the start in Atlanta – but the longer he goes without showing much meaningful growth, the harder it will be to ignore the fact that the Panthers spent a third round pick on a quarterback. Realistically, if Grier was playing like a starter in practice, he would probably be on the field already, but there is real value in seeing whether he improves with live game reps or whether the moment is just too big for him. Grier played in quite a simplistic offense in college and in the preseason certainly seemed to struggle with the speed and complexity of the NFL game, but he has now had more than three months of weekly practice to get used to that – while he might not hit the ground running, he should have gotten to the stage right now where he can go out there and not fall apart.
Of course, all of this is only relevant in comparison to Allen. The Panthers backup hasn't been horrendous throughout his season so far, but he hasn't exactly looked like a viable long-term starter and, crucially, really hasn't shown a ton of growth. Yes, his pocket presence has gotten better, but it's still not good and there are still far too many missed opportunities, poor decisions and poor throws. I think, at this point, it's pretty clear that Allen isn't the long-term starter, and while there's no point throwing somebody out there before they're ready, the Panthers would get some value from knowing what they have in Grier, and if he's not ready to even see the field at this stage, that's not a good sign and worth knowing on it's own.
Of course, the Panthers might do none of this – they might blindly stick to their guns in a desperate attempt to finish 9-7 and secure a pick outside the top 10, but there has to come a moment where you realize that the objective has changed; for the Panthers, that moment should already have arrived.
The Panthers need to know where they are as a team, having spent the past seven seasons fighting to make the playoffs and looking to be competitive into December, the coaching staff needs to realize that this year isn't going to be the year – rather than exhaust themselves dying a more noble death, they might well retreat, lick their wounds, and put themselves in the best position possible to start the 2020 season.