The Panthers – and the rest of the NFL – are used to playing against a lot of three wide-receiver sets. In fact, the NFL used 11 personnel on two-thirds of it's offensive snaps last season.
To counteract the three wideouts in the opponent's huddle, the Panthers have used a lot of nickel corners – last year it was Captain Munnerlyn, this year it's Javien Elliott, who's been on the field for almost a third of the Panthers snaps through two weeks – but this week, they'll face a formation that doesn't get used that often as they head to Arizona, where first-year head coach Kliff Kingsbury has instituted a version of the 'Air Raid' offense that was so successful in the college ranks.
That means instead of three wide receivers, it's four on the field for most downs – and sometimes five. Through two weeks, the Cardinals have had more pass attempts (94) than any other team in the NFL and, per Sharp Football Stats, they've run a four wide-receiver set on 87 out of a possible 136 (64%) snaps through two weeks. The Rams rank second, having run 4WR set 15 times in two weeks, almost 70 snaps fewer than out in the desert.
In Week 1, the Cardinals lined up in a four-wide receiver set more times than the rest of the NFL combined.
They also run their offense at a high pace, running mostly out of a no huddle, trying to create favorable matchups for wide receivers with different skillsets, from the wily route running of Larry Fitzgerald to the pure speed of former Panther Damiere Byrd – the Cardinals get up to the line quickly to force the issue and hope that the defense makes a mistake.
"I think the matchup is wherever they feel the matchup is – whether it's a receiver on a safety, whether it's a different receiver on a dime back or that fifth or sixth defensive back, it's all on their team," said safety Tre Boston. "They have their own matchups that they'd like to create. It's all about you figuring out what is the matchup that they want – so you've got to do a both sides playing for what's next [and] the game inside the game."
"For us, it's seeing that if they have a matchup, what can we do to try and help that matchup; that's definitely what they want to do and it's what they're trying to do."

The Panthers, when faced with a lot of pass catchers on the field in Week 1 against the Rams, utilized a 6DB set with Ross Cockrell on the field for multiple third downs – they may use it even more judiciously against rookie quarterback Kyler Murray and the Cardinals.
Murray was the second quarterback in NFL history to eclipse 300 yards passing in the first two games of his career – Cam Newton was the first. The Cardinals' first overall pick has excelled with his feet at moving around the pocket and extend plays, but he hasn't used that weapon to pick up additional yardage yet as he only has 17 yards rushing through two games.
"He's an elusive quarterback, which is a problem in itself," said Ron Rivera. "A guy that can move around, stretch a play out – he doesn't necessarily move around to run as much as he moves around to try and buy time for things to open up or for guys to get open downfield. When he does thing that the offense is designed to, he's got the arm to deliver. Very smart football player and he's got an arm that can get him out of trouble."
"He's got a legit arm."
When Murray does scramble, the Cardinals run a similar scramble drill to the Seattle Seahawks – one receiver runs long, one comes back to the line of scrimmage and another breaks across the field. The Panthers have been preparing for that this week in practice, saying that they have contingency plans for whatever Kingsbury throws at them.
"I think for us right now, it's about making sure Kyler is comfortable with what we're running," said Kingsbury this week. "He's a dynamic playmaker. He can turn an average play into a great play with his feet, extending plays and taking off. My biggest challenge is each week getting good communication from him and knowing this is what I want to run, this is what I like, this is what I'm comfortable with. That's really our main concern. He'll make the spectacular play. He'll turn nothing into something for us. As long as he's comfortable and being able to process fast and react quickly."
"[The Panthers defense is] doing a great job of mixing things up, mixing up coverages in the first two weeks, moreso than in the past. They have such smart defensive players. It starts with Kuechly, who gets everything lined up and has such a great feel for the game and knows what offenses are going to run before they even run it."
"They're definitely more multiple than what I studied last year."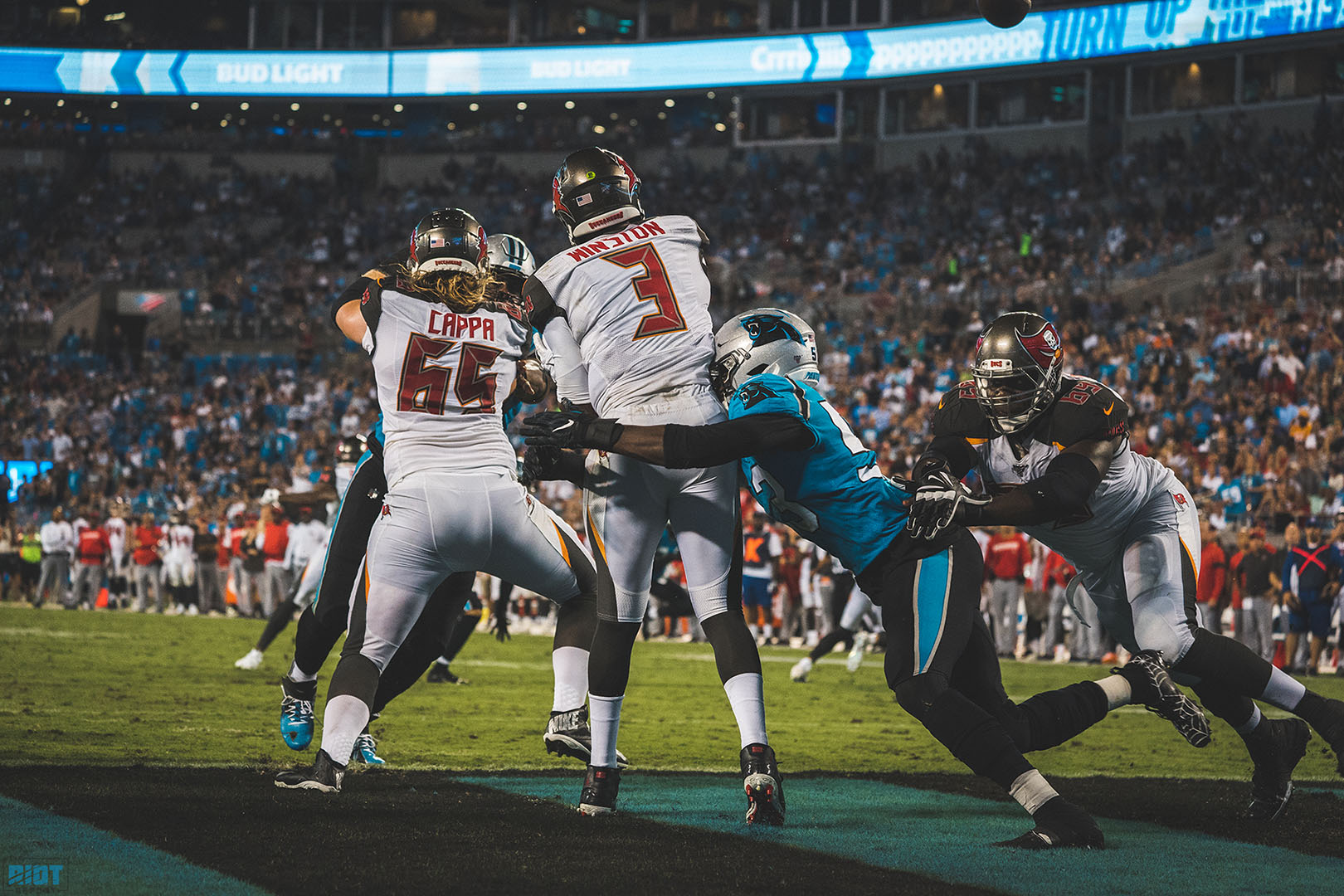 With pieces like Cockrell and rookie Brian Burns, who has the speed and length to both rush the passer and drop into coverage in the 3-4, it makes play design and defensive gameplanning a little easier.
"That's the game within the game that you have to play – different personnels, different matchups, that's what they want to create," said Boston.
Burns collected his first sack last week against the Bucs and has been close a number of other times – he's also confident in himself if he has to step outside and cover a wide receiver. One of the reasons for that confidence?
He's been doing it all summer with Curtis Samuel and DJ Moore in the offensive huddle during practice.
"As long as I play with depth and just use length and don't bite on any of the stutter steps or head fakes or anything like that, I'll be fine," said Burns. When asked about covering someone with 4.4 speed, he grinned. "There's a couple of them in this locker room – it's tough, but it got done."
But even though he may get matched up outside on occasion, Burns ultimately wants to get to the quarterback.
"My plan is to hit him as many time as possible – hopefully he still has the ball in his hands when I hit him."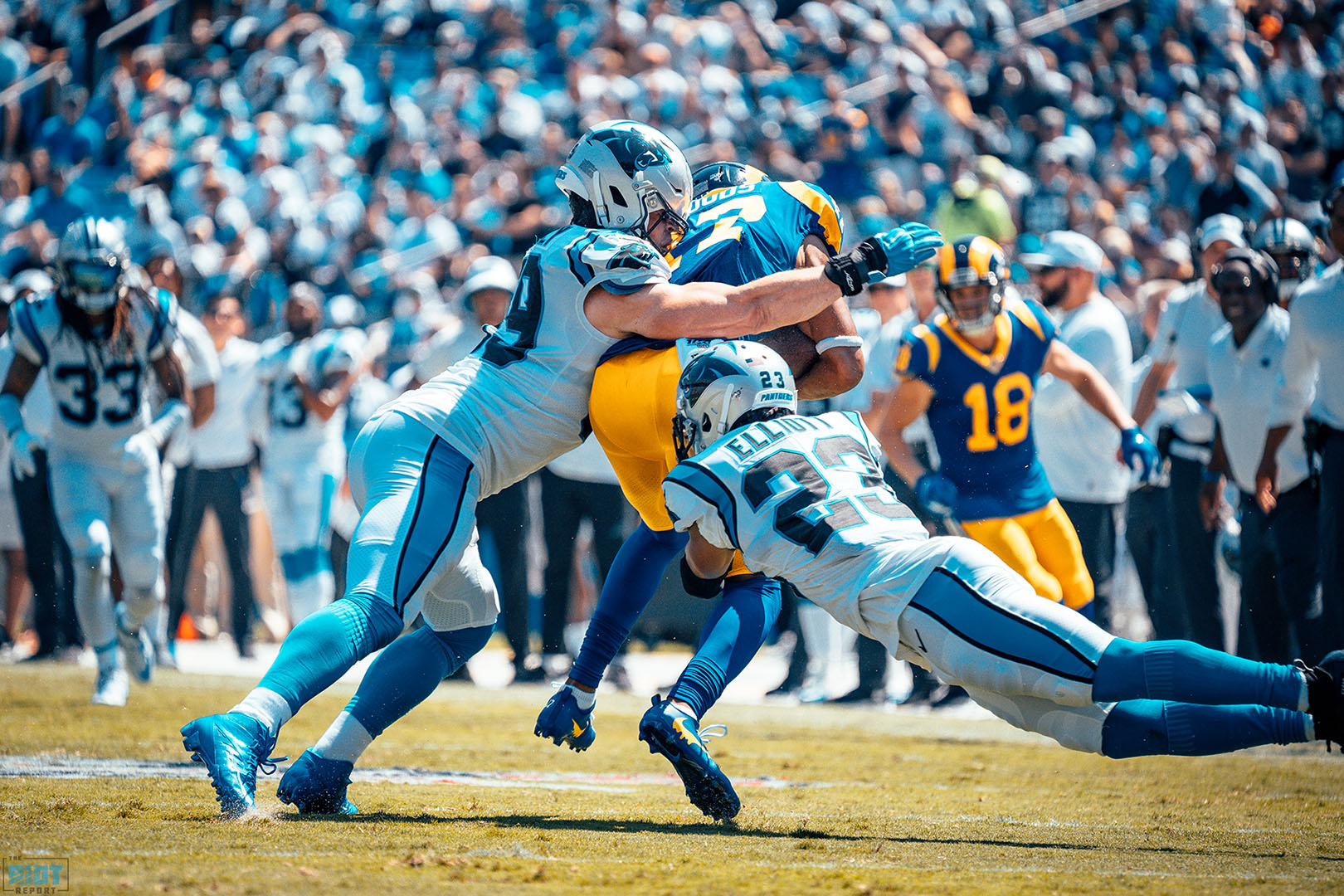 With the Cardinals trying to create matchup advantages for themselves on one side of the ball, Eric Washington believes that the four or five wideouts on the outside can actually be an edge for the defense if they can win one-on-one, something that Ron Rivera said after Thursday night's game was something the Panthers failed to do and it cost them the victory.
"When you have a spread concept, what really happens is you have one-on-ones," said Washington. "The downside, in my opinion, for the offense, is that we've got a bunch of guys that are one on one as opposed to having a tight end close enough to the core to chip an edge rusher or utilizing a back so the balls coming out quickly [and] it puts a lot of pressure on everyone one-on-one. Whether you're a coverage one-on-one guy or a rush one-on-one guy."
"So I look at it as an opportunity rather than a disadvantage."
The spread concept, the Air Raid, 10 personnel, four-wide – call it whatever you want. Ultimately, it will come down to one man vs. one man.
"Even though they're throwing it at you with smoke and mirrors, you've got to understand what the end picture [is]," said Boston. "The end picture looks just like regular football – as long as you do your job, you do your one out of eleven, it'll always revert back to regular football."
"You've got to win – that's all I can tell you. How do you do it? You go out, you line up and….win," said Rivera. "At the end of the day, if you've done everything you're supposed to do, you should be able to come out on top."