With many NFL teams bracing for limited seating capacity in the 2020 season due to the COVID-19 pandemic, the Carolina Panthers will follow suit – sources tell The Riot Report that the Carolina Panthers are expected to announce that home games will have somewhere in the neighborhood of 20,000 fans at Bank of America Stadium during the 2020 season.
At least four teams have already informed season-ticket holders that season tickets for 2020 are being canceled and more than a dozen more have offered fans the option that they can opt out of their season tickets at this point without penalty – the Panthers plans for PSL owners and season-ticket holders is still coming together, but sources familiar with the situation said more information would be forthcoming within the next two weeks.
Last month, the Panthers sent an email to PSL owners stating that they were still working to determine the best course of action.
"The recent reports of potential changes to seating configurations across the NFL landscape has generated questions about our plans for Bank of America Stadium this season," the email from Panthers Team President Tom Glick read. "Our intent is to make informed decisions about increased safety measures for all fans, players and personnel. Please be confident that we will act with your best interests in mind and that any changes to the game day atmosphere will be based on the advice of medical professionals and public health officials."
"The organization will continue to collaborate with the NFL as well as local and state government officials to finalize plans for the 2020 season. We plan to increase our direct communication with you and remain available to answer questions or address concerns. As a reminder, if a game is cancelled and cannot be rescheduled, or is played under conditions that prohibit fans from attending, PSL Owners will have the option to apply credit to a future ticket purchase or request a full refund for the impacted event."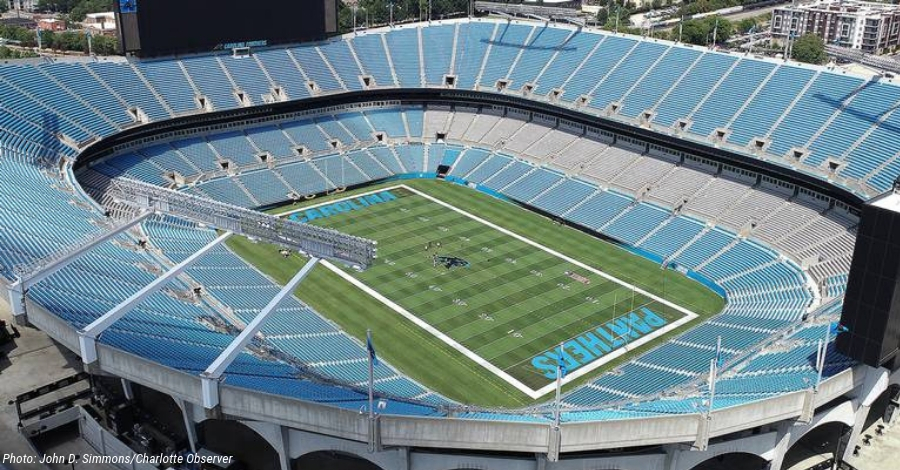 While exact plans for Bank of America Stadium, which holds 75,412 fans, have yet to be revealed, plans for other teams around the league may point to some of the options that the Panthers will put forward.
Teams that have announced season ticket cancellations or provisions for fans to opt out have stated that fans can receive credits for payments already made, with the option of applying those credits to 2021 season tickets or 2020 single-game tickets, should single-game tickets be available. Most teams have offered the option for fans to receive a full refund for 2020 season tickets while retaining their same seat locations for 2021.
Thursday morning, the Panthers sent an email to PSL owners detailing options for those who choose to opt in for the 2020 season:
PSL Owners will have the opportunity to select from a predetermined set of games.
Due to a socially-distant seat configuration that meets health and safety protocols, it is unlikely that PSL Owners will sit in their exact seat location.
Stadium capacity could change through the course of the season, and PSL Owners will be promptly notified of any potential ticket impact.
PSL Owners will only be permitted to purchase seats within their specific price level. However, if inventory is unavailable, adjustments will be made on a case-by-case basis.
Season tickets will revert back to current PSL seat locations for 2021.
Enhanced protective measures will be implemented during event days. While plans are still being finalized, some of the protective measures include: Health screening protocols, required face coverings, access to sanitizing stations throughout the facility, contactless/cashless transactions and physical distancing amplified via stadium signage.
The NFL owners voted last month to allow teams to cover the seats closest to the field – reportedly the first six to eight rows, including the newly installed bunker suites – with a tarp that could include sponsor logos – in part, this is being done to limit fans' proximity to any players, which would theoretically limit player exposure to the virus while they're on the sideline.
Some teams also have informed fans that attendees at 2020 games will be required to wear masks, which may be the case in North Carolina – Governor Roy Cooper announced Tuesday that the state will remain in the "Safer at Home" Phase 2 of reopening for at least another three weeks. In June, Cooper announced that residents are now required to wear face masks in public places, indoors or outdoors, where physical distancing of six feet from other people who aren't in the same household or residence isn't possible.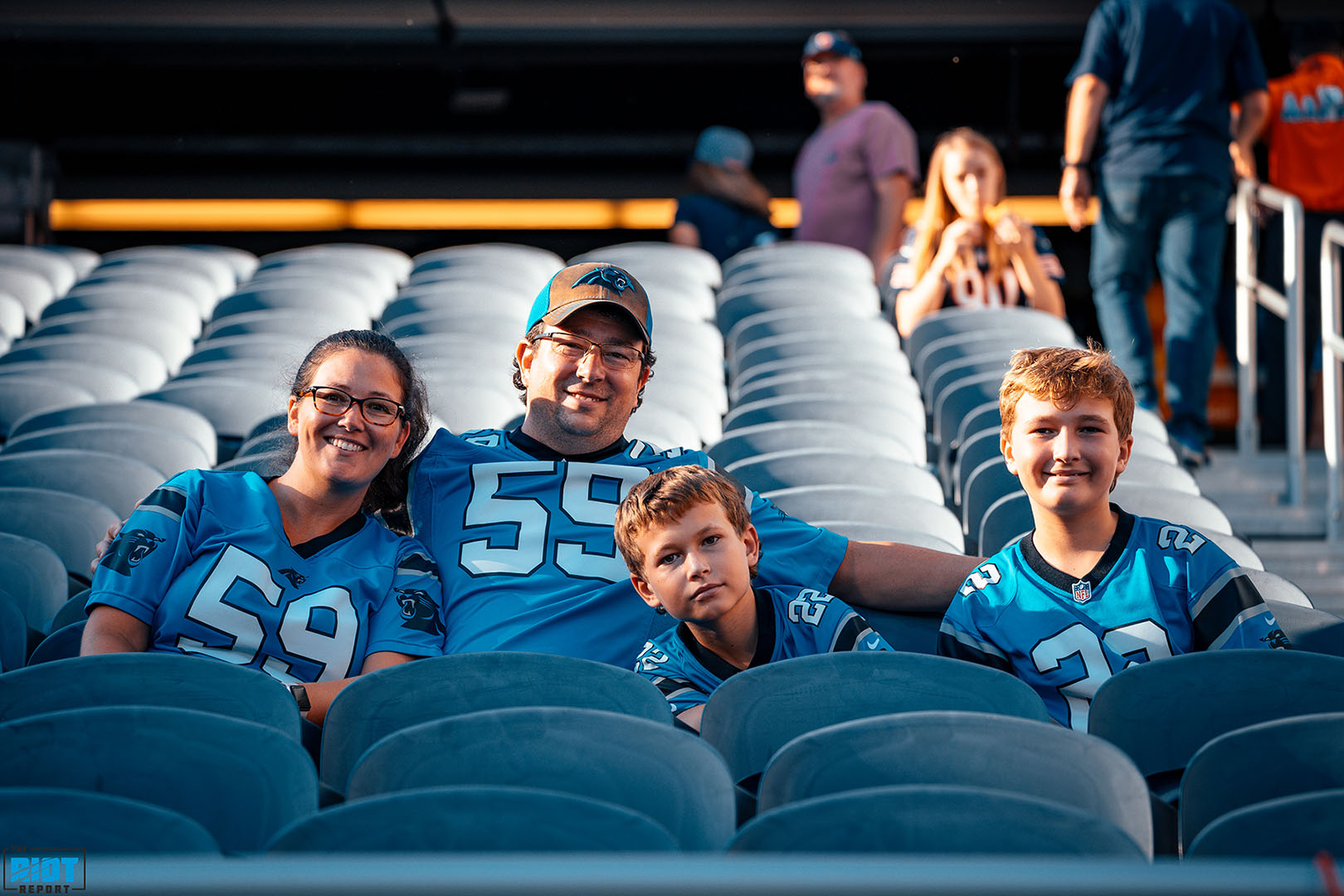 The Jacksonville Jaguars announced last week that all season tickets will be returned to the team for credits or refunds and that their stadium will be able to accommodate approximately 25% of its normal capacity – the Panthers are expected to follow that loose 25% guideline, which would be just under 19,000 fans.
Other teams that have essentially ended season tickets for 2020 include the Baltimore Ravens, the defending Super Bowl champion Kansas City Chiefs, and the San Francisco 49ers.
Teams that already offered opt-outs for season tickets without options are the Buffalo Bills, Chicago Bears, Cincinnati Bengals, Cleveland Browns, Green Bay Packers, Houston Texans, Los Angeles Rams, New Orleans Saints, New York Giants, New York Jets, Philadelphia Eagles, Pittsburgh Steelers, Seattle Seahawks and Tennessee Titans.
The NFL and NFLPA are currently negotiating the number of preseason games, testing protocols and other economic issues which may impact the start date of training camp and the season, so teams are expecting to be flexible with any plans moving forward – and they're hoping fans will be as well, with local and state guidelines expected to have an impact on seating capacities around the league, not to mention an ever-changing pandemic which could force plans to be adjusted at any moment.
"You won't be playing having full stadiums, but that doesn't mean you can't have some fans in the stadium either," David Tepper said during an appearance on CNBC in May. "If you're comfortable being in a closed airplane for a cross-country trip, 18 inches apart, maybe with two seats in between you and being five feet away from each other, you might be comfortable in an open-air stadium."
"There should be some amount of fans in the stadiums, depending on what locale and where you are and what the local rules are. There could possibly be."
How many and exactly what that looks like will remain to be seen.