Wow. What a year.
When I first sat down to write my annual State of the Roaring Riot address to our members, I looked back on last year's article – almost one full year ago now – it's wild to think about not only what was happening in the world at that time, but to also think about everything that ended up happening for the rest of the year that we had no idea on March 31st was about to come.
What. A. Year.
To say last year was a struggle for me would be an understatement. At the end of 2019, I was already dealing with some personal issues that completely flipped my world upside down, as well as another disappointing season for the Panthers and what looked like was going to be the end of my favorite QB's time with the team.
Then 2020 decided to add in a global pandemic, more fuel to our country's social injustice crisis, and a political landscape unlike anything I've ever seen.
That shit broke me.
Like a lot of you, I'm sure, for most of 2020, I didn't want to do anything – at all. Getting out of bed was enough of a daily challenge, much less trying to find the motivation to work when the world outlook was so bleak. 2019 was such a great year for the Roaring Riot with some incredible experiences – including taking close to 1,000 people to London and experiencing snowy Lambeau for the first time – strong relationships with great partners, and a membership base of 8,000 and growing.
A month into 2020, we were invited to be a part of Coach Rhule's first press conference with the team, a clear sign of just how involved we were going to be with this new era of the Carolina Panthers.
Seats filling up, media set, members of the Roaring Riot on hand…

Everybody excited to hear from new Panthers Head coach Matt Rhule pic.twitter.com/rgNJWE8WrW

— Matt Harris (@Matt____Harris) January 8, 2020
We were so proud of this community's accomplishments and the future was bright for us. Then came 2020, where we were forced to lay off our employees who we loved working with, quarantine from our offices, lost close to 85% of our previous year's revenue, and were unable to host any events with all of you people.
It was brutal. I was ready to quit. Straight up.
But one thing that 2020 showed me – and maybe it was something that I had taken for granted with the burnout I started to feel at the end of the losing season in 2019 – was how much I depend on all of you.
With all of the challenges that we faced last year, the one that affected me the most was not being able to be around you. Not being able to see you at the tailgates. Or travel with you to the away games. Or meet you at halftime outside of section 525. Or visit you at your chapters outside of Charlotte. 2020 showed me just how important the interpersonal relationships that I have created through the Roaring Riot truly are to me. I am truly thankful for that realization.
Not everything in 2020 was bad, however. We were able to take on the challenges of the world and overcome with some successes to keep the community engaged. We hosted several virtual events that were fun, like the Roaring Riot After Dark Happy Hours that are still going now (and have taken on a life of their own), and informative, like our Open Conversation about Race in Sports.
We launched Homegatin' and we're very excited about continuing this new offering to help Panthers fans all around the country experience a Roaring Riot tailgate right from their own home. We helped lead a "Support The Vote" campaign along with the other support groups of the Carolinas to help get out the vote in last year's election.
We partnered with Efe Obada to raise money for Block Love CLT and threw socially distanced watch parties, ran 'Thers Day Night Trivias on Instagram Live with former players as guests and gave out the inaugural Roaring Riot Awards – anything we could do that was safe and helped us achieve our goals.
Maybe the most exciting thing we accomplished in 2020 was being able to take advantage of a near empty Bank of America Stadium to work with the Panthers to create a socially distanced Roaring Riot section at four of the home games. And although the vibe inside the stadium was – unique – during COVID, there was no question that we were rockin' those sections and making a difference.
For a small time during the chaos of the world, WE were the uproar. WE were the noise. WE were the riot. For a few hours during those weeks, things felt somewhat normal. I will NEVER take that – or you – for granted again.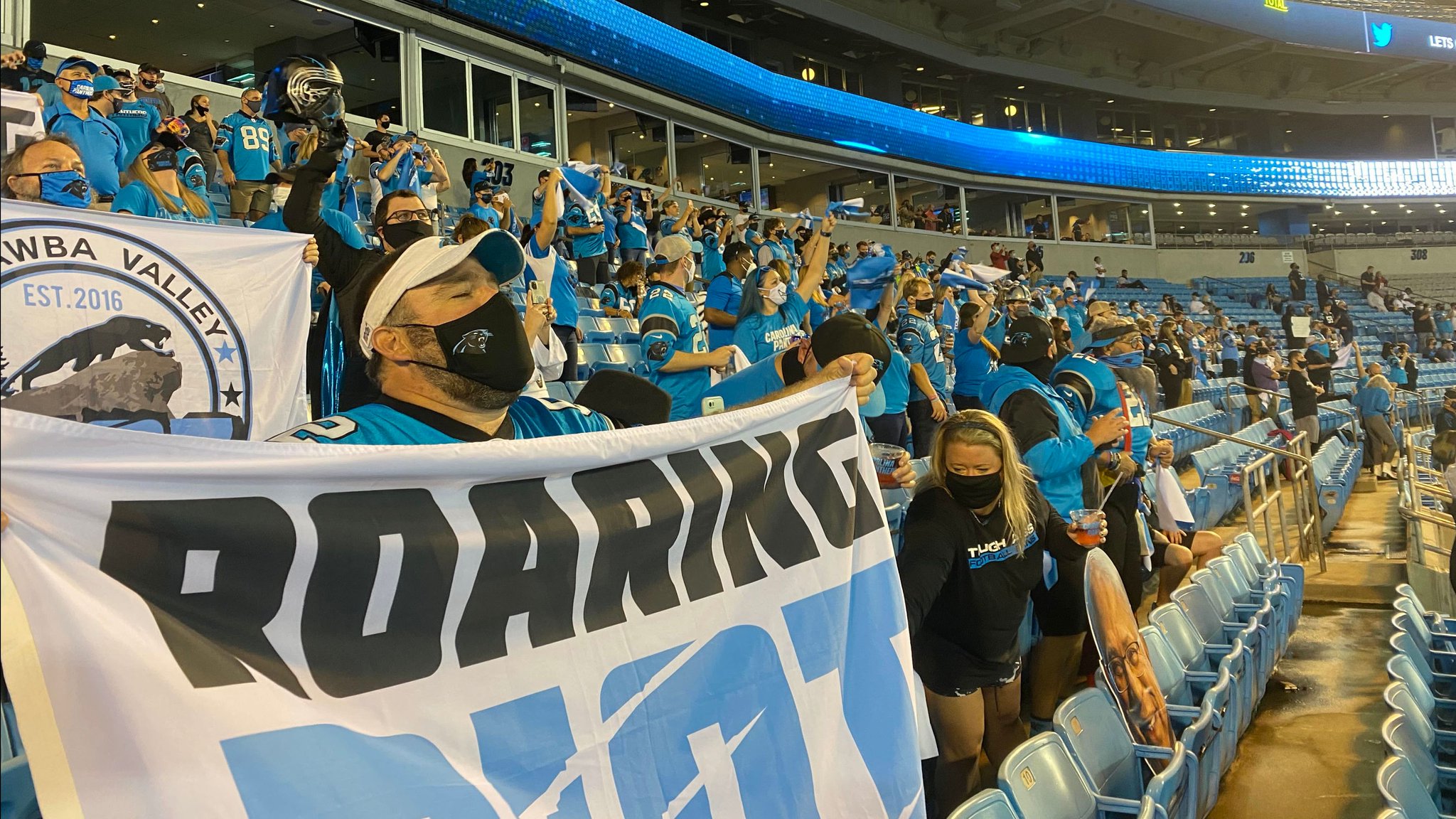 As we move into next season and things appear to start returning towards some sort of normalcy, I'm anxious to get back to how exciting it can be to get together with all of you and cheer on our favorite team. While the state has taken our tailgate spot from us (we knew it was inevitable) in order to create a new railway into yet another up-and-coming neighborhood, we're in negotiations with a larger tailgate area that will alleviate a lot of the issues we've faced over the years with overcrowding and allow this year to be even better than it was in the past – plus *laughs nervously* who wouldn't like a little bit more room to party after not being around people for over a year?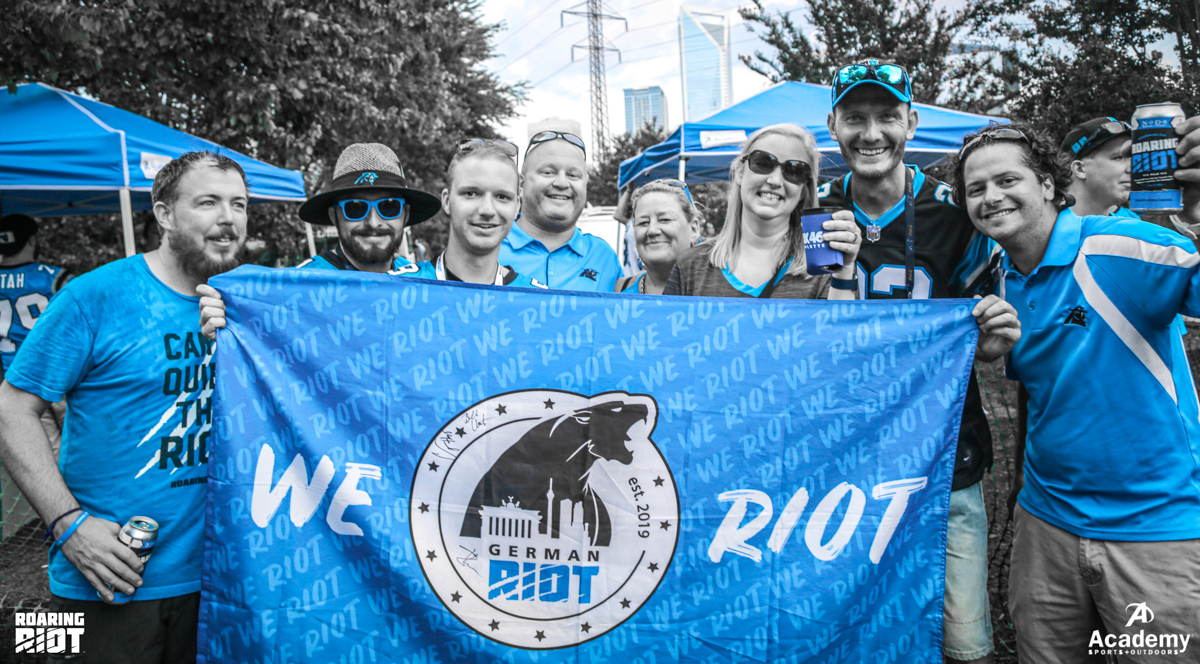 Stay tuned over the next few months to hear updates from us on the new tailgate, some exciting new digital additions to your Roaring Riot membership, the launch of our 2021 Away Game Experiences, more details on a Roaring Riot section at Bank of America Stadium – yeah, I said it – and everything else that we're extremely optimistic about moving forward into 2021.
Oh, and maybe a new quarterback? But I'll leave that to Scott and Matt over at Mint Street.
Get your shot, wear your mask, and let's get this place as close to normal as we can get it by September because we've got a lot of work and catching up to do – I'll see you at the first tailgate.
I can't wait.