If you think about him in the abstract, Aaron Rodgers is almost like the overpowered protagonist of a shounen manga.
If you don't know what that is, let me expound: A shounen manga is an anime hero who, no matter how tough an opponent he faces or what dire straits he is in, always seems to summon some inexplicable (and usually previously unused) power that allows him to prevail in the end in spite of the laws of the universe he and everyone else should otherwise be following. These sorts of characters, time and again, pull off feats that should never happen in reality – and they don't, since their exploits are contained to pen, ink, and paper.
Assuming he really isn't one of us, Rodgers somehow ended up in our three-dimensional world. And throughout a sure-fire Hall of Fame career with the Green Bay Packers, he has routinely pulled off the sorts of plays that no one except him can make: The 60, 70, 80 yard bombs to wide-open receivers, the perfectly-placed balls in windows few others would even think to throw into, and the off-script chaos that he delights in. For most teams, the very thought of having to try and contain Rodgers is enough to make them quake in their boots – but not the Carolina Panthers.
Never a team to simply roll over for the NFL's elite, the Panthers have risen to meet and exceed Aaron Rodgers in their last two meetings with him and his Packers. In 2015, the Panthers took command of a mid-season meeting with Rodgers, holding off a late comeback attempt to prevail 37-29. Two years later, with their path to the playoffs on the line, the Panthers would triumph again 31-24.
Now, the Panthers meet Rodgers yet again – but under much different circumstances.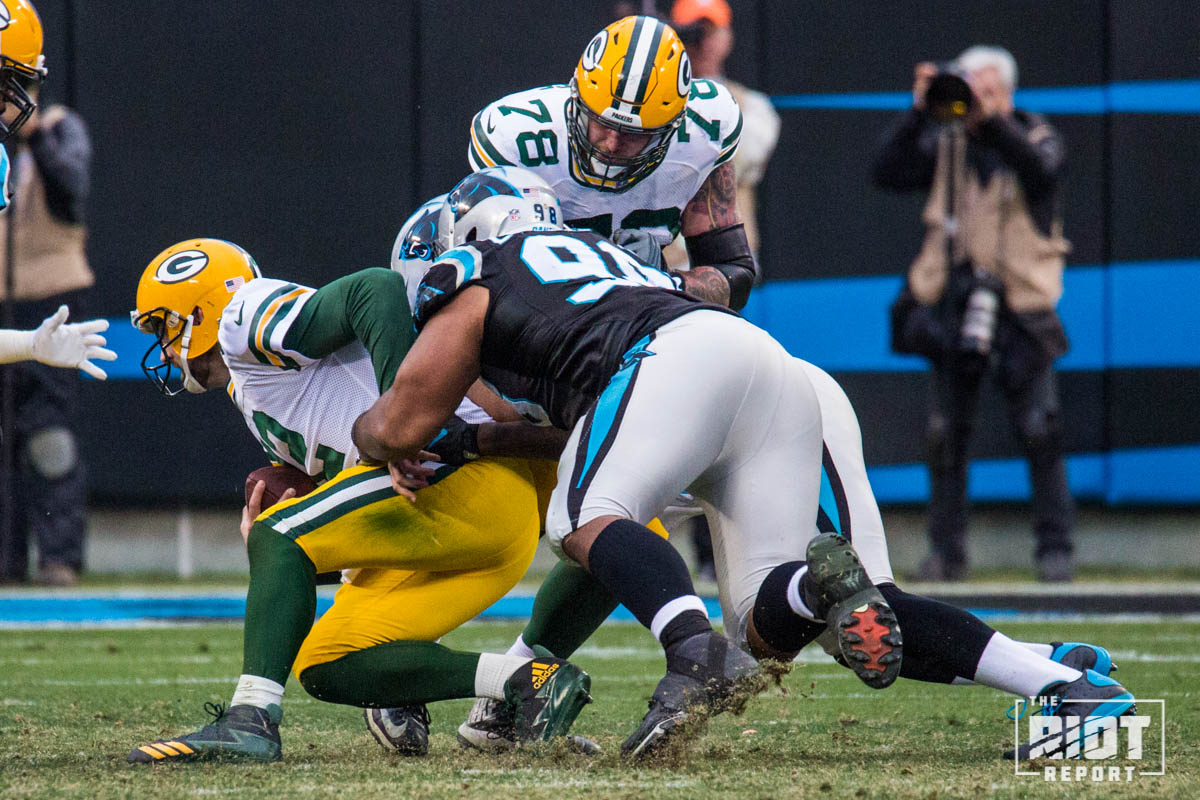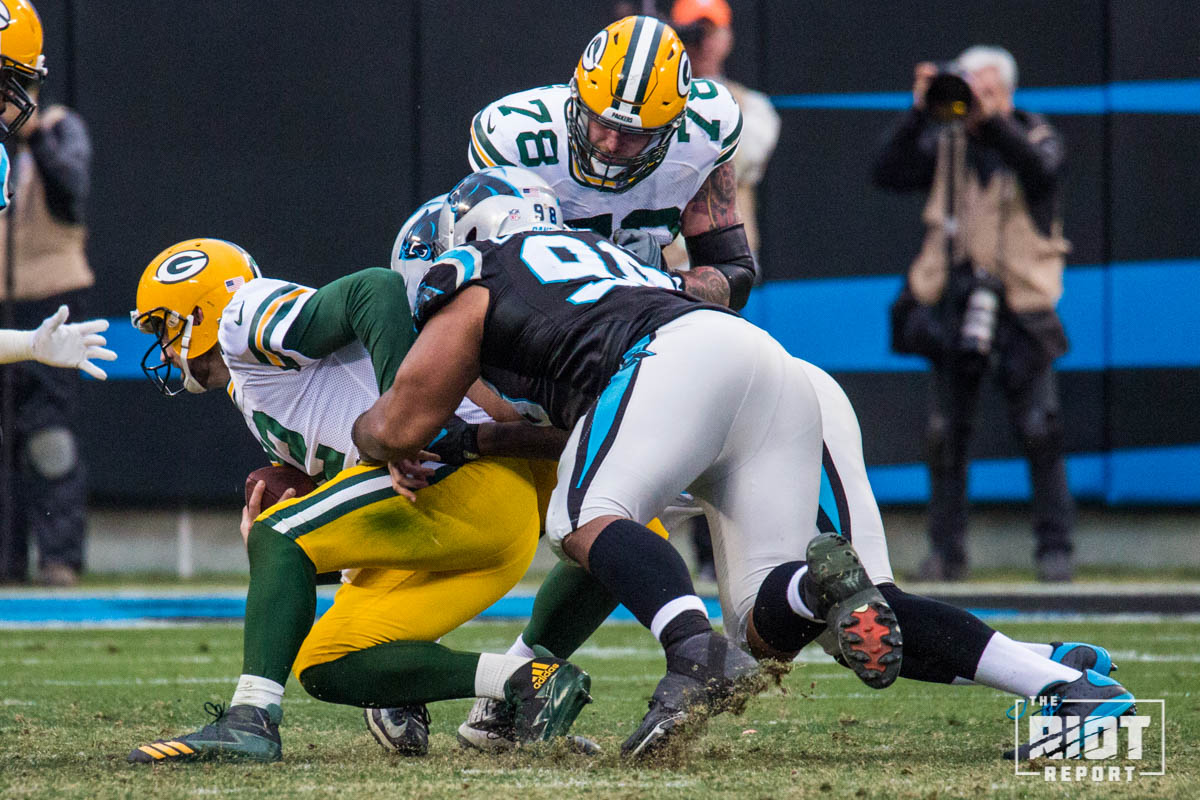 After having the good fortune of hosting the Packers at Bank of America Stadium in 2015 and 2017, the Panthers will have to face Green Bay at Lambeau Field in the freezing cold. And in command of the Panthers' offense is a quarterback who – unlike the man he is filling in for – is not yet Rodgers' equal.
Now the Panthers' full-time starting quarterback after Cam Newton was placed on injured reserve this week, Kyle Allen is still in the process of establishing his identity as an NFL quarterback. So far, he has performed very well in the confines of Norv Turner's system, doing what is asked of him in the Panthers' offense and performing at his best when his team controls the ballgame.
As a field general, Kyle Allen has been at his best when his team is on-script. With Aaron Rodgers, there is no script.
"Obviously he plays different than me – He's an impressive improviser. He just makes ridiculous plays all the time, and he puts his team in good position to win," said Allen this week. "I think he has just mastered the art of checking at the line of scrimmage, improvising when stuff goes wrong, understanding leverage, understanding matchups, realizing where people are at on the field even when there's crap in his face, he's just really good at that."
Normally, a quarterback who improvises and freelances in the name of making something happen downfield is a welcome opponent for any good defense: for every great play they make, there are usually some spectacularly bad ones that become turnovers and help swing the game in the other team's favor. However, with one of the best touchdown-to-interception ratios in NFL history (and only two interceptions the entire 2019 season thus far), Rodgers almost never makes mistakes.
And given the chance to drive a stake into his opponent's heart, he almost never misses.
What makes trying to gameplan for Rodgers such a maddening task is that there are so many different things that make him tick: Even at nearly 36 years old, his exceptional athleticism allows him to extend plays behind the line of scrimmage. He has seen almost every look a defense can give him, and through that, knows exactly how to counter blitzes and extra pressure. And with big, tall, and fast receivers to complement him, no play is out of question – nor is any part of the field out of play.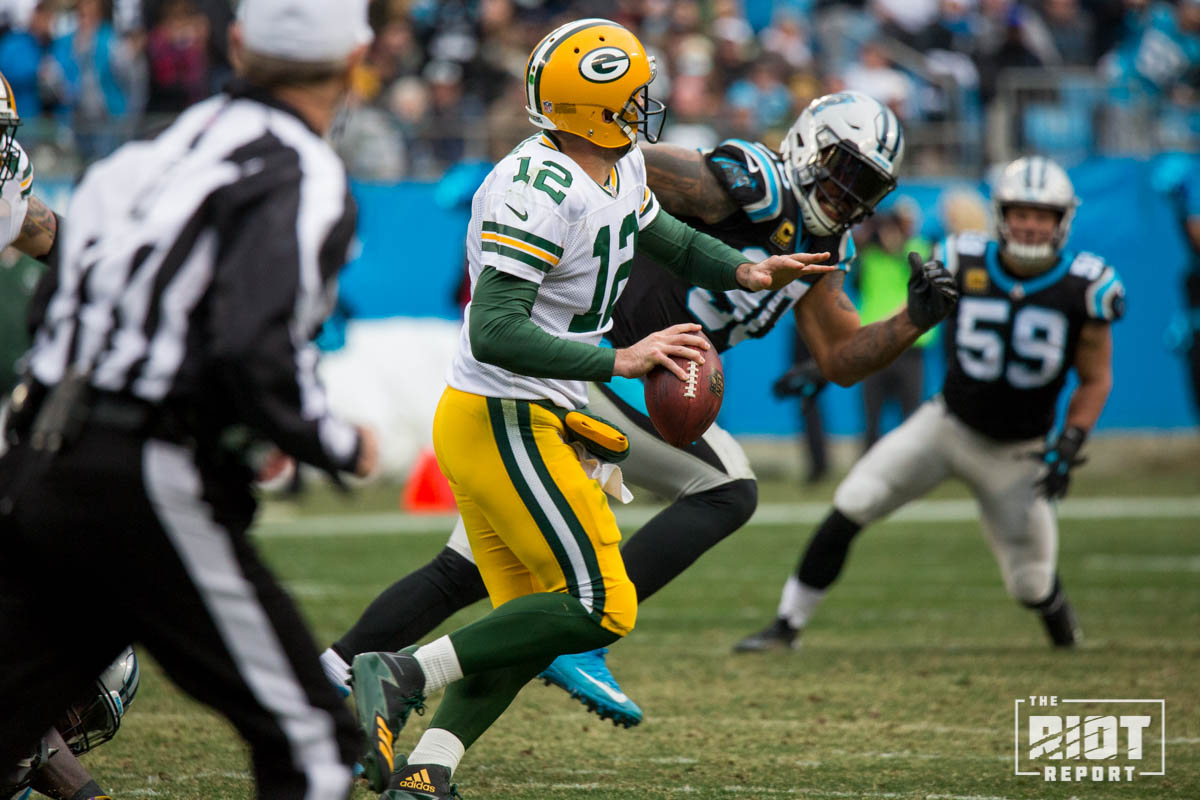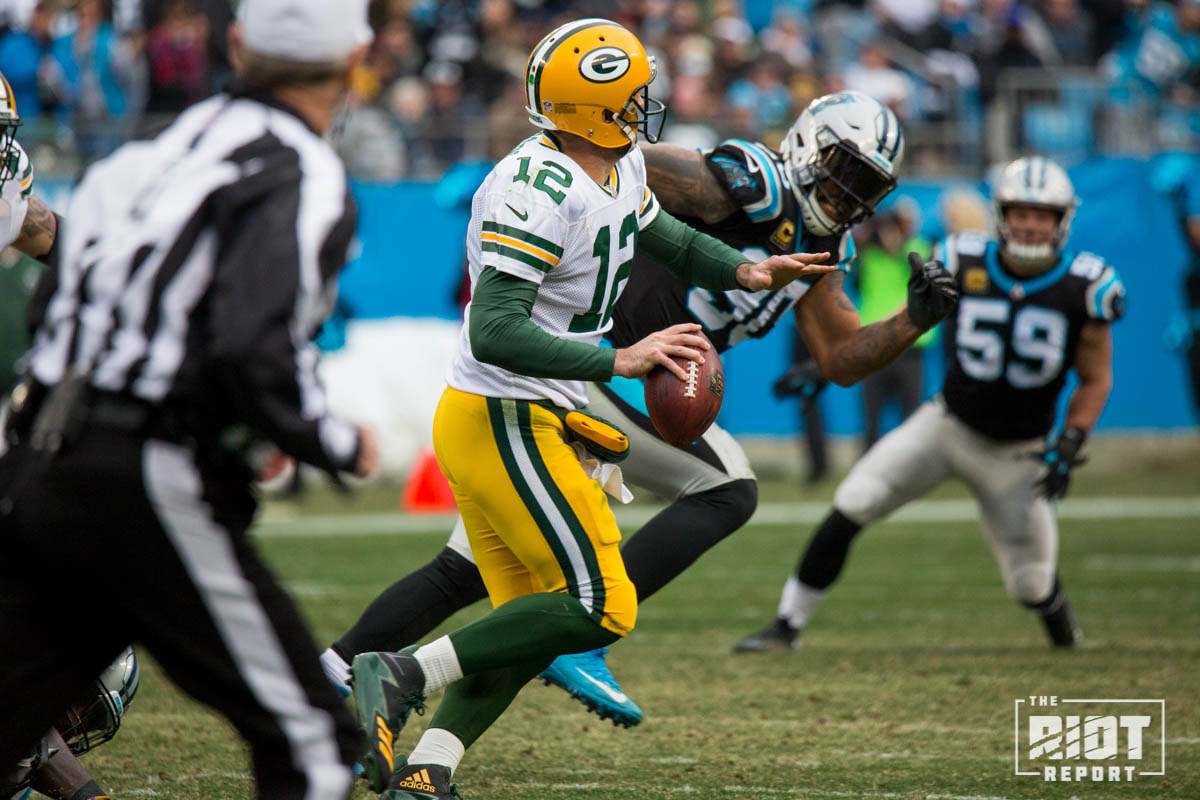 "He moves really well in the pocket, he's super athletic, and the thing is, no matter where you are on the field … When you're covering a guy and he's on the right side of the field, and you're on the deep left side of the field, nobody's out of bounds," said linebacker Luke Kuechly. "Everybody's open to get thrown the ball. And that's the thing that makes him super difficult."
Even though the Panthers lead the NFL in sacks with 34, and have been exceptional in getting after the quarterback with 56 QB Hits, the thought of Aaron Rodgers getting outside of the pocket is enough to make even the most-ferocious defense cringe. And to make matters worse – that's not even the only way Rodgers can make a big play.
"What's crazy about it too, he does it inside the pocket as well," said Ron Rivera. "He'll take a nice seven-step drop and be about 10 yards deep, and then all of a sudden he'll hitch-step up into the pocket and buy time that way as well. So it's not necessarily just him getting out of the pocket, but just the fact that he's willing to hold the ball."
As masters and commanders of the Panthers' defense, Rivera and defensive coordinator Eric Washington have one of the most complex assignments of the entire season. In talking of how to be effective against Rodgers, both pointed to the need for a disciplined pass rush and the strategic deployment of blitzes. In terms of the latter, Rivera noted the importance of situational football and putting the Packers in third-and-longs. Washington, meanwhile, touted maintaining a "vanilla" look on defense while generating pressure with Carolina's front four – something that the Panthers have been excellent at in 2019.
Beyond what happens up front, almost all NFL defenses understand full well the importance of preparing the secondary for Rodgers: specifically, making sure to practice sticking to their receivers on an extended play, and not allow someone to escape and get wide open down the field. But the Panthers, staying true to the principles of complementary football, understand the very best way of helping the secondary do that effectively.
"The first thing we actually do is we work on overlapping the rush. We want to try and make sure that we don't give him an indefinite amount of time," said Washington. "Because if you start to plaster or really connect to the receiver in your area, there's only so long you can do that. And so we really work with the front on making sure that they're overlapping each other, and we're forcing him to throw it or we're in a position to hit him or get him on the ground."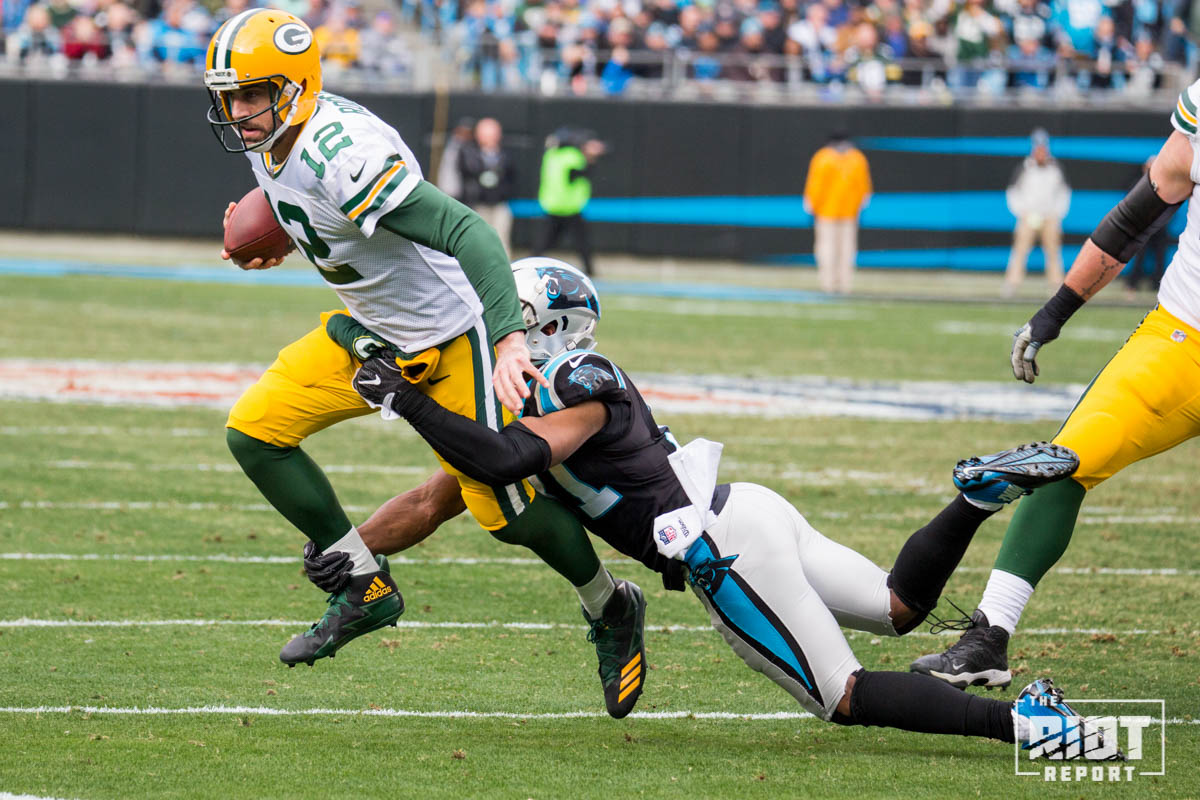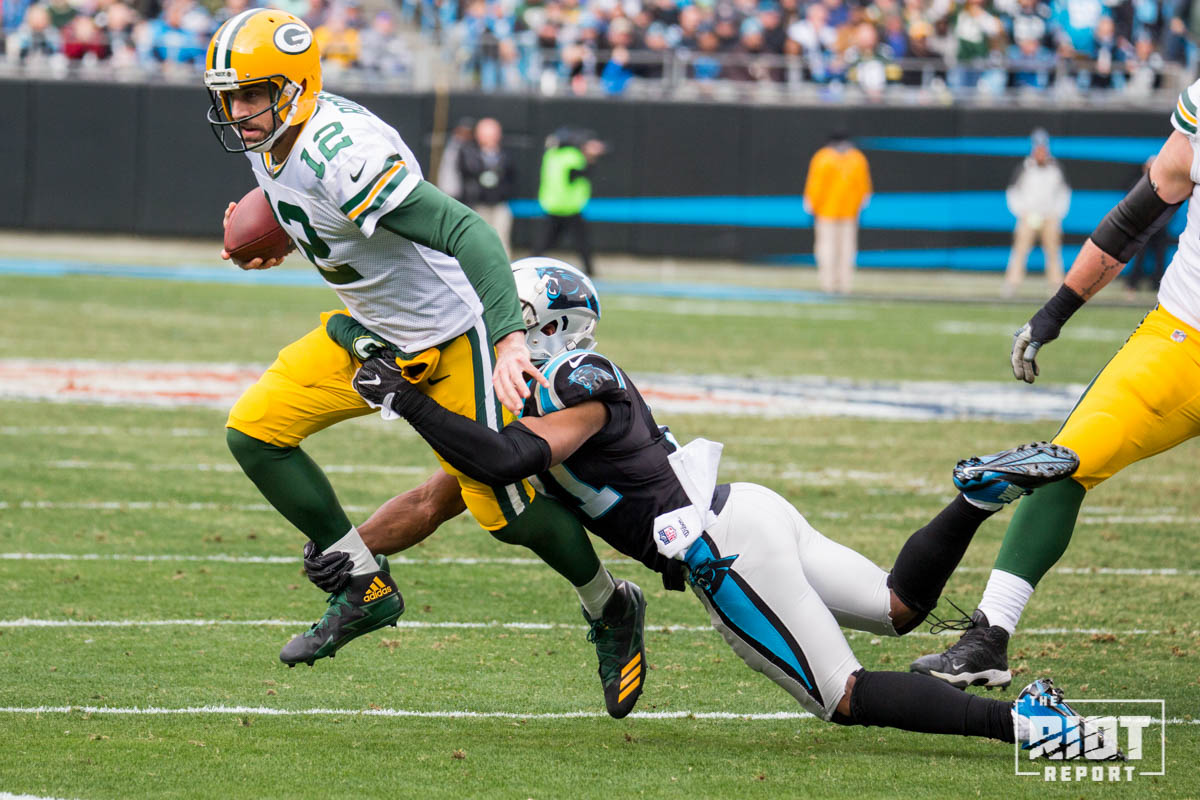 As evidenced by the stat sheet, hitting Rodgers is something the Panthers have been able to do very effectively: In 2015, the Panthers sacked Rodgers a total of five times and had 16 QB Hits, forcing a fumble in the process. In 2017, they were able to sack him three times and get seven quarterback hits, which helped contribute to a three interception day for No. 12.
For all practical purposes, Aaron Rodgers is powered up. But being powered up doesn't mean that he isn't beatable: just last week, the Packers were subject to a 26-11 shellacking at the hands of the Los Angeles Chargers, where Rodgers was sacked three times and held to a single garbage-time touchdown. And in Week 4 – at Lambeau, no less – Rodgers turned the ball over twice in a loss to the Philadelphia Eagles, despite only being hit twice the entire game.
In an NFC that presents no margin for error, the Carolina Panthers can ill afford to let Aaron Rodgers have his way with them. And so, just as the Bolts did a week ago, they will have to deliver a hard and heavy dose of reality – before he can bend it to his will.