Let's be clear before we get started: This is not a "Fire Ron" piece.
There are coaches that deserve to be fired, but certainly not one with a 4-2 record, one that has made the playoffs four of the past five years and has been coach of the year 25% of the time the past eight seasons.
However, entering the fourth quarter of Sunday's win over the Eagles, it wouldn't have been surprising to see a few headlines of this sort floating around the region; after two weeks in a row of falling down by 17 – not to mention almost blowing a two-score lead against the Giants, the mood in the Carolinas became saltier and saltier. After all, even after scoring 21 points in the final 12 minutes of the game on Sunday, the Panthers have been far from convincing thus far in 2018 despite one of the most talented rosters in the NFL. While they haven't been brilliant – especially the past three weeks, the Panthers are still 4-2, and even if they fail to improve they could well stagger to a 10-6 record and a close Wild Card loss, something that would keep most NFL coaches in a job. But the Panthers aren't most NFL teams, not any more.
When David Tepper took over the Panthers, it was clear that some things were going to change, change which Tepper spoke to at his introductory press conference where he repeatedly spoke about the NFL as a business. While many have, likely correctly, interpreted this in terms of his attitudes towards practice facilities and the non-football uses for Bank of America Stadium, this more professional attitude may well extend to the football operations side of the Panthers as well. In short, it might no longer be good enough to not be bad.
With that in mind, allow me to tell you why I think Ron Rivera's job is perhaps at it's most tenuous position since 2013.
Coaching in almost every sport comes down to three things: teaching, tactics and motivation/organization; for the Panthers, as with many NFL teams, those three aspects are split between the three coaching levels. The position coaches are largely tasked with the teaching aspect, looking to work on the players' technique and on-field development; the coordinators are the tactical heart of the team, entrusted with designing the offensive and defensive schemes and enacting them on a play-by-play basis. Finally, Rivera, as the head coach, is mostly tasked with player motivation and game management. That does not mean that he has no impact on the scheme philosophies of the team, but that as with any player or coach, Rivera should be judged by the things he can control, and for Rivera that means discipline, game management, hiring and firing and player motivation.
Discipline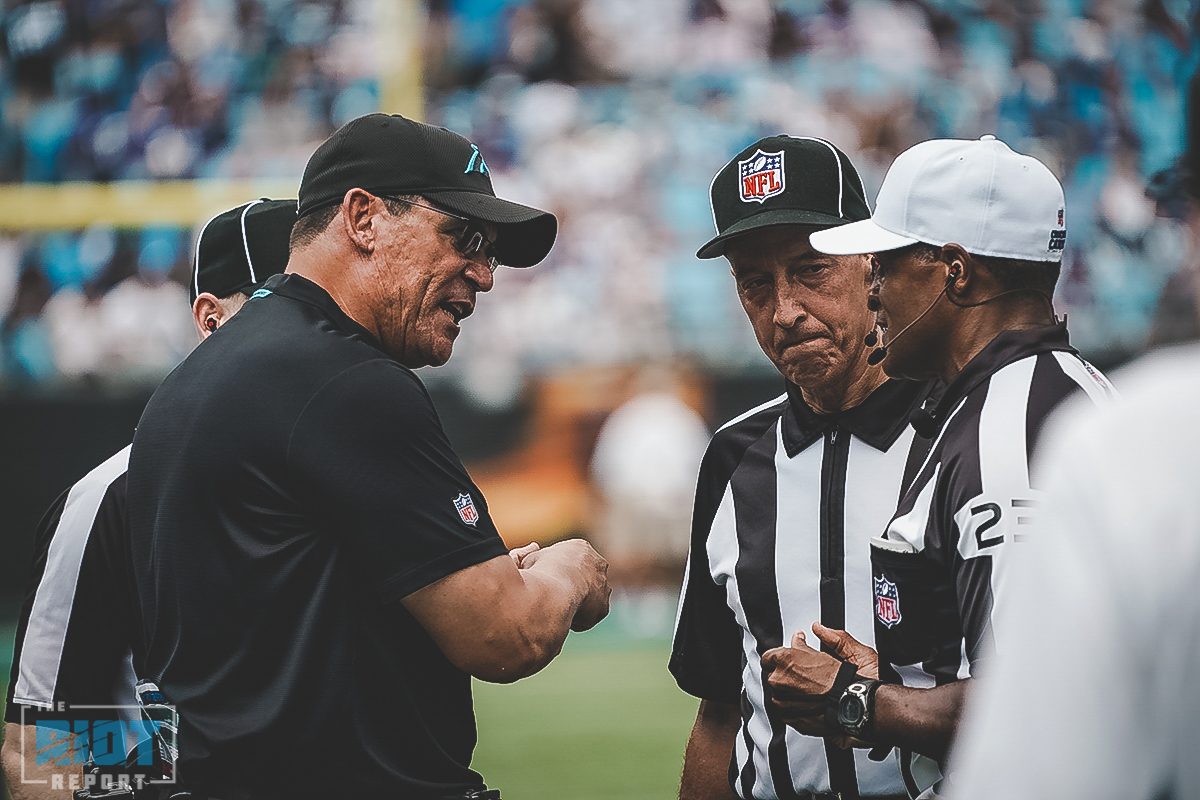 When Rivera took over the Panthers in 2011, they were one of the least disciplined teams in the NFL, having given away the eighth most penalties the previous season. In Rivera's first season, the discipline issues failed to improve, with the team finishing sixth in penalties conceded, but since that season the Panthers have been one of the most disciplined teams in the NFL. Over the next seven seasons, the Panthers never ranked above 22nd in penalties conceded and have finished in the top five in terms of discipline three times, including a league-best 83 penalties a season ago. The Panthers have also been very disciplined so far in 2018, conceding 36 penalties in six games, numbers which put them on track to finish in the top ten once again.
However, not all penalties are equal.
Teams are always going to give away penalties – players do make mistakes. There will be holds from time to time, and likely some unintentional pass interference when a player just doesn't locate the ball in time; as long as a team isn't giving these away in abnormal numbers, this has to be put down to the cost of doing business, at least for the most part. There will also be times when referees make questionable decisions, but as with the above category, there is very little a coaching staff can do about these and they should even out over time. Sometimes players have to give away a cynical penalty, this is the touchdown-saving pass interference (see Bradberry, James this past Sunday) or the hold to stop a QB getting blindsided – these are smart penalties.
What are not smart penalties are those due to simple player error, especially unforced mental errors. These are your false starts, delays of game, blocks in the back, unnecessary roughnesses, unsportsmanlike conducts and running into the kickers. There is no legitimate reason for teams to commit these penalties, at least for the most part, and while no team goes without them entirely, if a team is committing a high number of these penalties then that reflects poorly on the coaching staff.
The Panthers committed three defensive false starts against Washington, two of which turned long third downs into more manageable attempts, allowing Washington to extend a fourth-quarter drive that led to a long field goal to put them up six. Then, against the Eagles the Panthers had back-to-back false starts on special teams to force the Panthers into a punt when they were initially lined up to attempt a field goal shortly before the half. These penalties change games and are completely avoidable – a field goal against Washington would have allowed for a field goal to go to overtime where the Panthers, hitting their stride late, would have liked their chances, and an extra three points against the Eagles would have made the late-game that much less stressful.
However, as bad as those penalties look right now, they are not typical of Rivera's tenure under Rivera, as while this team hasn't been perfect in this regard, this is not something which has been a persistent problem throughout Rivera's tenure. If these penalties continue in the coming weeks, this might be worth further investigation, but Rivera's Panthers have almost always been disciplined, something for which he deserves credit.
Next: Game Management and Motivation