Last week the Panthers released defensive end Charles Johnson and running back Jonathan Stewart in an effort to clear more cap space to get both younger and, quite frankly, better at both of those positions than the level of play each player provided the team during the 2017 season. I was enjoying some time away with my family in Florida when the news hit and after having several days of sitting on the beach, watching the clear-blue water of the Gulf of Mexico, and enjoying several Miami Vices with 151 floaters, it really started to sink in that this is the beginning of the end of an era for the Panthers.
It's always tough for us fans, even when we have a good understanding of the business side of NFL decisions, to deal with the release of players that we've grown fond of and who have been at the core of some of the greatest memories of our favorite football team's recent history. That is certainly the case with both CJ and J-Stew. Of course, during their time with the Panthers, there have been plenty of ups and downs – that's literally the entire history of this franchise – and I would be lying if I said I didn't think it was time for both of them to go; but in an age of the NFL where it's so uncommon for players to spend their entire careers with one franchise, to lose two guys at the same time who both have contributed so much and who are lifetime Panthers, coupled with what's on the horizon after the 2018 season, their release started to feel like more of a punch in the gut.
But rather than dwell on the loss of these great Panthers and worry about the shape of the team after losing other Panthers greats Thomas Davis, Ryan Kalil, and Julius Peppers all potentially after the 2018 season, I wanted to share some of my favorite memories of being their fans for the past decade. And what better way to do that than to create a list?
5. Jonathan Stewart's Run vs the Jaguars in the Monsoon Game
Yes, it's a little weird for me to be listing a play that didn't count as one of my favorite J-Stew memories, but I am, and that play totally should have counted (and hell yes Cotchery caught that damn ball). I've never seen it rain so hard in my life. BoA was literally flooded and the fans who remained in game were sitting mostly underwater. But it was all worth it to see J-Stew take a quick pass from Cam, flip over the defender who was trying to tackle him, and sprint 60 yards down the field before being tackled and sliding for another 15. So much fun!
4. Charles Johnson's First Year as a Starter is a Gem.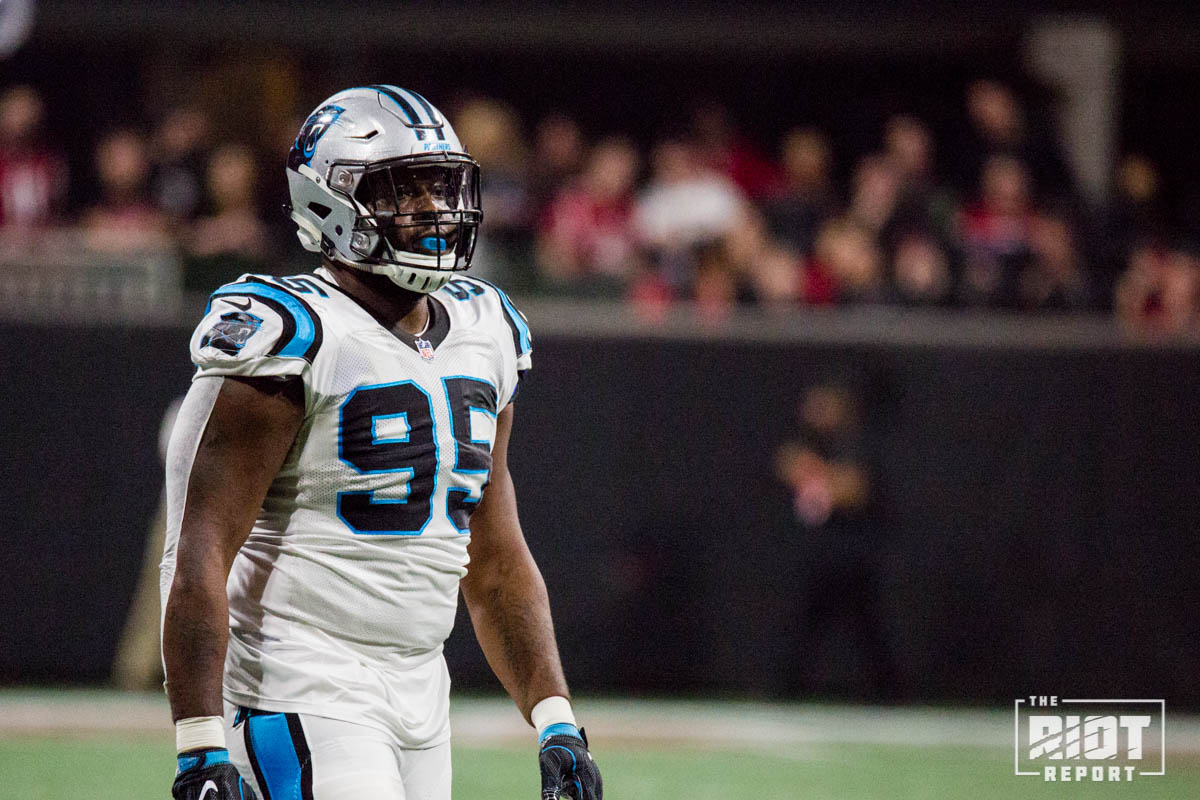 Let's just be real for a moment – there was almost nothing to cheer about during the 2010 season. Jimmy Clausen was the Quarterback. John Fox was a lame duck coach. Marty Hurney had just traded a pick to move up and take Arminti Edwards in the third round of the draft. Julius Peppers took his talents to the Chicago Bears. And the league was inevitably headed for a lockout. Not a happy time in Panthers fandom history. EXCEPT, CJ was a monster replacing Pep as the starter. He recorded 11.5 sacks, which had him tied for 8th in the league and was literally one of the only bright spots on the Panthers' roster; it was because of his 2010 performance that Hurney made CJ the highest paid player in the NFL in 2011 and the nickname "Big Money" was born.
3. Jonathan Stewart's HUGE Run vs Seattle in the 2015 Playoffs
Obviously, 2015 was a magical season and the Panthers were really good. But even as they entered the playoffs as the #1 seed with a 15-1 record, there was still talk from the national media how the Seahawks were going to come into Charlotte and win. I wouldn't say that narrative was totally unfair. Before the Panthers' amazing regular season win in Seattle in 2015, they had pretty much been the smacked around little brother to the Seahawks for a few years. After sitting through several of those games, including the 2014 playoff game, I was very cautiously optimistic about the team's chances vs the Seahawks. But then, on 1st and 10, Shula calls a J-Stew run up the middle (you guys see what I did there?) and Stew takes it 60+ yards. BoA was rocking and it set the stage of what was a dominant performance by the Panthers that afternoon. I got goosebumps watching this video again; yes, the Stew run is the first one, but DAMN, I think all of us are going to watch that whole thing.
2. CJ and J-Stew are both such high character guys.
Maybe it's corny, but I'm actually one of those who appreciates the character our guys have on and off the field. I like that I can point guys like TD, Olsen, J-Stew, and CJ out to my son and use them as examples of how to work hard to get what you want on the field and be a leader in the community. During his time with the Panthers CJ was always active off the football field whether it was doing work through his foundation, working on creating affordable housing projects, establishing new businesses in Charlotte (let's get this restaurant open, CJ), or volunteering to participate in other teammates' events, CJ was always out trying to use his platform to help other people. And of course I'll never forget J-Stew's willingness to participate in serenading Lynn to help lift her spirits during her trip to Charlotte. These guys were good guys – special guys – our guys.
1. December 8th, 2008 – Monday Night Football
For my #1 ranked memory, I'm recalling the Panthers' MNF game vs the Bucs in 2008. Not only is this my favorite J-Stew memory, it's one of my all-time favorite games in BoA Stadium. I remember it being freezing cold, the entire stadium standing for the whole game, and Stew and D-Will DOMINATING the Bucs' D; every time one of those guys touched the ball, I knew it was going for big yardage and there was a chance they were taking it to the house (301 combined rushing yards and four touchdowns!). This was the height of "Double Trouble" and a really fun time watching those two do work.
So there you go! Those are my favorite CJ and J-Stew memories. I'm definitely going to miss those guys as the end of an era of Panthers football is beginning. What are some of your favorite memories? I'd love for you to comment below and share some that I left out.