During his time in Carolina, Davis has remained a visible piece of the community. Not only through his charity work with underprivileged kids, but he's regularly been visible at Hornets games – although not always rooting for the right team *shakes fist* – frequently accountable on local radio and always willing to lead when it came to believing in his/our team. He was often spotted in garb representing his Georgia Bulldogs and after more than a decade in the city, nearly everyone has a TD story and the great majority favorable – no small feat for a man of his status.
As part of winning the Man of the Year award, Thomas was recognized at the NFL Draft as he presented the 2015 Panthers' first round pick.
Wearing a sharp blue suit, representing his team, his foundation and Walter Payton in Chicago, Davis announced the pick: a maybe safety-maybe linebacker, Shaq Thompson. A younger version of TD – in theory. It was hard not to think back to eight years prior, when Keyshawn Johnson was on ESPN's draft coverage discussing mentoring the Panthers second round wide receiver selection, days prior to being cut.
While Davis was in no danger of being cut, his successor now had a name.
Players in Thomas' position have reacted in any number of ways to seeing a first round potential replacement picked for their spot, let alone announcing it themselves. For Davis, who added Sr. to the back of his jersey prior to the 2015 season at his son's request, he went out and had the best year of his career.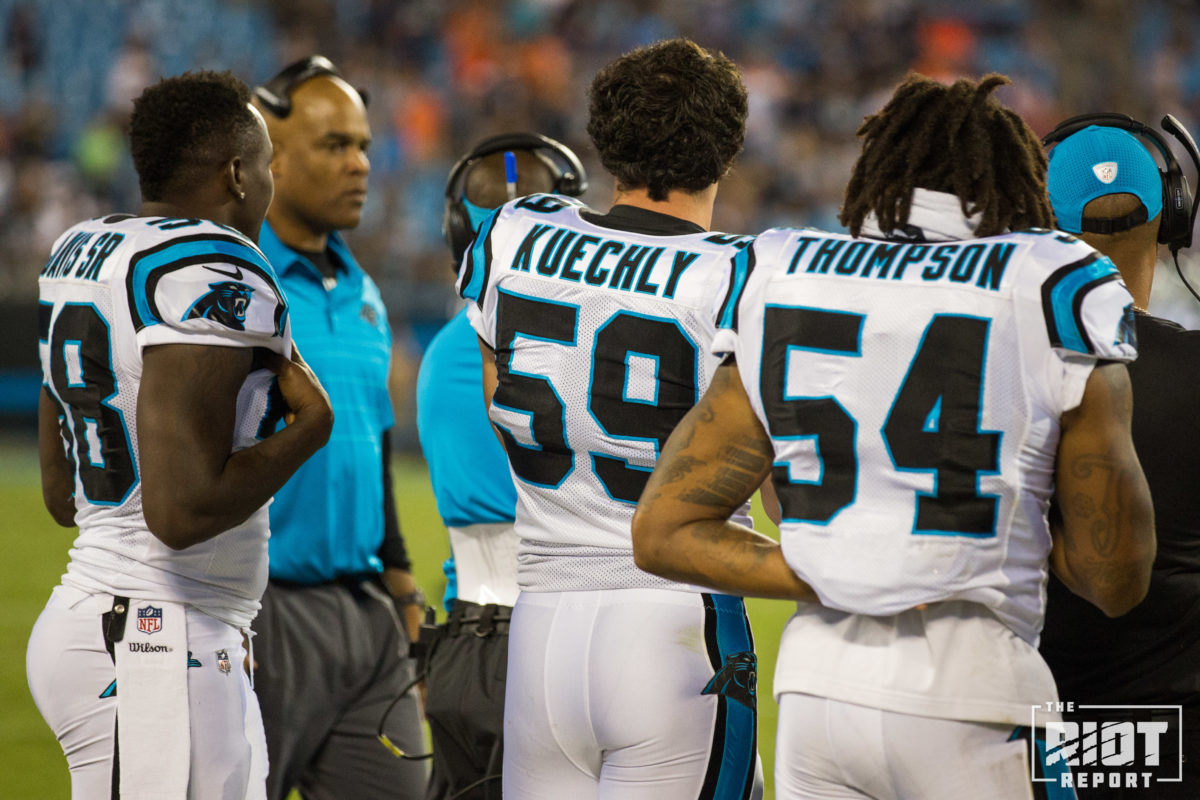 Week 1 was an ugly win against Jacksonville that saw Luke knocked out of the lineup for a month – TD responded with a sack, tackle for loss and interception in the second half.
Two weeks later, after Cam almost landed the flip against Houston, TD forced another second half turnover, this time a forced fumble to topple the Saints. The next week, against the Bucs, brought another fourth quarter interception for Davis. Three second half turnovers in four games for the Captain, all while leading the team in tackles. Davis would finish the season with a career highs in sacks (5.5), interceptions (4) and forced fumbles (4). As the wins kept piling up, fans asking each other how the team was performing so well, would often be met with a shrug and an optimistic "Keep Pounding" – the motto began to take on a more positive air. With the offense humming and with Kuechly and Davis patrolling the middle of the defense, the Panthers exorcised playoff demons against the Seahawks and Cardinals. With the Super Bowl trip all but guaranteed for the majority of the second half, the NFC championship was one of the rarest of BofA experiences, a prolonged Sunday evening celebration.
The only negative that night was Cardinals tight end Daniel Fells believing his 20″ vertical was going to leap over the league's best two-man linebacking corps, as if they were going to shy away from contact.
In a playoff game.
Fells hurdled and his knee smashed into TD's forearm. After leaving the field, Thomas would re-emerge to join his team on the sideline – with his arm in a sling.
Sam Mills was 0-4 in the playoffs when he and the Panthers let the Cowboys know where Charlotte, North Carolina was, a game that ended with a Mills interception – the following week, Sam picked off Brett Favre and set up the offense on the Green Bay 2-yard line for NFC Championship's first score, a Howard Griffith touchdown plunge. Despite his 14 tackles, Mills' Super Bowl dreams were lost that day in Lambeau.
Now, Thomas Davis stood in a stadium full of screaming fans – his screaming fans, with his Super Bowl dreams in doubt.
Of course, he played – with a plate in his arm and sewn up like a football – two weeks after breaking his arm Thomas Davis started Super Bowl 50.
At the age of 32, Thomas Davis made his first Pro Bowl and All-Pro team. Pro Bowls followed the next two seasons as well, as he and Luke were recognized as a pair each season. The Panthers went to the playoffs four of the five seasons, often asking their two linebackers to do the work of three men.
More often than not, they proved up to the task.
Even as the Panthers 2018 season was slipping away, with a five-game losing streak negating a 6-2 start, the team found themselves on the road against an upstart Browns team clamoring for their own playoff spot. In a last gasp game, the stalwarts in the middle did everything they could once again – twice Davis and Kuechly combined to force and recover fumbles. Midway through the first, they handed the ball to the offense in the red zone for a go-ahead touchdown. Then on the first play after halftime, they struck again. This time, TD recovered it at the Browns 32. In the fourth, they forced a six-yard loss, which TD followed up with another 1-yard tackle to keep it a one-score game.
Ultimately, the season did slip away, but once again the elder Panther, battered and scarred from knee to nose, still roared and kept pounding.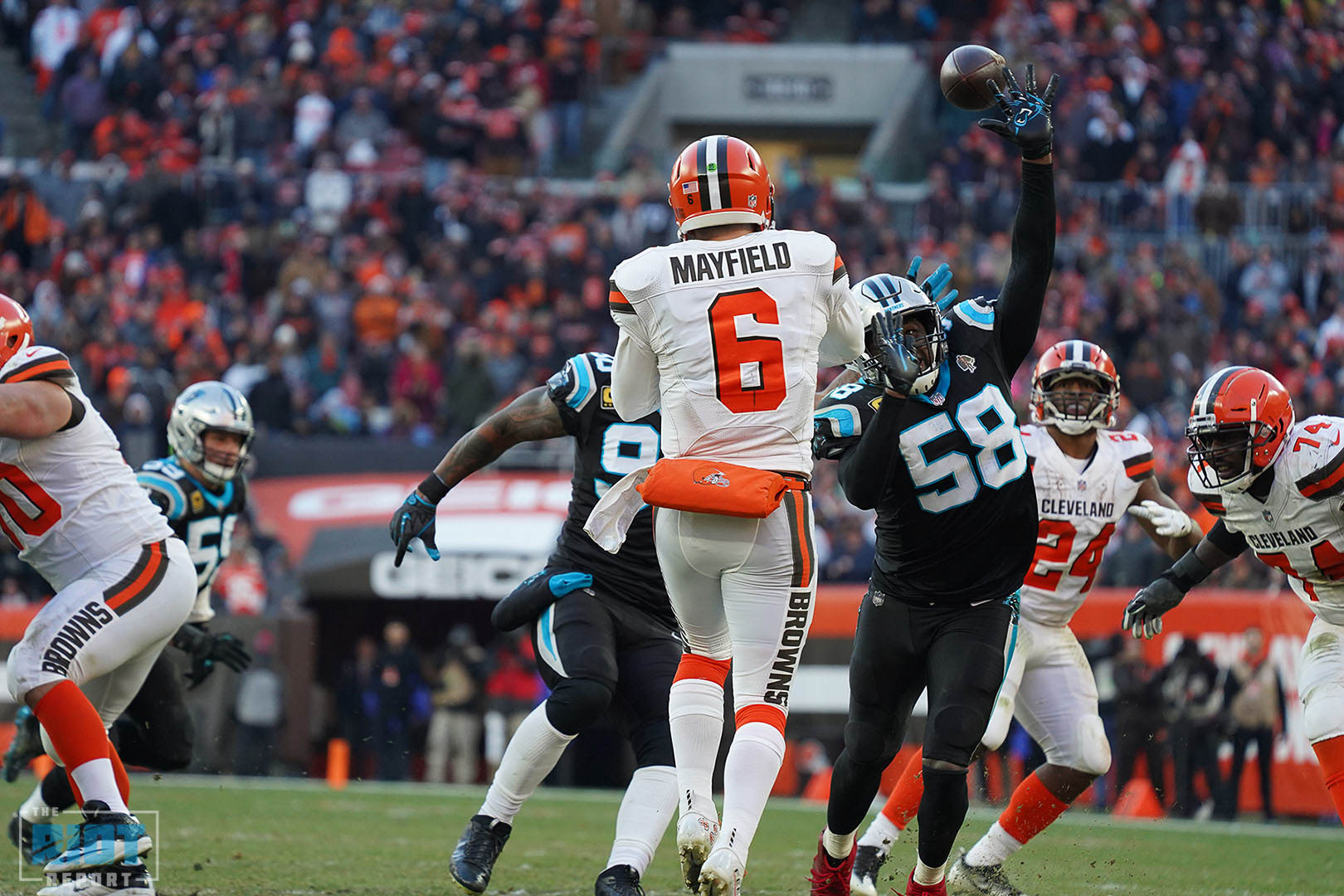 No position has been as consistently good for the Carolina Panthers as the middle linebacker spot. From Mills and Morgan to Beason and Kuechly, we've been blessed, but while there have been several middle linebackers, there has only been one Thomas Davis. He patrolled from sideline to sideline, blitzing off the end or dropping to cover the deep middle, from the weak side to the strong, and for a dozen seasons made his presence felt by opponents and fans alike.
Now, with TD's successor poised to make near eight figures for the 2019 season, it's time to say goodbye.
It took longer than anyone expected. Not that we should be surprised. While Thomas Davis has often deflected much of the Keep Pounding legacy back to Mills, the message could not resonate as deeply with Panther fans if not for Thomas Davis. Both men, Davis in his childhood days and Mills, as a young father and husband, persevered through trying times, well before the world cared. These men didn't simply find their strength in times of need – they cultivated it over years of commitment.
Mills was 37 when he made his first and only All-Pro team. Thomas turns 36 in March.
Sam Mills still stands as the lone player in the team's Hall of Honor. For the combination of meaning to the organization, on-field production, and impact on the community few can measure up to Mr. Mills, but Thomas Davis certainly meets the criteria. Thomas has been our warrior on the field, and off the field, a father, husband, and community servant – few athletes have rolled into the Carolinas, regardless of sport, and had as special a stay as Thomas Davis.
Selfishly, as Panther fans we hope we never have to see Thomas Davis in another uniform – but when he is pummeling running backs in Los Angeles next season, we shouldn't be surprised.
But when 58 is enshrined in the Hall of Honor, we shouldn't be surprised either.