Judging by Tre Boston's stats the last couple of years, many would be surprised that he was still a free agent as training camps around the league were in full swing. But that was the case when the Carolina Panthers decided to bring an old face at the safety position.
Throughout training camp, the Carolina Panthers had been trying multiple players at the free safety spot opposite Eric Reid, from converted cornerback Ross Cockrell to second-year defensive back Rashaan Gaulden. But after a week of seeing what they had on the roster, late on Wednesday night, the team decided they didn't like what they already had and signed Boston to a one-year contract to solidify the position.
Boston spent his first three seasons with the Panthers before having fantastic years with the Los Angeles Chargers in 2017 and the Arizona Cardinals last year. Despite his success, Boston couldn't find the long-term term deal he was looking for, signing a one-year deal last year on July 27th and this year on August 1st – and he thinks he knows why.
"You get to a point where you're questioning," Boston said after joining the team in Spartanburg Thursday. "Is this a guy that's so good that there's something wrong with him? I get it, you can get to thinking of red flags once a guy puts up stats like mine and feels like no one wants to offer him what he deserves. But for me, it was about going back to my roots where people know me and a little bit of a piece of my value."
"I'm not asking for much, just a little bit of respect – and I will come earn the rest."
After recording just three interceptions during his three-year stint with the Panthers from (2014-16), Boston stepped up that productivity with the Chargers and Cardinals. In 2017, Boston finished with 79 tackles, five interceptions and eight passes defended. He followed that up with a 79 tackle season, three interceptions and nine passes defended for the Cardinals in 2018.
Actually, Boston's eight interceptions over the last two years are the third-most among NFL safeties during that time period. Carolina not only believes Boston will have an impact on their secondary obtaining turnovers from opposing offenses, but he'll also be a positive presence in helping their pass rush. Not only do the Panthers front seven have the potential to wreak havoc because of their talent, but with the addition of Boston, their defense has a lot more versatility.
And when the pass rush forces mistakes, the secondary has to take advantage.
"One of the things we've been working on is the development of our pass rush," Panthers head coach Ron Rivera said. "And you have to have a guy that's productive back there and has been productive. [Tre] has been tremendously productive. He's been available. We've been looking at him. We have a great of young guys that we've been trying back there, we just feel like now is the time and a good opportunity to bring in a guy that can help us."
"It is part is of what we are trying to build together."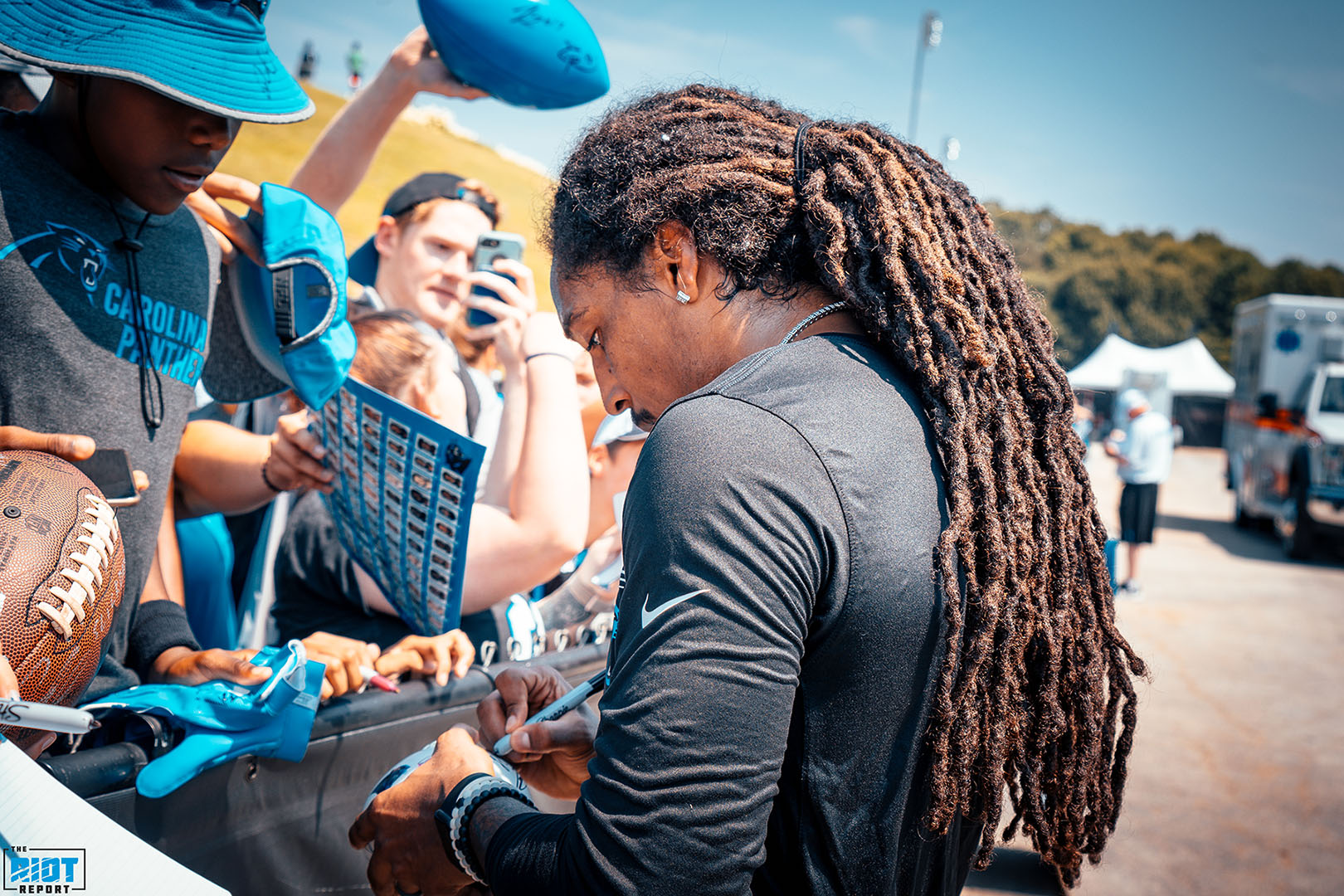 Boston also believes the Panthers' defense has a lot of potential.
"If you look on paper, it can be one of the best," Boston said. "I thought they were missing one spot, they thought they were missing one spot too. They need a free safety and that's what I've been doing ever since I've left – I've always shown this league I'm one of the best, especially getting the ball. Eight picks in two years, led both of my teams in picks and PBUs. I don't plan on slowing down anytime now. I just want to help this team win. We got something to achieve – some unfinished business with a lot of us – but we just gotta take it week by week."
There are no missing links to a defense according to Rivera, but adding Boston was the best-case scenario for the Panthers. Now with Donte Jackson and James Bradberry on the outside and Reid on the opposite safety spot, the Panthers defense looks strong. Boston says he is looking forward to playing alongside Reid – Boston has been outspoken about his views on social topics, including attempting to organize a unified team response that would not offend anyone after the fatal shooting of Keith Lamont Scott by a Charlotte police officer. He stopped short of saying that was why he was released, but hinted that the change in ownership may have been the reason for the signing of both he and Reid.
"That tells you a lot – once you get rid of somebody and bring in a new somebody and all of a sudden people come back," said Boston. "That speaks volumes. I think it speaks volumes enough to not even talk about it. If you do subtraction and addition, math is pretty well – you know what's happened around here and what's happening now. I think we like where we're headed and I think the feel of everybody else – there's an energy there and I said, 'You know what? I need to get back and be a part of it.'
Boston says he is focusing on one game at a time and trying to build chemistry with his coaches and his teammates. That also includes Perry Fewell, who is in his first season as the Panthers defensive backs coach.
"I've always told my coaches [that] to make gambles, you've gotta be able to trust me – trust that I watch film just like you do," Boston said. "Trust that I've been in this league long enough to not set us up for failure. That's something in the last few years I've improved. I've even had coaches question me during some of those years, but at the end of the season when you go down sit for those evaluations, they sit back and let you know that they should trust you a little more. I appreciate stuff like that because with trust comes time and you need time to build these relationships with these coaches. So right now, I want to build these relationships."
"What makes me a playmaker is all of it – you've got to put it all together. It's Year Six for me, I feel like I'm one of the best and it comes with all of it."