As the Panthers move towards training camp, the roster is beginning to take shape, both in terms of the starters and the surrounding depth, and while there is still a lot that can and likely will change between now and the end of training camp, it's time to take a look at each part of the Panthers' roster, position by position. While there is always the possibility of a dark horse surprise, there is also a lot than can be said with some degree of certainty. With that in mind, over the next couple of weeks we will explore both where each position group stands and where it might go. Check out our previous iterations below:
The next position group in our series is the linebackers, a group which has been one of the strongest in the NFL over the past few seasons and which returns largely intact – with a few interesting additions. Additionally, the Panthers will have to deal with the loss of Thomas Davis for the first four games of the season due to a PED violation; while the Panthers starters for most of the season at this position are unlikely to come as a surprise, how the Panthers look to account for the temporary loss of Davis and how the depth chart shakes out behind them could make for some interesting training camp viewing.
The Big Three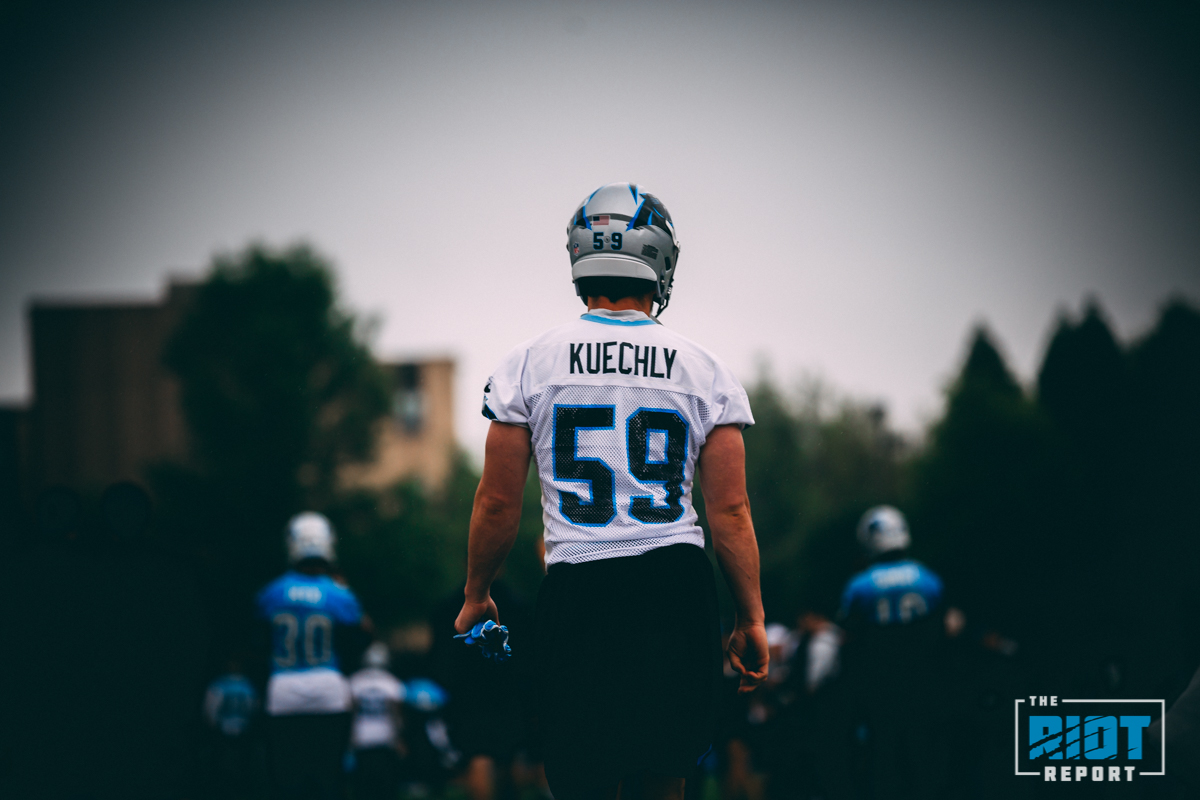 Luke Kuechly, Thomas Davis and Shaq Thompson. That is a group of linebackers that any team in the NFL playing a 4-3 defense would take over their own, and with good reason. Kuechly is unquestionably the best inside linebacker in the NFL, and the question will likely become where he ends up ranking among the best linebackers of all time, with a decent chance that he ends up topping that list – he has struggled with concussions at times, but the use of a specially designed collar last season hoped to limit those, albeit unsuccessfully last season when he missed a game in October. At this point, the only question around Kuechly relates to his timetable as he returns from offseason shoulder surgery; Kuechly should return to full health and in terms of play there really should be no questions about Kuechly at this point.
Thompson is expected to surpass Davis as the #1 OLB this season, having spent the past few seasons as the obvious heir to the throne; Thompson has been used in various ways so far in his career but his most natural position is that of outside linebacker where he can use his athleticism to cover tight ends and running backs out of the backfield. How Thompson handles this expanded role will certainly be worth watching during training camp, with the biggest unknown likely being about his ability to take on blockers on the inside. Davis will likely take a decrease in snaps and assume Thompson's role when he comes back from suspension, and with Davis getting on in years this will hopefully allow him to keep fresh and maximize his impact when he is on the field. With the (assumed) new-look defense under Washington coming into effect, one thing that will be interesting to see is how Davis is used as a blitzer, as this has been one of the most effective areas of Davis's game in recent years. It is hard to tell whether this group has gotten better or worse this offseason, as much will depend on how Thompson looks in his expanded role; but it would come as a significant surprise if this group wasn't among the league's best once again in 2018.
Next Man Up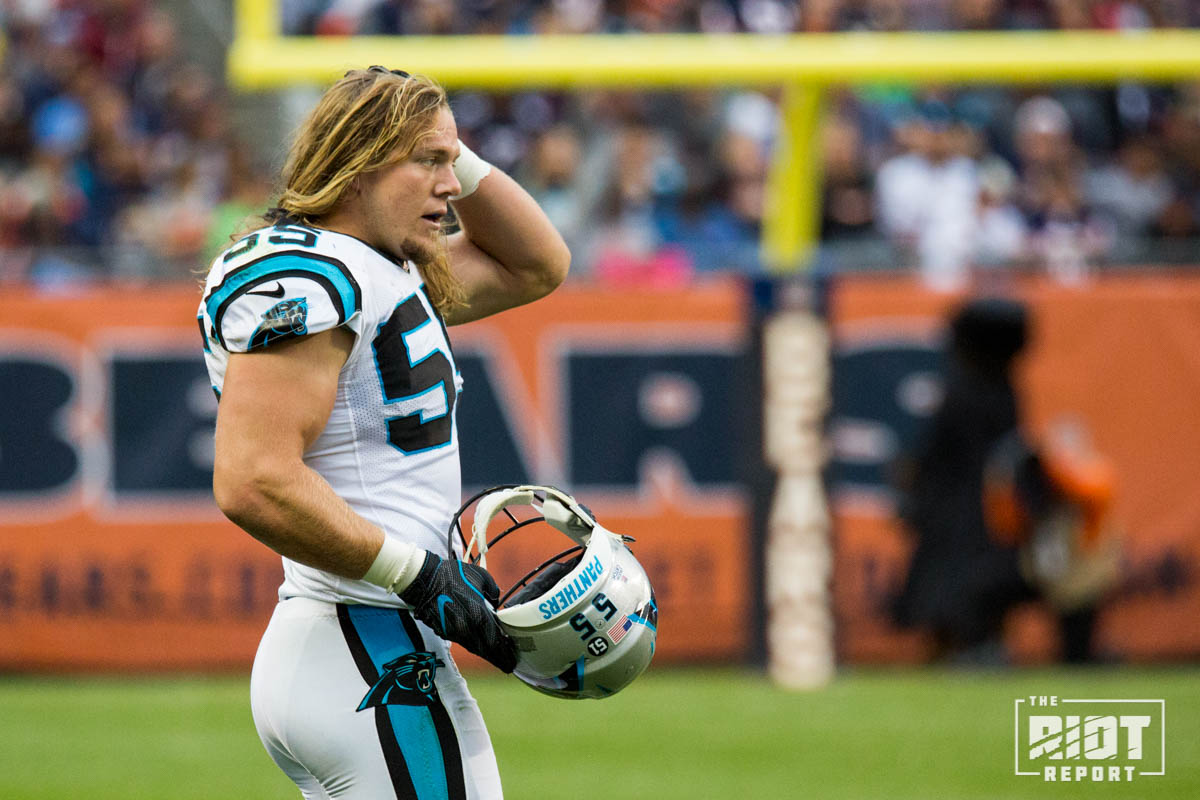 Behind the starting three there is a clear fourth option for the Panthers at linebacker in David Mayo, who enters the final year of his contract likely looking to use the four games before Davis returns as an audition for a starting job and a big contract somewhere else. Mayo is a more natural inside linebacker than outside but has been the go-to guy when linebackers across the board have gone down after the departure of AJ Klein; with Thomas Davis potentially retiring after this season, Mayo could also be auditioning for a return to the Panthers as the starter alongside Kuechly and Thompson – the preseason and the first four games without Davis are going to be extremely important in determining what his market value is come next offseason, and all that starts at training camp. The biggest question he is going to need to answer is how effective he can be as a coverage player, which is something that should become clear from the one-on-ones in training camp.
The Old and The New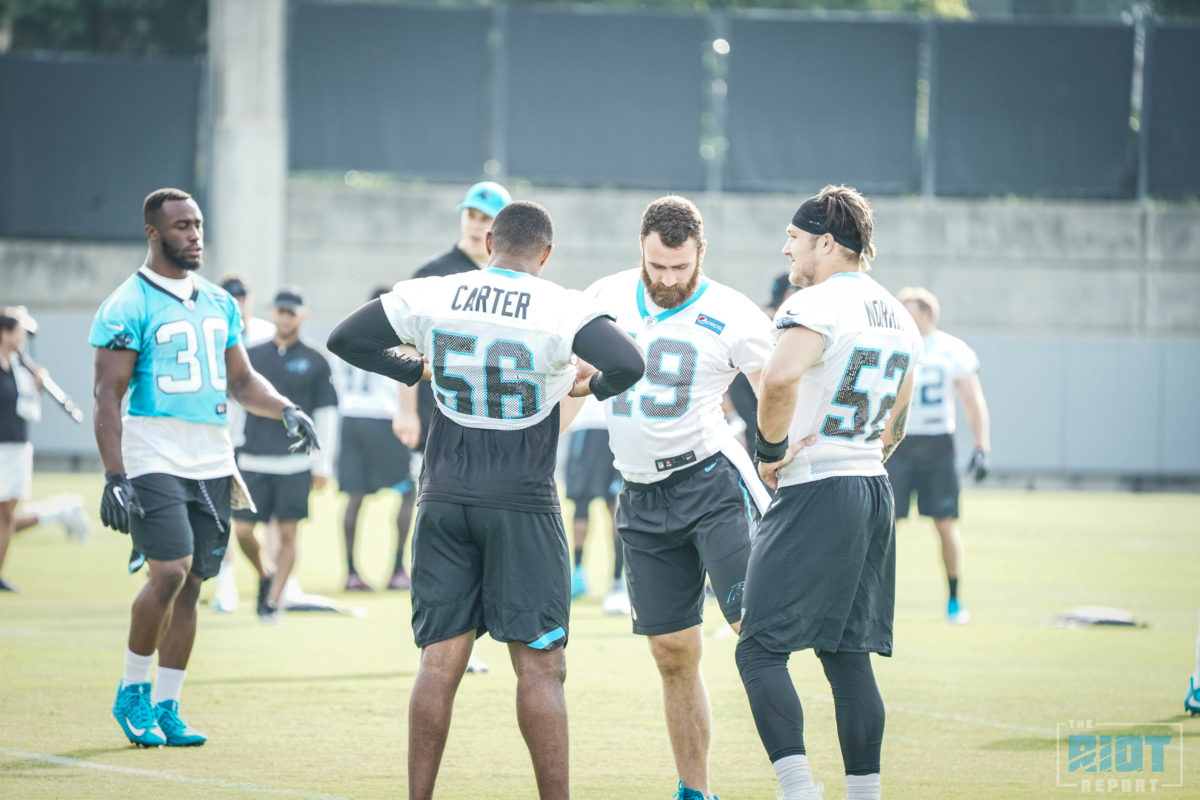 The Panthers have historically carried about six linebackers, and with Kuechly, Thompson, Davis and Mayo all but certain roster locks that only leaves a couple of spots. Ben Jacobs and Jared Norris have both spent time on and off the Panthers' roster in recent years, but neither have shown enough to this point aside from special teams prowess to make them locks for a roster spot. Their challengers are likely going to be the pair of linebackers the Panthers selected on the final day of the draft; Jermaine Carter from Maryland and Andre Smith from UNC. Carter spent much of career on a talent-poor Maryland defense and Smith has had persistent struggles with injury; both enter training camp as relative unknowns. Neither of them are likely to see the field as part of the defense barring injury, but if they can flash during training camp and, crucially, carve out a role on special teams, they have a real chance of beating out Norris and Jacobs for the remaining roster spots.
Historically, the Panthers under Ron Rivera have erred on the side of continuity when it comes to such training camp battles, but it is unlikely that Hurney would have spent a pair of draft picks on a position group he didn't think was in need of some fresh faces. While the depth linebacker positions might not sound like the most exciting battle to watch during training camp, with Davis and Mayo out of contract after this season, this battle could count for a lot more than a depth position down the line. If Carter and/or Smith fail to make the final roster, however, they should be all-but-certain practice squad members if they make it through waivers.
The Other Guys
Chris Frey and Richie Brown are names few Panthers fans will know, and for good reason; as neither are likely to make the final roster. As with all of the depth linebackers, their best chance likely lies on special teams, where all but the starters will see the majority of their snaps this season. All in all, the only change in the linebacker group most Panthers fans will notice this season will be the increase in snaps for Thompson and the absence of Davis for the first four games, but while it might not make its way to the field this season, the battle most Panthers fans should be looking at this training camp is that for the fifth and six linebacker spots and the performances of the Panthers draft picks at this position.
Way-Too-Early Roster Prediction
Starters: Luke Kuechly, Shaq Thompson and Thomas Davis
Depth Pieces: David Mayo, Jared Norris and Jermaine Carter
Practice Squad: Andre Smith
Roster Hopefuls: Ben Jacobs, Chris Frey and Richie Brown