For many players on the Panthers' roster, the fourth preseason game is something of a formality, with their roster spots and roles both being almost completely determined, and with that, the focus will shift mostly towards the regular season and the Rams. However, for an awful lot of other players, the situation could not be more different, with their roles, roster spots and even life plans being determined, at least in part, by how they played against the Steelers. With the fourth preseason game in the books, who's made the cut and who's going to get cut?
Offensive Skill Positions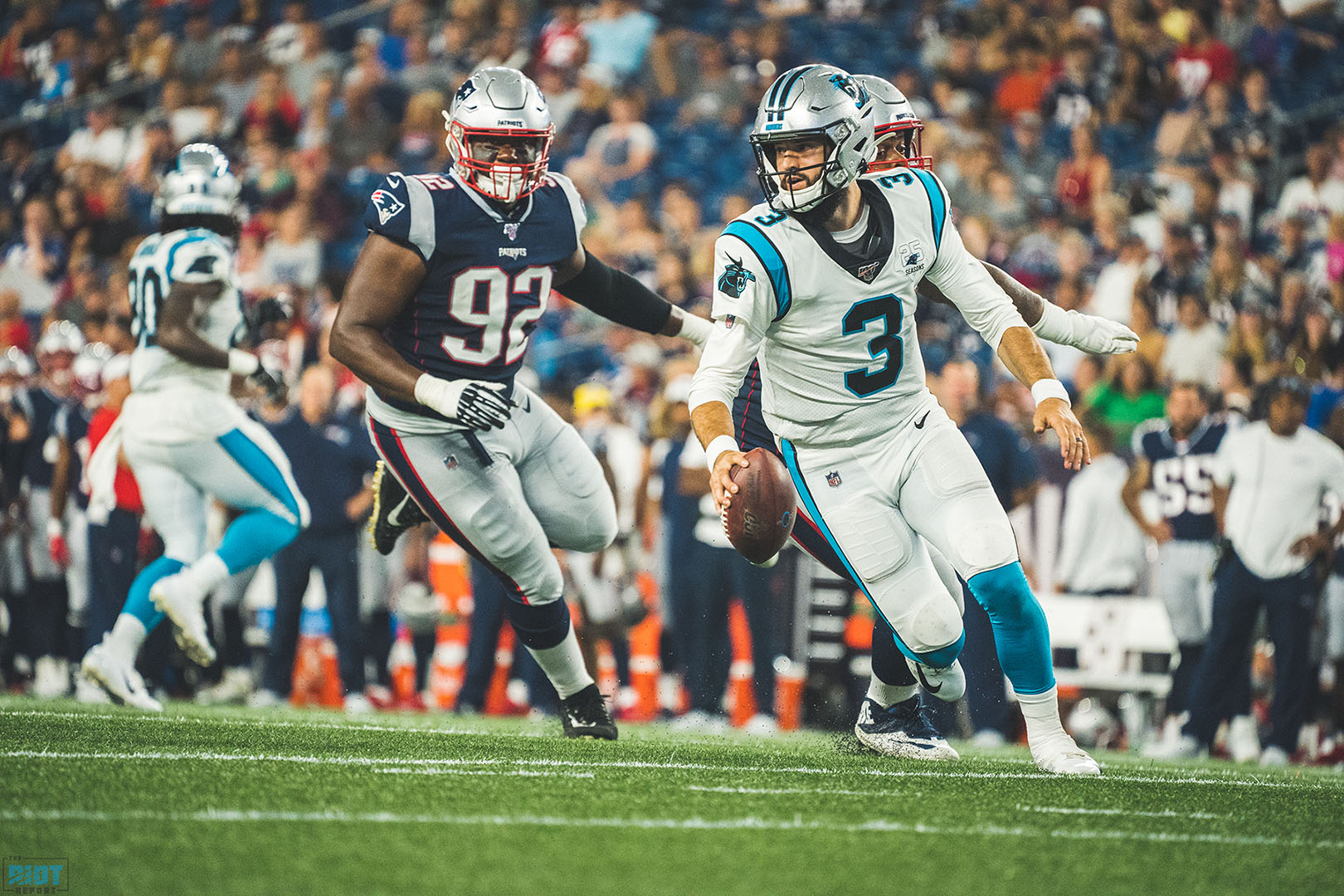 Cam Newton is going to make the roster, that can probably be taken for granted at this point – the same can also being true for Christian McCaffrey, Greg Olsen, Ian Thomas, DJ Moore, Curtis Samuel and Jarius Wright – at least barring any last-minute need for a trip to IR. A lot could be written about them and their roles in 2019, but they're not going to get cut.
At quarterback, it seems very likely that Kyle Allen and Will Grier are going to make the roster – that's hard to justify based on their play in the preseason, at least compared to Taylor Heinicke, but the Panthers have shown no real desire to try anything different when working with the second string offense and it's hard to see Heinicke going from fourth string to active roster at this point. It is similarly hard to see the Panthers either cutting their third round pick after a matter of months or rely on him as their only quarterback depth, so both Grier and Allen make the 53.
At running back, it really is a matter of who you like, but based on how the Panthers have played them, it seems as though Scarlett and Bonnafon will be the ones to make the team, though this is one of the genuinely more uncertain position groups. Holyfield is likely a priority option to try and sneak onto the practice squad, but his lack of carries early on in games during the preseason at least gives the appearance that he is slightly lower down the pecking order. Cameron Artis-Payne hasn't done a ton wrong, but Scarlett is a fairly similar player and is both younger and cheaper.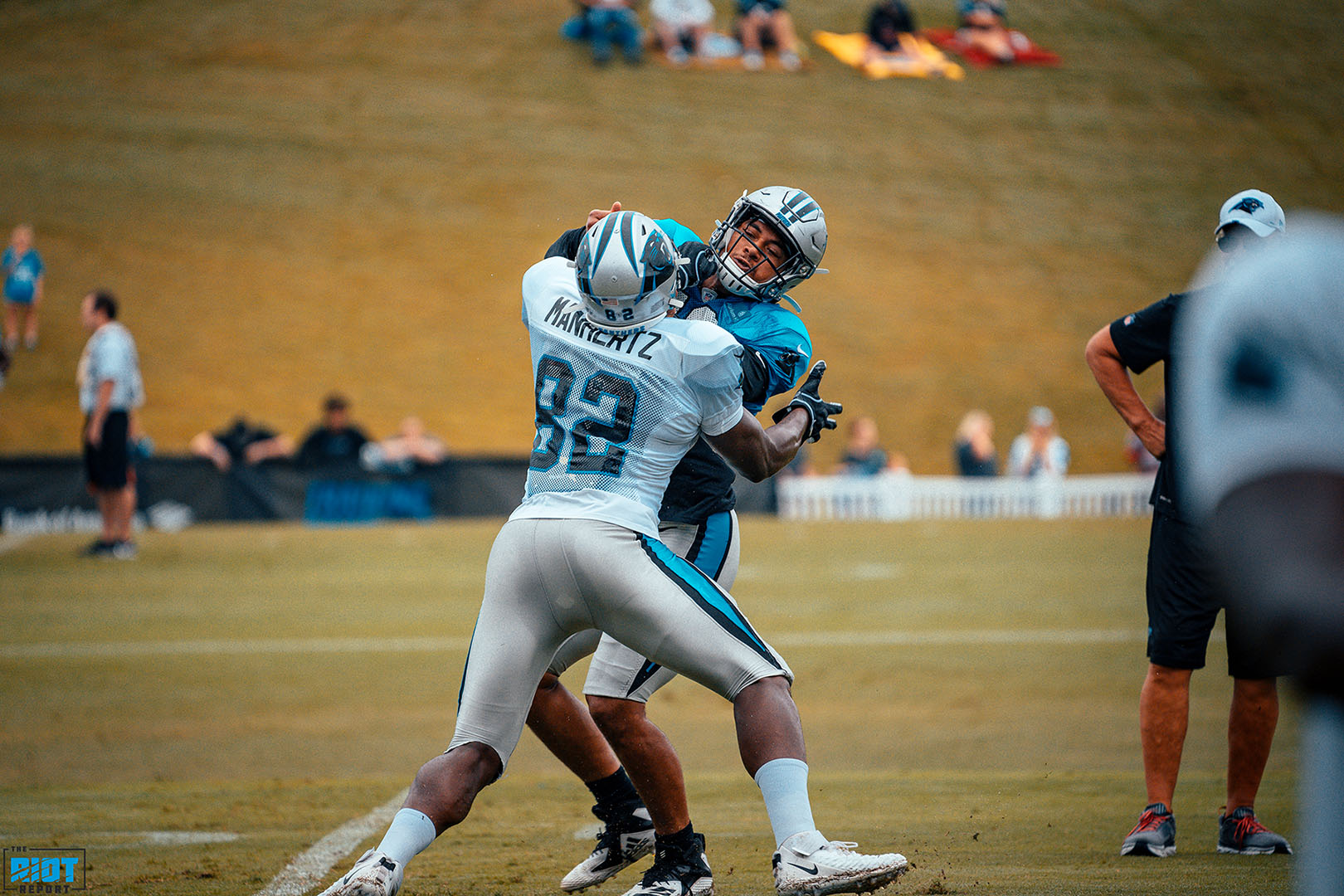 Tight end is also something of an uncertainty, though this is more a matter of how many of the 2018 grouping return rather than anybody else winning a spot. Manhertz seems to have tied down his third TE role and Armah is the only player to have got any meaningful snaps at fullback, but there is always a chance that the Panthers don't look to carry both players – but I think they probably do.
While the starting pair of wide receivers as well as one of the primary role players are likely set in stone, there is much less clarity below that. There were a number of options going into the preseason about who might fill the depth and lower rotation spots, but for the most part they have all been somewhat underwhelming. Chris Hogan seems to have emerged as the other player who rotates in with the starters, and Torrey Smith seems to be valued as a locker room presence as much as anything else, so I think they make the roster. Aldrick Robinson, Terry Godwin and Rashaad Ross have all flashes on occasion and I wouldn't rule any of them out completely, but I don't think any of them make it, though Godwin is another who has a real shot at making the practice squad if he doesn't get snapped up elsewhere. Jaydon Mickens, however, does sneak in, as while he hasn't flashed quite as much as Godwin as a returner, I think he is safer and more experienced option, and though I doubt he sees the field as a receiver, I think there is a spot for a specialist returner – it's either Godwin or Mickens, and I think the Panthers coaches value experience, although I'm anything but certain.
Players Making The Roster: Cam Newton, Will Grier, Kyle Allen, Christian McCaffrey, Jordan Scarlett, Reggie Bonnafon, Greg Olsen, Ian Thomas, Chris Manhertz, Alex Armah, Curtis Samuel, DJ Moore, Jarius Wright, Chris Hogan, Torrey Smith and Jaydon Mickens.
Offensive Line
Greg Little's concussion makes the starting five a formality, and while I don't think it's certain that the Panthers are going to stick with then throughout the season even if all are healthy, I do think there is no chance that one of Daryl Williams, Greg van Roten, Matt Paradis, Trai Turner and Taylor Moton don't make the roster.
Similarly, Greg Little isn't going to get cut, and unless his concussion is particularly bad, he should be healthy for Week 1, making any trip to IR unnecessary. Similarly, Denis Daley has been impressive enough as a rookie for make him the other sure thing to make the roster, especially given the long-term need at guard and the desire to develop him and Little as a starting left-side pair for 2020 and beyond.
Aside from them, there is much less certainty, but I don't think they'll carry another specialist tackle, as with Daley also being able to play the position – he started at left tackle against Pittsburgh – they effectively have four tackle options on the roster. That likely leaves two spots for interior offensive linemen, and for me, those are likely to go to Kitt O'Brien and Taylor Hearn.
Hearn has got the majority of the snaps at right guard in the preseason, and while I think Daley is the long-term option at LG, I think they would probably feel happier sticking Hearn in if there is an injury to Trai Turner, early in the season especially. O'Brien and Larsen are really very close, and I think there is a real chance that the decision goes the other way, but with Larsen not playing against the Bills, O'Brien got an extended runout at both center and guard and looked really quite solid. If Larsen hadn't had a shocker against the Bears, this might not even be something in consideration, but I think this is how it might end up.
Players Making The Roster: Daryl Williams, Greg Van Roten, Matt Paradis, Trai Turner, Taylor Moton, Greg Little, Dennis Daley, Kitt O'Brien and Taylor Hearn.
Up Next: The Defense