After months of speculation and what appeared to be a last-ditch effort to trade the most iconic player in franchise history, the Panthers are set to release 2011 #1 overall pick and 2015 NFL MVP Cam Newton on Tuesday, a source confirmed to The Riot Report Tuesday morning.The Panthers officially released the quarterback later that afternoon.
The team will save $19.1m towards the 2020 salary cap with a $2m dead cap hit.
The long road that may have began with a shoulder surgery in March of 2017 to repair a partially-torn rotator cuff and has had many twists and turns over the past three years, from a Lisfranc injury the quarterback admitted he hid from the team this past offseason to the reports the team had been trying to trade him during the 2019 season to the messy announcement this week that the team would allow the Panthers face of the franchise to seek a trade.
That announcement saw Newton himself fire back, saying he was blindsided by the team and felt as if conversations had with owner David Tepper and new head coach Matt Rhule led him to believe that the team would be moving forward with Newton as the quarterback for the final year of the five-year, $103.8m contract extension he signed before the 2015 season.
That season was the pinnacle of Newton's time as Panther – he would lead the Panthers to a 15-1 record and the NFC Championship with the #1 offense in the league and be voted #1 in the NFL Top 100 by players as he won the NFL's MVP with one of the greatest offensive seasons for a quarterback in NFL history – 45 total touchdowns and 4,473 total yards – the then-26 year old accounted for 76.2% of the team's yardage that season.
That year, he became the first player in NFL history with at least 30 passing touchdowns and 10 rushing touchdowns in a single season.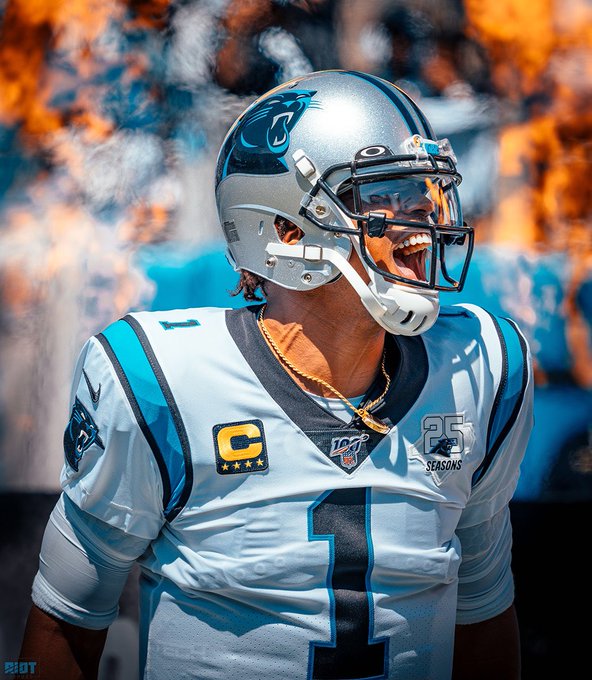 Newton holds almost every franchise record for a quarterback over his nine seasons with the Panthers, but his prowess as both a rusher and passer cemented his legacy among not just Panthers fans, but around the NFL. Newton's 58 rushing touchdowns and 359 career rushes for a first down are the most for a quarterback since the merger and he remains the only active player to lead an NFL franchise in both career touchdown passes (182) and rushing touchdowns (58).
After being drafted #1 overall in 2011, the Auburn product joined with new head coach Ron Rivera to lead the Panthers into a new era of Carolina Football and even though they were faced with little preparation time due to the NFL lockout, Newton would win NFL's Rookie of the Year, with his 35 combined touchdowns (21 passing, 14 rushing) the most by a rookie quarterback in NFL history.
That season, Newton became the first player in NFL history to pass for 4,000 yards and rush for at least 500 yards in a single season.
Newton's signature style, often imitated but never duplicated, was polarizing for both fans and media – Newton would often wear signature outfits to post-game press conferences, from bucket hats with the lids removed for his dreads to stick through to 'cambushkas' to suits without shirts. Some loved it, some hated it – but Cam was always himself, saying multiple times that his ability to find 'his drip' would pave the way for the next generation to be themselves in whatever way they deemed appropriate.
He brought his family into the forefront with his son, Chosen, often seen dancing in the locker room after wins and his more recent social media posts highlighting his time as a father – when they weren't showing him working out, whether it be at his home, the team facility or on his annual training trip with his teammates he would take during the summer.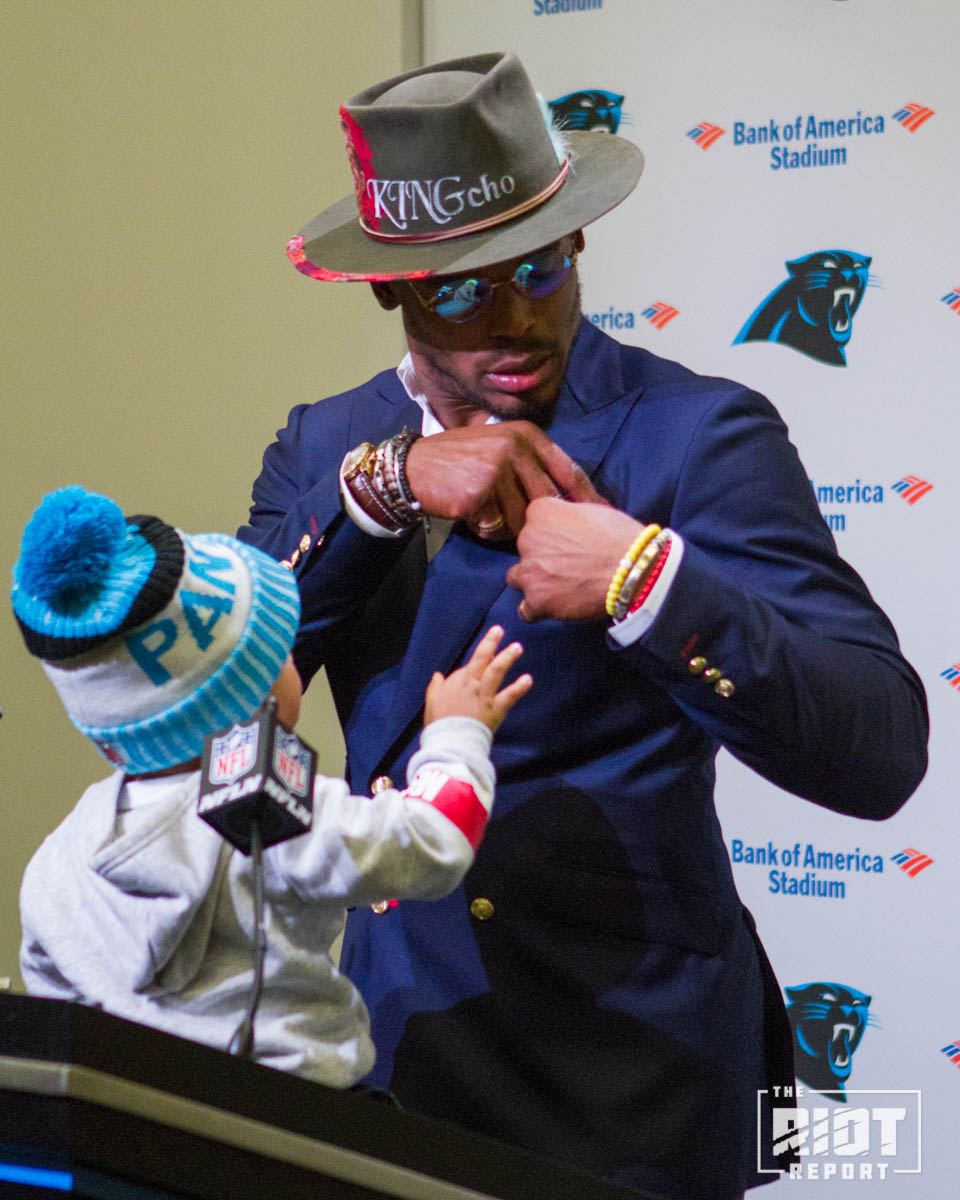 He would encourage low-income children at his charity events to "Be Uniquely You" – and that was exactly who Newton was. Uniquely himself – always.
And his on-the-field unique abilities, his signature celebrations – some of which, like the Sunday Giveaways, will live on as a weekly tradition for as long as the Panthers are a franchise – and his fiery attitude would make him a polarizing figure in the media, from Tennessee Moms writing letters about his dancing to national morning hosts screaming themselves red-in-the-face at his refusal to conform to their picture of what a 'franchise quarterback' looked like.
But Newton was a franchise quarterback in every sense of the word, starting every game but four in his first seven years in Carolina and elevating the Panthers onto a national stage every time he strapped on the helmet with the black and blue logo on it's side.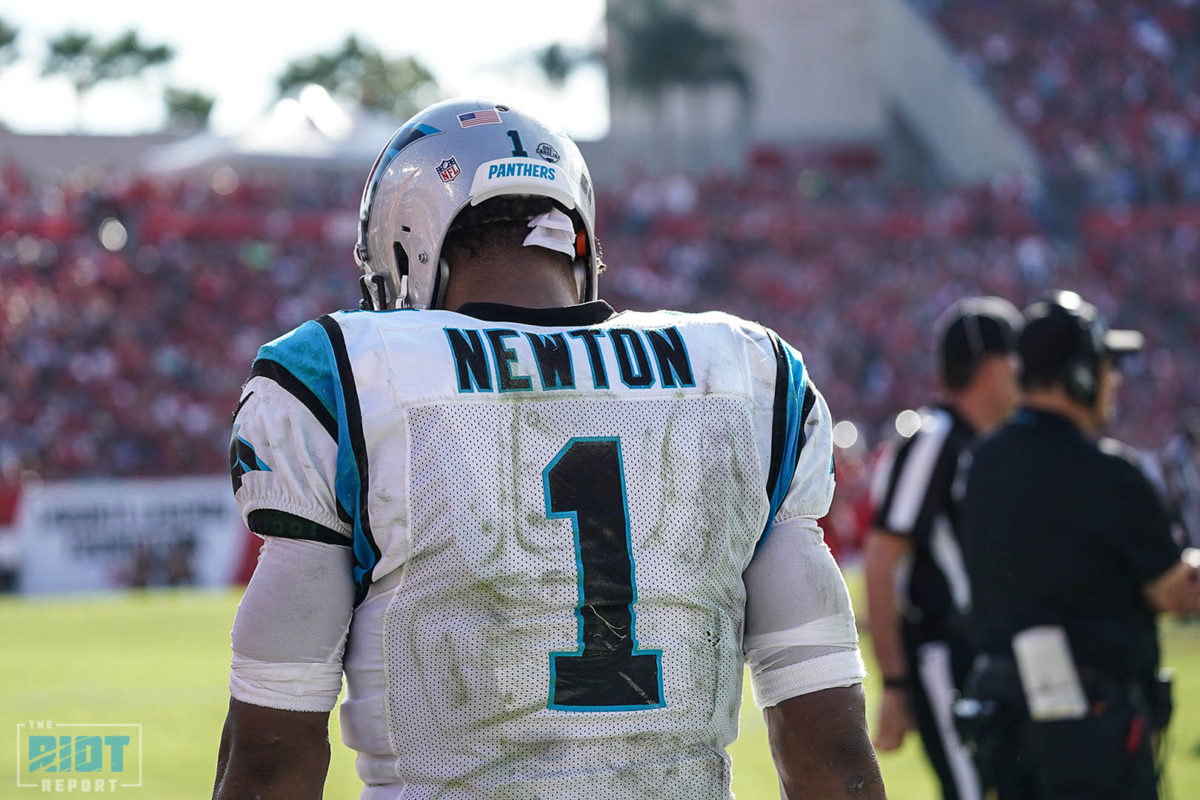 His performance on the field was matched by his charitable efforts off of it.
Since creating the Cam Newton Foundation in 2012, the organization that bears his name has provided $5.13 million in grant funding, year-round programming resources and donations to schools and non-profit agencies in Atlanta and Charlotte. Last year alone, Newton donated Thanksgiving meals to over 1,300 underprivileged children and their families at his annual "Thanksgiving Jam" and his signature "Santa Cam Surprise Sleigh" event delighted children in the area with donated gifts – 2019's donation was over $130,000.
"Don't leave us, man. Don't leave us," one man requested at the Christmas event Newton was forced to attend in a boot after having foot surgery. Newton's response? "I won't. They got to ship me off for me to leave … In order for me to leave, they got to get rid of me. It's not up to me."
Newton has also used his outreach to create the "Un1ted As 1" program, which aims to bring youths together for social change, as well as his 7-on-7 All-Star Team that affords children the opportunity to counsel and prepare elite high school players for the next step in their football development. In addition, his "Cruisin' With Cam" event held with the Roaring Riot in 2019 raised almost $20,000 for the foundation.

Newton's events have become signature events in the Charlotte area year after year and the Panthers QB has established himself as one of the pillars of the community since coming to the team in 2011 – Newton led the team to two consecutive NFC South championships in his second and third seasons before exploding in 2015.
But coming off that 2015 Super Bowl season, Newton and the Panthers would face the apparently-unavoidable Super Bowl Hangover, finishing 7-9 with Newton hurting his shoulder trying to chase down an interception return late in the season – that injury would lead to surgery for the former MVP, who would bounce back in 2017 to lead the Panthers to the playoffs despite not participating in training camp or having a full set of pass-catching weapons around him.
The 2018 season would bring more trouble as Newton's shoulder caused issues again – Ron Rivera subbed Taylor Heinicke in to throw a pre-halftime Hail Mary during a Week 8 over the Ravens, citing 'shoulder soreness' for Newton before a hard hit to the shoulder two weeks later in a Thursday night matchup at Pittsburgh by TJ Watt exasperated whatever was happening in Newton's shoulder. The shoulder slowly deteriorated over the course of the season as the Panthers would lose six straight games before Cam eventually gave way to his backups for the final two weeks of the season.
It would be the first time that Superman had missed two consecutive games in his career – even a car crash that broke bones in his back only kept Newton sidelined for a single week.
That offseason, he would have a shoulder procedure to remove scar tissue and said he felt "like a kid again" entering the 2019 season, but a foot injury suffered during the third preseason game forced him to the sidelines and when he returned to the field to start the regular season, he didn't look like himself – in the two losses to open the season, Newton would complete only 56.2% of his passes and rush five times for -2 yards in two contests.
After almost a decade in Carolina, the final act of Newton's Panthers career seemed like it spiraled quickly out of control.
The next week, he would appear on the injury report – a few weeks after that, he would be placed on injured reserve amidst reports that the Panthers were looking to trade him. With four games left in the season, the only coach he'd known in Carolina, Ron Rivera, would be fired shortly after becoming the winningest coach in franchise history, perhaps the canary in the coal mine that made up the previous regime in Carolina.
During a rocky offseason of change for the Panthers, legends Greg Olsen and Luke Kuechly both left via release and retirement, respectively. A back-and-forth in which Newton said he "absolutely" expected to return and new head coach Matt Rhule said he was "excited" to work with Newton followed in short order, but when free agency opened, the team agreed to terms with free agent Teddy Bridgewater only a few hours after announcing that they would allow Newton to seek a trade.
A week later, unable to find a trade partner for the most iconic player to ever wear a Panthers jersey, he was released. A new owner, a new coach and a new era means the old era had to end.
Newton, as he so often does, was unafraid to let his feelings be known, taking to social media Monday night to release a video of him working out to the strains of Kevin Gates; as the chorus of "Bae, I wish I could be better for you," repeated in the background, Newton spoke directly to the camera, the line blurring between whether his audience was his fans, his former team or himself.
"I'm hungry now," Newton said breathlessly. "Hungrier – I'm unemployed. You want me to cry? I'm just gonna work, baby."
And just like that, the Cam Newton Era in Carolina was over.