The Panthers' new coaching staff has made a point of wanting to get younger on both sides of the ball, having spent the last few years adding older veterans in an attempt to make a run at a title while the core were in their prime. Given that much of the Panthers' new coaching staff have come from the college game and most of that core has been scattered around the NFL, retirement and free agency, it is hardly surprising that they are willing to put more faith in players either straight out of college or very early in their careers than the former regime, especially when you consider Matt Rhule's philosophy.
"I don't like to judge people based upon their experiences in other systems with other people, I love to see what they do for us if we think they have the traits that we need," Rhule said. "That's probably the college coach in me feeling like 'Hey, when you recruit, you recruit certain traits and you try and develop them'. I think when you get players who are 23, 24, 25 they are still in that stage, their best football is hopefully ahead of them. When you get to 29, 30, 31 they are what they've put on tape."
"But I think these younger guys – we can help them play their best football."
Not only are the Panthers' new coaches seemingly more willing to trust young players, but given that they're in something of a rebuild, they are also reliant on adding players – like the five below – who are able to contribute tomorrow as well as today. Defensive coordinator Phil Snow may have said it best:
"It's our job as coaches to get them to play at the level we want them to play," Snow said last week about the young players on their roster. "When we get a player we need to develop the player."
Ian Thomas – 24 years old, nine career starts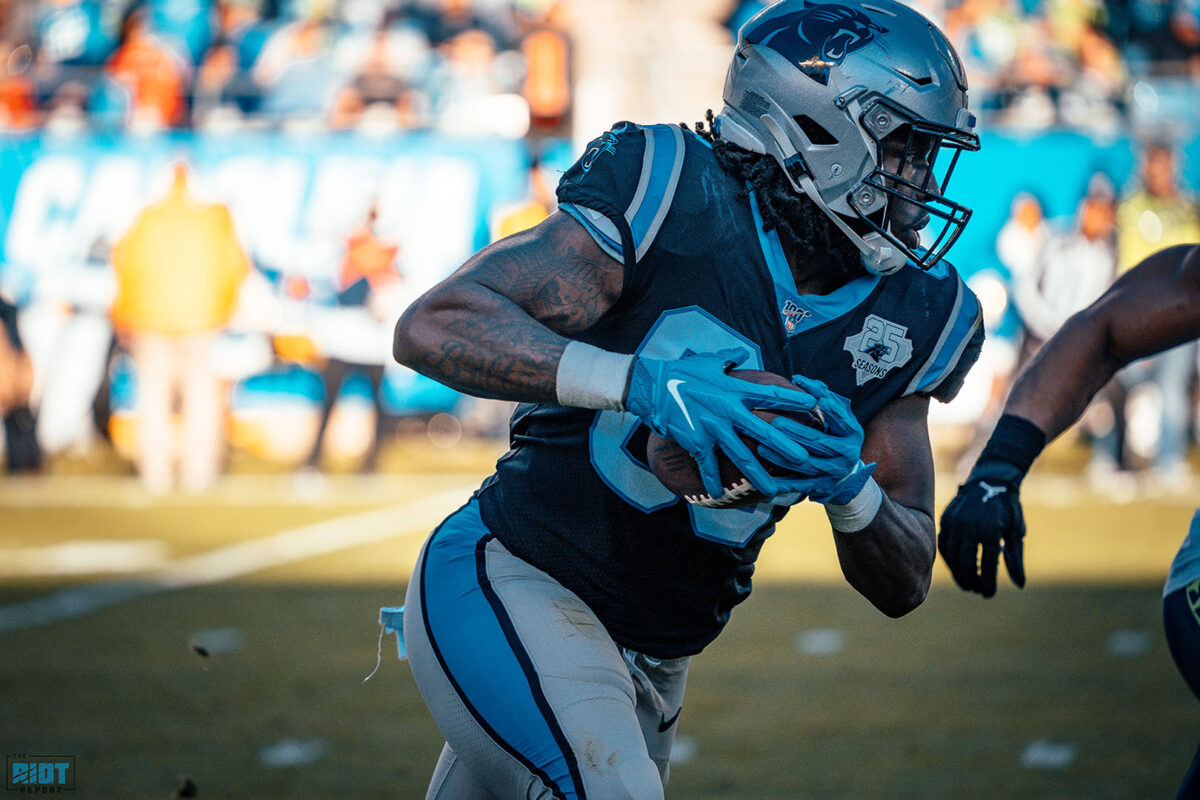 Ian Thomas is far from an unknown to Panthers fans, having seen a few starts while Greg Olsen was out injured the past two years, but his role was very much that of a depth piece with Olsen still on the roster. While this is somewhat understandable, Thomas has shown some nice things both as a blocker and a receiver in the playing time he has had. While Greg Olsen will be due a place in Canton when he decides to retire, in terms of the Panthers' long-term development, his continued presence was ultimately at odds with Thomas's development.
While more playing time doesn't always lead to more effective player development, with two years of practice and intermittent playing time, Thomas has shown enough on tape so far that it seems fair to believe that more playing time will be important for him to take the next step.
From the Panthers' perspective, losing Olsen is obviously not inconsequential, but in terms of the long-term future of the team, Olsen was going to need to be replaced sooner rather than later, and with Thomas now entering year three, they now have two years with him under contract to assess whether he is their long term tight end and ether resign him or being to look elsewhere before they are expected to be in a position to compete for a title.
Dennis Daley: 23 years old, nine career starts
Daley is the least experienced of the players on this list in terms of years spent in the NFL, and while there will unquestionably be other players still on rookie contracts who end up playing a reasonable amount this season, Daley is probably the one who has a notably better chance at playing time considering that the team is more willing to trust players early in their careers to see if they can make the jump to the next level. Daley played left tackle last year because multiple offensive linemen got hurt, and while he didn't do terribly, the Panthers almost certainly didn't ever see his long-term future on the roster at tackle – the reality is that a lot of his problems last year stemmed from the fact that he just didn't have the foot speed to excel going against the NFL's better edge rushers.
However, a move inside to guard might well alleviate a lot of those issues and could bring out the obvious potential that Daley showed his rookie season.
For the Panthers, the guard position is one of the biggest unknowns going into the season, with both starters from last season now elsewhere – and while the Panthers do have a number of other names competing for a starting job inside, Daley is probably going to enter training camp at the top of the depth chart at left guard. Daley might not have left tackle feet, but he showed really nice hand usage with enough power and foot speed to be a quality starting guard.
If he can show himself to be a quality guard as a Day 3 pick in his second season, that is a major young building block in place for the Panthers.
Stephen Weatherly; 26 years old, Seven career starts
Stephen Weatherly is not new to the NFL by any means, having playing in 47 games over the past three seasons, but this season will be his first chance at being a full-time starter, having been a rotation piece in Minnesota behind stalwarts Everson Griffen and Danielle Hunter. Like with Thomas, however, he has shown a lot of positives in his limited playing time, and with a two-year contract, he now has a chance to establish himself as a quality starter in the NFL.
There are things he needs to improve on, his pad level is somewhat inconsistent and his pass rushing toolkit could do with some new additions, but he uses his hands extremely well, especially in the run game, and he has enough quickness and bend to offer a threat both around the edge and as a 3-tech in obvious passing situations.
For the Panthers, the move back to a 4-3 and the departure of Mario Addison, Bruce Irvin, Julius Peppers and Wes Horton over the past two offseasons has created a lot of room on the edge rusher depth chart for players to cement themselves as long-term building blocks on the defense. Weatherly isn't alone in having a chance to make his mark at edge rusher, but the coaching staff have made it clear they view him as a starter right now – with a high level of play, he has a chance to keep that title for the foreseeable future.
Juston Burris; 26 years old, 11 career starts
Burris is the oldest of the five on this list and will turn 27 just before the season starts, so it might seem odd that he is likely to see a sudden career rejuvenation, but it is important to note that Burris entered the NFL as a corner, and only really got his first shot at playing safety in a meaningful way this past season, posting career highs in every meaningful statistical category. Not only is Burris likely to see a bump by moving to a position that he is more suited to, but the more time he gets in that system and the impact of being in a scheme that is suited to his skillset should make for a marked improvement in his play.
For the Panthers, Burris gives them yet another matchup piece who can play deep coverage or come down to play man-to-man against tight ends or receivers either in the slot, in-line or even out wide. How he will fit into the run game is less clear, as the details of what the Panthers scheme will look like are still somewhat up-in-the-air (though Phil Snow's Baylor defense might offer some clues), but Burris looks to be a major part of the secondary in the short term, and while he isn't quite as young as Daley or Thomas, he could still be somebody who is a starter for the Panthers for the next half-a-decade if he lives up to the potential he showed last season in Cleveland.
Eli Apple; 24 years old, 48 career starts
Apple is the obvious outlier in this group in the sense that he has been a consistent starter in his four years in the NFL, and it should be made clear that expecting him to suddenly start looking like a top-10 pick is unrealistic and unfair. However, whereas teams like the Saints, Bucs and others would be looking at him purely as a short-term solution to a need, in Carolina he looks to be seen more as a reclamation project than a stopgap.
Of course, given that he is only signed to a one-year deal, if Apple does shine in 2020 he is likely to be more expensive to keep around than his 2020 cap figure suggests, but from everything that Matt Rhule and others have said, they are viewing him as somebody who could well be part of what they are looking to do moving forward.
"I think you have to look at age, I can't remember what Eli is, I can't remember if he's 24, 25, 26 but he's still in that young range," said Rhule about Apple, who will turn 24 in August. "To me, we're going to ask him to play differently than maybe another team did. We're going to do different things, at any position, and so we're always trying to find traits that fit us. There's a big difference between being a zone corner and being a man corner – you can be a great man corner, but we're going to play a lot of zone and it doesn't fit."
"I think we see that a lot of time, we see a lot of free agent corners who are great zone corners go to man teams and struggle. So, as we look at who we want to be, we thought Eli was a fit – as we did with a lot of the other guys."
The Panthers have a pretty good track record with players who sign with them after having failed to maximize their potential elsewhere (Kurt Coleman, Michael Oher and Ted Ginn to name just a few), and while Daley and Thomas do not fall into this category, just as was the case in the 2013 and 2015 seasons when the Panthers made those signings, they stand to benefit from the fact that they can offer playing time to those who have found their paths to a starting role blocked elsewhere such as Weatherly and Burris, and to take risks on players who have not quite been able to live up to their draft stock such as Apple.
Not expecting to be good is rarely a good thing in sports, but in a league where the worst that can happen is you don't get as high a draft pick as you want, knowing you aren't looking to compete right away can allow you to take risks that other teams can't. It is unlikely that all five of these players end up being cornerstone pieces of the franchise for the next five years, but if even two can become that, it should be seen as a positive step forward.