As the Panthers move towards training camp, the roster is beginning to take shape, both in terms of the starters and the surrounding depth, and while there is still a lot that can and likely will change between now and the end of training camp, it's time to take a look at each part of the Panthers' roster, position by position. While there is always the possibility of a dark horse surprise, there is also a lot than can be said with some degree of certainty. With that in mind, over the next couple of weeks we will explore both where each position group stands and where it might go. Check out our previous iterations below:
The next-to-last position group in our series of training camp previews are the defensive tackles, a group that has been a real strength for the Panthers over the past half a decade. For the first time since 2013, however, the Panthers defensive tackle rotation will not be built around the pairing of Kawann Short and Star Lotulelei, with Lotulelei now plying his trade in Buffalo. While the loss of a starter in free agency would usually signal a step back for a position group, the Panthers if anything have managed to strengthen their defensive tackle rotation with the signing of All-Pro Dontari Poe and the drafting of Kendrick Norton from Miami in the seventh round. With these new additions as well as the key players from last season, this position group should be up there with the very best defensive tackle rotations around the NFL, but what should fans be watching for from this group during training camp?
The (Very) Big Three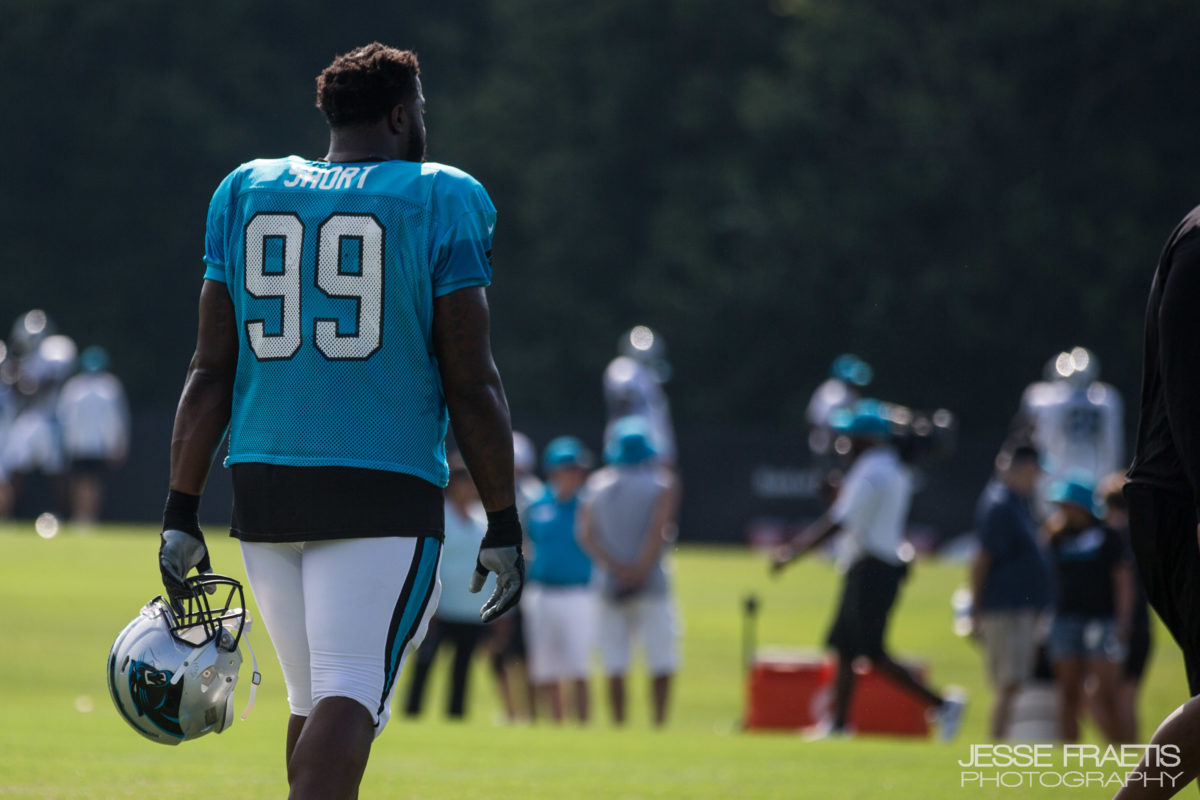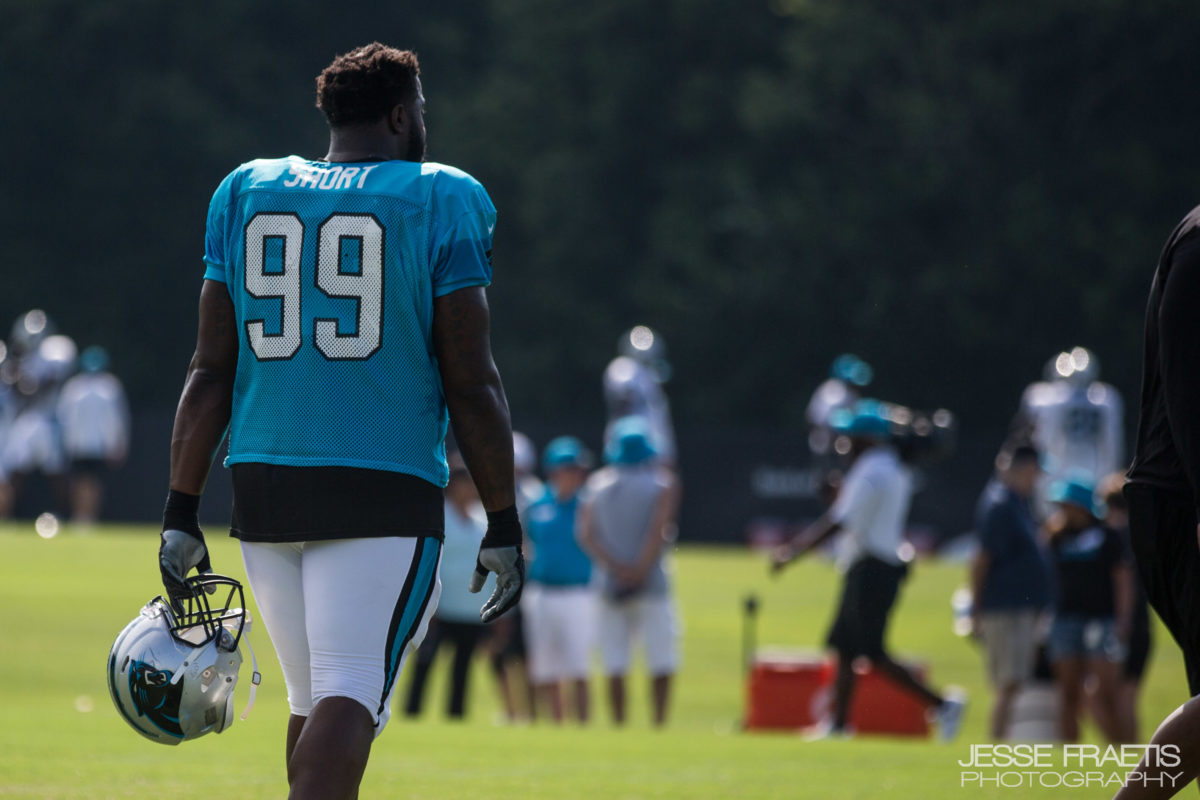 The Panthers have used a two-by-two rotation in recent years, with the defensive tackles rotating between the Short-Lotulelei and Butler-Love pairings, but with the addition of free agent Dontari Poe and the continued development of former first round pick Vernon Butler, Panthers fans might finally be treated to some alternative combinations. This doesn't mean that Panthers fans shouldn't expect a heavy dose of Short and Poe, especially on rushing downs, but that with three very versatile defensive tackles who can play both 1-tech and 3-tech they would be foolish not to change up some of their defense line groupings in order to get an edge.
There will unlikely be a huge amount of change for Short, as he has shown a consistent effectiveness as the 3-tech with Lotulelei eating up blocks next to him. While Poe and Butler can both offer a lot more as pass rushers in one-on-one situations than Lotulelei could ever hope to, Short is still unquestionably their best interior pass rusher, and so will likely still take most of his snaps lined-up outside the guard. Of course, defenses will also realize that and direct attention towards Short – in previous years, there was little the Panthers could do about this as Lotulelei offered almost nothing in terms of pass rush, but with Poe and possibly Butler seeing snaps alongside Short, this training camp could see more snaps where Short kicks inside of the guard creating a one-on-one pass rush for Poe or Butler. For Poe, it will be interesting to see if the inverse is true, with him occasionally kicking outside the guard to create a better matchup on passing downs.
Some fans have been critical of Butler's limited production in terms of sacks over his first two seasons, and while it would of course be nice for him to have produced more sacks than he has, the tape tells a far more promising tale. Because Butler has been almost exclusively used in partnership with Kyle Love, a player who had produced 8.5 sacks in his first five seasons, Butler has seen double teams sent his way on almost every passing down. While this has hindered Butler's sack total, it has helped Love's, who has produced 5 sacks over the past two seasons with Butler beside him, including a career-high 3.5 in 2017. Even more telling, Love ranks third among defensive tackles in the NFL over the past two seasons in percentage of tackles coming as sack, with only Fletcher Cox and Geno Atkins above him. Love is far from the pass rushing threat that those players are, but his ability to produce in this was is testament to how much attention Vernon Butler has attracted on passing downs – if Butler gets some snaps alongside either Poe or Short, both superior pass rushers to Love, then teams will be forced to direct attention away from him or risk leaving one of those players in 1-on-1 pass rushing situations.
Eric Washington is a defensive line coach, and the addition of players like Poe and Haynes who can also fit a 3-4 defense suggests that the Panthers might be more experimental when it comes to their pass rushing fronts, and while it is far from certain to happen, it will be interesting to see if and how the Panthers mix up their defensive tackle rotation during training camp. It is not completely impossible to imagine a situation where the Panthers put Poe, Short and Butler on the field together, a terrifying thought for teams due to face the Panthers in 2018.
The Battle for Fourth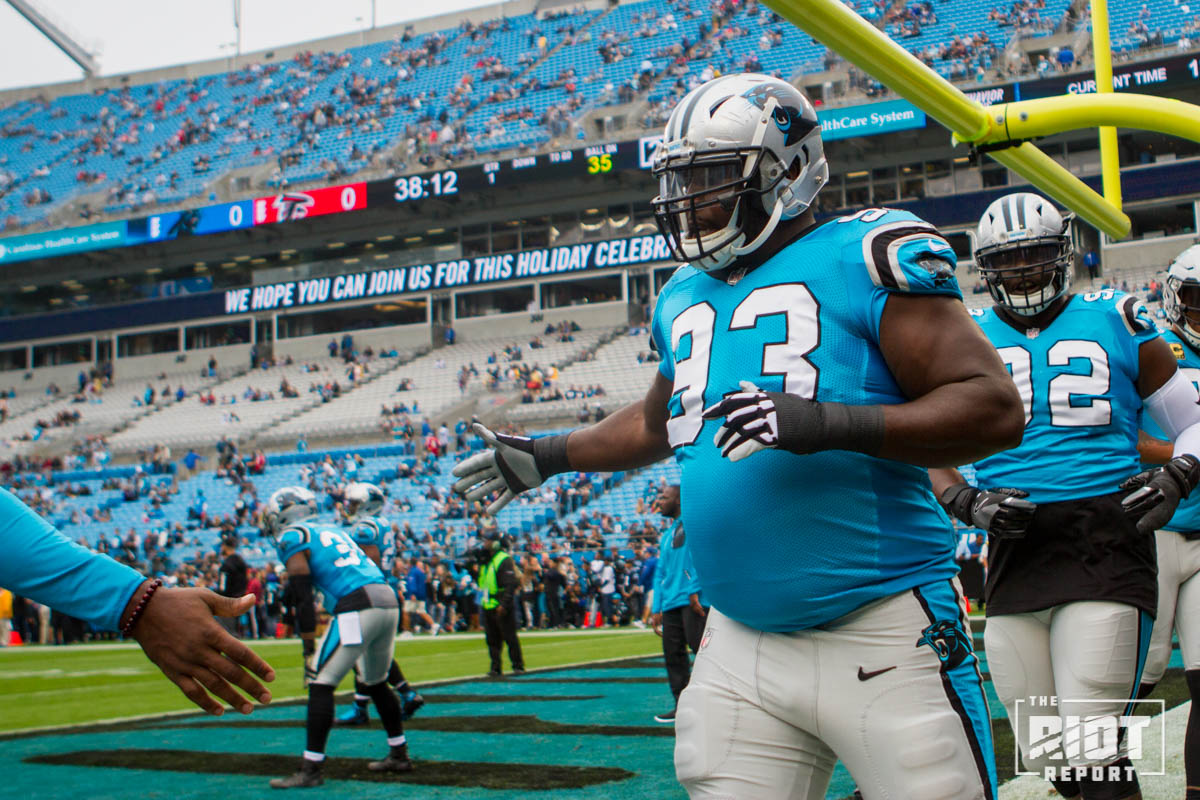 Kyle Love has entered each of the past few seasons as the clear fourth defensive tackle on the roster, even though a training camp injury last season put his spot in some doubt. This has been for good reason, as while Love isn't one of the elite defensive tackles in the NFL, his play has been at a consistently high level, making him easily in the top half of defensive tackles in the NFL. However, for the first time since his arrival in Carolina, Love's position is under threat, with the Panthers spending a seventh round pick on defensive tackle Kendrick Norton from Miami. While it is unlikely that the Panthers entered the draft looking to get better at defensive tackle, Norton falling that far was an outcome they couldn't have expected and the value there is something they would have been foolish to pass on. What this does mean, is that there is a genuine battle for the fourth defensive tackle spot, with the potential for the loser of that battle not making the roster at all.
Love is an unusual player in that he is built in a very similar way to the likes of Kawann Short, but tends to play in more of a run-stuffer role, with any pass rush he provides acting as something of a bonus. He is able to be effective in this regard, despite being undersized for a nose tackle, due to his balance, pad level and gap discipline. Because of this foundation in technique and discipline, Love is able to be highly consistent, if rarely exceptional, and this will always be appealing in a rotation piece. By contrast, what Norton offers is a healthy dollop of potential. Norton is a natural 3-technique, who some teams might well have seen as a 3-4 defensive end rather than a 4-3 defensive tackle. He gets out of his stance extremely quickly, has fast powerful hands and bends and rips well thereby allowing him to be a regular feature in the backfield. He does, of course, have flaws, and a consistent pad level would go a long way to improving his game; if he can demonstrate improvement in this area during training camp, and provide the splash plays he showed the ability to generate last season against Miami, then he will make it very hard for the coaches to keep him off the field. Either way, this battle should make for good training camp viewing.
The Other Guys
It would be highly surprising to see anybody outside of these five make the final roster, but there are always practice squad spots up for grabs, and with a couple of new faces at this position the idea of an unknown getting themselves an extended look with a strong training camp performance is far from lunacy. Tracy Sprinkle, Ashaad Mabry and Drew Iddings are all possibilities for a practice squad space, but if the Panthers do carry five defensive tackles on the active roster then it would be something of a surprise if they also used a practice squad place on the position baring an extremely impressive training camp performance. As with many guys on squads this summer, these three will need to do something special to stick around.
Way-Too-Early Roster Prediction
Starters: Kawann Short and Dontari Poe
Rotation Pieces: Vernon Butler, Kyle Love and Kendrick Norton
Roster Hopefuls: Tracy Sprinkle, Ashaad Mabry and Drew Iddings