How long has it been since things have felt normal for the Carolina Panthers?
In my mind, it was August 21, 2019. I was in Boston – I had flown up the day before the Panthers were set to battle the Patriots and Cam Newton was going to get his first live action of the summer after showing off the deep ball all training camp much to the delight of, well, everyone. I had just gone to see a live version of my favorite comedy podcast – yes, I'm that cool – and had met a friend in Cambridge at one of the "Top 21 Dive Bars in America" for drinks. I remember specifically there was a live band playing and I ended the night with a falafel (probably my late night meal of choice, if we're being honest) – that all seemed pretty run of the mill.
The next day at Gillette Stadium in Foxboro, Cam Newton would step up to avoid the rush, go down awkwardly and alter the trajectory of the Carolina Panthers forever.
You could probably make an argument that the inanity that has plagued the team has gone on even longer, but at that moment, on that day, the Panthers had compiled a roster that certainly looked as if it could compete for the NFC Championship, they had a healthy quarterback, a longstanding coach and their biggest question mark was whether Javien Elliott was going to win the nickel cornerback job.
This preview of the game reads like a historic artifact. How will Luke Kuechly look in the 3-4? Will Cameron Artis-Payne be able to keep the backup running back slot? Is Greg Olsen back to his old self and how will his chemistry be with Newton? Can Will Grier win the backup QB job from Kyle Allen?
How quaint.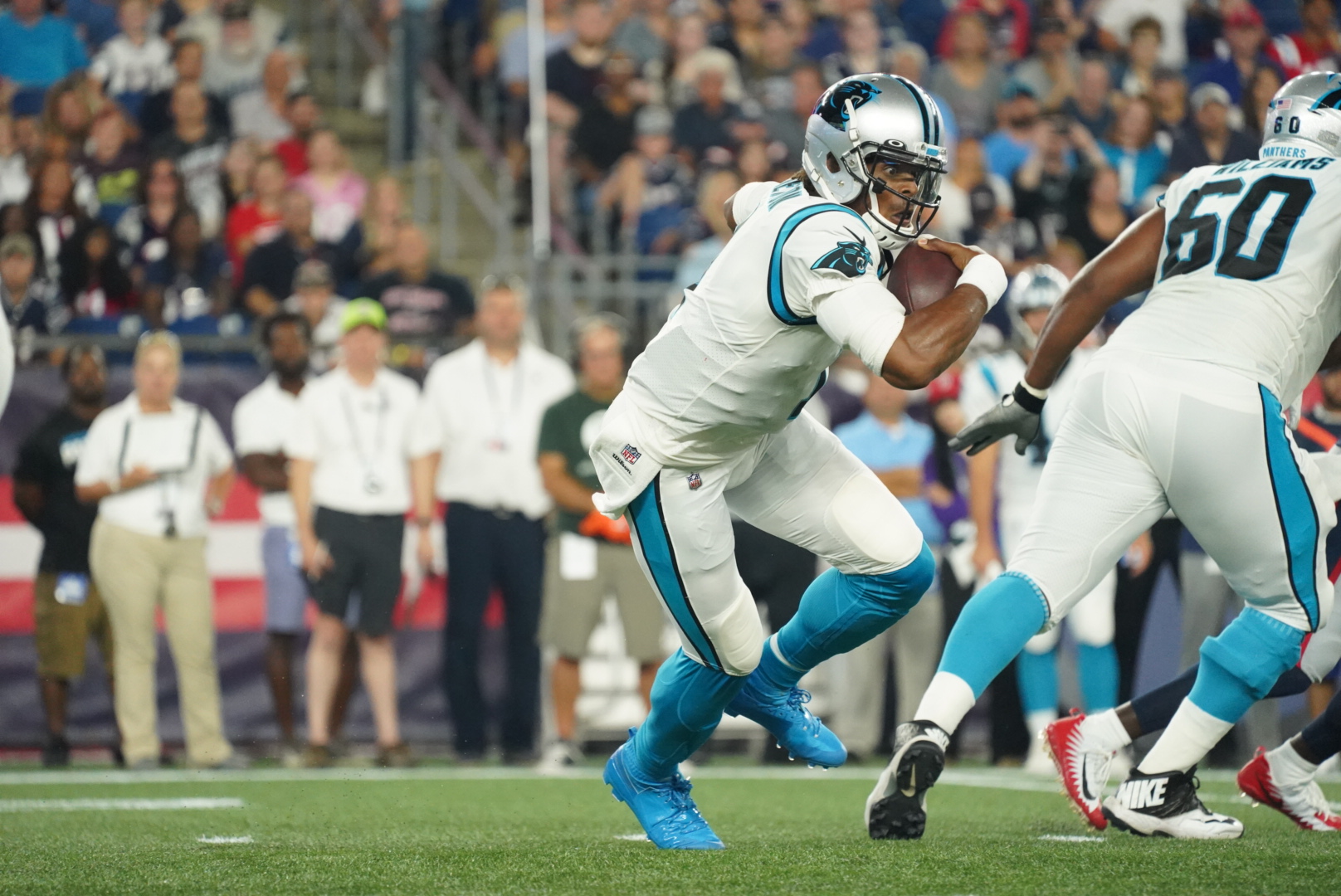 In the almost 300 days since Newton left Massachusetts in a walking boot, the Panthers are a completely different team. They have, in no particular order: lost multiple games on their final offensive play by being stuffed inside the one-yard line, had the most iconic player on both sides of the ball leave the team, either in a drama-filled release in which the former franchise quarterback felt betrayed by his former team or via a shocking retirement, had their new-look 3-4 defense – which was instituted in part at the behest of the team owner – perform as one of the worst defenses in the history of the NFL, let eight of the 11 starters on said defense leave in free agency and replace them with the only draft in NFL history to go 7-for-7 on defense.
They fired the winningest coach in franchise history with four games left in the season, replaced him – and the rest of the staff – with a very splashy college coaching hire who brought in the youngest offensive coordinator in the NFL, they made arguably the biggest free agent wide receiver signing since Keyshawn Johnson, switched quarterbacks, their running back had only the third 1000-1000 season in history, they've removed the statue of the disgraced former owner from in front of the stadium and for a brief period of time last season, Kyle Allen was the second coming of Joe Montana.
That's just a brief overview – and is completely ignoring the fact that COVID-19 has made it so that Matt Rhule hasn't even met a quarter of the players on the roster, which went from one of the oldest in the NFL to one of the youngest in the span of a couple of years – and they won't get back on the field until training camp (which will be held in Charlotte instead of Spartanburg) while protests have rocked the country over the past two weeks after the death of George Floyd at the hands of a Minneapolis police officer with the Panthers ahead of the curve in terms of how teams around the country are addressing social change.
So, yeah, it's been weird.
Oh, how I wish I could go back to that night in Cambridge where my biggest question was whether or not to grab an Uber at 2 AM to the new Encore casino – now there are a whole lot more questions. It's less 'the new normal' and more 'what even is normal?'
Let's answer some of yours about the Panthers.
What are the Panthers options at guard, would think Dennis Daley will be the LG but otherwise is it a worrying position for the team? -Ben, via DM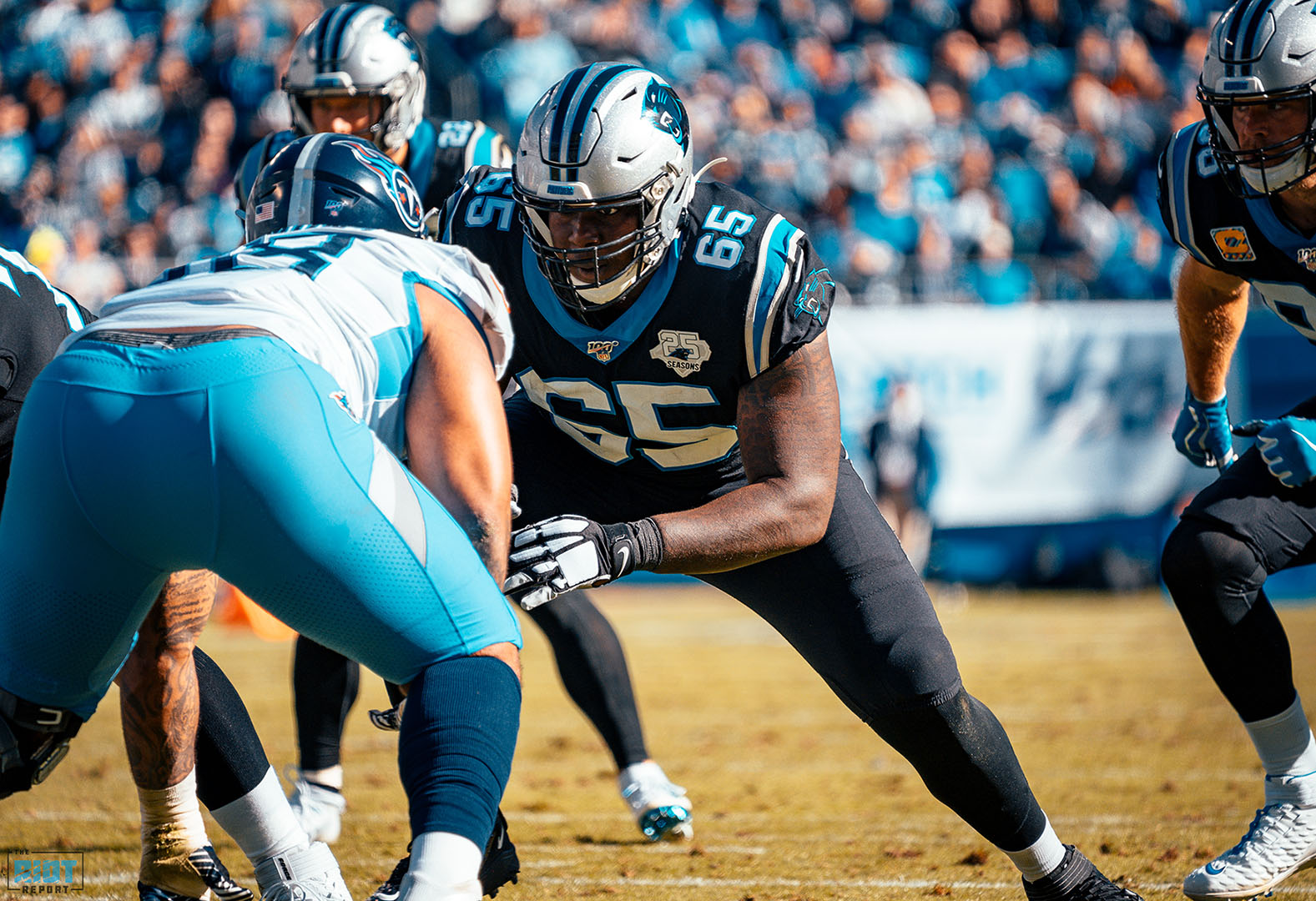 While I was listing all of those changes above, I completely forgot about the fairly-shocking trade of stalwart Pro Bowl guard Trai Turner for Russell Okung, who is not only 31 years old and missed most of the 2019 season with a pulmonary embolism but also plays the same position as Greg Little, whom the Panthers traded up for during last season's draft – that's how crazy the last 10 months have been. While Dennis Daley played most of last season at left tackle due to Daryl Williams' performance and multiple injuries up front, it was thought that his natural progression would have been as the left guard of the future – I even wrote a feature about he and Little occupying the left side of the line for the foreseeable future during training camp last year.
It does seem like a natural fit for Daley would be at the now-open left guard spot after Greg Van Roten left for New York, with Okung playing left tackle and mentoring Greg Little as the all-important blindside protector – Okung is on the final year of his deal and while there was some chatter about Little sliding inside, he's never played guard in his life and a truncated offseason and preseason doesn't seem like the time to be making position changes. This season gives the coaching staff to see what they have in Little and offer their new quarterback a veteran presence at the most important spot on the offensive line.
At right guard, the team signed John Miller within a few days of free agency opening – he's started 28 games over the past two seasons in Cincinnati, so let's assume he's got the first right of refusal. Miller also has the advantage – as has Okung and Michael Schofield – of having worked with offensive line coach Pat Meyer in the past. I'd imagine that both Schofield and Chris Reed – who Marty Hurney claimed on waivers last December and the team subsequently picked up his $1.42m option for 2020 – will battle Daley and Miller in whatever training camp looks like in August.
Without the ability to see these guys on the field, I'd imagine even the coaching staff isn't 100% sure right now.
What would it take for Tepper to start retiring numbers that are iconic to our team like Smith, Peppers, Mills? They're future y'all of famers. – Will, via Twitter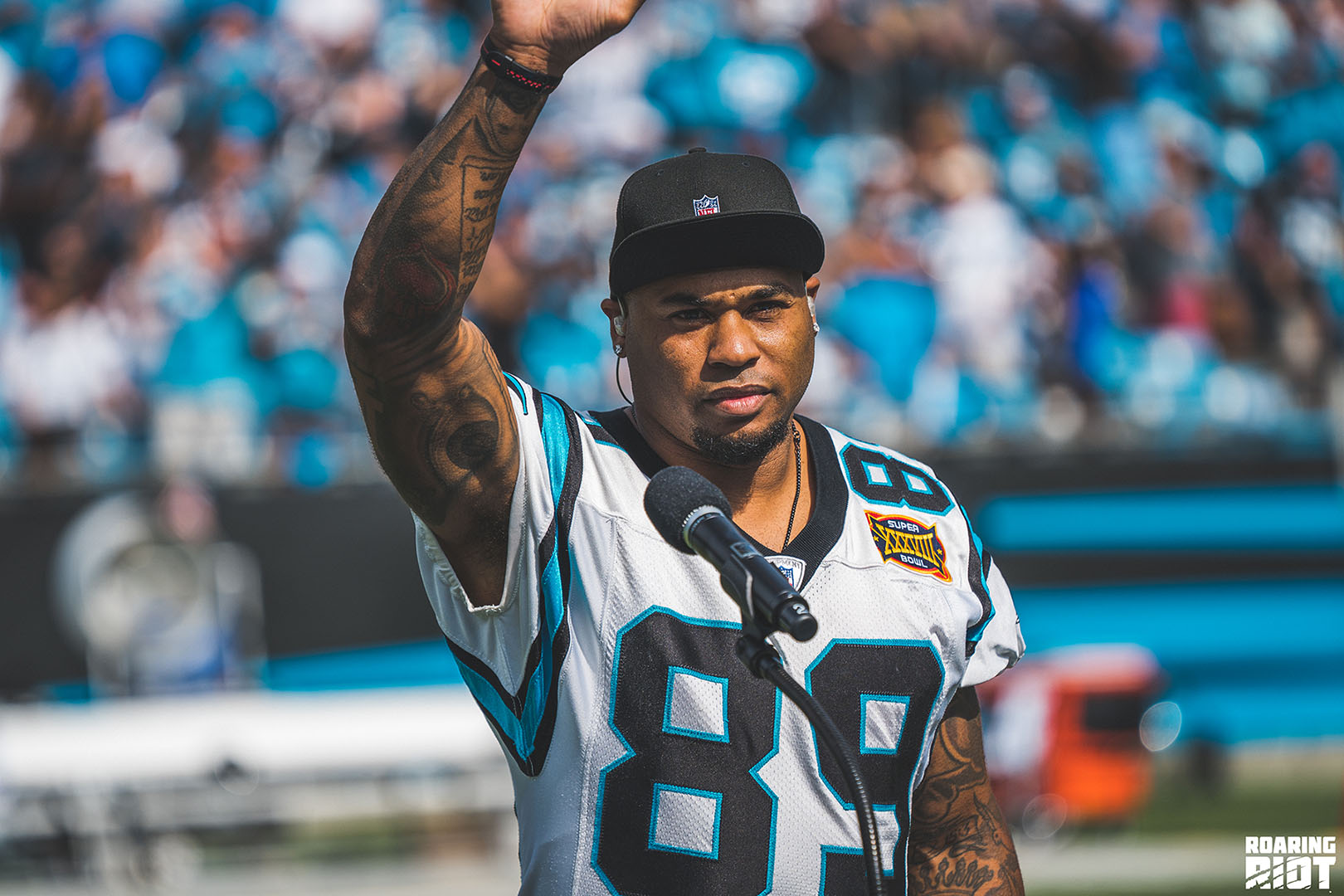 I'm not sure whether 'y'all of famers' was the best autocorrect of all time or on purpose, but you can consider it stolen. While the Panthers haven't officially retired certain numbers – the only number that's officially off limits is 51, which was retired in 2005 – there's a reason 89, 90, and 59 aren't assigned on the current 90-man roster and it would be shocking to see them be worn by someone else in Charlotte.
1 is also conspicuous by it's absence.
While David Tepper added four names to the Hall of Honor last season (in case you're curious, 17 (Omar Bayless), 69 (Tyler Larsen) and 85 (Giovanni Ricci) will all be worn during training camp this year, although none of those three are guaranteed a roster spot), I'd imagine he'll wait a couple more years before adding another class – and you can assume that players like Julius Peppers will be a part of it. I'd also guess Jonathan Stewart and John Kasay will be in the next class, but those jersey numbers have already been worn. With Tepper's loose rules for the Hall of Honor indicating that you have to be out of the league for two seasons, let's guess the next class won't be until at least 2022 – and will include Luke Kuechly.
While they may not be officially "retired", there are certain jerseys you won't see assigned by equipment manager Don Toner – 90. 58. 59. While 88 is iconic right now, I'd imagine that at some point, someone else will sport Greg Olsen's number. There's a difference between being inducted into the Hall of Honor and having your number retired – Olsen will probably be among the former.
The bigger question is whether #1 will get re-assigned….or if anyone would have the fortitude to request it in Carolina.
I know they hired Pat Stewart from the Eagles, do you think he's set to take over for Marty like ASAP? What's the plan for Marty? – Scott, via email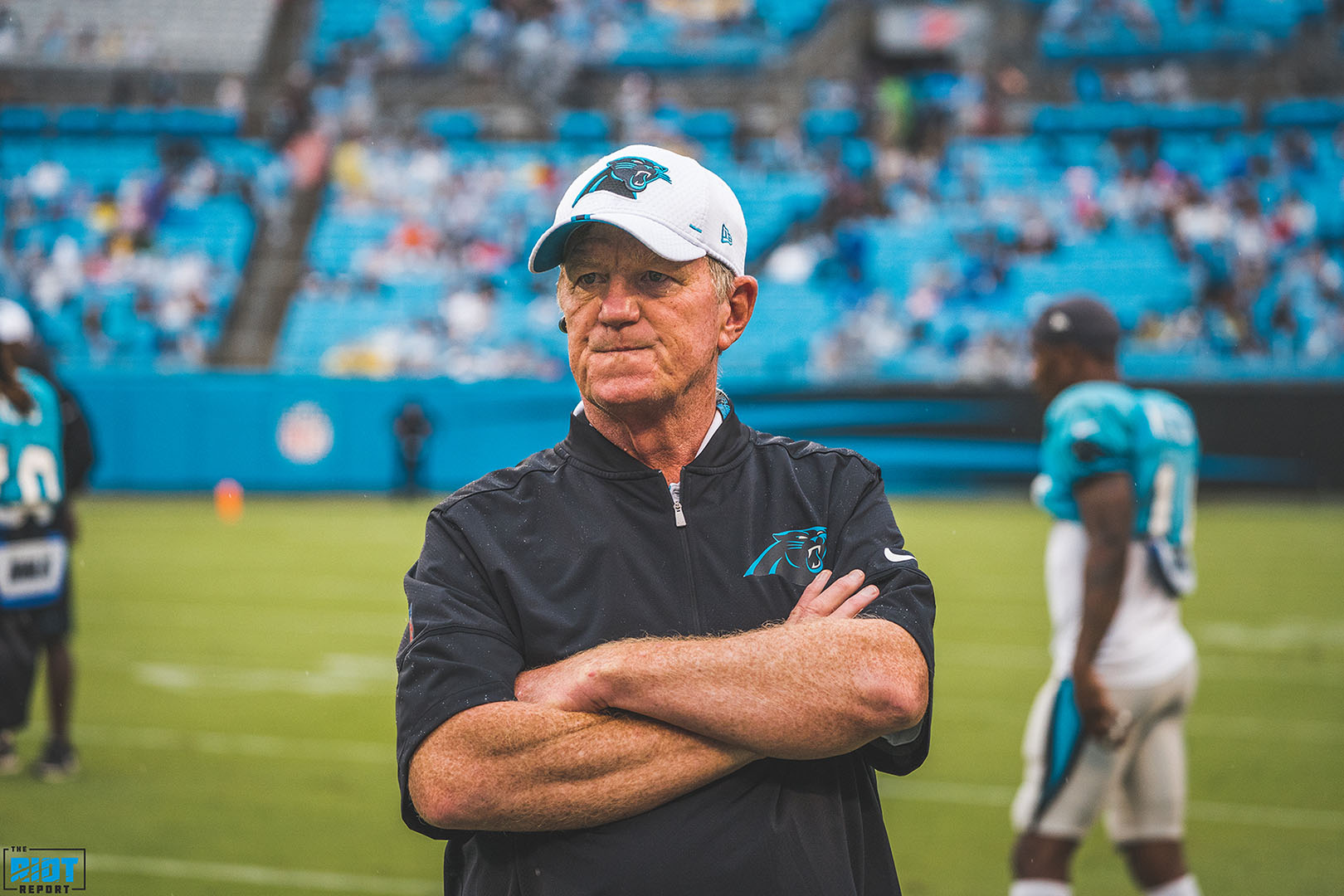 Here's the thing – when both his boss (David Tepper) and his closest co-worker (Matt Rhule) are fans of both him and his work, Marty Hurney probably isn't going anywhere anytime soon, unless he either chooses to retire or this iteration of the roster reveals multiple bad decisions. When Tepper fired Rivera last year, he spoke about hiring an assistant general manager – that position was replaced by Director of Player Personnel Pat Stewart, who will work closely with Hurney and may eventually be groomed to replace him.
Don't forget that Stewart and Rhule worked together at Western Carolina almost two decades ago – add in the fact that he came highly regarded from Philadelphia and New England and he certainly has the credentials you look for in a general manager. The Panthers also highly value Eric Stokes, who was named Director of College Scouting last May – between Stokes and Stewart, Hurney has smart voices to listen to…but it doesn't appear he's going anywhere anytime soon.
I think Curtis Samuel is the best WR on the team. Can you list the top 5 receivers on the team in order? For me, Samuel, Moore, Anderson, Roberts, Cooper. I feel like I'm forgetting someone. – Charlson, via Twitter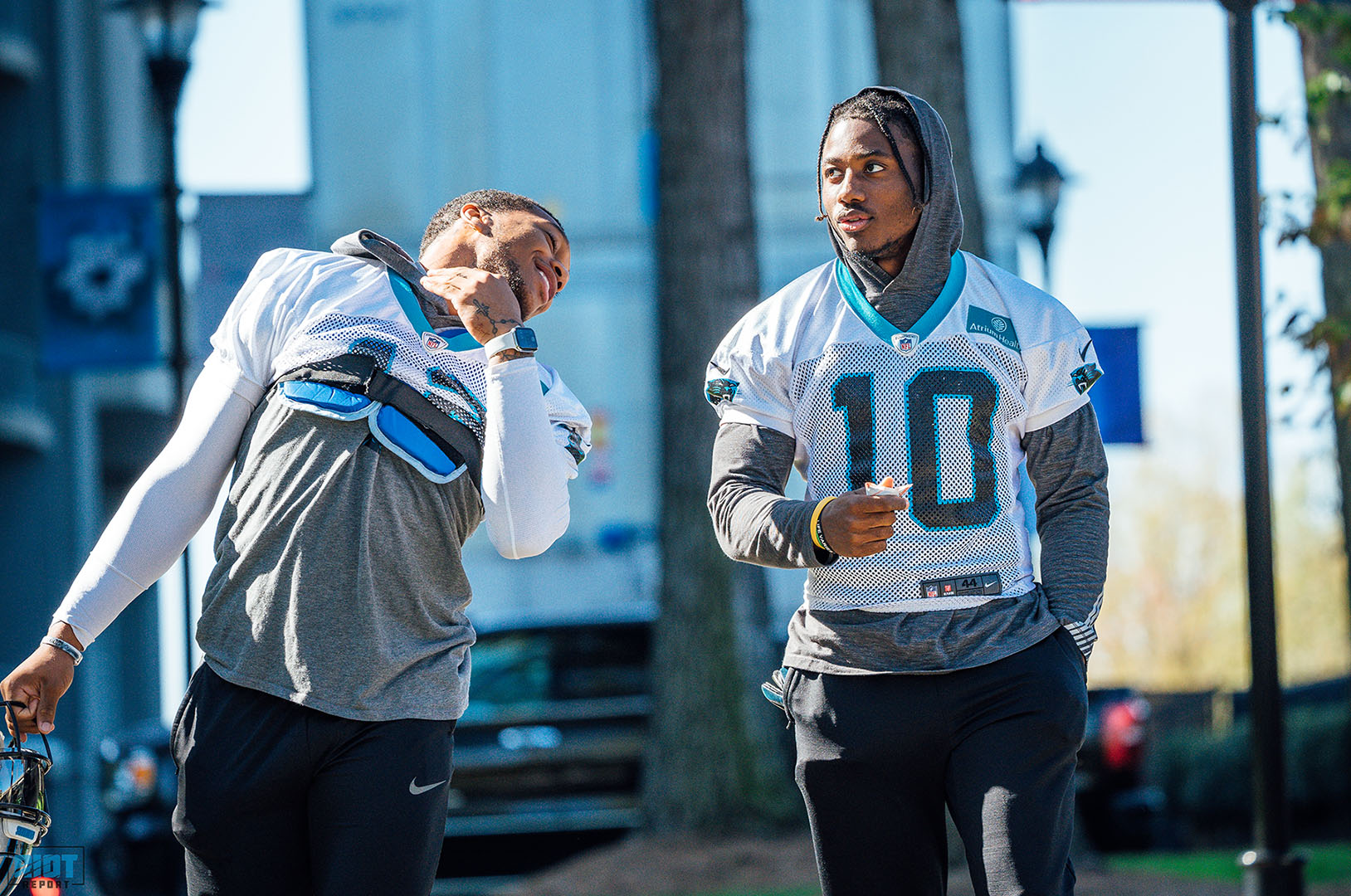 Bold choice choosing Curtis Samuel over the guy who had 1,100 yards over 14 games last season – while I think that Samuel certainly has a chance to blossom in Joe Brady's inventive offensive scheme, look for a lot of room for both he and Moore as Anderson takes the top off of the defense and forces safeties to respect the deep routes. Both Moore and Samuel have shown that once you get the ball in their hands, they can be extraordinary – expect Anderson to help with that.
Not to mention that Teddy Bridgewater is one of the best short- to medium-length passers in the NFL and there's a reason why they think that Bridgewater and Brady are a perfect match.
As far as your list, I'd swap Moore over Samuel, if only for productions sake – but like last season, I think there isn't necessarily a #1 WR but a 1a and 1b – and Samuel wasn't really given an opportunity to succeed last season as Kyle Allen was one of the worst deep passers in the league and Samuel was open deep A LOT. The guy you're forgetting is Keith Kirkwood – I'd put him over Cooper, who probably will take the first reps of training camp at returner – Kirkwood played with both Bridgewater and Brady in New Orleans and Rhule at Temple and there's a lot to be said for familiarity in an offseason like this.
What are you hearing about fans at stadiums and specifically BOA? – Frank, via Twitter DM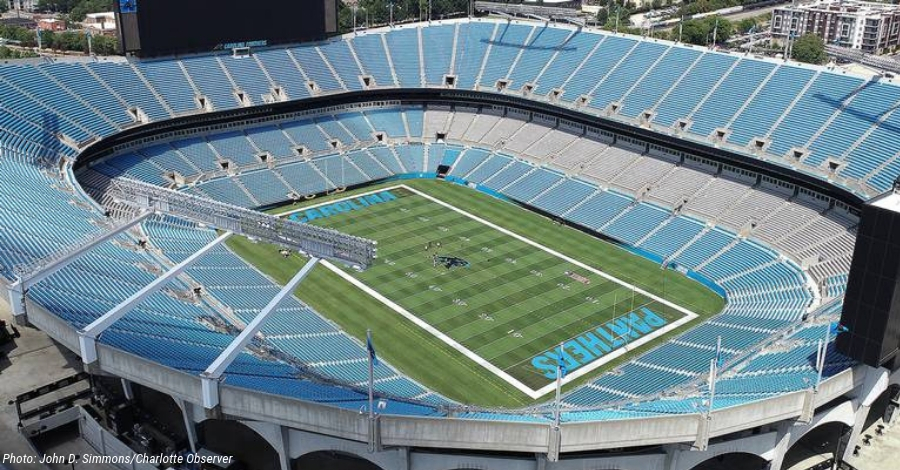 The billion dollar question.
The short answer – and I apologize because this isn't going to help anyone – is no one really knows. The long answer? I'm hearing lots of stuff. The most recent rumor I heard – from a team that is not Carolina – was that the preseason would have no fans and that the regular season would have limited capacities, with some of the numbers coming down to the way that individual states are handling the pandemic. But that was last week and things may have changed, especially with the COVID-19 numbers beginning to either creep up or, depending on which state you live in and which statistic you value, surge.
The removal of the JR statue outside of Bank of America Stadium would certainly ease entrance bottlenecks should the NFL and North Carolina enact strict social distancing guidelines for gatherings, but at this point, we're still only allowed to have 25 people gathering together at the same time. That's a long way from 72,000 – and even a long way from 10- or 15,000. Should they have limited tickets, it appears the plan would be for PSL owners to be entered into a lottery, with ticket locations not necessarily matching original seat locations – I'd imagine that would take up the majority of seats allowed.
But the reality is that they don't have to announce plans right now – and they won't. They'll wait and see what happens with the coronavirus, what the NFL says, what mistakes the NBA or NASCAR makes and – crucially – what the NFLPA decides. Remember, the NBA thought Disney World was going to be hunky-dory until the players spoke up last week.
So that's a long-winded way of saying….cross your fingers, wear a mask at the grocery store and don't go to South End on the weekend – we would really like for the NFL to return.