The Panthers are now in a new era – a new Head Coach and new coordinators and what is going to eventually be a new roster is just around the corner. Over the coming months, there are going to be an awful lot of conversations, both at Mint & Morehead and around the Carolinas, about what the Panthers should do in free agency and the draft, but in order to understand what the Panthers should do, it is first necessary to understand where the Panthers stand from a roster perspective.
You can't buy the groceries without knowing what's in the cupboard.
This is especially important if the Panthers are going to rebuild – while this opens up the Panthers to using the draft and free agency to build talent rather than simply to cover a leak that springs up, it is important to know what you have available at each position in order to inform how you look to amass talent. With that in mind, over the coming weeks, we'll be going through each position on the roster and examining who the Panthers have, who they might have, and where that leaves them entering the offseason. Check out the first iteration here:
The Panthers' running back room over the past couple of years has essentially boiled down to Christian McCaffrey and some other guys – and while those other guys have been impressive at times, they simply haven't been given the touches for them to be viewed as anything other than special teams players who could step in if McCaffrey was completely unable to go or needs to go off for a play.
However, with a new coaching staff in place and a move away from the win-now mentality that the Panthers have been stuck in for half a decade – at least in the short term – there is a chance that the Panthers use their running backs more like a group rather than a lead singer and some back-up dancers. So, with that in mind, what do the Panthers have at the running back position really?
Christian McCaffrey, Nearly-MVP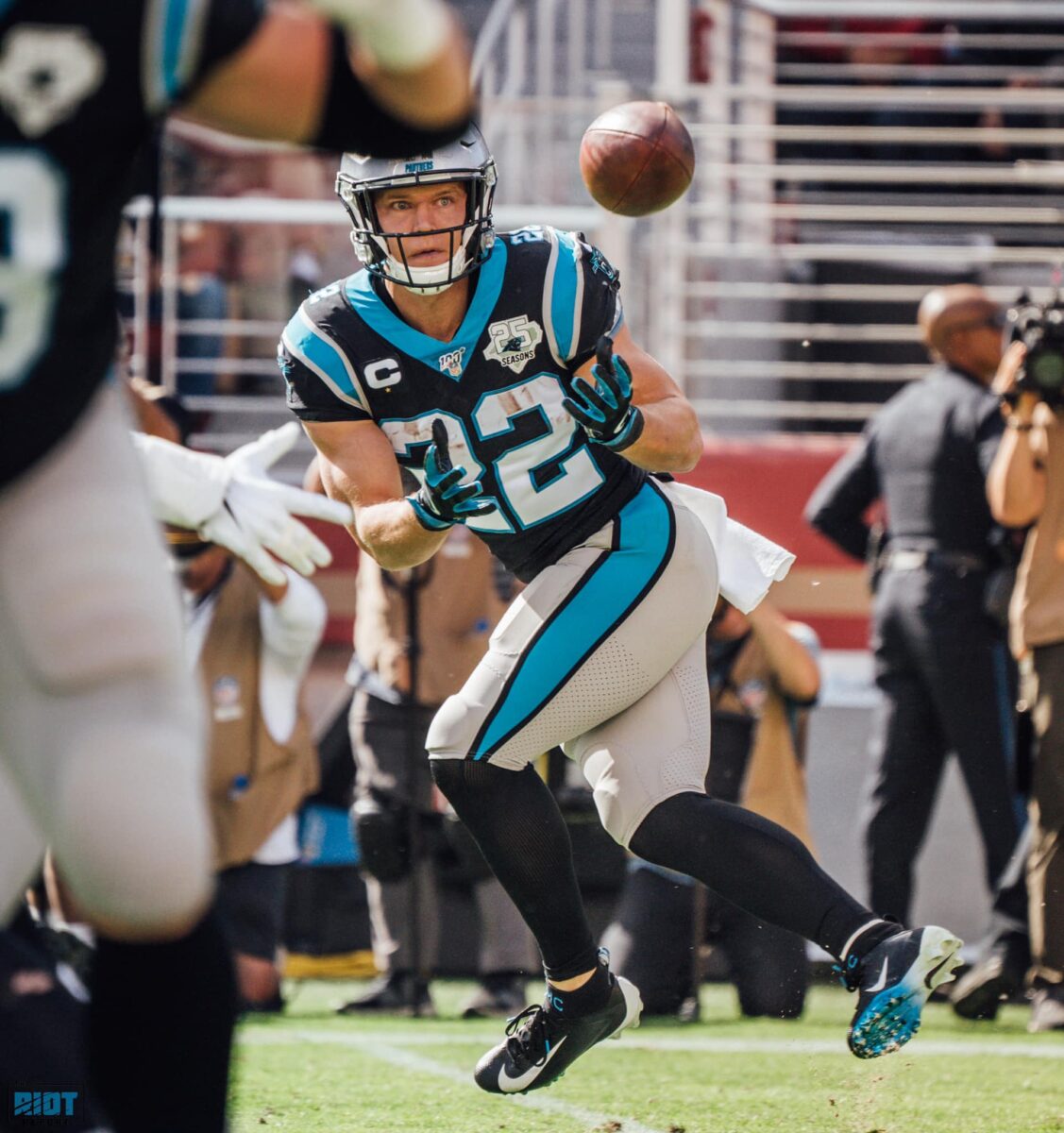 Christian McCaffrey had one of the most impressive seasons by a skill position player this decade, finishing a shade under 2,400 yards of total offense with 19 touchdowns. For comparison, Terry Bradshaw went 12-2 in 1975 throwing for 2,055 yards with 18 TDs. In short, McCaffrey is really, really good at playing running back – and he should be one of the core building blocks the Panthers look to build around going forward. However, he has also amassed an enormous number of touches so far in his still-young career and if the Panthers are going to maximize his value over his career as opposed to just over his contract, they may look to increasing his efficiency while reducing his total touches.
To do this, the focus may move away from his ability as a volume rusher and more towards his ability as a route-runner underneath against man coverage. This doesn't mean that he won't be getting a good chunk of the Panthers' carries, but that they could well look to save some of his touches for situations where his value-added is limited – such as in short-yardage rushing situations. Ultimately, as good as McCaffrey is, there is a big difference on the strain on his body from coming away with 200 touches this upcoming season and 350 touches – given the comments that Joe Brady and Matt Rhule have both made about focusing what they do offensively around the talent they have rather than what they want to have, it seems reasonable to imagine that they will look to increase the focus on McCaffrey as a matchup nightmare out of the backfield, rather than on him as a bellcow running back.
The Other Guys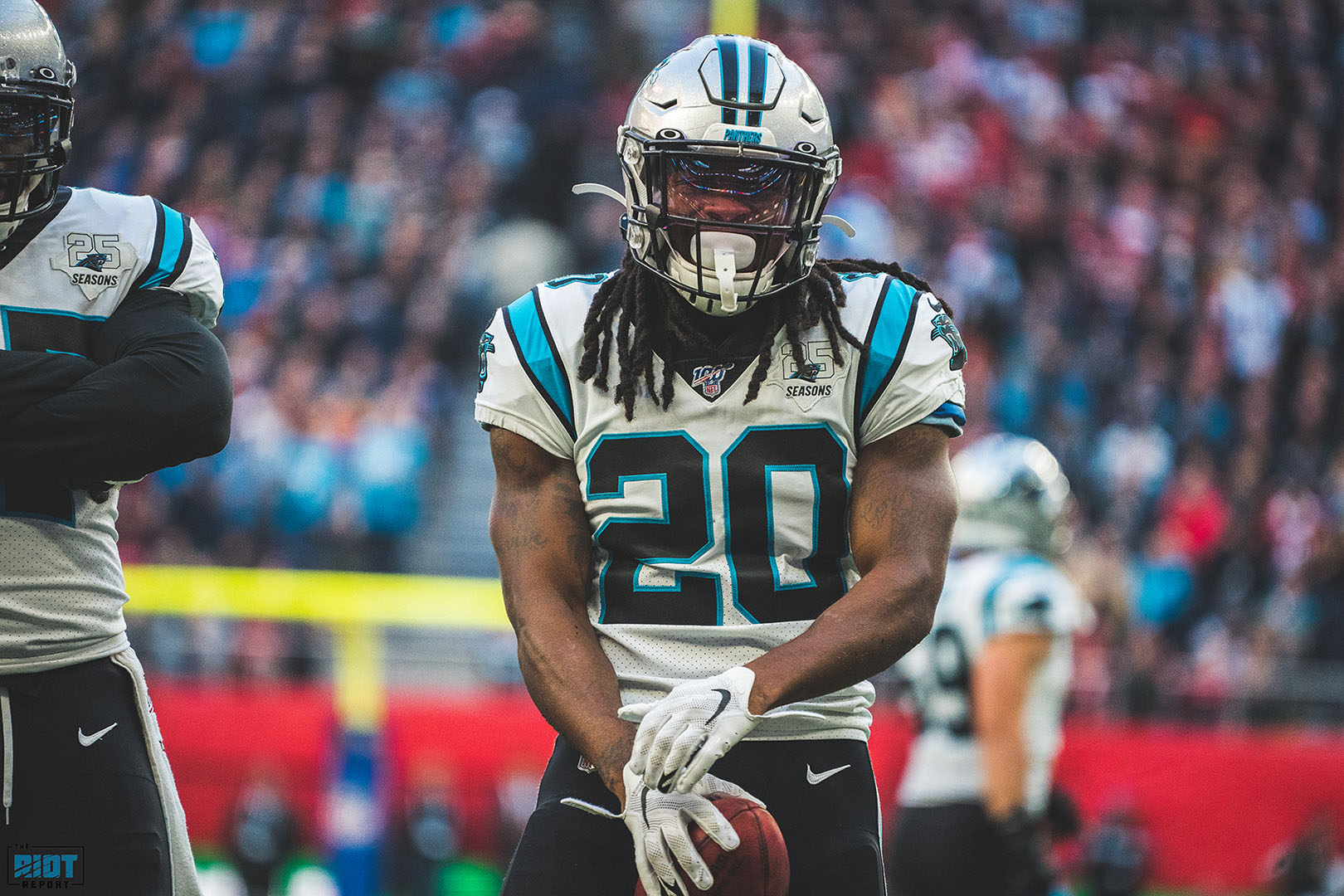 Of course, if McCaffrey is going to take something of a step back in terms of his snap count and overall touches, that will require the Panthers to find other players who can pick up some of the slack – while it's unlikely that any of the other players on the roster suddenly look like 1,000 yard rushers, there are reasons to be somewhat optimistic based on limited playing time. The biggest hope in this regard is Reggie Bonnafon, who looked like a much improved player during the preseason, showing a more downhill running style combined with the ability to contribute in the passing game. While he did have one frustrating drop in the regular season, he managed to add 179 yards from scrimmage with a touchdown from just 22 touches, and should expect to see an expanded role in the offense in 2020.
Jordan Scarlett didn't really get a chance to see the field as a rookie other than on special teams before going down with an injury and while the Panthers will likely have him as part of the running back conversation in training camp, as a fifth-round pick from a year ago, he is far from assured a spot on the final roster, though it would be hard to imagine them moving on from him before training camp. The only other running back on the roster is Mike Davis, whom they claimed from waivers midseason. Davis saw all of two carries after joining the Panthers but had over 500 yards for Seattle the season previous while averaging over 4.5 yards per carry; so the Panthers could well have some interest in giving him a more extended look. However, Davis is due $3m in 2020, all of which seems to be non-guaranteed, and so given how affordable free agent running backs tend to be, it would be hard to justify paying him that kind of money when the Panthers might be able to bring in the likes of Jordan Howard for not dissimilar money, or allocate it to another position altogether.
It is hard to see the Panthers dedicating much in the way of assets to the running back position given the other needs they have and the talent already on the roster. However, given how undervalued the running back position is at this point it wouldn't be a shock to see them bring in a low value free agent or late-round draft pick, especially once they decide to move on from Davis, with both options likely building up to a battle with Scarlett for the third running back role in camp.