Offensive Line Fails To Fall Into Place
First, let's lay out the best case scenario: Greg Little looks like an NFL left tackle from day one, Moton and Turner return to start on the right side, Matt Paradis looks like the pre-injury Matt Paradis and the Panthers have a legitimate battle for the starting left guard spot – with the loser of said battle, Dennis Daley, and Tyler Larsen giving the Panthers at least three decent depth options. All that sounds lovely, but while Turner and Moton are known entities when healthy, there is a lot more uncertainty regarding Little and Paradis.
Now, I am a huge fan of the Greg Little selection – even though I think he needs to be more consistently disciplined in his technique, he was extremely good in college despite playing in one of the most difficult schemes for an offensive linemen in college football. However, almost every player undergoes some rough patches during their transition to the NFL – and given that the Panthers have pencilled Little in as their starting left tackle, if he does struggle early on, the repercussions could be severe.
The reason for this is that, should the Panthers not feel comfortable starting Little at left tackle, the likely result would be Taylor Moton moving from right tackle to left.
This, in turn, creates two problems: first, that Moton, while a good right tackle, has not shown the ability to play left tackle at a high level and his one game at that position in the NFL did not exactly go well. In short, there is a reason why the Panthers are hoping that Little can start at left tackle rather than having Moton as the presumed left tackle; additionally, by starting Moton at left tackle, the Panthers would then face the conundrum of who to start at right tackle.
One option would be to start Little there, but this seems unlikely considering he just lost the hypothetical left tackle job. While Daryl Williams is a decent right tackle, or at least he was before his injury, this would still be a step back from what they have in Moton and would also force them into starting Van Roten at left guard. That is not to say that Van Roten is terrible, or that he might not win the starting spot anyway, but that if Williams moves to tackle, that leaves them with few other options.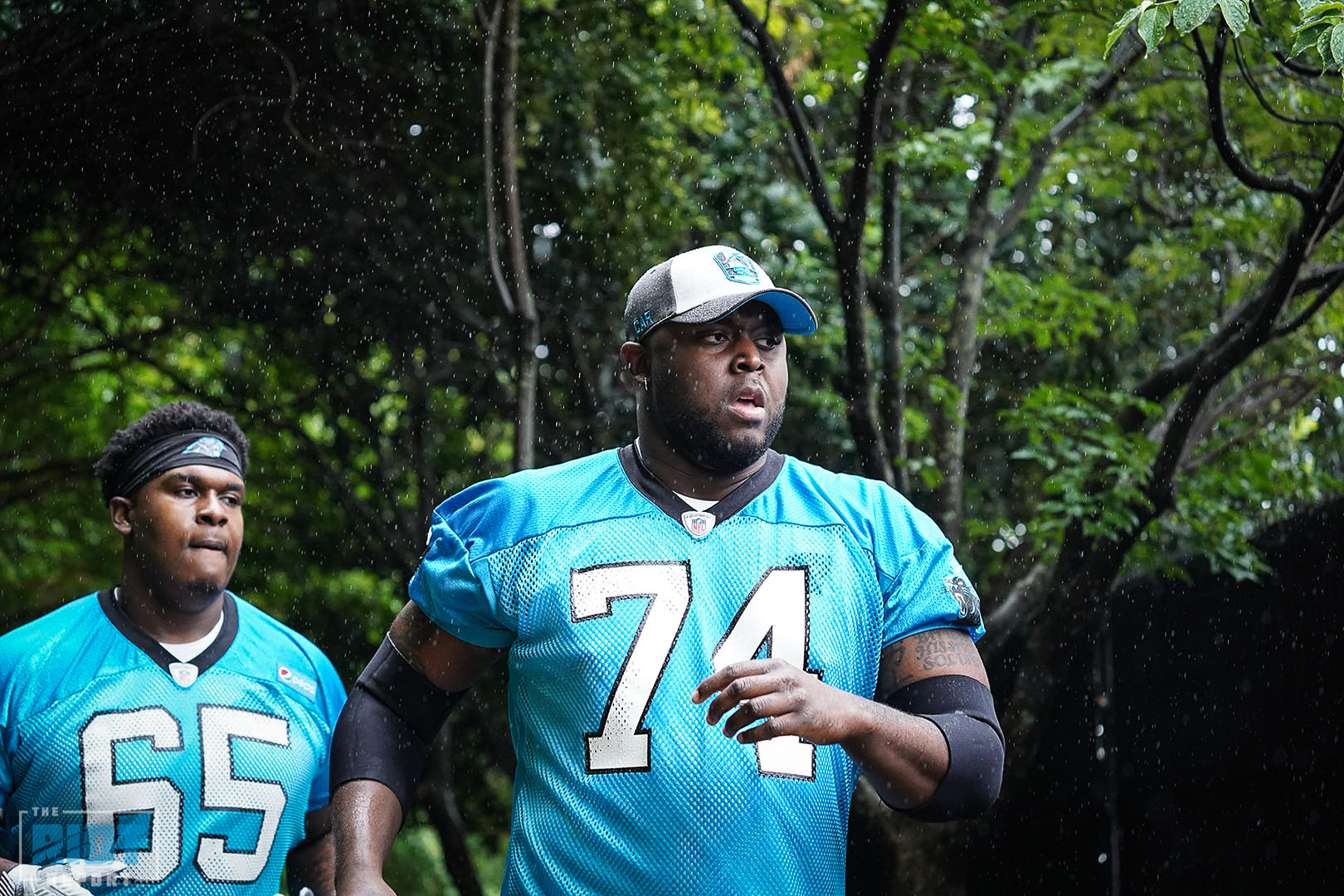 Similarly, the worst case scenario at center would be that Paradis just isn't quite the same player post-injury.
This is probably less of a cause for concern than the situation with Little, as the injury he sustained isn't one which typically leads to a catastrophic fall in performance level, and even if he does take half a step back, that probably still gives them an above average starting center by NFL standards. However, given that he is coming off an injury, nothing can be taken for granted – and should he not be anywhere near the level he was at pre-injury or suffer a setback/reinjury, the Panthers other options at center are few and far between, with Tyler Larsen being a nice depth piece but not of the caliber any team looks for in a starter.
Not to mention they have three years and $29m tied up in Paradis.
For the offensive line, the worst case scenario is Greg Little not being able to establish himself as the left tackle early in camp – as while he is likely to have some growing pains as all rookies do, the far greater issue would be a game of offensive line musical chairs, with players having to be moved between roles in order to accommodate for another player starting at left tackle.
Feeling masochistic? We've got the defensive worst case scenarios right here.