As the Panthers move towards training camp, the roster is beginning to take shape, both in terms of the starters and the surrounding depth, and while there is still a lot that can and likely will change between now and the end of training camp, it's time to take a look at each part of the Panthers' roster, position by position. While there is always the possibility of a dark horse surprise, there is also a lot than can be said with some degree of certainty. With that in mind, over the next couple of weeks we will explore both where each position group stands and where it might go. Check out our previous iterations below:
Following on in our series of positional training camp previews are the defensive ends, a position which has seen a reasonable amount of change over the past season or two, albeit with limited investment in terms of high draft picks or significant free agency dollars. With Charles Johnson finally deciding to retire after having played through persistent injury for all of last season, the Panthers will have a new starter opposite Mario Addison this season, and with Daeshon Hall having missed almost all of his rookie season due to injury, the Panthers will in effect have two rookies to add to the group with him and 2018 forth round pick Marquis Haynes. But what will that mean in terms of training camp viewing for the fans in Spartanburg as well as those following along remotely?
Veteran Presence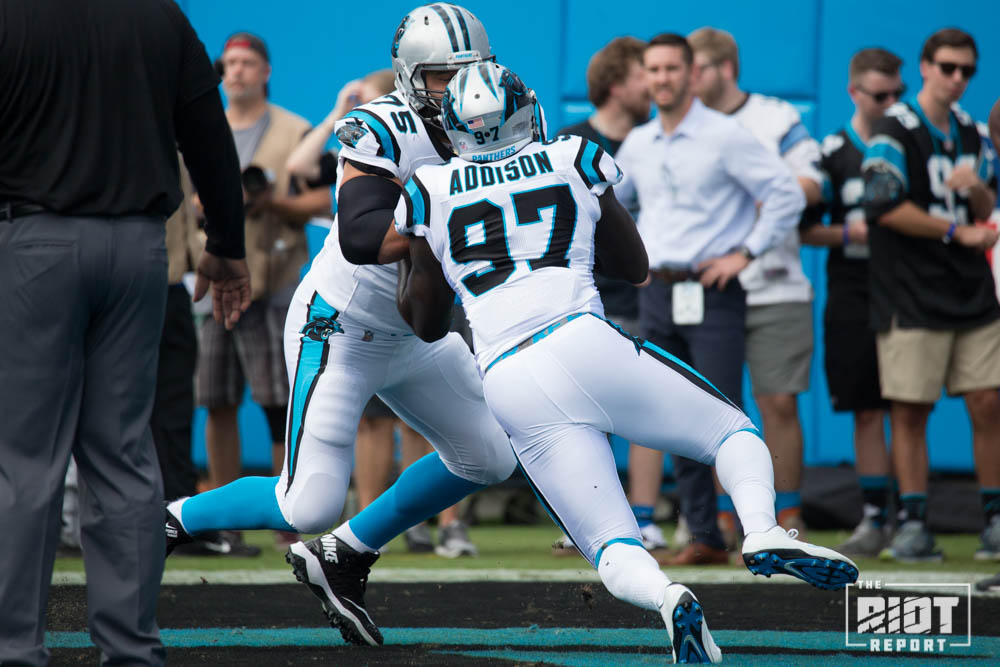 Mario Addison started last season with a new contract and a new role following a trade that sent Kony Ealy to New England, and his play more than satisfied the expectation placed on him as he racked up eleven sacks and over forty tackles in what was by far his most complete season as a pro. As he enters his early thirties, it would be surprising to see his game change significantly, though as with most veterans he will likely have clued in on a couple of areas he wants to improve on, and so for him training camp should hopefully be without too many surprises. While Addison probably won't be an All-Pro next season, he has shown himself to be an above-average starter and should provide a consistent threat off the edge for the Panthers this season.
Charles Johnson was listed as the starter opposite Addison last season, though under the Panthers' rotation at defensive end he didn't see a dominant amount of snaps and given his dramatic decrease in production over the past few years his loss will likely be felt more in the locker room than on the field. While the Panthers will almost certainly continue to rotate at both defensive end spots, Wes Horton is expected to take on the official starting role opposite Addison – Horton enters his contract year looking to secure a starter spot, and the associated contract, having shown the ability to developed beyond the role of a run-defending specialist that he had occupied for much of his time in the NFL. With 5.5 sacks and 3 forced fumbles last season, Horton showed the ability to be a quality contributor as part of the rotation and will want to show, as Addison did last season, that he is able to step up his production with increased playing time. Horton has shown consistent and encouraging technical development in recent season and could be on the cusp of a big season, with training camp marking the first step in that process.
The final veteran expected to play a significant part in the rotation is the seemingly ageless Julius Peppers, who notched eleven sacks last season as he rolled back the years, likely aided by a focus on maximizing his impact over a smaller number of snaps. With a new one-year contract this year in what sensibly is likely to be his final run at a ring, Peppers will again be used selectively as an impact player against both the run and the pass. Peppers has managed to do what few players have achieved in turning early career athletic dominance into late-career effectiveness through veteran savvy and nuanced technique. Another double-digit sacks season isn't a fair expectation for one of the oldest players in the NFL, but if he can continue to make an impact when he sees the field then he will more than merit his contract and roster spot.
The Joker
When the Panthers drafted Marquis Haynes in the fourth round of this year's draft it seemed something of an odd decision, with Haynes' stature making him an unusual option for a team which has almost exclusively used four-man fronts in the Ron Rivera era. However, what should hopefully also be the case is that the Panthers drafted Haynes with a a clear idea of how they wished to utilize him; what remains to be seen during training camp is what exactly that usage is going to look like.
The comparison that has been drawn by many already is between Haynes and how Mario Addison was used during his early seasons in Carolina, namely as a speed rushing specialist who was used almost exclusively on passing downs to create pressure off the edge. However, Rivera has already talked about using Haynes in what he described as the joker role, suggesting that Haynes will also be expected to drop into coverage from time to time. With Eric Washington now as the defensive coordinator, it will not be surprising to see some variations from the 4-3 that the Panthers have stuck to under Rivera, and Haynes will be one of the pieces that make the transition to a more flexible front possible.
In terms of things to watch from Haynes on the field, there should be little doubt about his ability to be effective as a rusher around the edge. Instead, the focus will be on whether, at just 235 lbs, he is able to do anything at all against the run, and on how he adjusts to being asked to drop into coverage, something that he wasn't asked to do in college. Haynes could be the ace in Washington's sleeve as he looks to build one of the more complex defensive scheme's in the NFL in 2018, or he could be a player who takes a season or two to grow into his new role, at this point it's hard to tell, but either way his journey will begin in earnest with training camp.
On The Edge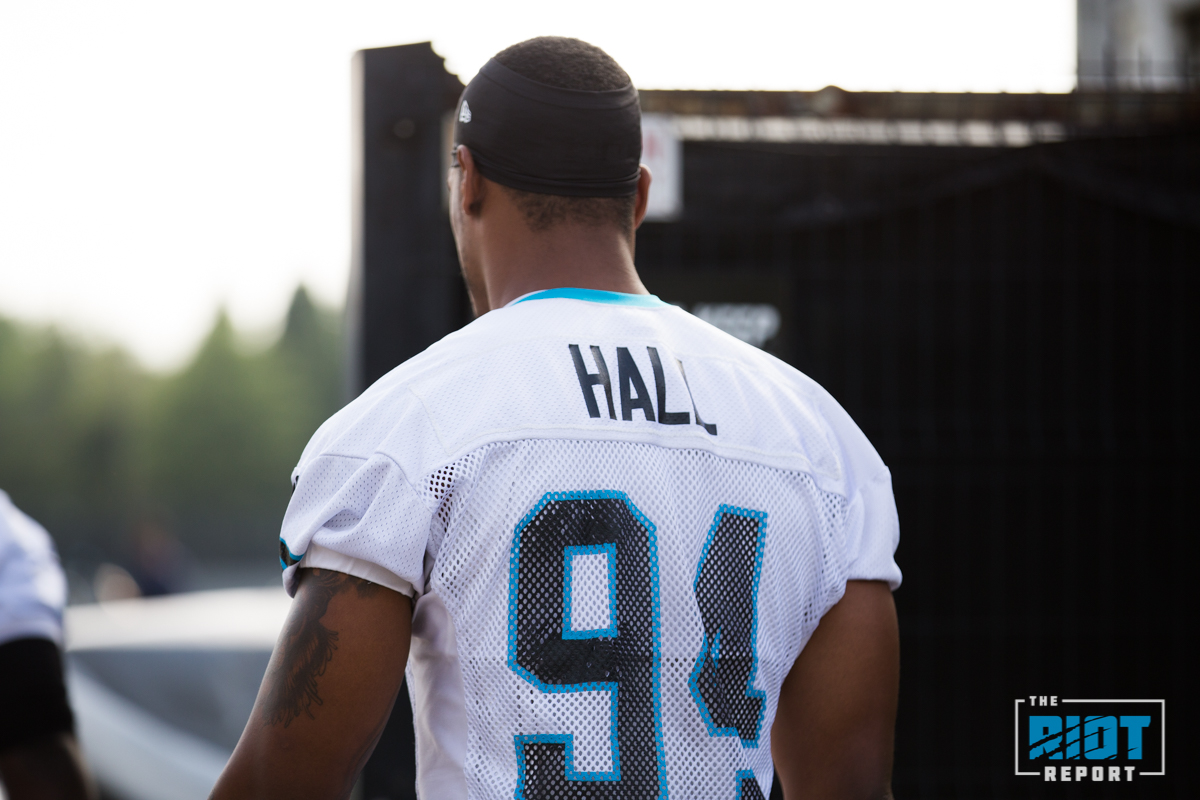 The Panthers have historically carried around five defensive ends on the active roster, and with three veterans almost certain to make the roster and the rookie Haynes that only leaves one, maybe two spots available. The favorite in this race is likely to be last year's third round pick Daeshon Hall, and it would be a real surprise to see the Panthers move on from him so soon. Although it was hard to gather a complete picture of him from his limited snaps in training camp last season, he should expect to see slightly more snaps this training camp and will need to show that he is worth sticking with due to the depth of competition at defensive end.
The biggest competition for the final defensive end spot will come from Bryan Cox, Jr. who spent most of last season on the active roster once Hall went down, and while he didn't do much to make himself stand out, the team clearly rated him high enough to stick with him throughout the season. The other player with a real shot at making the active roster this season is Efe Obada. The English-raised Obada spent last season on the practice squad as part of the NFL's program to increase involvement overseas, and while Obada was a step behind technically last training camp, he has had a year to get up to speed and has impressed onlookers with his play during offseason workouts. A strong training camp and preseason would make him a very hard cut – don't forget he can stay on the practice squad "for free" so the team may look to use his roster exemption in this way.
The Other Guys
On almost any other roster in the NFL, Zach Moore would have a real shot at making the 53, but with a number of veterans and midround draft picks ahead of him on the depth chart, it would likely take an exceptional training camp or injuries for him to make the active roster, and with younger, more promising players ahead of him as well he will likely be pushed to make the practice squad as well. There is a chance that he can do enough to make a roster elsewhere, but the depth at defensive end has to have some casualties.
Likewise, Karter Schult will have to have a very strong training camp even to merit consideration for a practice squad spot, and having failed to make the Browns roster last season he will likely be pushed to do any better this time around. As always, being on the training camp roster means a player has a chance, but Schult is likely facing as big of a battle as any player on the summer roster this time around.
Roster Prediction
Starters: Mario Addison and Wes Horton
Rotation Pieces: Julius Peppers, Daeshon Hall and Marquis Haynes
Practice Squad: Efe Obada
Roster Hopefuls: Bryan Cox, Zach Moore and Karter Schult