Get the quarterback off their spot. Get him off of his rhythm. Collapse the pocket.
You've heard all of the cliches about how to stop a defense, particularly when they're a prolific passing offense like the Los Angeles Rams, who outscored their opponents 527-384 behind a rushing attack helmed by Todd Gurley and a passing attack attack that racked up over 4,500 yards.
But their passing game suffered immensely when the 2016 #1 overall pick Jared Goff, whom the Rams made the richest quarterback in the league when they signed him to a four-year extension worth $110m guaranteed this week, felt pressure last season – he slipped from the fifth-best quarterback in the league in a clean pocket, according to Football Outsider's DVOA rankings, to 24th out of 34 ranked passers during the 2018 season when he was under duress.
The pressure applied by the New England Patriots in last year's Super Bowl with a myriad of twists and stunts across the defensive line reduced Goff from the QB who threw for 4,688 yards and 32 touchdowns as the Rams averaged over 30 points a game during the regular season to only 50% completion percentage, zero touchdowns and a back-breaking interception in the Super Bowl as they only managed three points.
"It's nothing new, it's just something that has to happen, it's all part of the game," Ron Rivera said when I asked him about applying pressure to Goff.
No, it's not new – but if Cam Newton wants to be 1-0 when he sees his kids Sunday night, the Panthers will need to not only apply pressure. They'll need to control where it comes from – and how they handle the pressure themselves.
Sharpening The Edge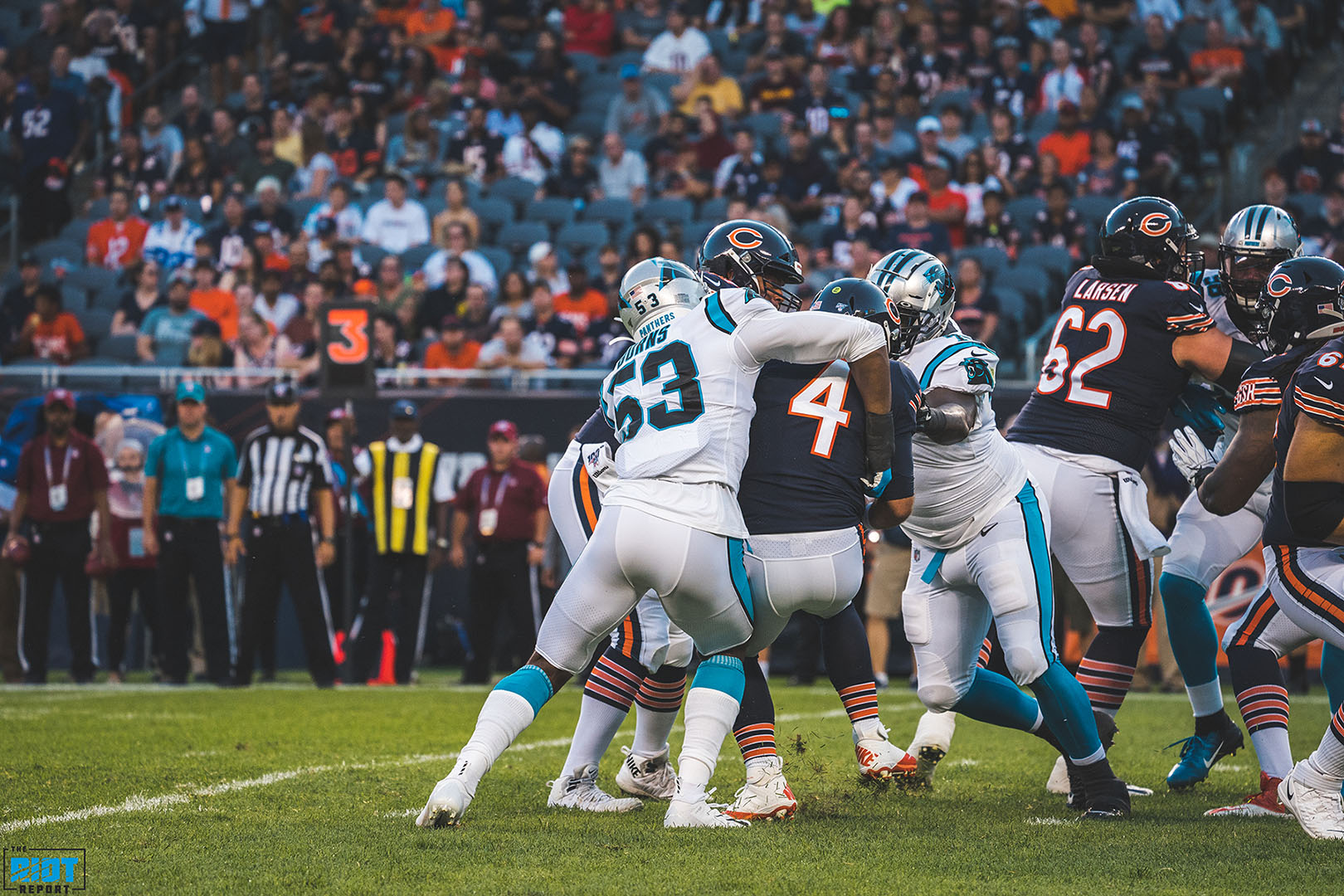 Panthers defensive coordinator Eric Washington has a pet peeve.
When the Panthers installed a multiple scheme that included more three-man fronts mixed in with the 4-3 looks that they've been running for years, it meant that they would be utilizing more speed rushers on the outside – players like Marquis Haynes, lost in the 4-3 because trying to bull rush a 330 pound tackle doesn't work when you weigh 90 pounds less than he does, would be more useful because he can utilize his best asset – his speed.
And that has already come to fruition as Haynes and rookie Brian Burns have come off the edge to the tune of four sacks each in the preseason, tying them at the third-highest preseason total of any player in the NFL.
But that speed can be negated by tackles who are trained to push you past the quarterback and use your quickness and get-off against you – so Panthers coaches have been working with Burns about not getting too high in the pocket where the quarterback can step further into his throws – Burns said after the Patriots game that not getting too far upfield is just 'common sense' – there's only so far you can run before you're out of the play.
"The most useless place for a rusher is behind the quarterback," said Washington. "We've got to make sure guys stay in the fight – it means countering at the level, making inside moves, it means working with the interior guy that's on your side."
It's no surprise that sacks by edge rushers this preseason have come because of disruption from tackles like Efe Obada or Bryan Cox, Jr.
When pressure comes from the edge, quarterbacks can feel it – but when it comes from the inside, quarterbacks can see it. And that can sometimes be even more powerful.
Pushing The Middle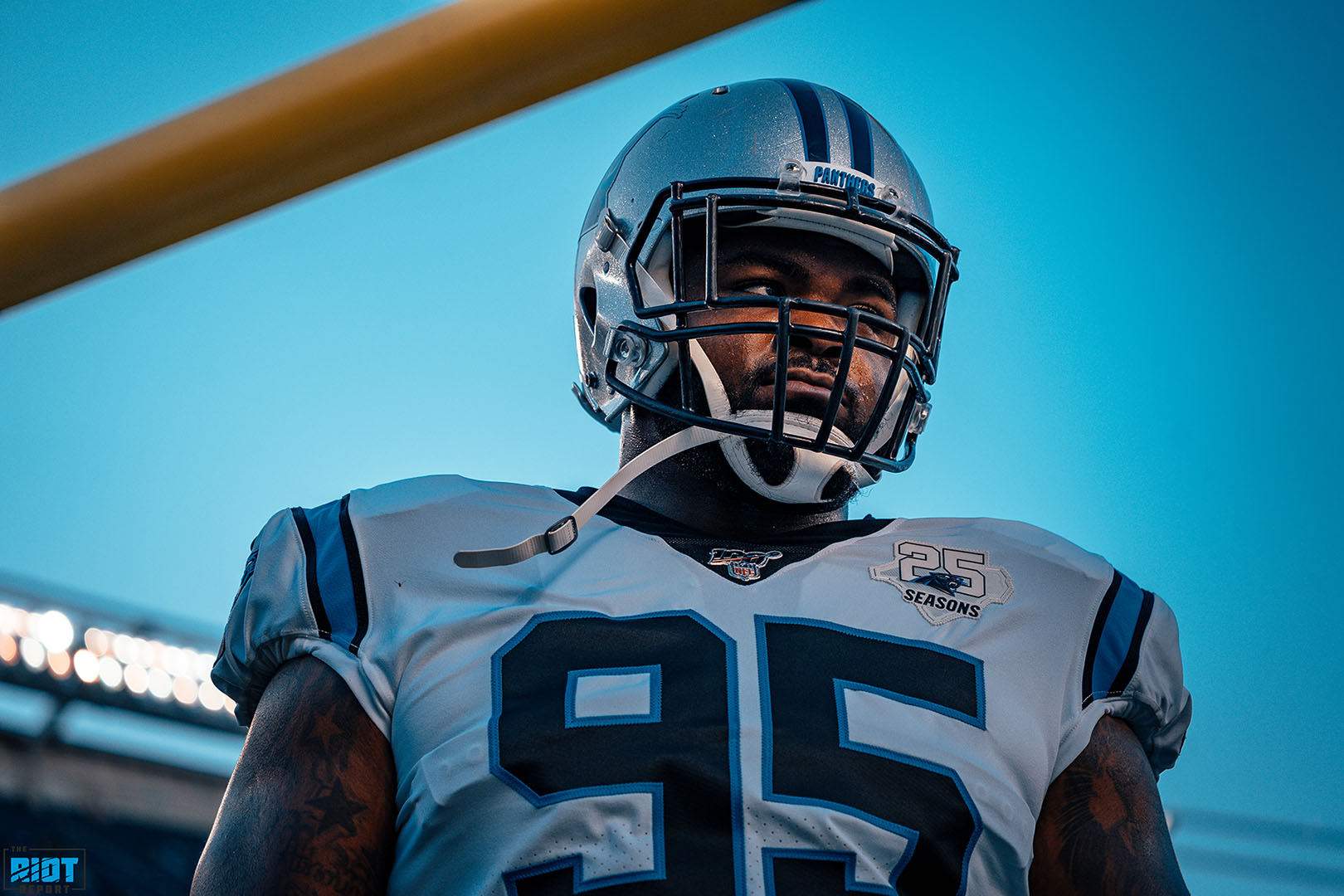 The time between the snap and the release of a pass is incredibly quick – according to NFL's Next Gen Stats the slowest QB to pull the trigger on average last season, rookie Josh Allen, held the ball for an average of 3.22 seconds before he threw it. Jared Goff held the ball for less than three seconds before he threw it.
In those three seconds, a lot can happen – especially when the offense is using play-action, as the Rams did on almost 35% of their dropbacks last season. As the quarterback turns, they scan the defense, make their reads and decide where they're going with the ball in the blink of an eye – but when the area in front of them is a mess, littered with bodies, it makes their job that much harder.
"With inside pressure, if [edge rushers] are rushing high, which they're taught to do, it makes you step up and if you're getting inside pressure, you can't step up, so you're kind of having to throw a more over-the-top ball with less power on it," said rookie quarterback Will Grier. "As a quarterback, you're always going to be stepping up and inside pressure makes that tough."
Dontari Poe has a similar mindset, albeit the opposite view on the field as the one usually applying that interior pressure.
"Any quarterback or offensive personnel is scared of inside pressure because they see it coming. It disrupts their view [and] their vision," said Poe. "Normally, when the edge is coming around, they're not prone to see it as much, but coming from the inside, you see it, you feel it."
"They rush throws, it makes them make bad throws – it's just a different feeling."
With the Rams starting two interior linemen with no NFL experience to speak of – center Brian Allen and guard Joe Noteboom took a combined 114 snaps in 2018 and did not see the field this preseason – there should be an opportunity for Poe, Short and new acquisition Gerald McCoy to make Goff uncomfortable in the pocket.
But Goff has impressed McCoy on tape.
"You can see inside pressure, but you have to feel outside pressure," said McCoy, the only defensive tackle in the league with six or more sacks in six consecutive seasons. "A quarterback, when you see them step up and slide, you know they have great instincts because they have to feel where the pressure's coming from."
"One thing [Goff] does well is he slides well – he can maneuver well; scrambling to his right, he's very accurate. He slides more when he goes to his left, but he's good in the pocket. He gets to his drop, he gets to his spot and he's good at sliding when he gets to his spot. He's a very accurate quarterback, so we've got to get him off his spot."
"When he gets comfortable, he can kill you."
Putting It Together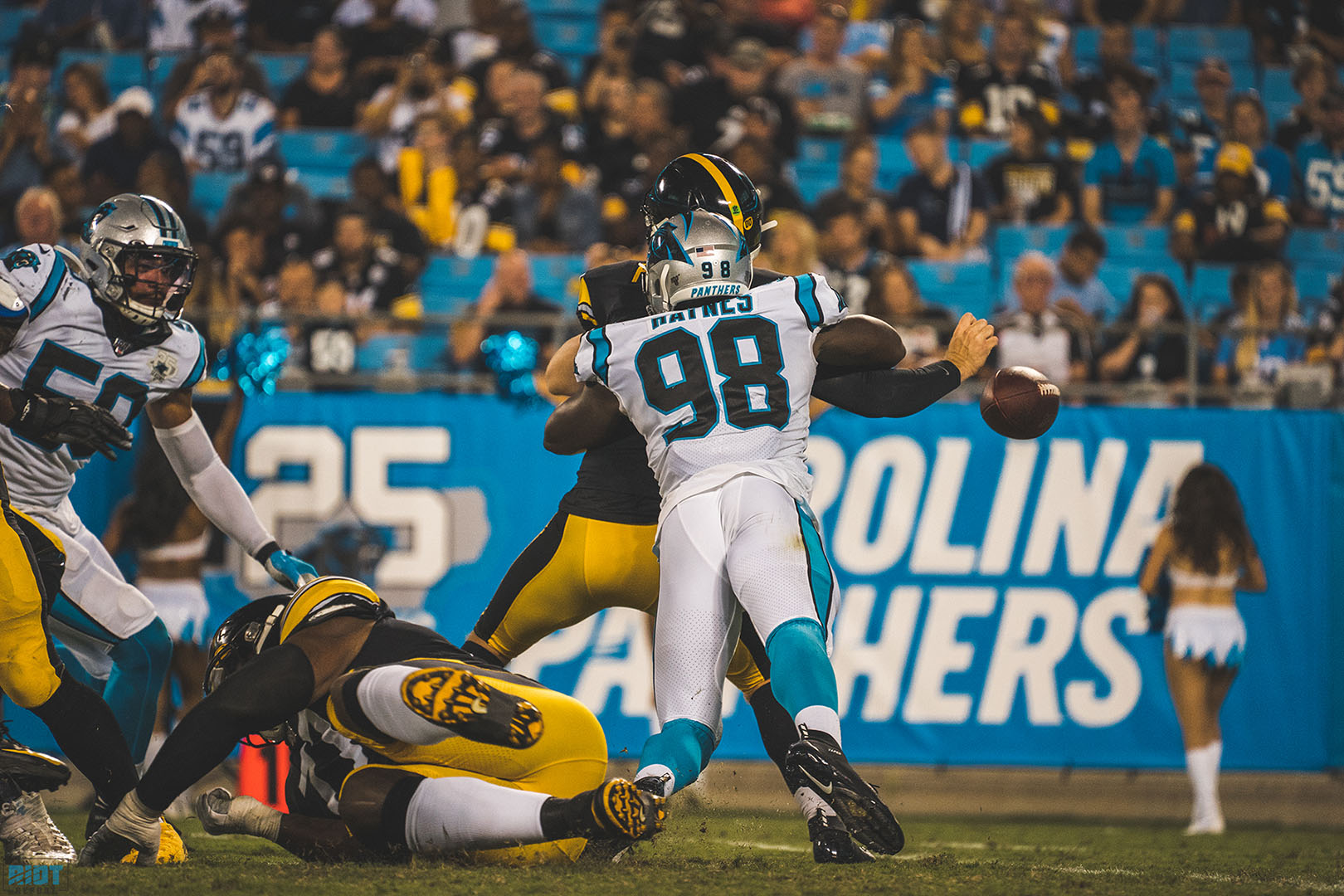 The key is not only getting the inside pressure they can see and the outside pressure they can feel – it's having them work in concert.
"[If] you feel inside pressure and outside pressure, you kind of sit in that dead spot and try to deliver a ball – the tighter it gets, the harder it is," said Grier, who has been practicing against the Panthers defensive front all summer.
"[Interior pressure] is extremely important – really, it's important because what it does is it complements what you're trying to do on the edge," said defensive coordinator Washington. "You have to complement that with that interior push and we've been able to do that – when we've rushed really well around here, we've had that 1-2 punch."
"The rush has to be organized. Whether it's three guys or four guys, at the end of the day, we have to make sure we're organized and in-sync, because if we're not, we get great interior push, the coverage does it's job and the quarterback has an alley to escape. So it still has to be organized and coordinated."
Washington began helming the Panthers defensive line in 2011. Since 2012, no group of defensive linemen has produced more sacks than Carolina's 242.5.
"At the end, if it's got to be defense vs. defense, we've got to make that happen," said Kawann Short, who had earlier bristled at a question when asked about the Rams' dangerous offense. "I'll take us over anybody."
The Lasting Effect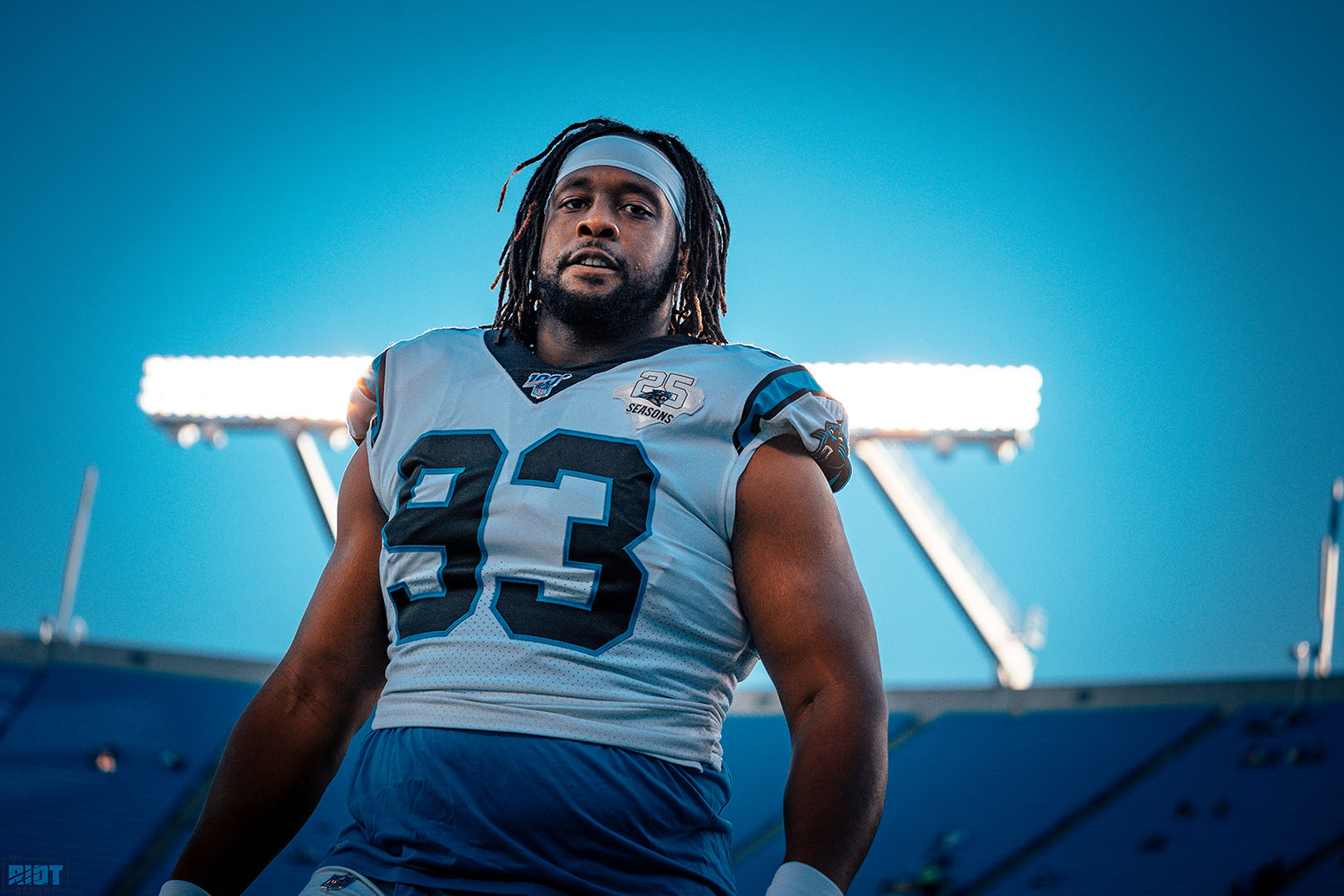 The Panthers have molded their 2019 defense with multiple tenets in mind:
Get faster
Be able to create pressure up front
Force more turnovers
All three of those go hand-in-hand. A faster defense is more effective at creating pressure and when a quarterback feels pressure, he makes more mistakes – those mistakes turn into turnovers. So it's not good enough to draft Brian Burns and Christian Miller, sign Gerald McCoy and change your defensive scheme into a more multiple scheme that makes it more confusing and harder to block.
Once the quarterback makes those mistakes, you have to pounce.
That's why the Panthers went out and signed Tre Boston, who has eight interceptions in the past two seasons and has led his team in both interceptions and PBUs in each year. It's also why Donte Jackson has been watching tape more closely, so that he replicate the four interceptions he had in the first half of the seasons as opposed to the goose egg he put up over the final eight games – unsurprisingly, the amount of team interceptions went hand in hand with the sacks.
The Panthers had 21 sacks during their 6-2 start and nine interceptions. While losing seven of their last eight, they had only 14 sacks and two picks.
For Jackson and the rest of the secondary this Sunday, they'll have to key on pre-snap signals to know where the ball might be going once the play begins – and if there's pressure immediately, the ball will be coming out quickly – with more of a chance Goff is going to make a mistake.
"You can be more aggressive when you know the quarterback isn't going to have a ton of time to sit back there and go through all of his reads," said Jackson. "So if you feel like you're on a receiver that gets the ball a lot, you've got to feel like you're hot and that ball is coming to you."
"I've been into film a lot. I think it's in the way I watch it, because the game has slowed down so much for me between this year and last year that I actually can retain more information than I did last year as a young guy."

The Rams defense, led by indomitable defensive coordinator Wade Phillips, is also formidable – Aqib Talib ranks second among active players in career interceptions (35) and Marcus Peters has more interceptions than anyone in the NFL since he entered the league in 2015. Los Angeles finished with the fourth-most quarterback hurries in the NFL, forced 88 negative plays and posted 41 sacks last season – new additions Clay Matthews and Eric Weddle have impressive resumes and that's without mentioning the force of nature that is Aaron Donald that warranted two articles this week from this website alone.
The Panthers face a formidable challenge in Week 1, a team Ron Rivera acknowledged is the measuring stick for success in the NFC. But they feel as if their defense is up for the challenge if they can apply the pressure and not feel it – both on and off the field – something the Panthers coach doesn't have to worry about from their franchise quarterback.
"[Cam] always gives you all he has," said Rivera."That's one thing I will never worry about, is that young man does not shy away from pressure, that he give us everything he has – and he really tries to win."
"He wants to win."