As I sit here on the eve of the new Roaring Riot season, I can't help but think how lucky I am to get to lead such a great group of Panthers fans who are determined to make a difference for our team and for our fanbase.
People often ask me if the Roaring Riot is my full-time job – it is.
The workload suggests that it's more than a full-time job – that's also true. But it's worth it.
The relationships we've created, the history we've made, and the positive effects we've had on our communities is immeasurable – I wouldn't trade being a part of this group for anything.
If you would have told me four years ago that we would have come this far, I'm not sure if I would have believed you. What started out as me convincing my wife to allow me to swipe $800 worth of membership shirts on our personal credit card  – while I was unemployed at the time – and forming relationships with the leaders of six existing Panthers groups outside of Charlotte, has turned into the largest unified group of fans in the entire NFL.
That's absolutely incredible. And it's true.
While thinking about where we've come from, I came across this Black & Blue Review article I wrote for Bill Voth towards the conclusion of the 2015 season. It's a really fun read and it reminded me that, as we open our fifth season tomorrow, it's time to to write another one. So, going into season five, I am pleased to report some of our successes to date.
In 2015, we launched our membership program as a way to get people more involved with the group. The belief was that if fans made an annual purchase of a membership and received a membership kit – some tangible items representing the group – they would then be more vested in the group activities and the fan community. It seems like it's working well. To date, we have over 7,000 members representing 48 states and 16 countries and in 2015, we launched with seven founding chapters. We now have 40 full chapters, including four international. We have a chapter of the Roaring Riot in Germany and one in Mexico. Go ahead and marinate on how amazing that for a few minutes.
Tailgate with a Purpose has continued to grow and is still the best tailgate party in town. The last four seasons we have raised nearly $85,000 for our charities – The Isabella Santos Foundation and the Cam Newton Foundation. We've participated in some really amazing events: Kicking it with Cam, Cruising with Cam, and Santa Cam to name a few. That's amazing news! The bad news, however, is that we're running out of space at our current location. In fact, this is more than likely our last one up on the tracks – we're working on alternatives, but as I'm sure most of you are fully aware, securing the amount of space we need close to the stadium isn't easy. We're doing everything we can to work this out and keep the format as close to the current as possible. But expect some changes in 2020
Due to our success at Tailgate with a Purpose and the importance of being closely involved with our community, we have launched the Roaring Riot Foundation, a 501c3 nonprofit organization to support the Roaring Riot and its members. Our goal for the foundation is to take the money that we raise from the tailgate and other events throughout the year and create memorable, once-in-a-lifetime memories for Panthers fans in need. The first Experience we are creating in 2019 is taking Saundra and Chancellor Lee Adams to London with us; they're ecstatic about the trip and so are we. We sincerely hope this makes you proud. We're currently in the middle of a promotion to support the launch of the foundation and the Roaring Riot is going to match up to $5,000 in donations to kick things off. Please visit the foundation page if you'd like out help us meet this goal – we're about halfway there.
In 2015, we went to three Panthers away games as a group – this will be the third year in a row that we've traveled to all of them. It's so much fun to be able to support our favorite team at all the games. We appreciate the trust that all of you put in us to execute your trips for you; without your belief and participation, they wouldn't be possible and we'd be like those fans who sit alone in a parking lot drinking Busch Lights out of a warm 24 pack before the game – which would SUCK.
Speaking of away games….can you believe that we have close to 800 people signed up for The London Calling? How much fun is it going to be painting London black and blue all week?! I hope the Royal Riot is ready for the madness we'll be bringing.
In 2017 we launched The Riot Report – a fully credentialed media source that covers both the team and the Roaring Riot and provides that close connection to the team that was lacking. Last year, we were one of only two outlets that covered 100% of the Panthers games and events. Crazy! Kevin Ketchie is the best digital content creator that is covering the team. If you don't think that's a fact, you haven't been paying attention and you should start here. We've also created The Riot Network – a collection of different Panthers and Roaring Riot related podcasts. Whether you like Xs & Os, player interviews, or friends sitting around talking about the team and their experiences, we've got it all. I'm really proud of the growth of The Riot Report and how it has evolved; there are a lot of great people behind it that don't get nearly the recognition they deserve – you should give them a follow and show them all some love: Josh, Kevin, Vincent, Denn, Bobby, Chris, Keith, Ashlyn, Jayme, Nikki, Colin, Antwan, Josh Vinson, and Johnny.
We've created some really good partnerships over the last few years. I mean, where in the world would we be without NoDa Brewing? WE HAVE OUR OWN BEER! (sorry I felt the need to shout that). And of course OrthoCarolina. We're so thankful for the impact that not only those two great organizations have, but the impact that all of our partners have on our success. It's an amazing feeling when brands believe in our mission and want to be a part of helping grow and unite our fanbase.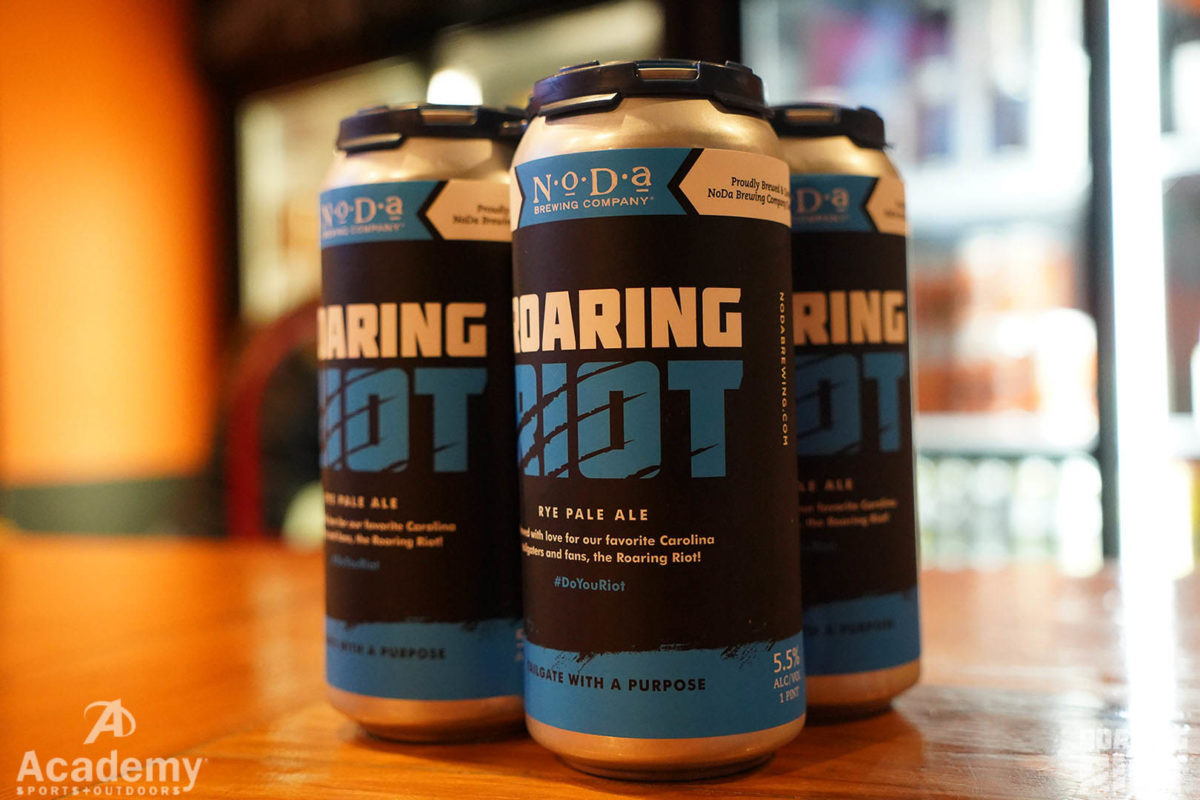 We can't talk about partnerships without mentioning our ever-growing relationship with the team. We've been blessed over the years to get events presented to us from the team for our members to have special opportunities to get closer. Whether it's our own seats at Fan Fest, a reserved section at the BoA draft party, selecting a Panthers draft pick, being a part of live TV hits, or David Tepper and Tom Glick coming to our events, it's because of the Roaring Riot that we've gotten to do some really cool stuff. And based on our conversations, we have every reason to believe that these opportunities will continue to grow in the future – the next steps are going to be really fun.
I think it's safe to say that we are most definitely changing the culture. Thank you to everyone who has been a part of making this group so great these last four years. As you can tell from the changes and evolution, we're always looking to grow and expand and do everything we can to provide you the most value for your membership and to enhance how you experience our favorite team. It's been quite a ride so far – and I'm looking forward being able to write this again at year 10!
Keep Pounding.