Tailgate with a Purpose.
That phrase has really evolved and taken on several different meanings throughout the years of the Roaring Riot.
The concept started in the early 2000s when the P3 Crew – the guys who make up the core of the original Roaring Riot/Queen City Riot group – were looking for a way to offset some of the costs of their home game tailgate parties. The way it worked was P3 would provide all the necessary items for the tailgate – food, beverages, entertainment, space – and the attendees who showed up to partake in the good times would toss an appropriate donation into the jar.
The P3 guys always felt very lucky to be able to come together as a group of friends, attend the games of their favorite football team, and utilize their connections in the food and beverage industry to provide a top notch tailgating experience for their family and friends, so it was only right that any money left over at the end of the season went to charity.
First to Operation Smile. Next the Panthers' Keep Pounding Fund.
Over the years the donation amounts at the end of the season continued to grow and become more significant – one season even funded the entire construction of a playground at a school in Nepal through Operation Smile. It was at that time we realized the tailgating/fundraising format needed a name.
And that's how Tailgate with a Purpose was born.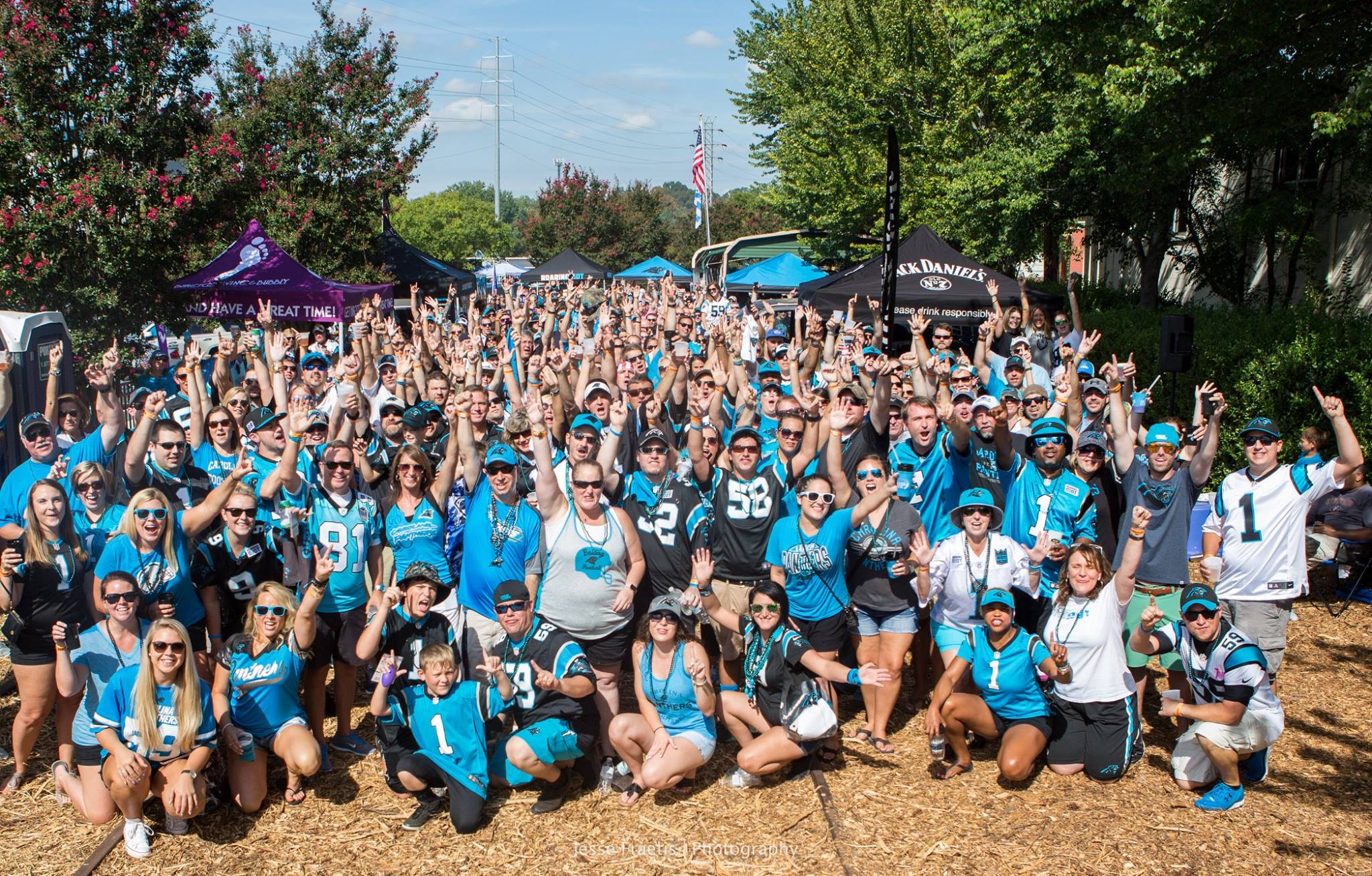 When we officially launched the Roaring Riot memberships in 2015, we knew we were going to need a larger tailgating space to accommodate all of the new members. To us, a larger space and more tailgate attendees meant more of an opportunity to spread the Tailgate with a Purpose message throughout other Panthers fans, thus creating a larger impact for our charity beneficiaries. In 2015, we decided that we wanted to keep some of the donations local to have a more tangible positive effect on our own community – so we added the Isabella Santos Foundation to our beneficiary list.
ISF was created by Erin Santos, Isabella's mother, with the mission of improving rare pediatric cancer treatments – we are still very close with the ISF team and can't say enough about what all they have accomplished in the last four years, including backing a $1M grant to Levine Children's Hospital to build the Isabella Santos MIBG therapy suite. And you better believe that they are far from done.
You're damn right that "cancer messed with the wrong kid".
Starting in 2016 through 2018, we partnered with the Cam Newton Foundation. Not only were we lucky enough to financially contribute to some of the many community events that CNF produces, we were also able to have our members participate; we've been lucky enough to be involved with Kickin' It With Cam, Crusin' with Cam, Cam's Thanksgiving Jam, SantaCam, and Un1ted as 1.

During the last four years, Tailgate wth a Purpose did indeed grow. In both 2015 and 2016, we raised $13,000. In 2017, through the tailgate parties and other outside fundraising event opportunities, we raised close to $40,000. And in 2018, we added another $19,000. That's close to $85,000 in four years for our charity beneficiaries.
Not bad for a bunch of people tailgating for a football game.
I am certain that I speak for all of the P3/QCR crew when I say that we are very proud of the efforts that we, as the whole Roaring Riot community, have made over the last few years. What started out as a way to ensure we could cover the costs of throwing a dope tailgate has evolved to making significant donations to our charity beneficiaries – so significant that we will surpass the $100,000 mark in 2019.
That's real money.
As proud as we are to contribute that level of donation to charity, we still feel like we want to take it even further – therefore we have decided, and are very excited to officially announce, that we have created the Roaring Riot Foundation, a nonprofit organization to represent the Roaring Riot.
The Roaring Riot Foundation's mission is to create memorable, once-in-a-lifetime experiences for our fellow fans in need.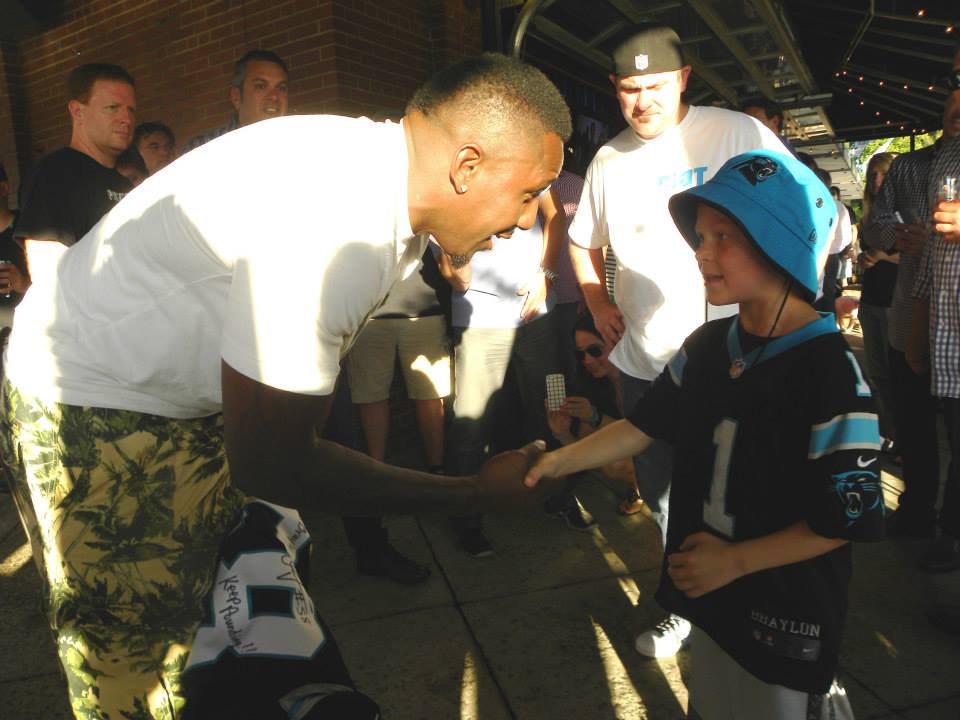 We want to align our members' fundraising efforts with our core competency and produce experiences centered around Panthers' home and away games for people who are in need and might not be able to do it for themselves. We've intentionally left the words "in need" open-ended in our mission statement, because we do not want to be locked into a specific profile of beneficiary.
A person in "need" can be a child battling an illness or disease, like when we raised money to take Braylon Beam to Jacksonville with us. Or a person suffering an emotional distress, like when our dear friend Lynn suddenly lost her husband. Or rewarding those who selflessly give their time and efforts to make our community a better place, like when we took the BOLD Church volunteers to a home game.
You see, the fundraising at the tailgate has always been important to us and creating experiences for people is what we do best – now the Roaring Riot Foundation will let us merge both worlds and allow us to see firsthand the impact that we're making as a community and the difference we've made in peoples' lives.
So now it's time to hit the ground running!
We're kicking off this announcement with our first fundraising effort of the season. From right now until May 10th we, the Roaring Riot, will match donations to the Roaring Riot Foundation up to $5,000. That means when you toss in $10, we'll toss in another $10. When you donate $50, we'll donate $50. You get the idea. All the way until we've raised $10,000.
We really want to start out this season with a bang, because we've got some big plans right out of the gate….
For our first Foundation Experience of 2019, we are working with Saundra and Chancellor Lee Adams to bring them with us on the London Calling.
I think you'll all agree that the Carruth story is the darkest part of our team's history. It's one that, until recently, I had always chosen to bury and never willingly address or even think about – but after spending time listening to Scott Fowler's podcast "Carruth", it became very apparent that the best way to move on from this dark past is to embrace the light that has come from it. I won't divulge into the story – you should really listen to the podcasts if you have not already – Scott does an excellent job -but I can tell you that the positivity, forgiveness, and grace that both Mrs. Adams and Chancellor Lee possess is inspiring, and it's a story that deserves to continue to be told.
Welcoming them into the Roaring Riot community and embracing them is the right thing to do. We're going to build out a London experience for them that gives their family a chance to see all of the sights, mix in with Roaring Riot events, and attend the first Panthers' game overseas.
I can't even explain to you how excited I am about it.
Thank you to everyone who has attended an event, donated, socially shared our information, or contributed in any way to helping us reach this level. We hope that the new addition of the Roaring Riot Foundation and how it represents you makes you proud. And with your help we are going to continue to Change the Culture Through Community.