The Panthers are now in a new era with a new Head Coach and new coordinators – and what is going to eventually be a new roster. Over the coming months, there are going to be an awful lot of conversations, both at Mint & Morehead and around the Carolinas, about what the Panthers should do in free agency and the draft, but in order to understand what the Panthers should do, it is first necessary to understand where the Panthers stand from a roster perspective.
You can't buy the groceries without knowing what's in the cupboards.
This is especially important if the Panthers are going to rebuild – while this opens up the Panthers to using the draft and free agency to build talent rather than simply to cover a leak that springs up, it is important to know what you have available at each position in order to inform how you look to amass talent. With that in mind, over the coming weeks, we'll be going through each position on the roster and examining who the Panthers have, who they might have, and where that leaves them entering the offseason. Check out previous chapters here:
Joe Brady talked a lot in his introductory press conference – and before as well – about how a lot of what he wants to do offensively is built around the players he has available. Not only is this an eminently sensible approach to being an offensive coordinator, but it also works best when you have a lot of talent to build around in order to keep defenses off balance rather than being able to zero in on one or two key players. While this also extends to the tight ends and running backs, based on the formations that Brady used at LSU, it seems likely that having a receiver group who can attack a defense in a number of different ways would help to elevate Brady's offense even higher, so how do the Panthers stand at wideout?
The Front Two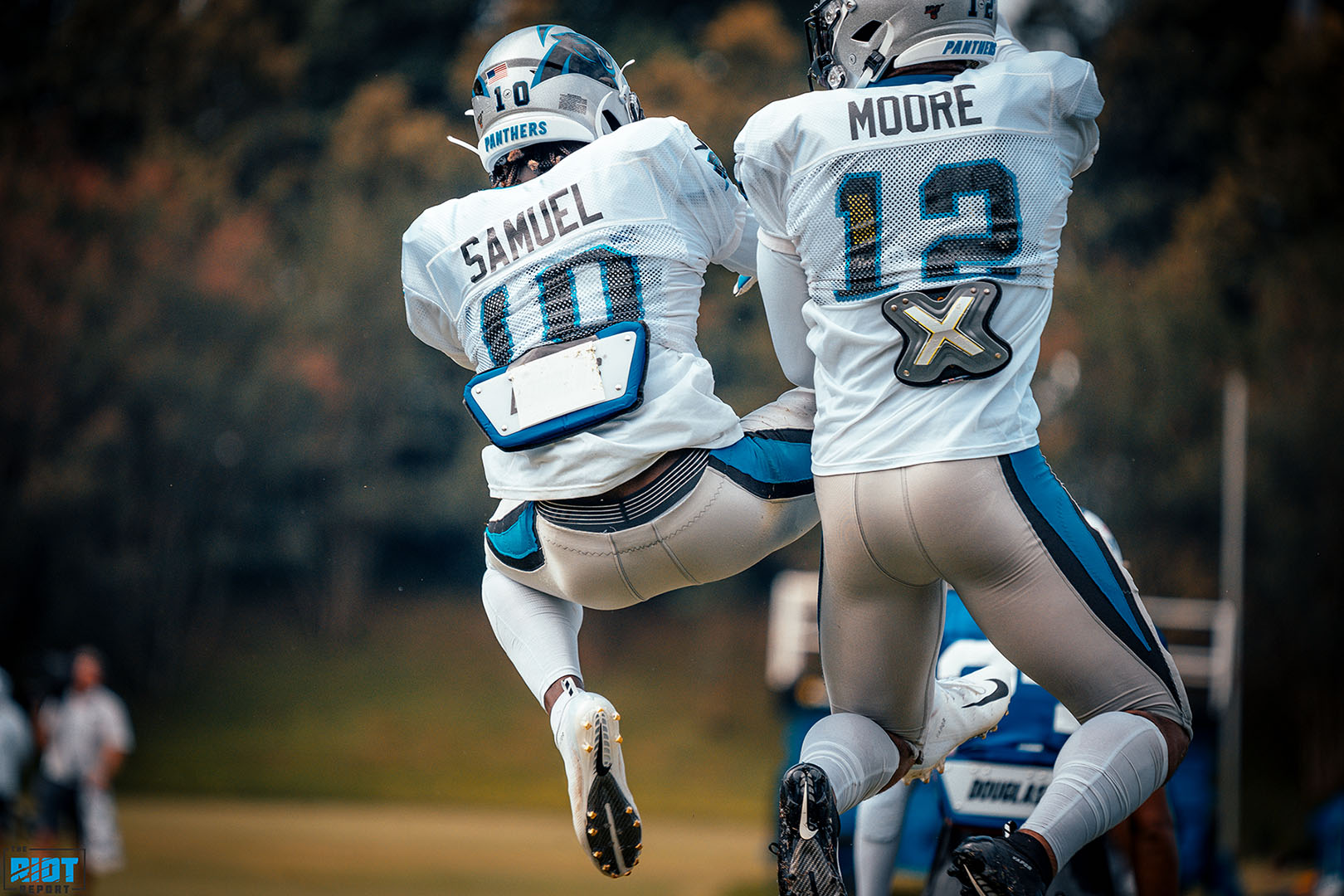 DJ Moore appeared to take a real step this year with 87 receptions, and while there are still ways in which he needs to develop – most notably being more consistent on a snap-to-snap basis – it seems likely that he will be a major part of what Brady looks to do offensively. Despite missing a game to injury, Moore managed to rack up over 1,200 total yards along with four touchdowns – he even seemed to make a noticeable improvement in terms of his ball security, something that he struggled with as a rookie and even early in his second season. It's not clear how much Moore will continue to grow, but having been drafted as something of a hyper-talented developmental prospect, he now looks to be making steps towards delivering on all that potential.
While Curtis Samuel didn't have quite the same statistical season – though he still topped 750 total yards with seven touchdowns – this was in part due to more of his game being based around the vertical passing game, an area that the Panthers really struggled with in 2019. With a quarterback who is better able to work the vertical aspects of an offense, whether that is a healthy Cam Newton or somebody else entirely, it should be expected that Samuel's production will increase. Given that he is still just 23 and entering the final year of his contract, it will be interesting to see if the Panthers look to try and sign Samuel to an extension this offseason, as his value could skyrocket between now and next offseason and he would almost certainly be around and in his prime on the far side of a rebuild. Additionally, having struggled with injury as a rookie and then undergoing a medical procedure which put him out for the start of the 2018 season, Samuel played all 16 games in 2019.

Regardless of whether they do or not, it seems almost unthinkable that these two won't be at the top of the depth chart in 2020 – while Samuel's contact situation does create some long-term uncertainty in that regard, if the Panthers so desire, there should be sufficient cap space to bring him back long-term either this offseason or next. The question for the Panthers is less about the talent at the top of the roster and more how they can make the most of the talent they have and how they can add talent to allow them to offer a more diverse passing attack and to offer some insurance in case of injury.
The Middle Of The Pack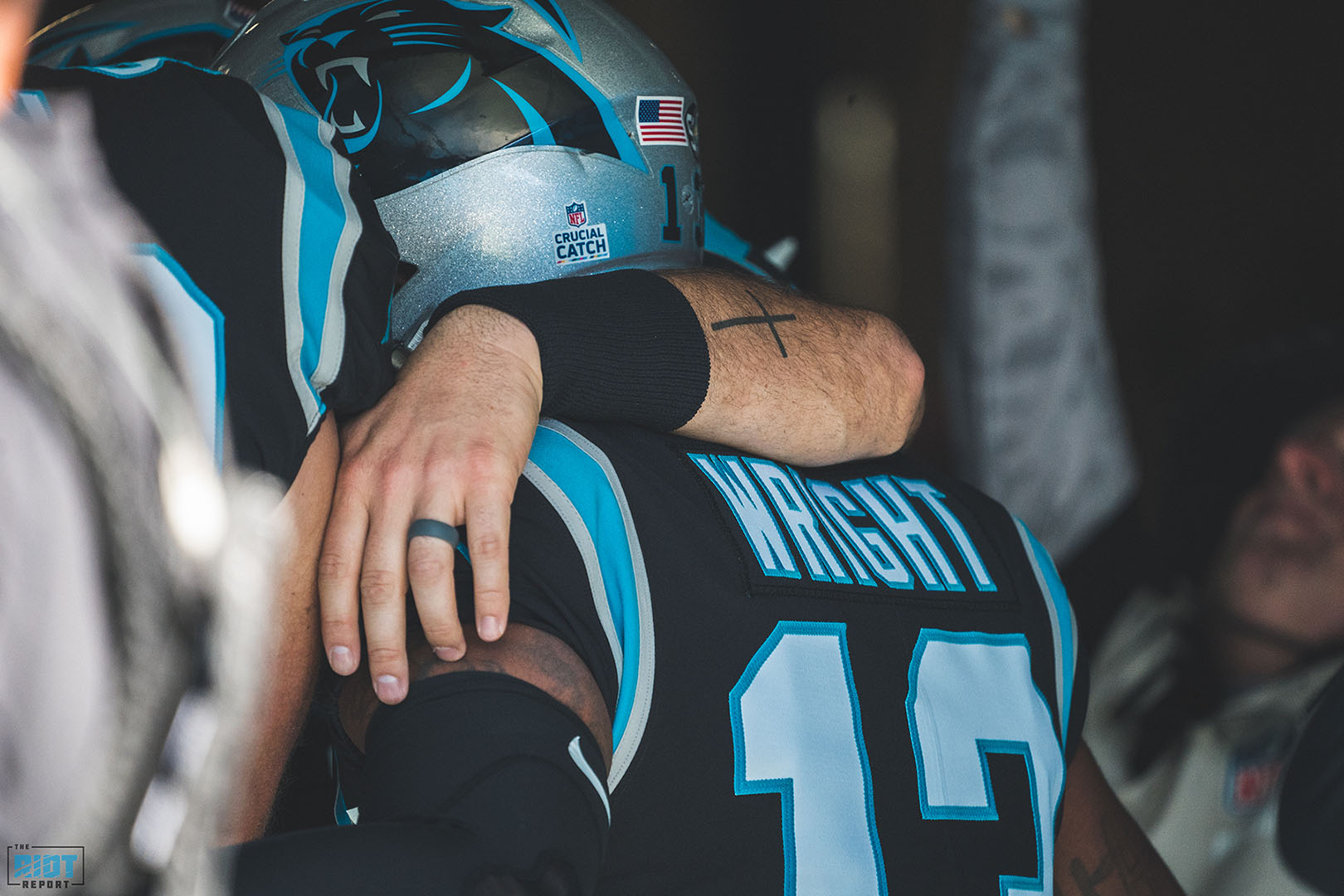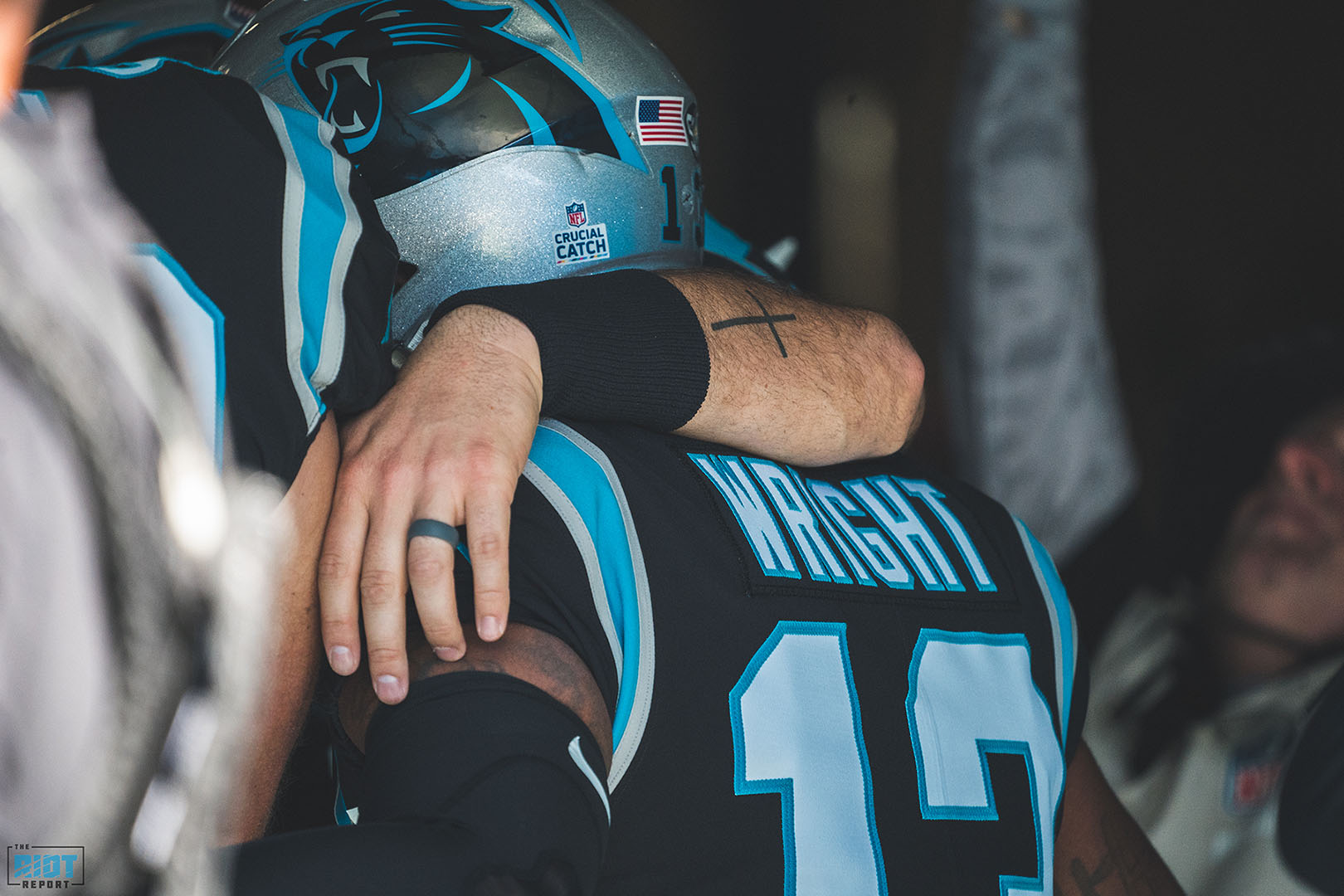 The Panthers next two most significant receivers for the 2019 season were Chris Hogan and Jarius Wright. Hogan struggled with injury for much of the season, but didn't produce a huge amount when he was healthy; as a 32-year old free agent this offseason, it is hard to image that he attracts a big contract, either from Carolina or elsewhere. What this does mean is that if the Panthers want to bring him back for some veteran leadership and to give them some flexibility in the draft, they should be able to do so fairly cheaply, and if they want to move on from him after training camp in favor of a younger player, that wouldn't be impossible from a cap point of view. However, it also is an indication of how replaceable Hogan is in many ways at this point of his career and if the Panthers do look to go elsewhere in free agency, they likely wouldn't be short of players who can produce at a similar level – even if they don't bring some of his intangibles to the table.
Before this season, Wright had never had a season where he caught less than 60% of his targets and hadn't caught less than 70% of his targets since 2015, but 2019 was a statistical step back for Wright, who caught less than half of his targets for under 300 yards despite playing in every game. Some of this is very much not his fault, as while he did see nearly 60 targets, the sample sizes are comparatively small and a few bad passes here or there will make a relatively significant difference. However, he also had some issues as well, struggling with drops at times – he had eight on the season – and failing to make the impact he did in his first season in Carolina.
The complication in all this is that Wright has a contract option for next season, with the Panthers being able to save $3m against the cap by moving on from him. Given how young the rest of the Panthers' receiving room is likely to be, especially if Hogan were to leave, the Panthers might want to bring Wright back as an older head who can chip in with a few catches here and there, but depending on how other parts of the rebuild go, and especially if the Panthers see the chance to bring in a similar player for less, there is a chance that the Panthers look to move on from him.
At 30 years old, it is hard to imagine that any lengthy rebuild would involve him as part of the long-term future, but the Panthers can't try and knock everything down all at once.
The Young Guns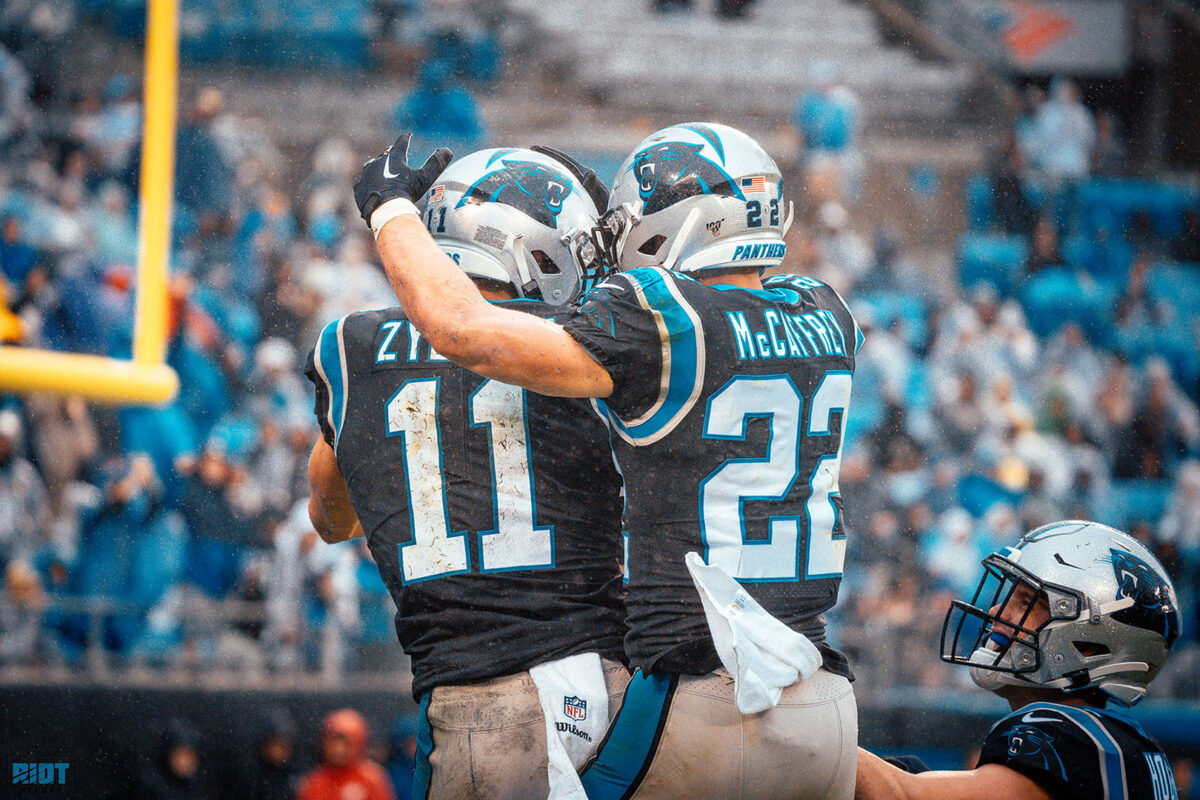 The other receivers the Panthers had on the roster in 2019 – DeAndrew White and Brandon Zylstra – are harder to tie down in terms of performance, as while Zylstra did some nice things with the playing time he got late in the season, it's hard to extrapolate too much from that limited sample size. However, with him being under contract through next season, the Panthers would be foolish to not give him a chance to compete for a roster spot in camp. White, however, is a restricted free agent – while this would allow the Panthers to bring him back relatively cheaply, it's hard to say that he showed a ton this past season and so the Panthers likely will also look to go in a different direction. Again, many of the faces that have been around the Panthers for a few seasons or even more under Rivera could well be replaced this offseason, as the team looks to try and find talent to build around.
This looks to be an extremely good receiver draft class, and while a couple of surprising names have opted to return to school, for a team like the Panthers who aren't necessarily looking for a star but rather to add high-quality developmental depth, it seems a perfect opportunity to do so. Of course, other teams will know this as well, and this could also work to drive down receiver contracts in free agency as teams know they have a chance of finding somebody in the draft. The Panthers' receiver room will likely still be headlined by Moore and Samuel, and there may well be another familiar face or two back in the mix, but this is an area the Panthers should be able to add a number of promising new names at without massive expenditure, and that sounds very much like a process-friendly move.