Defensive End
The Panthers' edge rush has been much maligned in 2018, and while some of that criticism could possibly have been better placed elsewhere, it is certainly true that this is an area the Panthers will be keen to improve this offseason.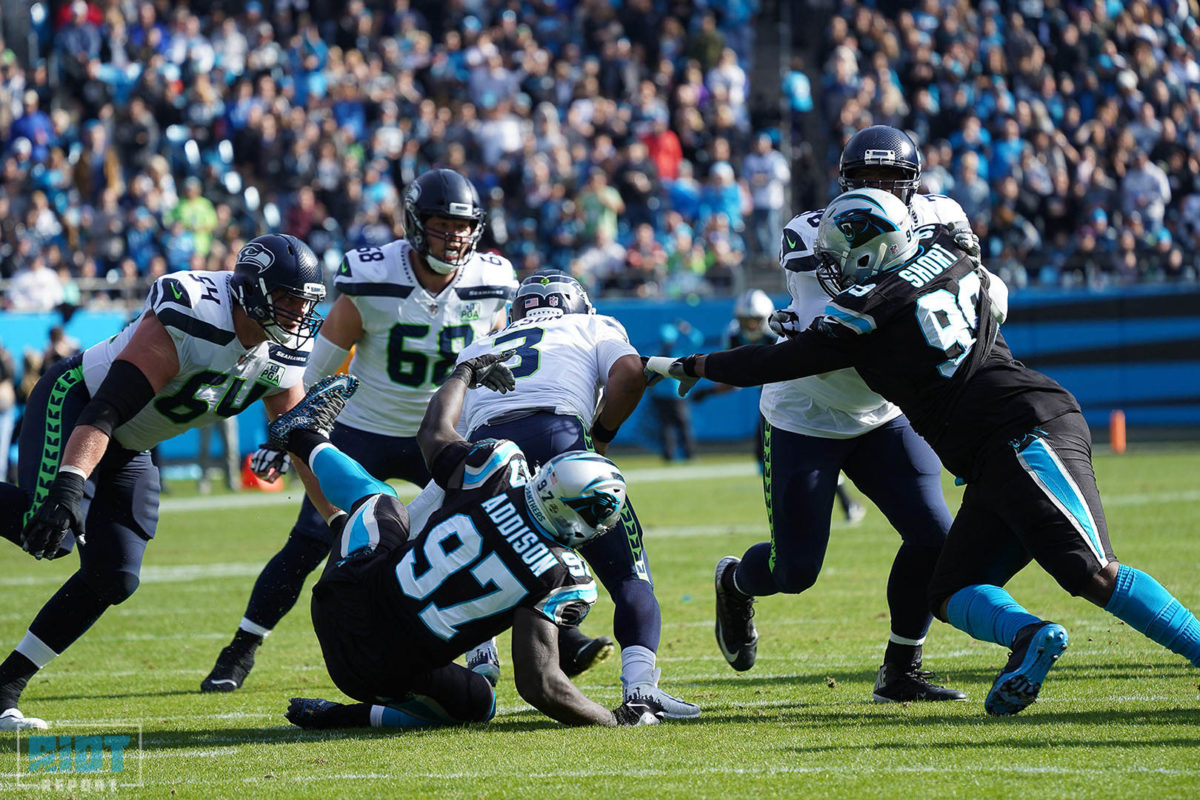 That doesn't mean the Panthers are completely without options at edge rusher – Mario Addison managed another solid season with nine sacks, 11 TFLs and 12 QB hits; a feat managed by only nine other defensive ends in the league. Given that the defensive line saw a decrease in productivity across the board, numbers of this sort suggest that starting Addison at one defensive end spot in 2019 should be considered a positive.
The Panthers also got positive contributions out of Efe Obada and Wes Horton in 2018, and while they are both free agents this coming offseason, it would be a shock not to see Obada back given his ERFA status and the development he has shown in just one season; while Wes Horton may cost more to keep, he has failed to take the step in becoming a starter that could have taken him out of the Panthers' price range. Neither player has shown that they are in a position to step in as a full-time starter, but rotation pieces are extremely valuable at defensive end, especially if their cap numbers aren't extortionate.
One big unknown for the Panthers at defensive end is obviously what will happen regarding Julius Peppers.
Following a remarkable 2017, Peppers was good but not great in 2018 and while it is highly likely that Peppers does look to retire, if he does want to continue playing, the Panthers would probably have some interesting in bringing him back. The key to all this – as it so often is – will be money; while Peppers is still a player worth having, the Panthers will probably not want to pay him the money he was able to demand last offseason coming off an 11-sack 2017. As with Torrey Smith on offense, the Panthers will likely be willing to pay a slight premium to keep Peppers around, but $5m is probably too much of a premium based on what he showed on the field in 2018 and the expectation that his play level is only going to go in one direction.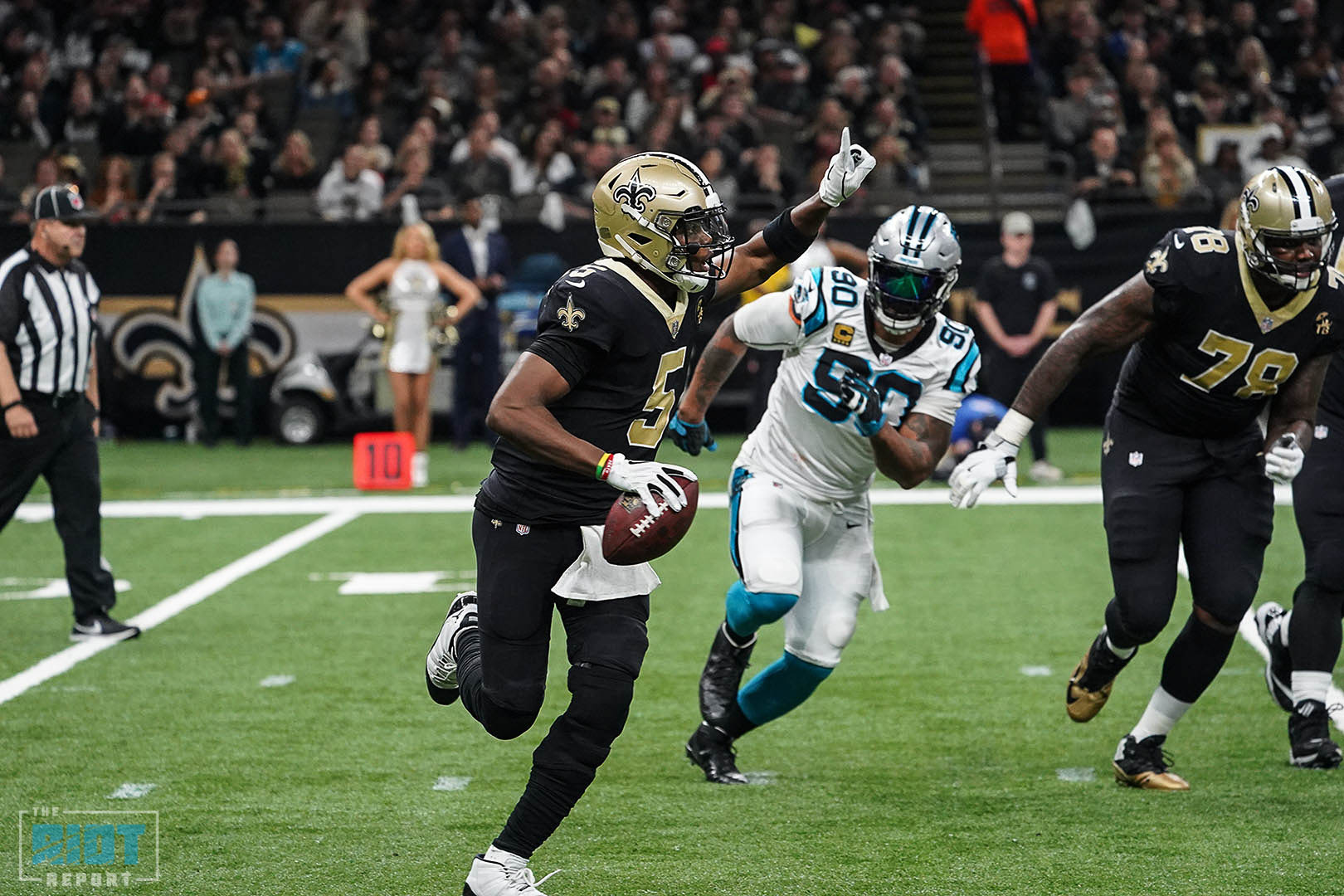 The other defensive ends currently on the roster are Bryan Cox Jr. and Marquis Haynes, both of whom are likely to be back for training camp, but neither of whom has done enough to guarantee themselves a spot on the 2019 roster. Given that the Panthers are likely going to look to bring in at least one defensive end this offseason in an attempt to reinforce the pass rush, it would be no surprise at all if one or both of these players find themselves on the outside looking in in 2019.
In terms of the Panthers' options at edge rusher in free agency in the draft, it should come as little shock that the elite edge rushers such as Demarcus Lawrence are likely to be well outside of the Panthers' price range. Given that the Panthers likely won't want to go into the draft having to draft an edge rusher, it wouldn't be surprising to see them sign somebody to address the issue – especially if one or both of Peppers and Horton do not return – but this may well be on a shorter-term, middle-tier contract rather than a big-name star. One name it might be worth keeping an eye on is Robert Quinn, who is rumored to be a possible cap casualty for the Dolphins and who could offer some value depending on where his price range ends up being. Quinn's sack total of 6.5 might not jump off the screen, but his 15 QB hits and nine TFLs are both the best since his 10.5 sacks Pro Bowl season in 2014. Quinn might not be an All-Pro any more, but at 28, there looks to be plenty left in the tank.
Of course, the main focus for the Panthers in terms of the defensive end position may be the draft, as this is seen as one of the stronger edge classes in recent years – especially in terms of the talents likely to be available on the second day of the draft. The Panthers could go edge rusher as early as 16, but even if the Panthers don't go that way in the first round, it seems likely that at least one of their presumed four top-120 picks will go on a pass rusher.
As with defensive tackle, the Panthers likely aren't as poor at edge rusher than the surface numbers suggest – the fact that every single one of the Panthers' pass rushers saw a decline or stagnation in their productivity suggests that the issue doesn't lie with their talent but rather with the issues of the defensive coaches. Adding an edge rusher seems all-but-certain at this point, but don't be surprised if the Panthers don't go after the position as hard as might initially be imagined.
Up Next: The Strongest Position On The Team