Meaningful Panthers football is finally, actually, almost here and with it comes a Week One match-up against the Jets in Charlotte. Though the Panthers are likely to face harder games this season, the Jets look to be a notably tougher prospect than they have done at times in the recent past and, with a new coaching staff and quarterback, they are not a team that can be taken lightly.
With that in mind, what do the Panthers have to do in order to come away from Sunday with a win and put themselves in the best position possible for the rest of the season?
Make Zach Wilson Look Like The Rookie He Is
Former Jets' coach Rex Ryan didn't ever win a title in New York, or in Buffalo for that matter, but one thing he was noted for throughout his career was his ability to make rookie quarterbacks look bad with his blitz-heavy approach to defensive football. While the Panthers defense is likely to look quite different from the ones that Ryan ran with the Jets (though Jaycee Horn becoming the next Revis would certainly be nice), they should hope to have a similar effect on Zach Wilson.
Young quarterbacks in the NFL often struggle both with the speed of the game and the complexity and variability of the defensive looks they are faced with. While Wilson did perform well in the preseason, this was largely against more simplified coverages and looks than teams will run in the regular season. Though the Panthers were somewhat limited in what they were able to do schematically in their first season under Phil Snow, a rookie quarterback seems like the perfect tester for Phil Snow's new box of toys.
All the indications at this point suggest that the Panthers are going to switch between three- and four-man fronts but with the likes of Brian Burns, Haason Reddick and Morgan Fox on the roster (who combined for 27.5 sacks in 2020 and are all positionally flexible) the Panthers should have a number of pieces to move around to create problems for Wilson. Importantly, if the Panthers struggle to create problems for Wilson in obvious passing situations, then that doesn't bode well for a defense that struggle to get off the field on third down a year ago.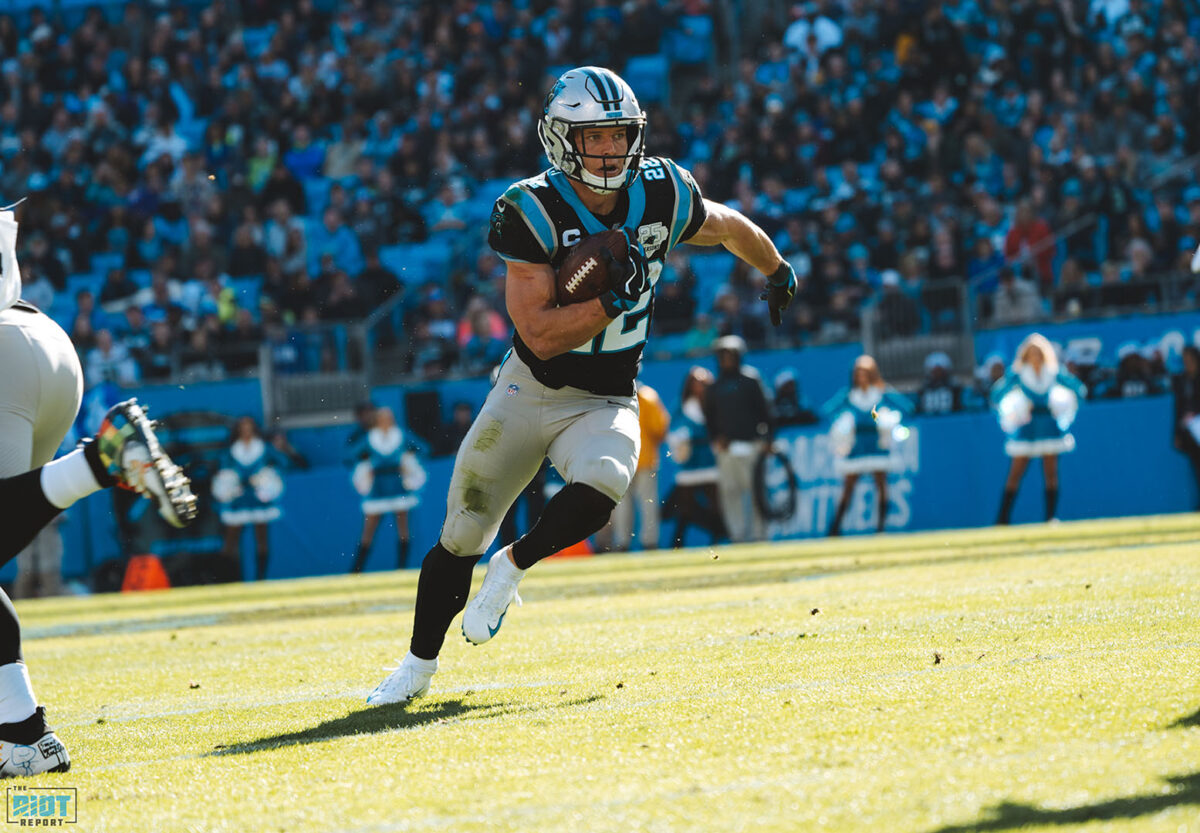 Run The Damn Ball (Effectively)
Not a lot went well for the Jets' defense in 2020, but one of the few areas where they did well was their run defense, which ranked third in the NFL (via PFR) and allowed just 4.0 yards-per-carry. Based on this, it might seem as though the Panthers would be well-advised to throw the ball as much as they can against a Jets' secondary that looks potentially vulnerable but, while the Panthers should absolutely look to make the most of their match-up advantage in this regard, the Panthers have made it very clear that an effective running game is a major part of what they want from their offense in 2021.
Of course, this will be significantly helped by the return of Christian McCaffrey who, despite only playing for two-and-a-bit games in 2020, still managed to log 225 rushing yards and five touchdowns on the ground, and the Panthers have added further support for him in the form of fourth-round pick Chuba Hubbard, who logged 139 yards on 26 carries in the preseason despite some questionable offensive line play. Though that line is still very much a question going into the season, it is worth noting that McCaffrey has put up big yardage in the past behind some fairly mediocre lines.
Why this is so important for the Panthers is that in order for them to allow Sam Darnold to be better in Carolina than he was in New York they are going to need to make life easier for him, and while the Jets' secondary should allow for some easy completions at times, if the Panthers aren't able to run the ball effectively then that is going to make things easier for opposing pass rushers and likely force the team to throw the ball behind the chains on a consistent basis. However, if the Panthers can run the ball effectively against the Jets, then that bodes well for the rest of the season.
Run Defense Takes A Step
The Panthers' run defense in 2019 was one of the worst in NFL history, allowing 5.2 yards-per-attempt and an astonishing 32 rushing touchdowns. While things did improve in 2020, the Panthers still ranked 28th in yards-per-attempt allowed at 4.7 and conceded 17 rushing touchdowns, and the Panthers have invested to make sure they aren't among the worst in the NFL at stopping the run once again in 2021.
While there are questions about how it will impact the Panthers' interior pass rush, they added veteran run-stuffer DaQuan Jones to pair with Derrick Brown, before selecting Daviyon Nixon and Phil Hoskins in the draft to provide a level of depth on the interior that was absent last season. On the second level, Jeremy Chinn's move back to safety should allow Jermaine Carter to play in an expanded MLB role and Phil Snow has already talked about asking Shaq Thompson to add weight over the offseason to help him inside.
From a schematic point of view, the Panthers appear to be using something of an inside-out approach, with a large run-stuffing interior allowing them to play the likes of Burns and Reddick on the edges. This is certainly helped by the fact that Burns in particular is a very good run defender from a technical perspective, allowing him to play much bigger than his listed weight. This is all good in theory, but it will be put to the test on Sunday as they face a Jets' offensive line that features back-to-back first round picks on the left side.
The signs from the preseason were a little mixed in terms of how much the Panthers might have improved in this regard, but a strong showing against the Jets would certainly help put some long-term frustrations to bed.
The Offensive Line Can't Be Awful
There is genuinely quite a lot to be optimistic about when it comes to the 2021 Panthers but the one aspect that is really hard to work around is the offensive line. While Taylor Moton has committed to the Panthers long-term and Matt Paradis played well in his second season in Carolina, the other three spots are something of a question mark, especially after John Miller was placed on COVID/IR.
Free-agent acquisitions Cam Erving and Pat Elflein are expected to start on the left side, with 2019 sixth-round pick taking Miller's place on the right side. Both Erving and Elflein have started around the NFL in the past, but neither have done so at a high level with any consistency and, while Daley showed some real positives when asked to play left tackle as a rookie, he is yet to show he can be a reliable starter at guard. If the Panthers are going to make any significant improvement on their 5-11 record from a year ago, this group is going to have to be at least competent.
While the Jets are going to be without free agent pass rusher Carl Lawson, they still have the significant matter of Quinnen Williams to deal with. Williams, the former 3rd overall pick, is certainly going to have the Panthers' interior blockers up at night ahead of the game as his combination of quick hands, very quick feet and good power for his size make him a wrecking-ball on the interior. It would be surprising if the Panthers didn't look to double-team him, especially on passing downs, but if Williams or anybody else is able to cause persistent problems up-front then that could undo a lot of good work elsewhere.
This is going to be a major question for the Panthers until they prove otherwise and while a solid showing against the Jets likely won't be enough to do that on its own, a poor performance could start alarm bells ringing quite loudly at this early stage.
Score Points
Yes, this isn't exactly a radical idea, but this is something the Panthers really struggled with at points last season.
Only the Patriots and the Giants had fewer passing touchdowns than the Panthers in 2020, and while their overall rank of 24th in points score isn't disastrous, that fails to take into account quite how often the Panthers put themselves into positions to score only to come up short. They ranked 28th in Red Zone percentage, 25th in 3rd down conversion rage and only four teams turned the ball over on downs more than the Panthers. None of that is good.
This was also a problem for the Panthers in the preseason as they had consistent struggles turning good field position in to points with only one touchdown through the first two games despite consistently good field position. This did improve with the starters back against the Steelers, but they too struggled to have much luck for their first quarter on the field. This isn't something that needs to be elite for the Panthers to be effective, but if they are able to consistently move the ball down the field against the Jets than it can't keep ending with field goals attempts and fourth down failures
It is much easier than it sounds, but the Panthers left a lot of points on the board in 2020 and they are going to continue to lose games where they have the upper hand if this isn't addressed.
In many ways, a home game against the Jets is the perfect start for this version of the Panthers. While a lot will be made about Sam Darnold facing his former team, there is a lot more than just that to watch on Sunday. If the Panthers can beat the Jets comfortably, then that's a pretty good indication that they might have a chance to be quite good, but if they lose then that probably isn't a great indication of what is to come over the next few months.
Back in 2017, the Panthers opened the season against a 49ers team in their first season under Kyle Shanahan, a team that didn't have the talent to cause major problems for good teams on a consistent basis, but which was competent enough to force opponents to beat them rather than beating themselves. It is yet to be seen whether Robert Salah can have the same effect on the Jets, but if he can get anywhere close then this should be a tough-but-winnable test for a young but ascending Panthers team.