Training Camp is finally here, bringing with it the Spartanburg heat, a chance for fans to get access to their favorite players that just isn't possible other times of year and, of course, the intrigue of the various battles playing out across the roster. Matt Rhule has made competition the cornerstone of his approach to roster building, and there are very few players who enter camp assured of their role, but there are a few areas where the competition for places looks to be especially fierce.
With that in mind, here are the five battles we are eager to watch play out over the coming weeks.
1. The Tight End Rotation
It's no secret that the Panthers struggled to get much, if any, production out of the tight end position throughout the 2020 season, and after making no secret of wanting to add to their existing group they went out and signed Dan Arnold to a 2-year deal in free agency before selecting Notre Dame's Tommy Tremble with their second third round pick. It seems highly likely that the top three tight ends on the Panthers' depth chart will involve these two as well as 2018 fourth-round pick Ian Thomas, but what remains to be determined is the size of their relative roles.
Of the three, Arnold is the most prove receiving option, and is likely to be the player the Panthers turn to in obvious passing situations, but while he is reportedly working to continue his development as a blocker, the converted receiver is still far from a plus player in this regard and unless he is able to make remarkable strides then it is going to be hard for him to assume the role of a conventional #1 TE.
On the other end of the spectrum, Tommy Tremble might not be a known entity at the NFL level, but was arguably the best blocking TE in college football in 2020 and while he is largely unproven as a receiver, when the Panthers need somebody to lead block on 4th-and-goal it seems highly likely that Tremble will be the man they turn to. Ian Thomas looks to be something of a middle-ground in that he isn't the receiver that Arnold is, nor the same blocker as Tremble, but is the most well-rounded of the trio.
What will be interesting to see then, is not who gets to see the field during the regular season, as in all likelihood all three will see a reasonable number of snaps, but rather what the balance between the three looks like and how much Arnold and Tremble in particular are able to contribute outside of their respective areas of specialization.
In an ideal world, Ian Thomas will make the leap he has been threating to throughout his career, Arnold will take a step as a blocker and Tremble will show that he can contribute as a receiver when given the chance. In the worst-case scenario, Arnold plays in obvious passing situations, Tremble in obvious running situations and Thomas gets the bulk of the snaps in order to keep defenses guessing.
In all likelihood the actual outcome will fall somewhere between the two, but this is likely to be an area of continued evolution throughout Training Camp and the preseason.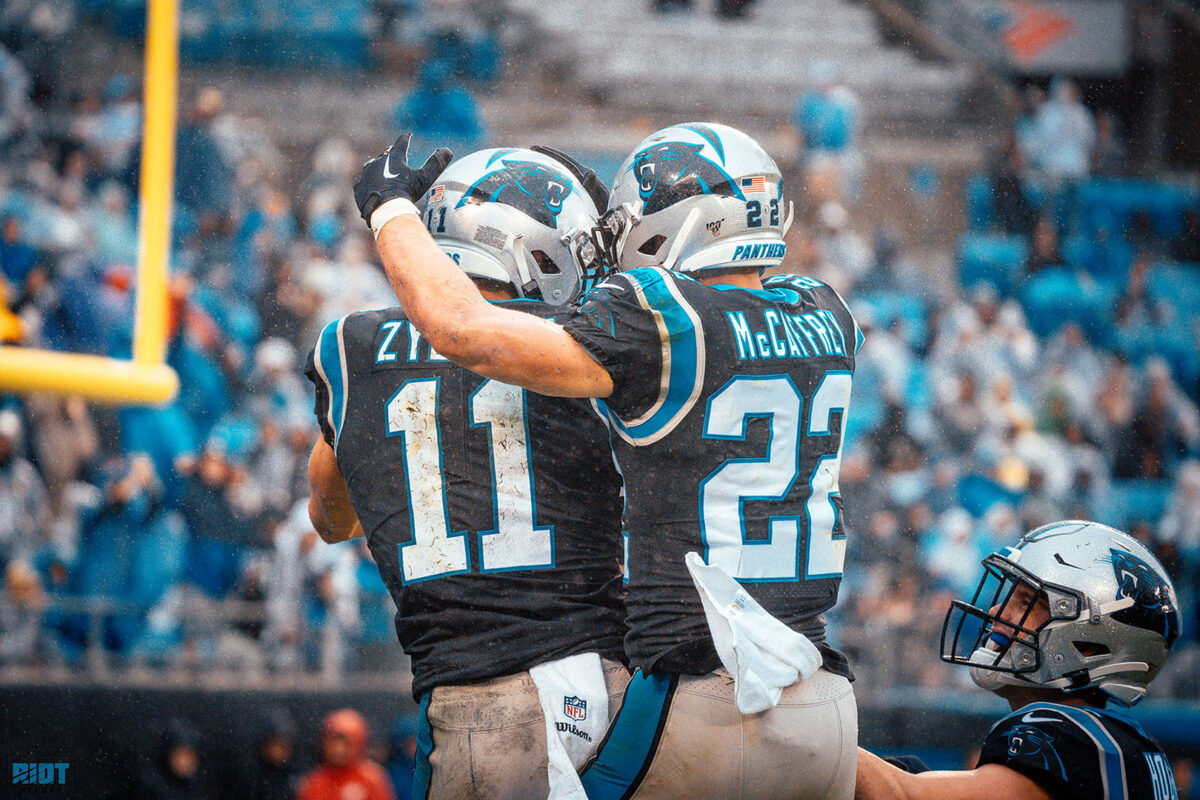 2. Wide Receiver Depth
Last year, the coaching staff talked a lot about wanting to run a heavy dose of four and even five receiver formations, but ultimately ended up playing far more multiple TE sets than anybody anticipated, and a major part of this was the fact that they struggled to get any production from their receiver room outside of the top three guys. Of course, this wasn't helped by losing both Keith Kirkwood and Training Camp star Omar Bayless to injury before the season started, but adding more depth at receiver is crucial to allowing the Panthers to run the offense that Joe Brady was hired for.
As well as getting Kirkwood and Bayless back from injury, the Panthers have also addressed this need through both free agency and the draft. David Moore might not be a household name, but the former Seahawk has amassed over 1250 total yards over the past three seasons to go with 13 TDs, and has been effective both as a deep threat and more of a possession-type receiver. The selection of Terrace Marshall in the second round is likely more about replacing Samuel than adding depth, but sixth round pick Shi Smith is another players who has a chance to earn a role with a good camp.
As well as the more significant new faces, the Panthers also signed 2020 UDFA Micah Simon after he impressed Scott Fitterer at BYU's Pro Day and returning players like Brandon Zylstra and Ishmael Hyman will hope to be part of the conversation as well. This might not be a group full of star names, but the Panthers have enough star talent at the top of the depth chart that the fourth and fifth receivers on the field are going to be put in good positions to have success, they just need to deliver when given the chance.
Of course, having added a number of new faces to add depth, the Panthers have also created a lot of competition for the final couple of roster spots, and while David Moore seems fairly likely to make the roster, the others are likely going to be competing for between one and three roster spots.
Receiver vs defensive back one-on-ones are always some of the most popular practice reps for fans, and understandably so, but this year there should be as much interest in the reps for those towards the bottom of the depth chart as for DJ Moore and Robby Anderson. All it takes is for one player to have a very good camp and preseason and they could go from being an afterthought to a contributor on Sundays.
3. The Offensive Line
Yes, classing the offensive line as one position battle is a little speculative, but the reality is that barring Matt Paradis's center spot and Taylor Moton's job at right tackle, everything is up for grabs and players are necessarily limited to competing for one spot. The battle at left tackle likely looks to be the crux of the competition, as many of the players who are potential runners-up in this regard could also earn starting jobs inside.
The favorite for the left tackle spot entering camp appears to be free agent acquisition Cam Erving, with free agent signing Pat Elflein and returning starter John Miller likely opening camp with the first team, while Trent Scott is clearly somebody the coaches trust as an insurance option at multiple spots. However, while with Ron Rivera the younger players would have faced a significant uphill battle to earn a starting spot, Matt Rhule has made it clear that he is happy to play youth when justified and so who ends up starting is likely to come down to who performs well in camp and the preseason, not who starts camp with the 1s.
The players with the best chances of breaking into a starting role are Dennis Daley, Brady Christensen, Greg Little and Deonte Brown, with Daley and Little both expected to be part of the competition for the left tackle spot, while Christensen and Brown will likely join Daley in competing for one of the two starting guard spots.
These competitions are very much poised to involve a veteran being the default, low-risk option with the younger players having a chance to show that they are deserving of the job, an approach which has the advantage of giving young players a chance to see the field without throwing somebody to the wolves who isn't ready for it.
As well as the competition for starting spots, there is also likely to be something of a competition for the final couple of spots on the roster, with Greg Little being a potential cut candidate if he isn't able to make real strides in terms of his technical discipline in year three, while premier UDFA signing David Moore will need to show quick development to earn a spot, though the form HBCU player is a prime candidate for a practice squad spot if he doesn't make the cut.
Matt Rhule has made it clear that nothing is decided at this point, and that for the offensive line in particular a lot is going to come down to how they perform in the preseason games when they have the pads on, and they are going against live opponents for snap after snap. While the Panthers didn't make the marquee addition to the group that some fans were hoping for this offseason, what they have added is a lot of competition and if nothing else this looks to be the deepest offensive line room for a while.
4. Defensive Line Depth
It would come as something of a surprise if the Panthers starting defensive line come week one was anything other than Brian Burns, Derrick Brown, DaQuan Jones and Haason Reddick, while free agent signing Morgan Fox and 2020 second-round pick Yetur Gross-Matos are both expected to make significant contributions as players who can play both inside and out. What is less clear is exactly how the rest of the depth chart is going to look, either on the interior or the edge, and with teams typically carrying between nine and eleven combined defensive linemen and edge rushers there is likely to be a lot of competition for places.
The most secure in their places appear to be 2021 fifth-round pick Daviyon Nixon, who is the only true 3-tech on the Panthers' roster at this point, and Marquis Haynes who had something of a break-out year in 2020 with ten pressures and four sacks, while it would be a surprise if the Panthers didn't keep at least one of Bravvion Roy and Phil Hoskins as big-body depth behind Brown and Jones. On the edge, free agent signing Frankie Luvu and 2019 fourth-round pick Christian Miller are the most likely to make the cut, but Austin Larkin was good enough in the playing time he got in 2020 to not be completely dismissed at this stage.
As with receiver and the offensive line, the competition here arises from the limited number of roster spots available, and with the fringe players potentially fitting into quite different roles the result is likely to be due as much to how the Panthers want to play as who they want to play. While the Panthers have made it clear that they want to be big and physical on the interior to help stop the run and compact the pocket, it would be a little unusual for them to carry four run-stuffer and so there is likely to be something of a direct competition between 2020 sixth-round pick Roy and 2021 seventh-round pick Hoskins.
Miller is really the big unknown in all this as, having opted out of the 2020 season, it isn't exactly clear what position he is now best suited to let alone what his play is going to be like. What the former Alabama pass rusher has on his size is the talent that made him an early fourth round pick two years ago, and which allowed him to generate 2 sacks in just 91 defensive snaps as a rookie. If he looks like the player the Panthers drafted then it's going to be hard to keep him off the field, but with the coaching staff speaking highly about Luvu there potentially aren't going to be enough places for everybody.
Having too many good options is one of those good problems for a coaching staff, and it should also make for good viewing throughout camp.
5. Defensive Starters Nine Through Eleven
Assuming the Panthers play a front four most of the time, which is what Phil Snow has said they will do, that leaves seven remaining spots on defense, and while Shaq Thompson, Donte Jackson, Jaycee Horn and Jeremy Chinn look pretty set to take four of these spots, the other three are very much up for grabs. Of course, who takes these spots is going to come down as much to personnel groups and individual players, but with the Panthers have more genuine options than a year ago, Snow has made it clear they are going to let the cream rise to the top.
At the heart of this is the potential for Chinn to move back to a more conventional safety role, which both creates space for more conventional linebackers to get extended playing time and creates more of a competition for the second safety role alongside him. At corner, AJ Bouye is expected to be the primary nickel option, but with the potential for the Panthers to once again play a lot of dime, there is likely to be a tough competition for that sixth defensive back role.
At linebacker, Jermaine Carter's play in the back half of last season has him primed for a competition with Denzel Perryman for the #2 linebacker spot, though if both players play at a very high level through camp, then that is likely to push the coaches into playing more three-linebacker formations that were largely absent last season.
At safety, Juston Burris is expected to be the clubhouse leader entering camp but after a fairly unremarkable 2020 season he is likely to face competition from the young trio of Myles Hartsfield, Kenny Robinson and Sam Franklin who will also be keen to compete to see the field when the Panthers do go for a dime look.
Phil Snow has been clear that Training Camp is going to allow him and the other defensive coaches to experiment somewhat, and how the different possibilities start to evolve with time will go a long way to deciding what does and doesn't make it to the field come the regular season. Whereas a year ago when they were forced into their defensive personnel due to a lack of depth, they now have a chance to alternate between a couple of personnel groups, but what these groups are is up for grabs in camp.
The Panthers are still a team that is building towards competing rather than being to compete right now, and they are still a couple of major additions away from being able to make a case for postseason relevance, but by ensuring that there is competition in place across the roster the Panthers have a chance to fill a number of perceived holes, thereby allowing them to focus their attention into the remaining areas of concern moving forwards.
Not every area of uncertainty is going to have a happy ending this offseason, there are likely to be areas of weakness that the Panthers have to address over time, but with one of the youngest rosters in the NFL and a number of new additions in place the Panthers have a chance to take a step this season, and a lot of what will determine the size of that step will take shape over the next few weeks in Spartanburg.
It's certainly going to make for exciting viewing.
(Top photo via Brandon Todd/Carolina Panthers)