The Panthers are now in a new era – a new Head Coach and new coordinators and what is going to eventually be a new roster. Over the coming months, there are going to be an awful lot of conversations, both at Mint & Morehead and around the Carolinas, about what the Panthers should do in free agency and the draft, but in order to understand what the Panthers should do, it is first necessary to understand where the Panthers stand from a roster perspective.
You can't buy the groceries without knowing what's in the cupboards.
This is especially important if the Panthers are going to rebuild – while this opens up the Panthers to using the draft and free agency to build talent rather than simply to cover a leak that springs up, it is important to know what you have available at each position in order to inform how you look to amass talent. With that in mind, over the coming weeks, we'll be going through each position on the roster and examining who the Panthers have, who they might have, and where that leaves them entering the offseason. Check out some previous iterations here:
The Panthers' linebacker room was constant for over half a decade – at least at the very top – but with the departure of Thomas Davis and Luke Kuechly in subsequent years, this is no longer the position group where you can mark the Panthers down for the subsequent season in February. There is still some uncertainty about exactly what the Panthers' defense is going to look like from a schematic point of view, and so whether they spend much of their time with three linebackers on the field is still yet to be determined – but with that caveat in place, what is the state of the Panthers' linebacker room?
The Starters, For Now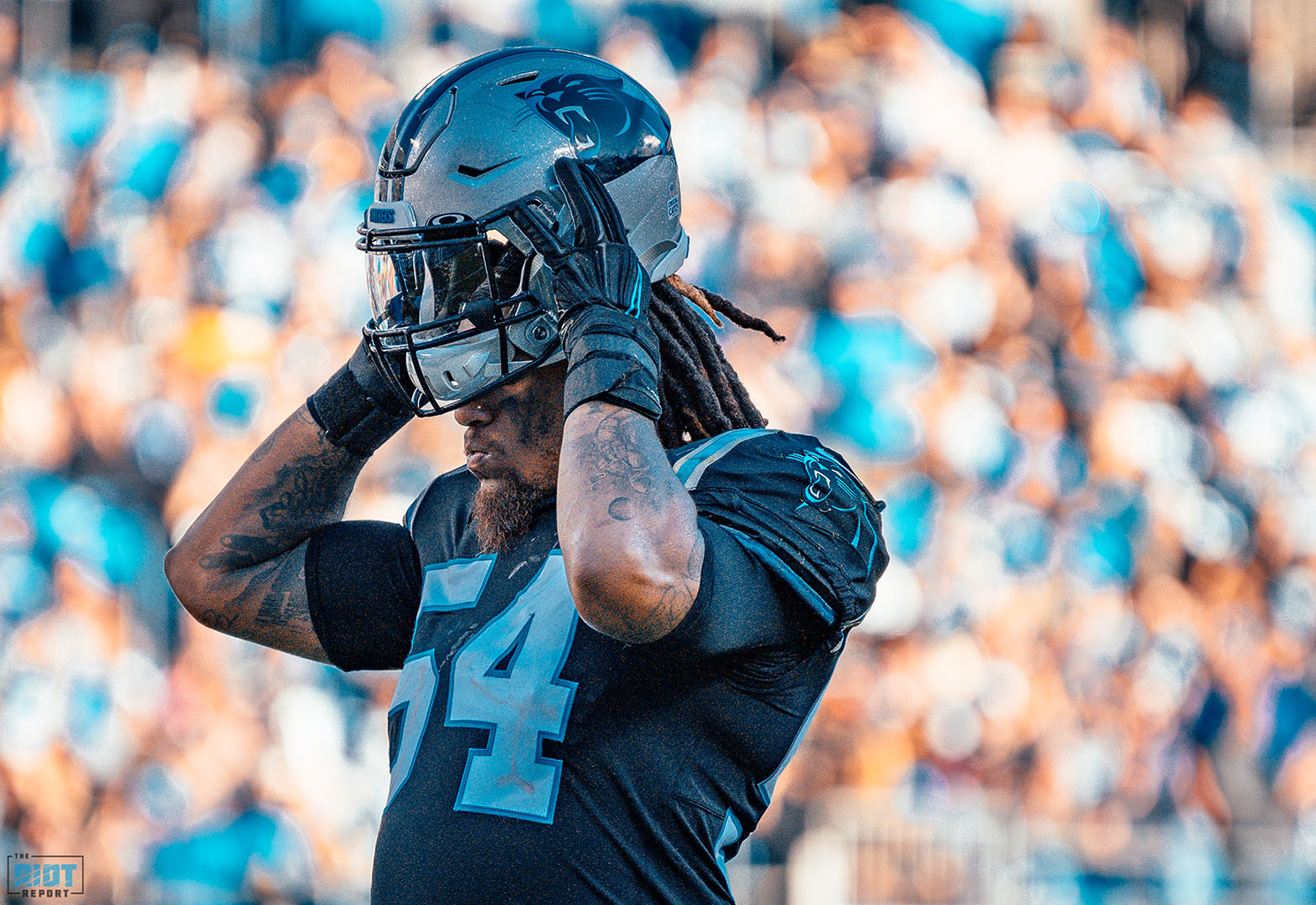 Having just signed a bumper new contract, Shaq Thompson is going to certainly be the Panthers' main linebacker this year – the question is more about who will play alongside him. It seems highly likely after having been the clear third linebacker last year that Jermaine Carter, Jr. at least gets a prolonged look at a starting role – while that doesn't preclude the Panthers from signing or drafting anybody, it does seem unlikely that they would go out with a view to finding a clear starter in free agency. They probably have the cap space to go after a Blake Martinez or a Jamie Collins, but it's not clear why they would be so keen to avoid Carter being on the field – especially if they are going to rebuild.
That doesn't mean the Panthers might not bring in somebody who could compete for a starting role – either a free agent such as a Kevin Pierre-Louis or maybe even a Darron Lee – and it seems likely that they will want to add somebody in free agency to account for the loss of Kuechly to avoid having to find a linebacker in the draft, but with a number of younger players already on the roster, it is hard to imagine they would be keen to assign a lot of cap to the position, knowing this is one of the few instances where the solution might actually be on the roster.
There is always the chance the Panthers could find a replacement for Kuechly in the draft, and while it is certain they won't find somebody who can fully replicate what he was able to bring to the team, if they think the value is there, that is always a direction they might take, though given the comparative strength of the linebacker position compared to some other areas – even accounting for the loss of Kuechly – this would likely take the form of a more developmental prospect on day two or three unless they feel there is a generational talent in the first round.
Strength In Depth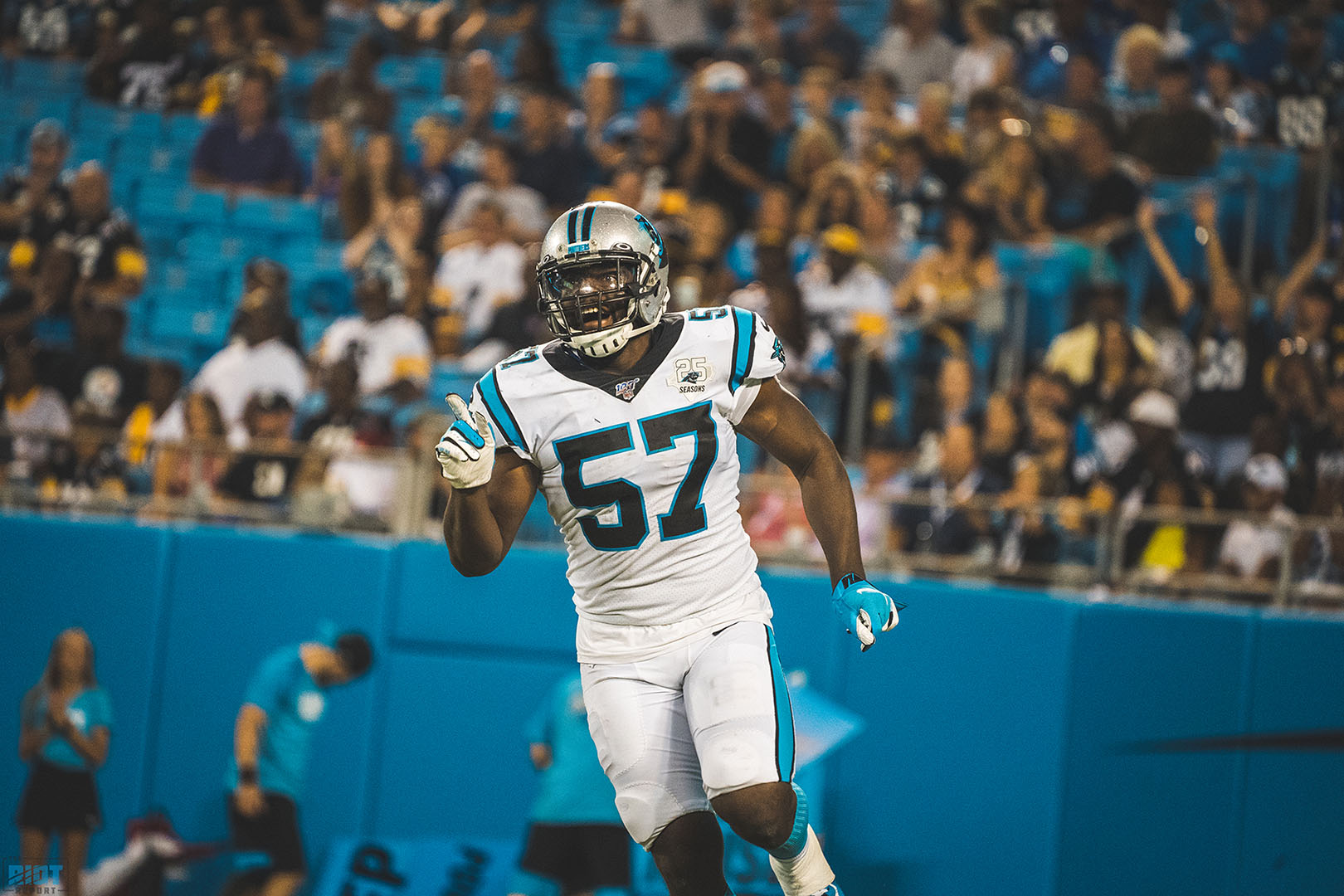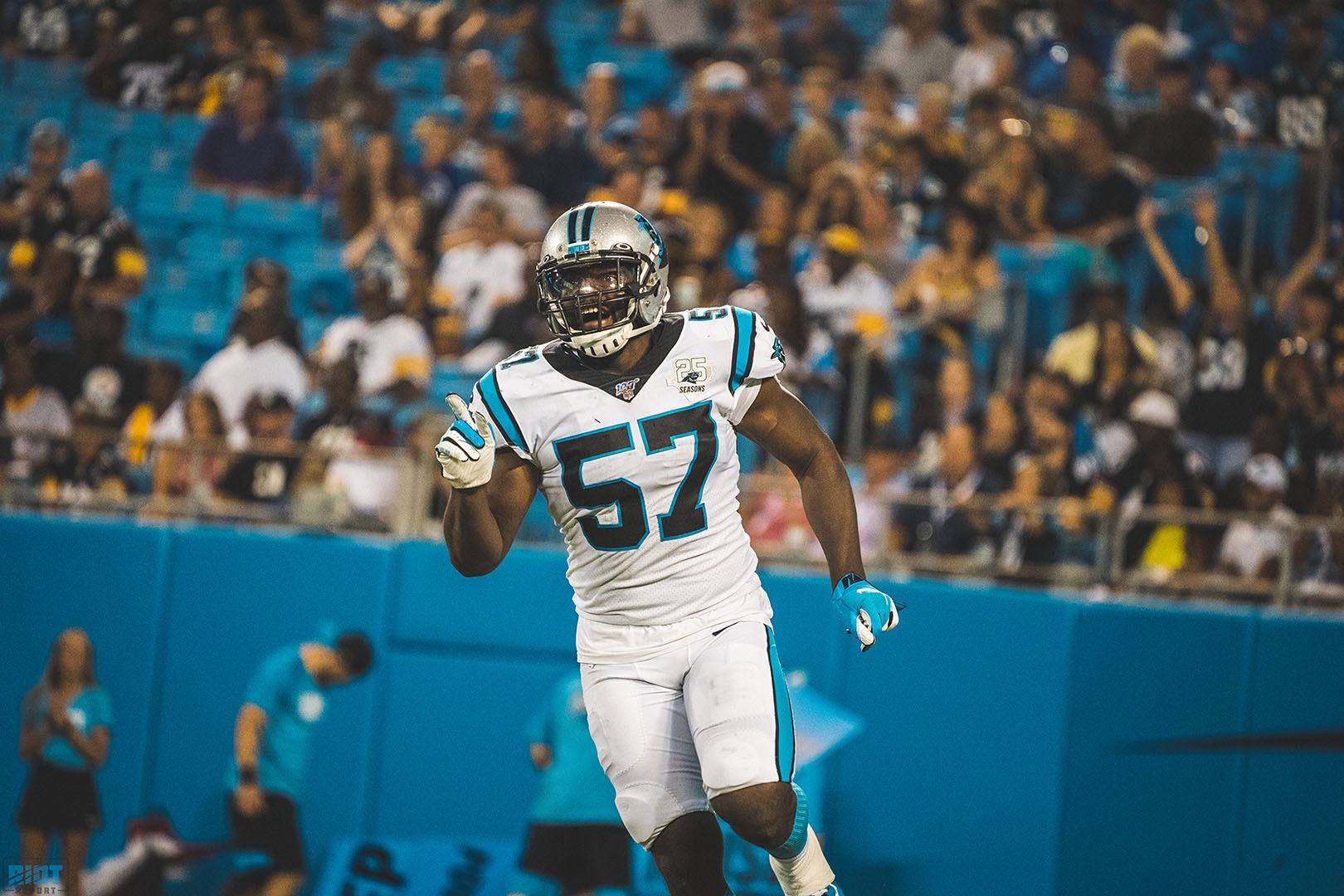 The Panthers do have a number of interesting names coming back with Andre Smith and Jordan Kunaszyk both being somewhat unknowns still at the NFL level. This, of course, doesn't mean that they will be good if given more playing time – but given the names they have had ahead of them, the fact they haven't got much playing time early in their careers doesn't necessarily mean they can't be useful parts of the roster. If the Panthers are going to rebuild, it seems likely that one or both of these players gets some more extended playing time in 2020, possibly as that third linebacker if they chose to move back to a 4-3 – while that might not mean they are viewed as starting pieces going forward, it could help to increase their perceived value league-wide, as well as allowing the Panthers to feel more confident in the depth they have at the position.
Of course, as things stand right now with just four linebackers under contract for 2020, if the Panthers do move back to a 4-3 defense, it seems likely that they are going to have to add some pieces over the offseason. Even if they do add a veteran or even two in free agency, they could also kick the tires on some younger options as well, either in the draft or, possibly more likely, as UDFAs. Linebacker looked to be the only position group on defense that looked likely to not see massive change this offseason – at least prior to Kuechly's retirement – while this obviously changes things, this is probably still the strongest position group on the defensive roster from a top-to-bottom perspective.
Expect the younger players to be given a chance.