The Panthers are now in a new era – a new Head Coach and new coordinators and what is going to eventually be a new roster is just around the corner. Over the coming months, there are going to be an awful lot of conversations, both at Mint & Morehead and around the Carolinas, about what the Panthers should do in free agency and the draft, but in order to understand what the Panthers should do, it is first necessary to understand where the Panthers stand from a roster perspective.
You can't buy the groceries without knowing what's in the cupboard.
This is especially important if the Panthers are going to rebuild – while this opens up the Panthers to using the draft and free agency to build talent rather than simply to cover a leak that springs up, it is important to know what you have available at each position in order to inform how you look to amass talent. With that in mind, over the coming weeks, we'll be going through each position on the roster and examining who the Panthers have, who they might have, and where that leaves them entering the offseason. Check out the first iterations here:
The Panthers' interior defensive line saw a couple of pretty crippling injuries last season with both KK Short and Dontari Poe both going down midseason; combined with the struggles in terms of adapting to the new scheme, it made for a pretty poor season for the Panthers' defensive line, even if they made something of a jump in terms of pass rush. What was meant to be the unit that spearheaded the Panthers' push to a Super Bowl ended up being something of an afterthought – and now the Panthers have to make some hard decisions about what they do moving forwards.
The Starting Pair – Maybe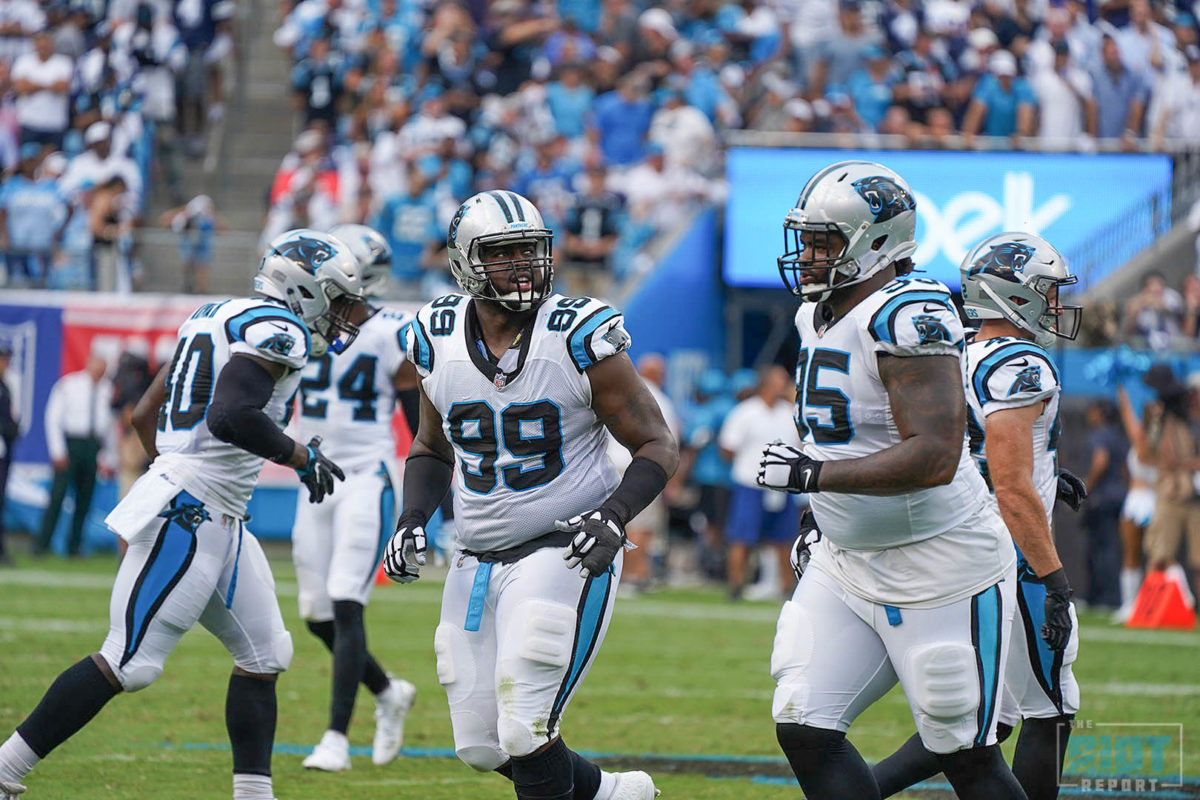 The biggest change to this point in the offseason is that the Panthers could reportedly move back towards a more conventional 4-3 defense, meaning that as things stand right now, the starters are likely to be the aforementioned Short and Poe. While Poe had his struggles in his first season in Carolina, as a pair they should be expected to be one of the best interior defensive lines in the NFL, and while this should be something that the Panthers could build around defensively, they will both be in their early thirties come the start of the season, with Poe also entering the final year of his contract.
The Panthers have a team option with Poe should they not exercise it and release him before March 15th, they could save $10m against the cap with only $3m in dead money.
With both players coming off injuries, it seems unlikely that the Panthers would trade either of them before the season starts – if only because the value will only be higher once they prove themselves to be healthy – but there is still a chance the Panthers look to move on from Poe in order to save cap room before the draft and it would be even more surprising if the Panthers weren't listening to calls about both of them prior to the trade deadline than if they were. The Panthers would barely save any cap room by moving on from Short at this point, so for him, any trade would have to be one that offered significant assets in return, but as moving on from Poe would save nearly $10m in cap space, it's hard to think the Panthers won't be highly tempted by any offers.
The thing that makes it hard to see the Panthers moving on from them before the draft, though this possibility shouldn't be taken for granted, is that with the entire rest of the interior defensive line hitting free agency and even with the move to a 4-3, it would still mean adding or resigning two interior defensive linemen even before considering replacing one or both of them. Part of sensible rebuilding is not moving on from assets too soon just in the desire to get younger, and the Panthers would be foolish to get rid of either of the above without receiving much in return – but if the Panthers aren't going to be competing for the next couple of seasons, it's hard to see 2021 free agent Poe or soon-to-be 31-year old Short factoring into their long term plans.
The Depth, Or Lack Thereof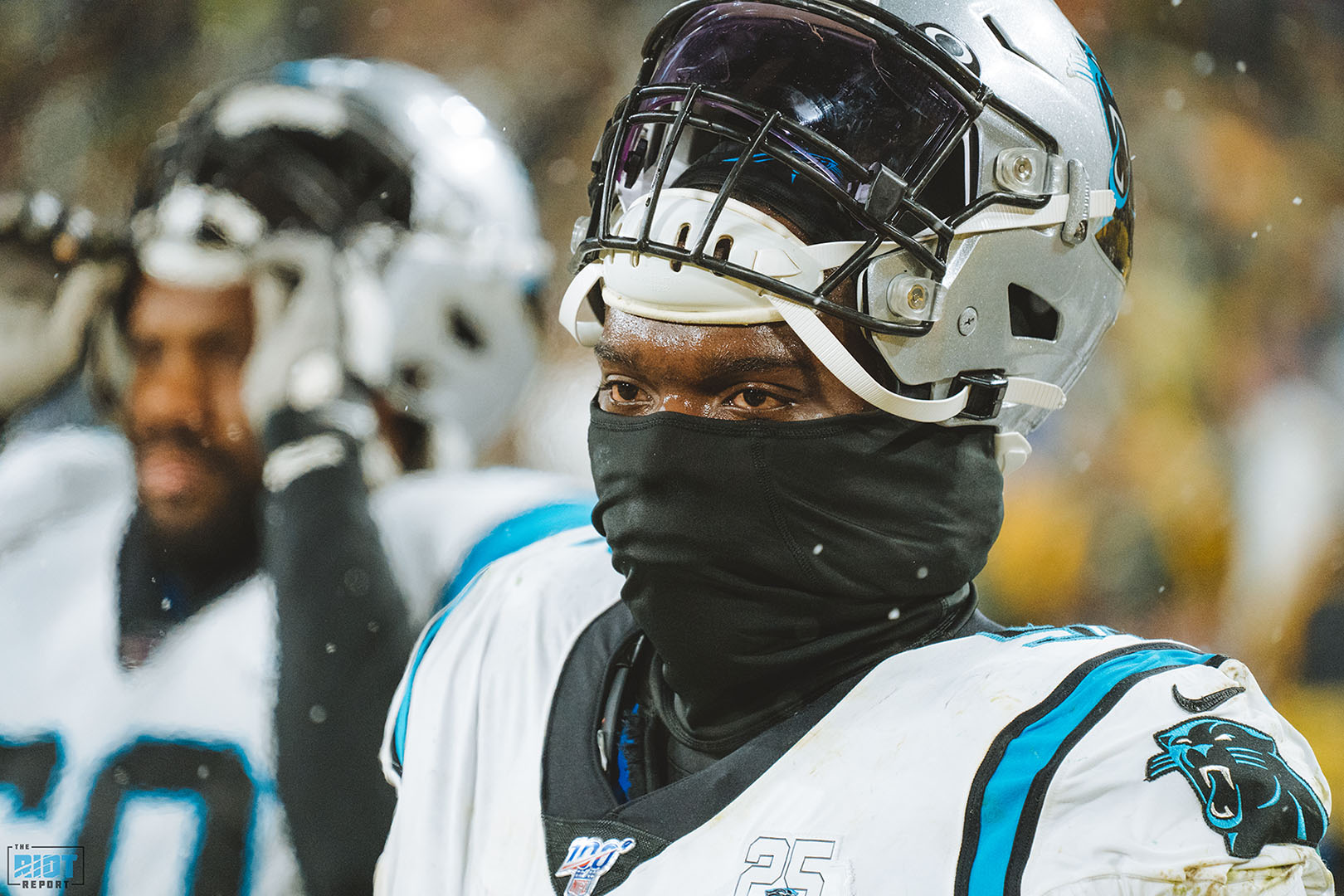 As already mentioned, the other interior defensive linemen who started the season on the active roster – Love, Butler and McCoy – are all pending free agents. While McCoy had another solid season for Carolina, at 32, it's hard to see the Panthers being that keen on bringing him back if they do look to rebuild, not to mention they are likely going to want to move on and take the 2021 compensatory pick unless he is willing to return at far below what market price is expected to be. It's a similar story with Kyle Love, who has been a good rotation piece for Carolina for a while, but really struggled for a role in the 3-4 defense and at 33, is even less likely to be part of the team's long-term plans.
The more interesting decision regards Vernon Butler, who was far more obviously impressive as a third starter than he was leading the second team – while it's hard to argue that he hasn't been a disappointment as a former first-round pick, he looked like a legitimate NFL player this year; at 26 years old, if he is willing to return on a reasonable medium-term deal, the Panthers could use him. There is a chance that somebody looks at his sack total alone and signs him to a bumper deal, or that he just wants a fresh start somewhere else or an even better chance that he's not someone that fits into a Matt Rhule/Phil Snow locker room – but depth is important, and while Butler isn't the star he was drafted to be, he isn't a complete bust, either.
The other names the Panthers will have to consider are Woodrow Hamilton – who is under contract for 2020 – and Stacy McGee. It's hard to say that either made much of an impact in their late-season tryouts, but the Panthers will need bodies for camp. It's hard to imagine that they would go as far as to cut Hamilton pre-draft unless they think there is excellent value for training camp defensive tackles in free agency, but if either or both are around, they could be some of the prime candidates for a battle with undrafted free agents in camp for at least a practice squad spot.
The Panthers probably won't spend heavily on the position in free agency unless one or both of Short and Poe departs – even then, they may well look to save their money for elsewhere and look at more middle-tier options such as starting Butler or bringing in a Maliek Collins or Christian Covington. This doesn't appear to be the strongest defensive line draft class, but Derrick Brown is understandably going to be under strong consideration for all teams picking in the top half of the first round and with the age of Short and Poe, the Panthers probably wouldn't have any qualms about drafting a defensive tackle if they believe him to be the best player available.
This could also be a position that gets some attention as the draft goes on, especially if the Panthers let Butler walk in free agency.