Matt Rhule's first NFL Draft revolves around the number seven – the first selection was with the seventh pick. The Panthers made seven picks. And every single one of those seven was on one side of the ball – a modern-day NFL draft record, the most picks by any team in the common draft era to be made all on defense.
Seven picks. Seven defenders.
Talking about making a statement.
For those wondering what the Panthers were going to do about the holes in their defense after a free agency period filled with offensive playmakers and many question marks about who was going to execute Phil Snow's defensive scheme against one of the best offensive divisions in the NFL, the 2020 NFL Draft provided them with some answers – and the Panthers will be depending on these rookies a lot this season.
"I think with the situation this year for us, in terms of where our roster is, the guys we have coming back, we are going to have to depend on rookies," Rhule said after the draft. "Even if you don't depend on them early, typically with injuries, you're going to depend on them late."
While there are still lingering holes that may still be addressed during free agency – is fourth-round pick Troy Pride, Jr. going to be the Week 1 starter at outside cornerback opposite Donte Jackson as he says he plans to be? – the Panthers beefed up their defensive line with three defensive lineman and added depth and versatility to their secondary with Pride, Jeremy Chinn and Kenny Robinson, Jr. and Stan Thomas-Oliver.
While one might have guessed that the Panthers would lean heavily towards the defense, no one expected them to do it like this – but those reading the tea leaves from Marty Hurney about what they'd done in free agency already might have been able to see at least a hint of this coming.
"I think we've, obviously, added depth with receiver. We, I think, have added depth and competition on the offensive line. We've changed quarterbacks," Hurney said. "When you look at the defensive side of the ball, I think that's where we probably haven't added as much as we have on offense. So if you were to say, 'What area would you look at the most?' It would be defense rather than offense at this point."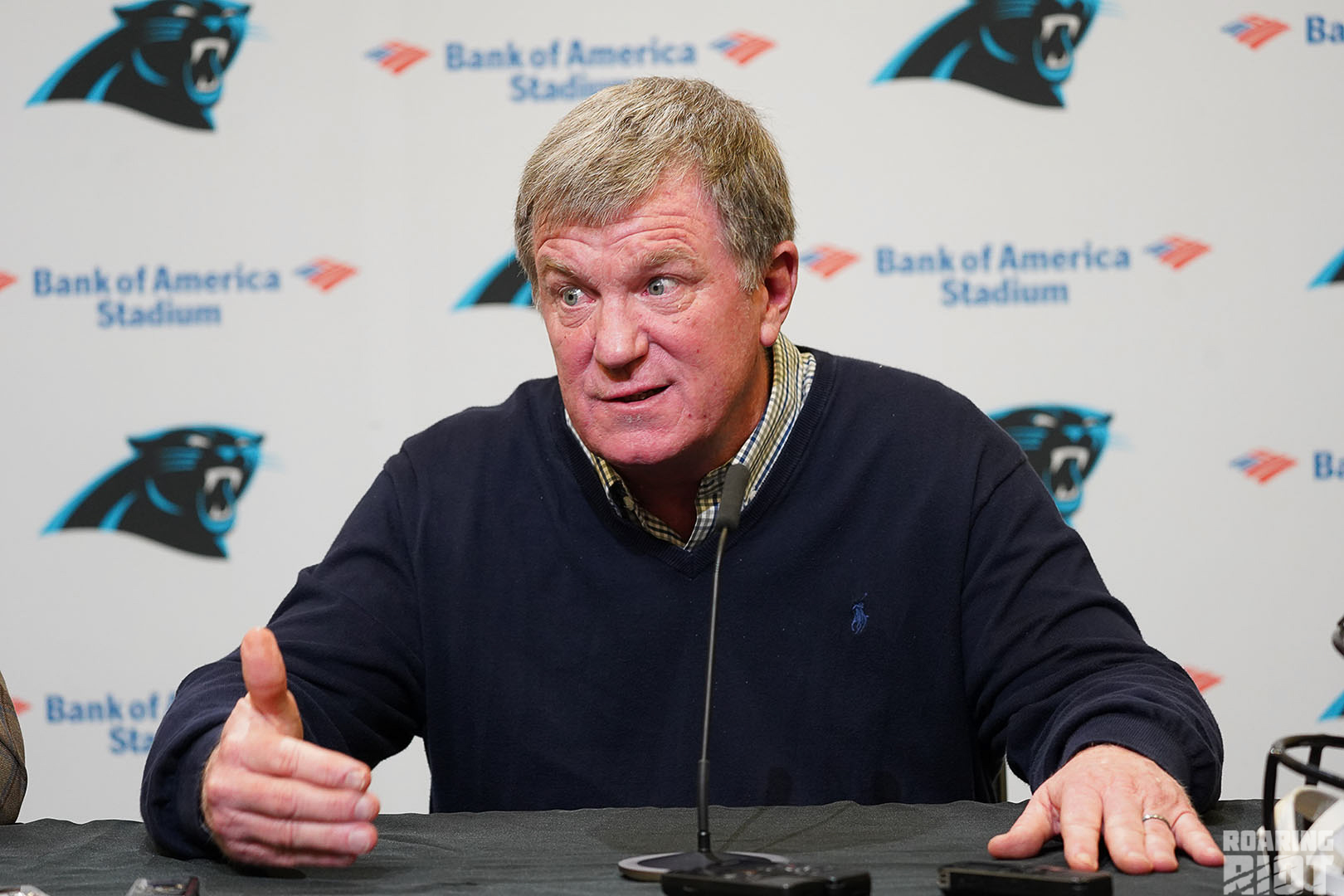 But, did they see this coming?
Sure, Derrick Brown was a popular pick in mock drafts for the Panthers at seven and both Yetur Gross-Matos and Jeremy Chinn slid in the draft to the point where the Panthers had them as their best players available, but an entire draft class FULL of defensive players that will remake one side of the ball in a single three day period?
"We knew it was going to be defense heavy, but we didn't go in with that," said Rhule. "I think there were two times where we had an offensive guy as the next guy up as we got within three or four picks [and] that offensive player went away so we went back to a defensive player. I think we thought we would draft one or two offensive players, but we really, truly thought we addressed the offense in free agency."
"Defensively, we knew we needed to do something similar to this. The way it played out, it played out – and we're good with it."
But even after adding seven – and many more through the UDFA process – new defensive players, the Panthers aren't done shaping their roster….especially not for a team that may be more interested in their talent peaking not this season, but in the future as this raw defensive draft class gets the chance to grow together.
"There's always work to be done," Marty Hurney said. "I always kiddingly say, we don't play until September, but I mean it – everyday, we're going to be looking to improve our team. We're working hard on the undrafted free agent part of it, but you're constantly looking at the wire for veterans who are out there. All avenues. There's still work to be done."
"There's definitely still work to be done."
For more on a weekend that made Phil Snow VERY happy, click on each of the Panthers' picks below to learn about who they are, why the Panthers picked them – and what they'll ultimately bring to the defense: