The Panthers are now in a new era – a new Head Coach and new coordinators and what is going to eventually be a new roster is just around the corner. Over the coming months, there are going to be an awful lot of conversations, both at Mint & Morehead and around the Carolinas, about what the Panthers should do in free agency and the draft, but in order to understand what the Panthers should do, it is first necessary to understand where the Panthers stand from a roster perspective.
You can't buy the groceries without knowing what's in the cupboard.
This is especially important if the Panthers are going to rebuild – while this opens up the Panthers to using the draft and free agency to build talent rather than simply to cover a leak that springs up, it is important to know what you have available at each position in order to inform how you look to amass talent. With that in mind, over the coming weeks, we'll be going through each position on the roster and examining who the Panthers have, who they might have, and where that leaves them entering the offseason. Check out the first iterations here:
The Panthers' offense line wasn't good in 2019 and while that was not helped by a series of injuries, it is hard not to see the inconsistency – to put it nicely – of the offensive line, as one of the major flaws in the Panthers' championship aspirations of the past half-decade. While the Panthers did invest a pair of picks in the offensive line last year, this is far from a solved problem, but without the kind of natural changeover due to expiring contracts that the team is about to experience on the defensive side of the ball, how much the Panthers might change up the offensive line from a personnel point of view is still comparative unclear.
So let's try and clarify it – a little.
Those You Can Write In Now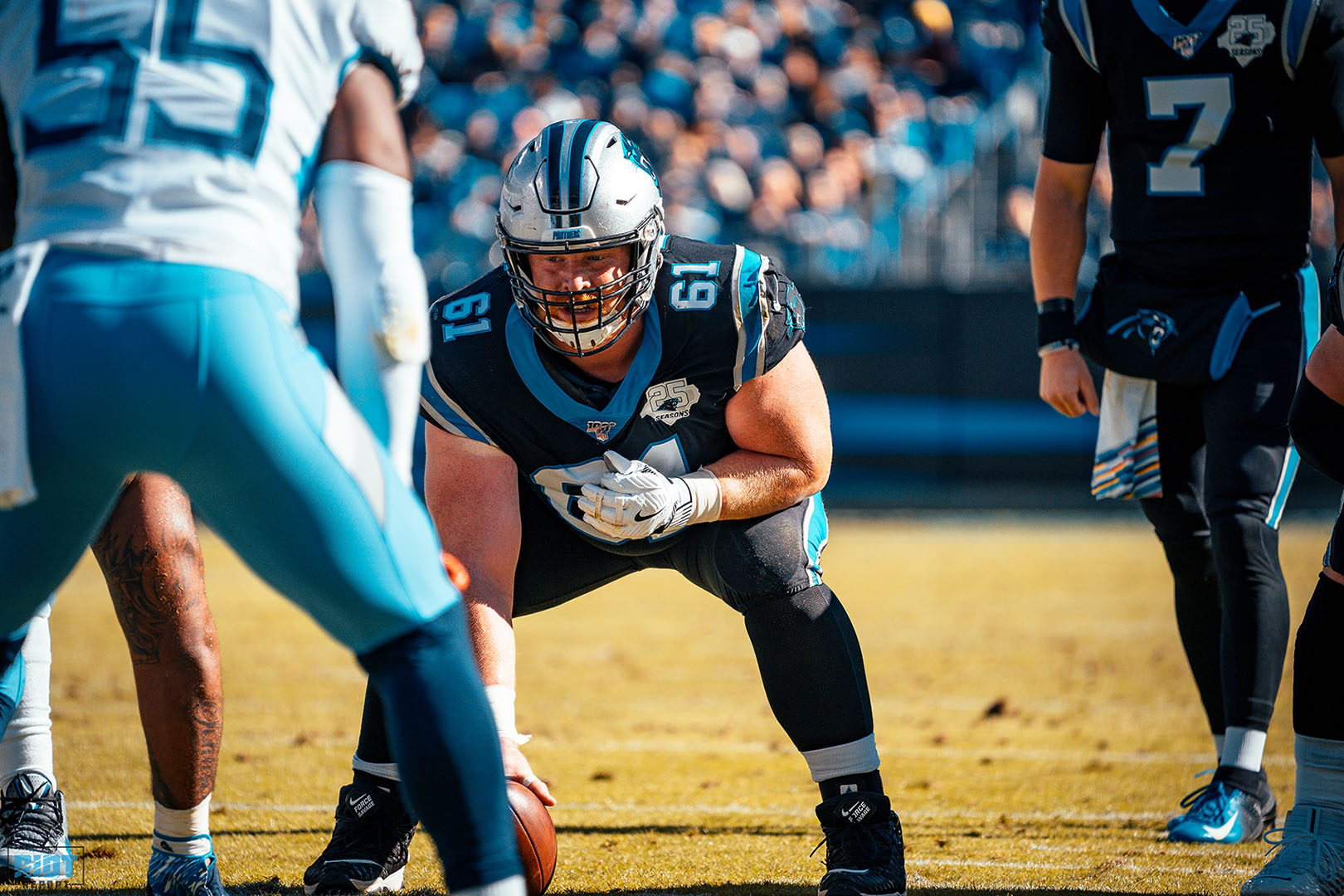 While the Panthers could save nearly $5m combined by cutting Matt Paradis and Trai Turner this offseason, they were arguably the Panthers' two most competent performers on the offensive line a season ago – not to mention that it would cost them $16.6m in dead cap space. The other thing that should be considered here, is that while the Panthers do want to get younger and to start to build around players who will be around the far side of the rebuild, if the offensive line is extremely inconsistent, that is going to make it very hard to develop and nurture talent on the rest of the offense. While that doesn't mean they have to an elite offensive line to start the rebuild, it does mean that getting rid of competent and NFL-caliber offensive linemen might not be a particularly sensible strategy.
Paradis might be at some risk during the 2021 offseason, especially if the Panthers manage to find a legitimate alternative in either the draft or free agency; at 30 already, he is unlikely to be part of the long-term plans of the roster, but his play was better than many give him credit for this season, and given the importance the center has in getting the protections in place and organizing the offensive line in general, it would seem imprudent to cast him aside at this stage – not to mention a full offseason of conditioning, something he didn't have the opportunity for in 2019, should improve his play in 2020. Turner, similarly, didn't have his best season in 2019, but he was still a positive and at just 26, it should be expected that he could still be a major part of the Panthers' offensive line on the far side of a rebuild. Given the size of his contract, the Panthers might listen to trade offers for him at some point – they're likely listening to trade offers on almost the entire roster – but that is very different than actively looking to push him out the door.
The other player who is probably all-but-certain of his starting role next season is Greg Little, as while he struggled with injuries last season, he looked competent in the game time he did get and has shown flashes of the players he looked like he could become in college. He needs to continue to develop, and if Pat Meyer is good at his job, that will be a major part of building a good offensive line in Carolina, but there should still be the expectation that he can develop into a quality left tackle in the NFL – the Panthers will likely struggle to find a better option to start there this offseason, regardless.
The Guys On The Edge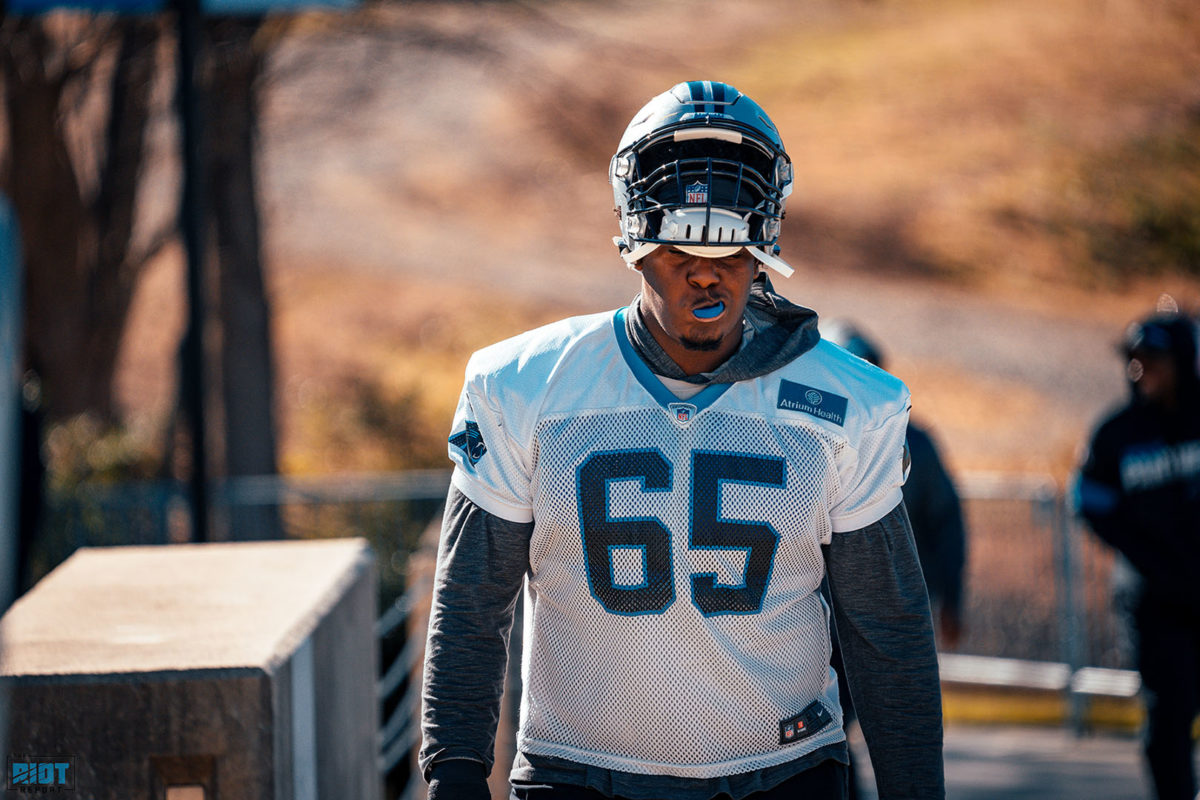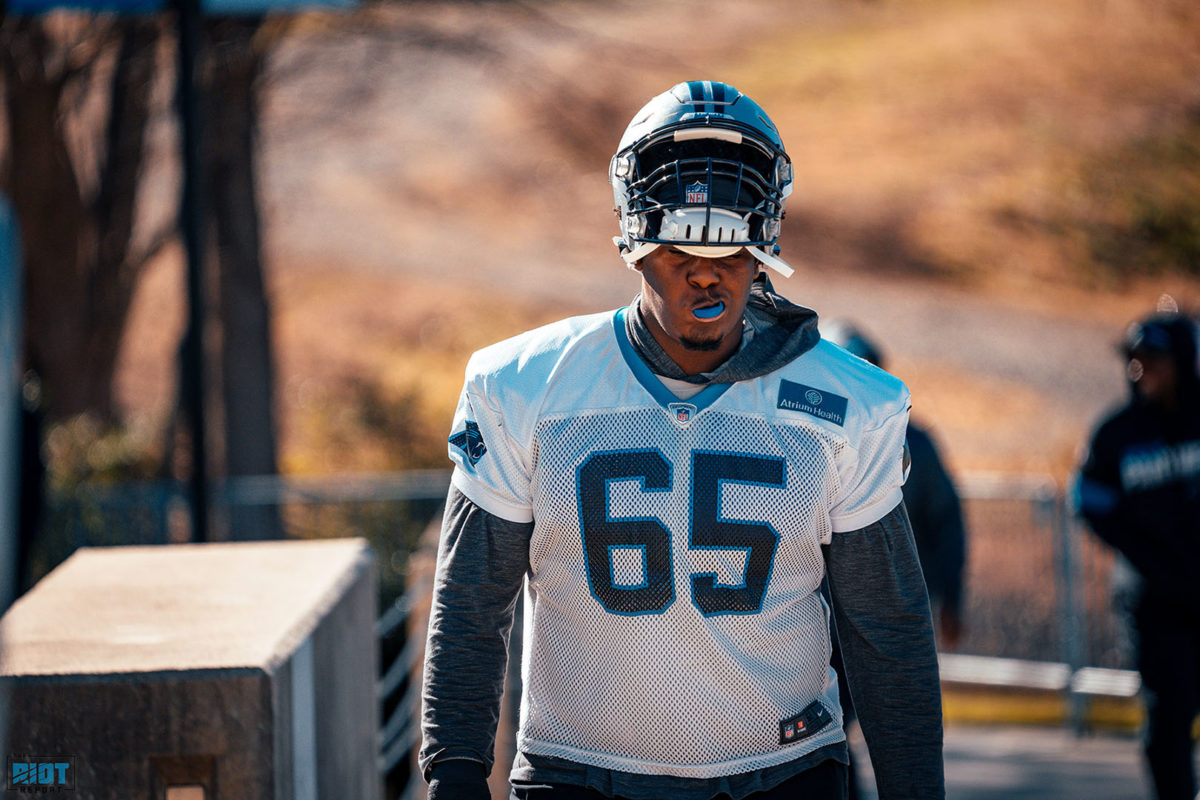 If the season were to start tomorrow, Dennis Daley and Taylor Moton would likely be the other two starters – the plan for the Panthers' offensive line this offseason is probably less about finding clear starters at either position for the next decade, though that would of course be nice – but rather find a place where Daley is competing for a starting role and not gifted one. Not only should this lead to a higher quality of starting offensive line as a unit, but also allow for a higher quality of depth should one or both of these players not end up starting.
For Moton, the right tackle position is far more secure than the left guard spot is for Daley, but having had a very promising 2018 season, he failed to show much growth in 2019 – while this is hopefully more a bump in the road than a blockade, given that he is a pending free agent after this coming season, he will need to show that not only is he the best right tackle for the Panthers next season – which he has a good shot of being – but also that he is good enough to warrant a long-term contract and the right tackle spot for the foreseeable future. Given this uncertainty, expect Daley and maybe any rookie tackle they have in training camp, to get some some reps at right tackle, both as injury coverage but also to test where the Panthers might be if they decide to let Moton walk in 2021 – a new coaching staff will likely be exploring all options at all positions..
Daley and Moton essentially are the benchmark for the Panthers' offensive line this offseason, and while the other three starting positions aren't guaranteed, these are the players they should be looking to find competition for.
The Free Agents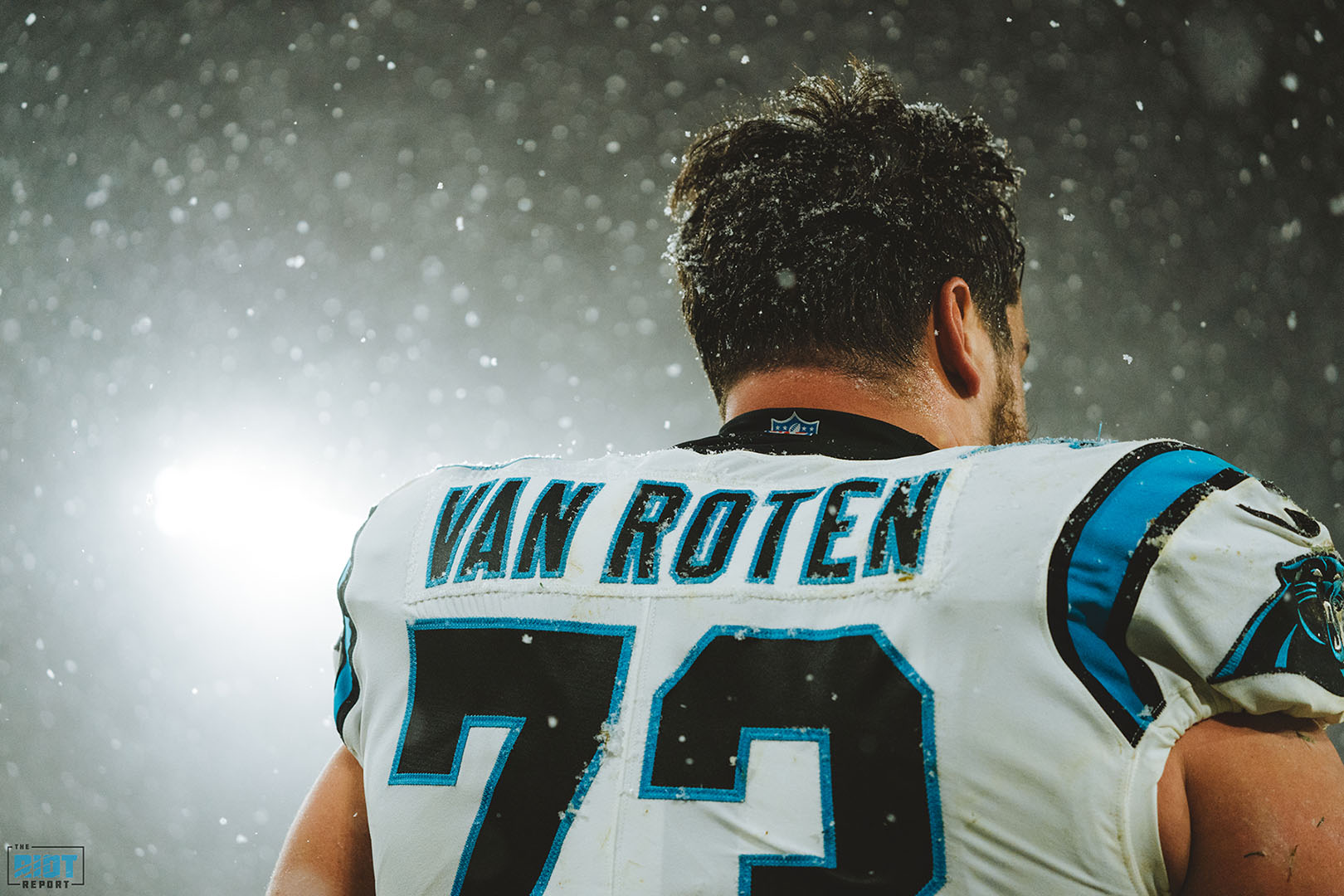 The two players who do stand a good chance of leaving the Panthers this offseason are Greg Van Roten and Daryl Williams. Williams, in particular, seems like a prime candidate for being allowed to go elsewhere – he has struggled when on the field over the past two seasons, and given that he will turn 28 before the season starts, it's hard to see his presence as anything other than stopgap depth, something that the Panthers could find more cheaply – and with more upside – from UDFAs. When they were trying to compete, there was at least some argument to bring him back based on continuity and limiting risks, but that no longer applies, so expect him to be elsewhere in 2020.
For Van Roten, the question is more about cost – while he isn't an amazing left guard, he is perfectly competent and while he will be 30 at the start of next season, his ability to play both center and guard would give the Panthers some quality depth, if nothing else. Of course, veteran quality depth who could also compete for a starting left guard role isn't exactly the highest priority for a rebuilding team, so there is only so much they are going to be willing to pay for his services. If Van Roten gets starting guard money from another team, I would expect the Panthers to let him walk and keep the comp pick – especially with Daley waiting in the wings to step in at left guard – but he would have some value on a medium-term contract if they are unable to address the position in the draft.
The Other Guys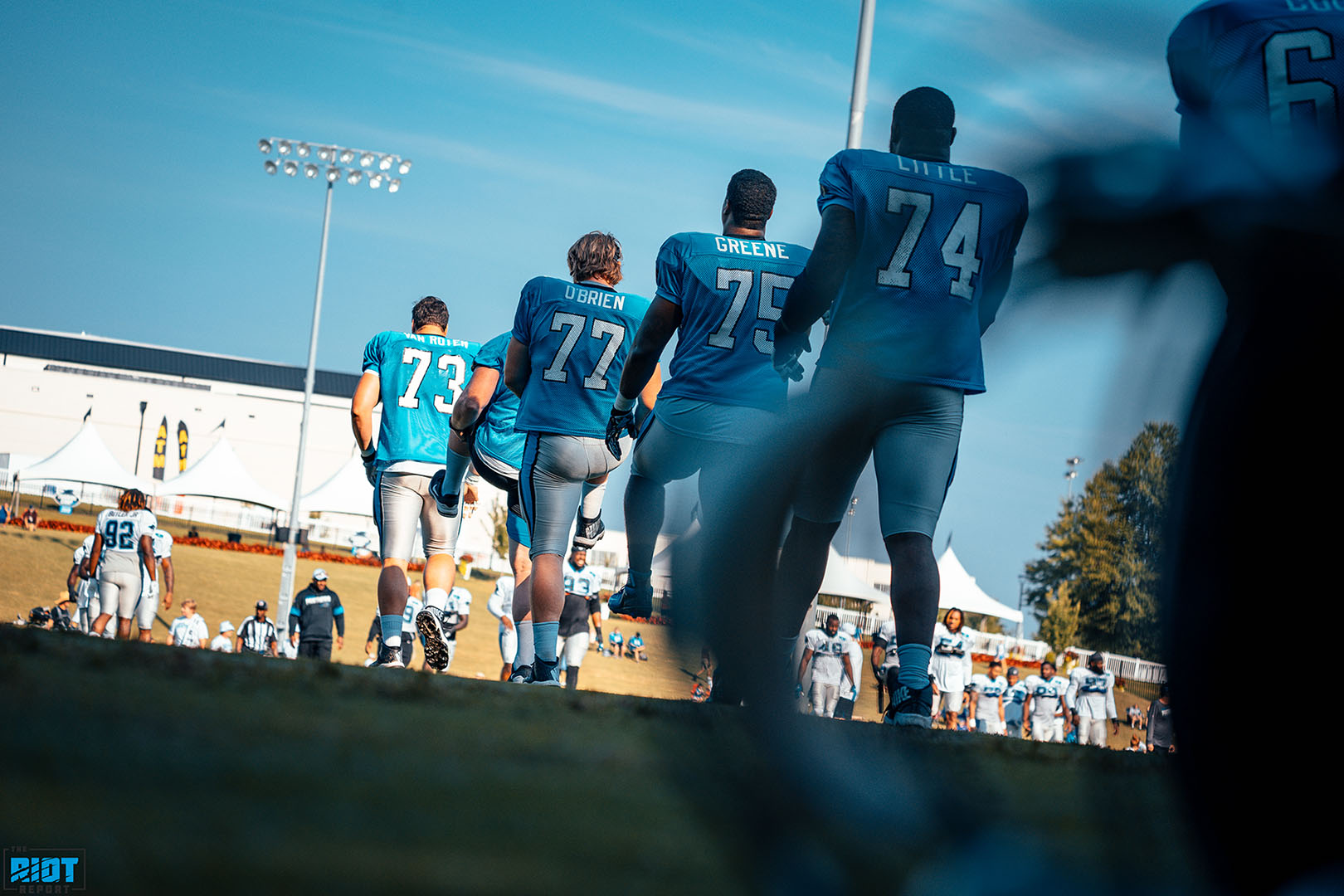 While the Panthers will technically have to make decisions as to whether to bring back the likes of Brandon Greene and Kitt O'Brien, the only player who started the season on the active roster who is yet to be discussed is Tyler Larsen – in many ways, he could have a similar future as the likes of Greene and O'Brien. Larsen has been the long-term backup center for the Panthers, but when he has played, he has never looked anything other than a replacement level player and actively struggled at times during the preseason last year. As he will be 29 to start next season, it is hard to see him getting much better anytime soon – while I would be a little surprised if the Panther moved on from him before training camp, he is one of a number of players at various positions who could see their usually safe roster spots under a lot of threat.
This is essentially the situation for the likes of Greene and O'Brien as well; while the Panthers might bring them back, they haven't shown themselves to be anything the Panthers couldn't get from a low-value free agent or a UDFA, and with a new coaching staff in place, they may well see themselves replaced by some new faces who at least offer the upside of being unknowns.
The Panthers also picked up the option this week of guard Chris Reed, who appeared in nine games for the Dolphins before being waived in December and subsequently claimed in Carolina – Reed will count for $1.425m against the cap in 2020.
The offensive line is likely not something that can be fixed overnight and while there should be hope about Little and Daley's development as well as some consistency from the likes of Paradis and Turner, this is likely not a position group that gets a huge overhaul this offseason – especially not in free agency where finding players who can come in and offer a high level of starting play in the short term is likely to be very expensive. This is likely an area that gets addressed in some form in the draft and with UDFAs, and while there might be one higher round pick who gets a legitimate shot at playing time, the Panthers will almost certainly be shopping for depth.